Amrapali is a 1966 historical Hindi film, directed by Lekh Tandon, starring Vyjayanthimala and Sunil Dutt as leads. The rights to this film are owned by Shah Rukh Khan's Red Chillies Entertainment.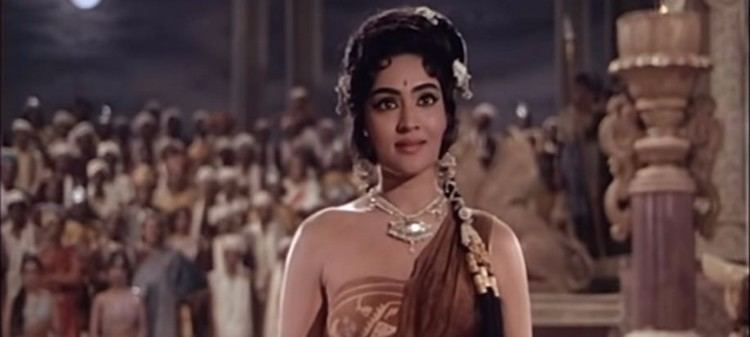 It was based on the life of Amrapali (Ambapali), the nagarvadhu (royal courtesan) of Vaishali in present-day Bihar, the capital of the Licchavi republic in ancient India around 500 BC and Ajatashatru, the Haryanka dynasty king of the Magadha empire, who falls in love with her. Though he destroys Vaishali to get her, she in the meantime has been transformed by her encounter with Gautama Buddha, of whom she becomes a disciple and an Arahant herself. Her story finds mention in old Pali texts and Buddhist traditions.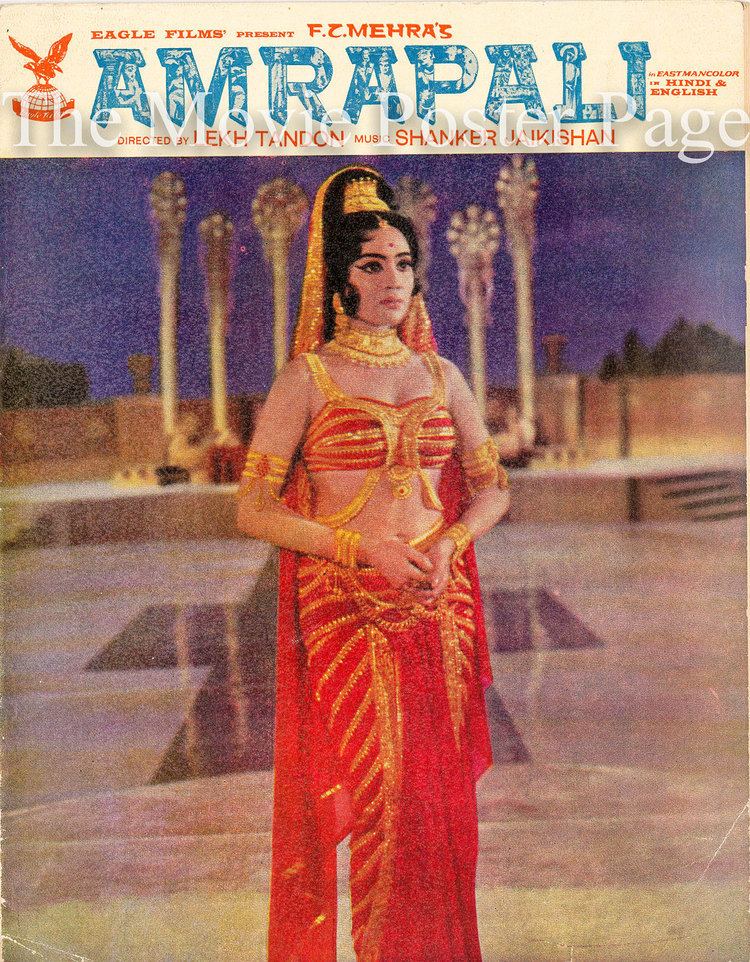 The film was selected as the Indian entry for the Best Foreign Language Film at the 39th Academy Awards, but was not accepted as a nominee. Though the film wasn't a commercial success, in time it started being seen as classic and is remembered not just for its dramatic cinematography of war scenes by Dwarka Divecha, and Bhanu Athaiya's costumes for which she travelled to the Ajanta Caves, to seek references in Buddhist frescoes of the era, to create period costumes that subsequently became a template for costumes of that era, but also for the strong Anti-war sentiment, the film reveals in the end.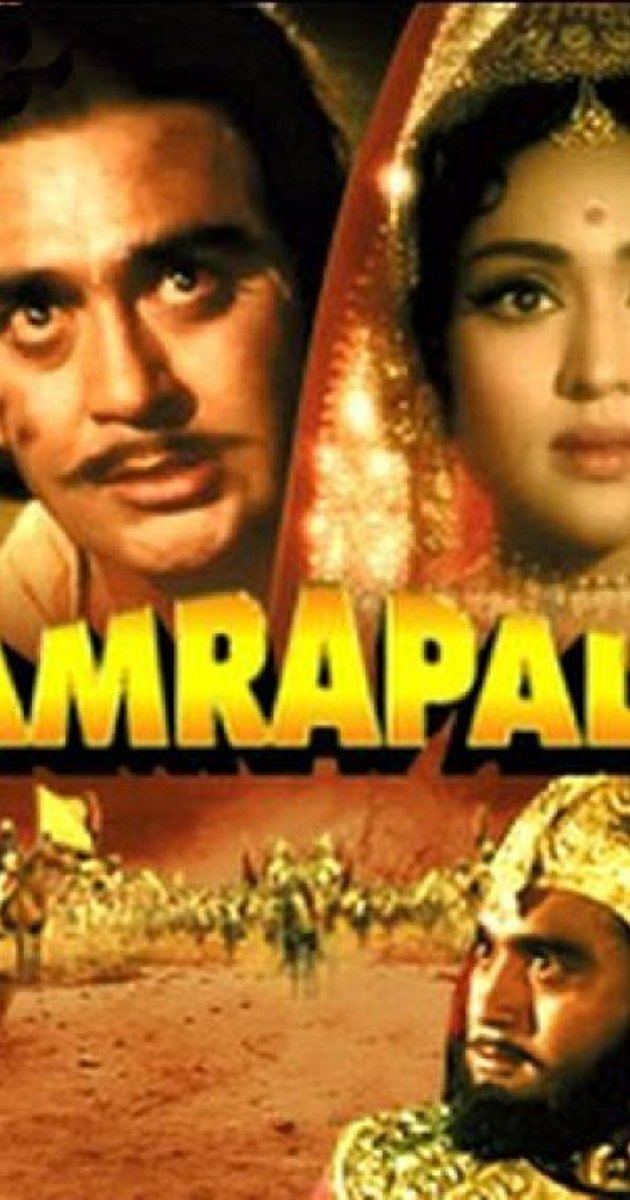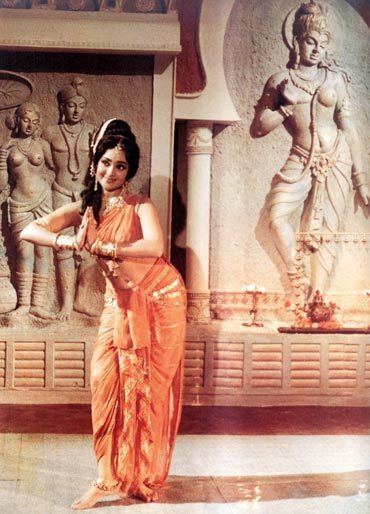 Vyjayanthimala – Amrapali
Sunil Dutt – Magadh Samrat Ajatashatru
Prem Nath – Senpati Veer of Magadh
Bipin Gupta – Vaishali's Samrat
Gajanan Jagirdar – Kulpati Mahanam
K.N. Singh – Balbadra SIngh
Madhavi – Raj Nartaki
Mridula Rani – Raj Mata (Ajaat Shatru's Mother)
Ruby Mayer – Magadh's Empress
Narendra Nath – Lord Buddha
Baburao Pendharkar – In the song Neel Gagan Ki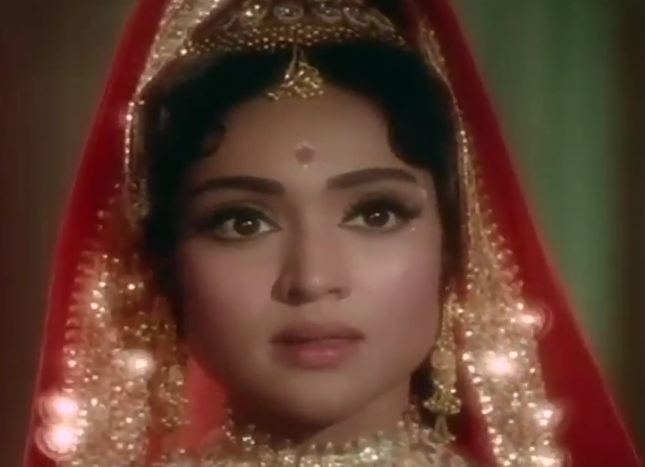 Art Direction: M.R. Acharekar
Dance director: Gopi Krishna
Costume Design: Bhanu Athaiya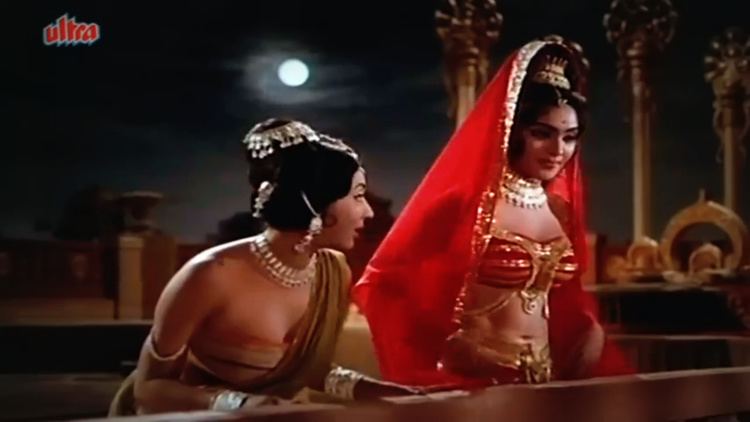 Another highlight of the film was its music by the duo Shankar Jaikishan, then at the peak of their career, who gave a highly restrained yet fully Indian classical music-based score in the four songs, another rarity in the period film of the era to have so few songs. All the song were sung by Lata Mangeshkar who also has some of her career's finest among them, including, "Tumhen Yaad Karte Karte", "Neel Gagan Ki Chhaon Mein" and "Jao Re Jogi".
A scene clipping from the film, was used in the Dhoom tana song dance sequence in film Om Shanti Om (2007), wherein Deepika Padukone dances as Vyjayantimala, who was digitally removed from the frames, as Deepika was playing the role of an actor of the 1970s.