Americathon (also known as Americathon 1998) is a 1979 American comedy film starring John Ritter, Fred Willard, Peter Riegert, Harvey Korman, and Nancy Morgan, with narration by George Carlin, based on a play by Firesign Theatre alumni Phil Proctor and Peter Bergman. The film also includes appearances by Jay Leno, Meat Loaf, Tommy Lasorda, and Chief Dan George, with a musical performance by Elvis Costello.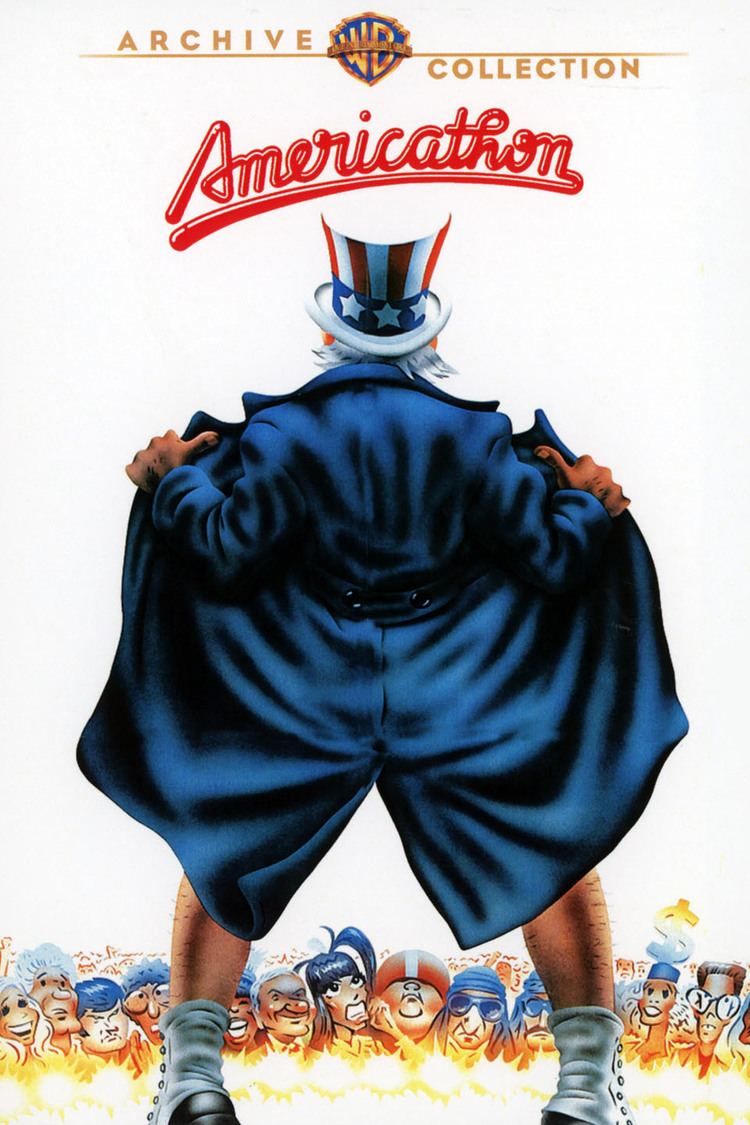 Being set 20 years into the future, the film contains many prophetic elements, such as: predicting the demise of the Soviet Union, the prevalence of reality television, and the sale of public assets to the private sector (a trend starting shortly after the film's release). Also, The Beach Boys are shown still together and recording in 1998.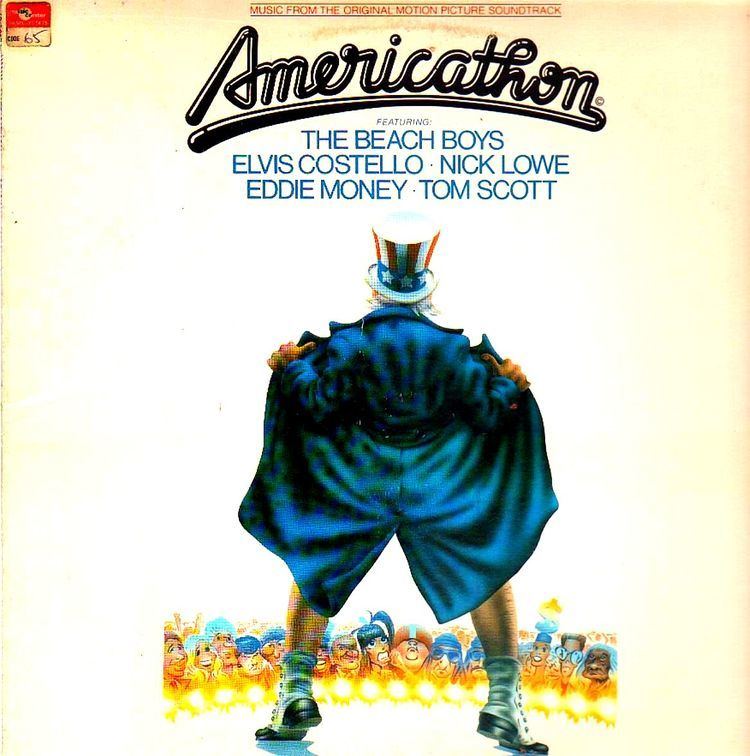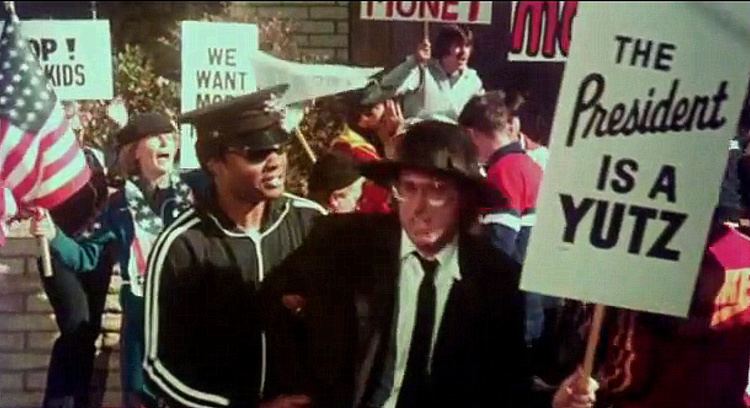 In the (then-near future) year 1998, the United States has run out of oil, and many Americans are living in their now-stationary cars and using nonpowered means of transportation such as jogging, riding bicycles and rollerskating. Many Americans wear sweatsuits. Paper money has become completely worthless, with all business transactions being conducted in gold; even a coin-operated elevator warns, "Gold Coins Only". In search of leadership, Americans elect Chet Roosevelt (Ritter) as President. Roosevelt, a "cosmically inspired" former governor of California, proves to have little in common with Teddy Roosevelt or FDR other than his name. Roosevelt, an overly-optimistic man who quotes positive affirmation slogans, stages a number of highly publicized fund raising events, all of which fail. He becomes interested in having a relationship with Vietnamese American pop superstar Mouling Jackson. Real money comes in the form of loans from a cartel of Native Americans, led by billionaire Sam Birdwater (George), in control of Nike (which has been renamed "National Indian Knitting Enterprise").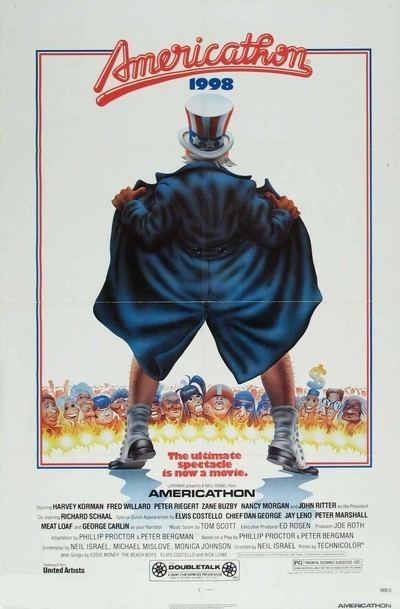 The federal government, now housed in "The Western White House" (a sub-leased condominium in Marina del Rey, California), finds itself facing national bankruptcy and in danger of being foreclosed and repossessed when Birdwater goes public on national television with the fact that he lent America billions of dollars and now wants the money back, the alternative being foreclosure and the country reverting to its original owners, stating, "Hey, I have to eat, too. Does that make me a bad guy?".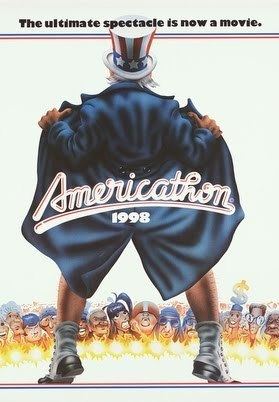 In desperation, Roosevelt hires a young television consultant Eric McMerkin (Riegert) to help produce a national raffle. Instead, they decide that the only way enough money can be raised to save America is instead to run a national telethon, and hire vapid TV celebrity Monty Rushmore (Korman) to host it. However, Presidential adviser Vincent Vanderhoff (Willard) is secretly plotting to have the telethon fail so that representatives of the United Hebrab Republic (formed by the merger of Israel and the Arab states) can purchase what is left of the country when Birdwater forecloses.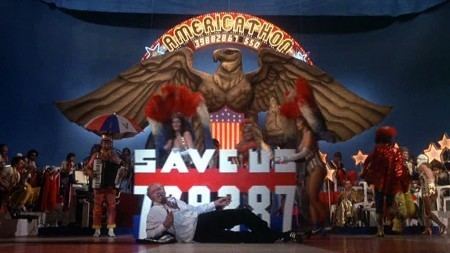 John Ritter as President Chet Roosevelt
Harvey Korman as Monty Rushmore
Peter Riegert as Eric McMerkin
Fred Willard as Vincent Vanderhoff
Chief Dan George as Sam Birdwater
Zane Buzby as Mouling Jackson
Nancy Morgan as Lucy Beth
Meat Loaf as Roy Budnitz
Elvis Costello as the Earl of Manchester
Tommy Lasorda as Jimmy Dunphy
Jay Leno as Larry Miller
Howard Hesseman as Kip Margolis
Cybill Shepherd as Gold Girl
Allan Arbus as Moishe Weitzman
David Opatoshu as Abdul Muhammad
George Carlin as the Narrator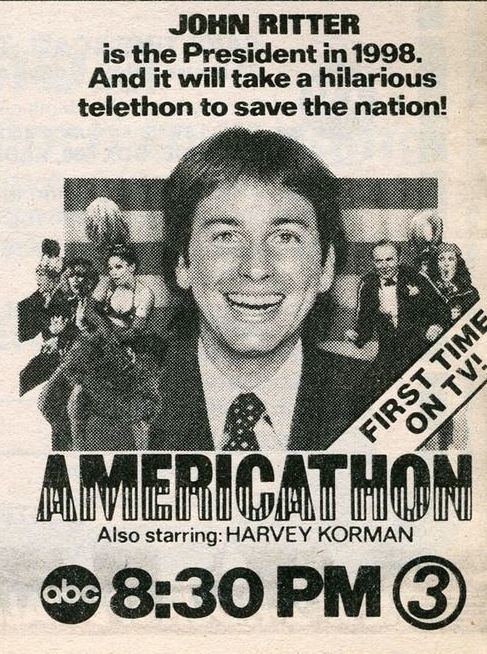 To promote the movie, in 1979 Ted Coombs roller skated across the United States and back and gained a place in the Guinness Book of World Records. A photo novel of the film was also released in 1979, and the musical soundtrack was released on both vinyl and audiocassette by Lorimar Records.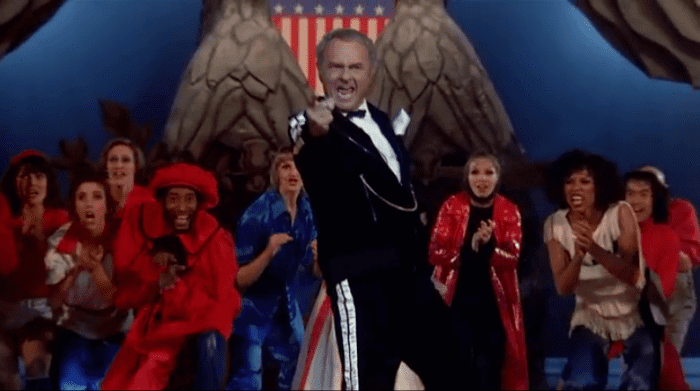 The film was made available on VHS and laserdisc in the 1980s by Lorimar Home Video, both of which are now out of print. The home video rights passed to Warner Bros. in the late 1980s as part of their purchase of Lorimar. Warner Home Video made the film available in January 2011 on DVD in widescreen (1.85:1) format as part of their Warner Archive Manufacture-on-demand collection.
In 1984, New York City public radio station WNYC sponsored a marathon of American music dubbed "Americathon '84."
Referencing the movie's futuristic premise itself, there were many societal or political forecasts woven into the storyline, and a number of these have become reality, including:
The People's Republic of China embracing capitalism and becoming a global economic superpower.
Nike becomes a huge multinational conglomerate.
The collapse of the USSR.
The depletion of US crude oil production.
An America with a devalued dollar and heavily in debt to foreign lenders.
The prevalence of reality shows on television.
Network television dealing with previously taboo subjects accepted as normal (Monty Rushmore stars in the sit-com, "Both Father and Mother", and plays a cross-dressing single father in the title role. The film's narrative also mentions "The Schlong Show", a game show where contestants are judged by their reproductive organs).
The film's official coming attractions trailer includes the quote: "...see Americathon at your local theater before you see it happening in your own front yard!"