Residence

Albuquerque, NM

Alma mater

Gannon University

Born

26 July 1967 (age 53) (

1967-07-26

)

Peninsula, Ohio, USA

Nationality

Native American (Omaha Nation) "Ponca-sa"

Occupation

Bodybuilder, Strongwoman, actress, motivational speaker

Similar

Denise Masino, Angela Salvagno, Lisa Cross
Biceps workout katka kyptova and amber deluca
Amber Anne DeLuca is an American professional strongwoman, athlete female bodybuilder, and motivational speaker.
Contents
Amber DeLuca, FEMALES BODYBUILDING, GYM WORKOUT, IFBB MUSCLE, PRO, FITNESS MODEL
Biography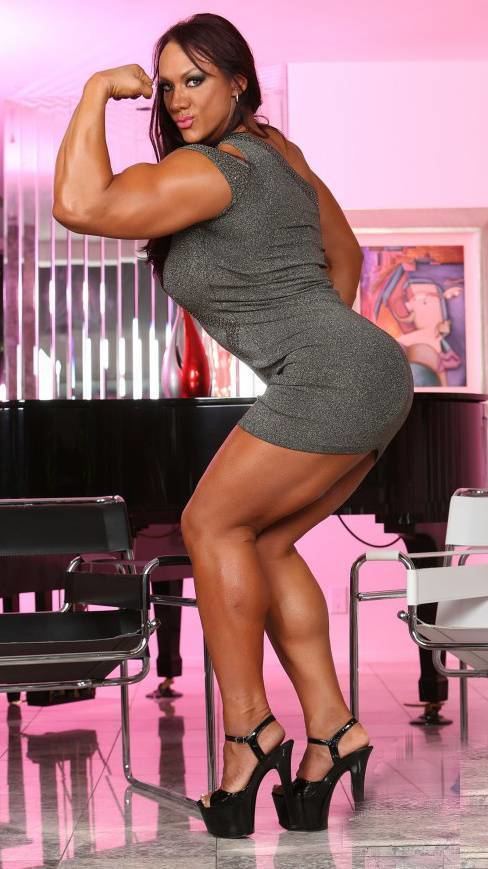 Amber was born on 26 July 1967 in Peninsula, Ohio, near the Cuyahoga River, the granddaughter of Levi Levering, a leader of the Omaha people during the early 20th Century. Of Omaha and Shoshone heritage on her biological mother's side, she is recognized by the Omaha Nation as "Ponca-sa," and belongs to the Tapa, or Deer, Clan, one of seven within the Nation. She is also of Ojibway, Sioux, German, and French heritage on her father's side; she was, however, adopted when she was six months old and had a "very nice childhood."
DeLuca has always excelled athletically. She earned an athletic scholarship in volleyball at Gannon University, Erie, Pennsylvania, and helped lead the team to their first national appearance, where she still holds the all time kills record. She received a Bachelor of Arts in Communications/English in 1990. While at Gannon, Amber trained for armwrestling under Dann Carr, the creator of the American Gladiators. Amber won the Pennsylvania State Championships as well as several charity events. She went on to enlist in the United States Air Force, and was stationed at Cannon Air Force Base, Clovis New Mexico, where she led the Air Force to two World Military Championships. She is a Desert Storm Veteran, and served a brief tour in Riyadh, Saudi Arabia in 'Operation Southern Watch'. While at Cannon, Amber taught rock/sport climbing, and became a proficient climber, leading 5.10s and sponsoring climbing events in New Mexico. Amber completed a Master's of Science degree in Human Resources Management.
Dann Carr invited Amber to star as one of the American Gladiators in 1996 at the live show in Orlando, Florida. She briefly appeared as "Apache", but her career as a gladiator ended quickly by an anterior cruciate ligament tear while practicing backstage, and she returned to New Mexico to recover, and seek employment. In 1998, she was selected as a Human Resources Specialist, working for the Department of the Interior, Bureau of Indian Affairs. Amber specialized in recruitment and placement and employee and labor relations before she resigned her position in 2006, the reason for resignation cited on the official record SF50: to complete graduate studies at the University of New Mexico, where she completed the coursework towards a doctorate in Educational Leadership.
By her own description, Amber grew up as a tomboy and began weight training when she was thirteen years old in order to better herself for her high school sports. She was extraordinarily strong for her age, and was benchpressing 135 pounds for ten reps by the time she was 14 years old. Amber won her first figure competition, National Amateur Bodybuilding Association Ms. Figure America show in Phoenix, Arizona, 2001 and competed in the Ms. Universe, New Castle, United Kingdom in 2002. She competed in the early days of the National Physique Committee bikini show and at that time, was photographed by the photographer, Bill Dobbins. Bill encouraged Amber to compete in bodybuilding after their first shoot in 2002. Bill featured Amber as one of the models in the book, 'Modern Amazons', http://www.amazon.com/Modern-Amazons-Bill-Dobbins/dp/3822812919. Amber decided to compete, and won her first show was the NPC Mid-USA in 2003, in which she won the heavyweight class, where she weighed in at 170 pounds. She continued to compete in bodybuilding, placing 13th in the heavyweight class at NPC Nationals in 2005, winning the Excalibur in Los Angeles, California, 2005, and competing in her last show in 2007, the NPC Master's Nationals, in Pittsburgh, Pennsylvania. During this time, Amber was a highly sought physique model for many of the top bodybuilding and fitness publications and fantasy wrestling companies that filmed videos.
Amber took a brief break from bodybuilding competition, and moved to Den Haag, Netherlands, to live and train with a professional female bodybuilder, Saskia Salemink. She trained at http://www.kneetsgym.nl/ and it was here that Amber fell in love with discovering her true power and strength, and she grew to a solid 210 pounds. Amber returned to the United States with a passion to get bigger and stronger. Amber took her strength to the next level, and trained under the expertise of world class strongman Mark Phillipi. It was during this time that Amber began practicing Russian Kettlebell training, and took one lesson under two prominent RKB men in the USA, Zar Horton and Mike Mahler. Amber passed her RKB certification with flying colors, and coupled with training at PSI, her strength base climbed. During the summer of 2011, an amateur strongman, John Posen, discovered Amber in an Albuquerque gym overhead pressing 185 pounds for repetitions. He encouraged her to compete in strongwoman shows. Amber made Las Vegas, Nevada her training camp, and began learning the implements at PSI and also trained with World's Strongest Man competitor, Nick Best. Amber won the New Hampshire State Strongwoman show in September 2011, which qualified her for America's Strongest Woman, http://www.nastrongman.com/. Amber placed 4th overall in the heavyweight division after three months training. She tied with the Worlds Strongest Woman, Kristin Danielson Rhodes in the log overhead clean and press, and won the frame deadlift with 24 reps at 550 pounds, and placed well in all events.
Amber learned to embrace her strength and power and started her own company, Amber Goddess, and she produces her own unique brand of 'Amazon Fetish' films, in which she overhead lifts ordinary people with two arms and one arm in a very sensual and dominant fashion. She leads the way in this genre of fetish, and there are very few women in the world who stand 5'9", 220 pounds, and perform the way Amber does. Due to her unique background as a model, athlete, and strongwoman, she is in a category of her own.
DeLuca was a member of the now defunct Native American Sports Council (which is an affiliated organization of the United States Olympic Committee). She has made guest appearances throughout Indian country, delivering the message of living a healthy lifestyle through proper diet and training.
Competition championships
NCAA Division II National Volleyball Tournament All East Coast Athletic Conference Volleyball Player Military World Championship Volleyball Team USAF Air Combat Command Athlete of the Year 1989 Pennsylvania State armwrestling champion 2001 NABBA Ms Figure America NPC Mid-USA, 2003, heavyweight bodybuilding champion 2005 Excalibur Heavyweight Champion North America's Strongest Woman, 2011, 4th place overall
References
Amber DeLuca Wikipedia
(Text) CC BY-SA