Switzerland




410 m




10,777 (Dec 31, 2008)


39.49 km2


Rheintal




Stadtprasident (list) Ruedi Mattle Ind. (as of March 2014)



Altstatten is a town in the district Rhine Valley, in the canton of St. Gall in Switzerland.

Altstatten is first mentioned in 853 as Altsteti.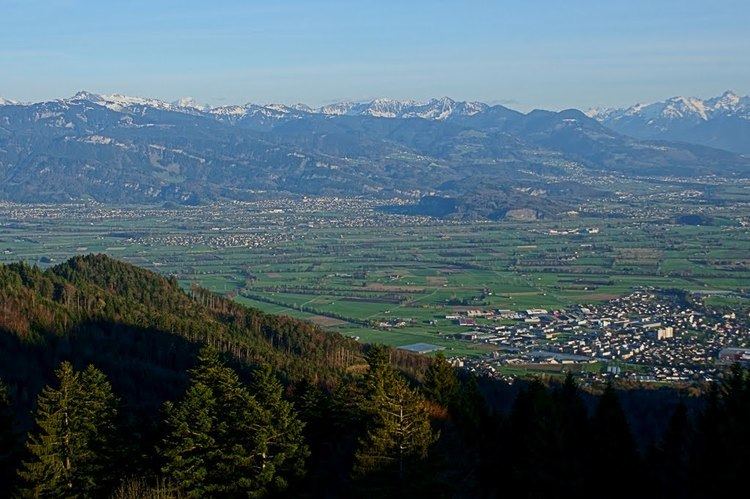 Altstatten has an area, as of 2006, of 39.5 km2 (15.3 sq mi). Of this area, 63.3% is used for agricultural purposes, while 21.1% is forested. Of the rest of the land, 12.7% is settled (buildings or roads) and the remainder (2.9%) is non-productive (rivers or lakes).

The municipality is the capital of the Rheintal Wahlkreis and formerly the capital of the Oberrheintal district. The traditional farming city is located on the western side of the Rhine river between the Appenzell hill country.
As of 2007, Altstatten had an unemployment rate of 2.17%. As of 2005, there were 399 people employed in the primary economic sector and about 147 businesses involved in this sector. 2,675 people are employed in the secondary sector and there are 152 businesses in this sector. 3,313 people are employed in the tertiary sector, with 426 businesses in this sector.
The village of Altstatten as well as a concentration of castles, which is known as the Schlosslandschaft Ober/Unterrheintal and spans Altstatten, Balgach, Berneck and Marbach, is designated as part of the Inventory of Swiss Heritage Sites.
Altstatten Wikipedia
(,)http://4.bp.blogspot.com/-4qV3Kz9ZR2Y/UYZze9pMbDI/AAAAAAAAAmk/kaz1PKeoS7s/s1170/City%252BGround%252B1%252B-%252BText%252B2.jpg
(,)http://static.panoramio.com/photos/large/51141713.jpg(,)https://farm4.staticflickr.com/3701/14079020019_20b75ab427_s.jpg(,)http://images.webcamgalore.com/15449-current-webcam-Altstaetten.jpg(,)http://fabuloustraveling.com/wp-content/uploads/2013/05/232.jpg(,)https://c2.staticflickr.com/6/5530/14430207816_be7a3af136_b.jpg(,)http://static.panoramio.com/photos/large/56976900.jpg(,)https://40.media.tumblr.com/db63721d22719074d8e4ff6b6bb04081/tumblr_n3lscxvf0K1ttxicco1_500.jpg(,)https://mw2.google.com/mw-panoramio/photos/medium/22066418.jpg(,)http://mw2.google.com/mw-panoramio/photos/medium/43396401.jpg(,)https://mw2.google.com/mw-panoramio/photos/medium/22066433.jpg
(,)http://media-cdn.tripadvisor.com/media/photo-s/05/01/e2/ba/sonnenhugel-luchingen.jpg(,)https://aff.bstatic.com/images/hotel/840x460/297/29701590.jpg(,)http://images.myswitzerland.com/n13501/images/buehne/orig-87.jpg(,)http://images.myswitzerland.com/n15618/images/buehne/orig-188.jpg
(,)http://www.jugend-altstaetten.ch/userfiles/Jugendberatung/Bilder/2014/Luisa%2520Fest//0.jpg(,)http://image.e-domizil.de/userimages/objekte/988000/988919/up_0096D3B9-155D-001F-306A6D0955100739_gross_988919.jpg(,)http://i297.photobucket.com/albums/mm240/Mauro_Cella/CH_2014/Albula_03_zps5efbdaae.jpg(,)http://www.beyondthefields.com/elements/subpages/pictures/Piktogramm/ZAK2015.jpg
(,)http://farm4.static.flickr.com/3876/14489223089_24ca7d2efd_m.jpg(,)http://www.lenouvelliste.ch/multimedia/images/img_traitees/2015/02/alt2_zoom945.jpg(,)http://i.vimeocdn.com/video/459903484_640.jpg(,)http://thumbs.dreamstime.com/z/hand-painted-graphic-illustration-city-church-altstatten-switzerland-47017812.jpg
(,)http://images.myswitzerland.com/87350/images/buehne/rheintal-1.jpg(,)http://www.youramazingplaces.com/wp-content/uploads/2014/04/Altstatten-620x414.jpg(,)https://images1.schweizmobil.ch/image/Altstaetten_2637_T.jpg(,)http://images.myswitzerland.com/n49489/images/buehne/screen_shot_2012-08-03_at_12.png(,)https://homesweetdreaming.files.wordpress.com/2014/12/wpid-wp-1417454087291.jpeg%3Fw%3D700(,)https://fbexternal-a.akamaihd.net/safe_image.php%3Fd%3DAQDBvSBMayG3xrzH%26w%3D720%26h%3D475%26url%3Dhttp%253A%252F%252Fupload.wikimedia.org%252Fwikipedia%252Fcommons%252Fthumb%252Fa%252Faa%252FAltst%2525C3%2525A4tten_Panorama.jpg%252F720px-Altst%2525C3%2525A4tten_Panorama.jpg