Alphabeat was made up of six members: Anders SG, Stine Bramsen, Anders B, Rasmus Nagel, Anders Reinholdt and Troels Hansen. Their sound is mainly retro 1980s melodic pop, taking inspiration from British bands Deacon Blue and Prefab Sprout, amongst others, with distinctive overlays of male and female harmonies. The band was previously named Sodastar, but this was changed to avoid confusion with a German band.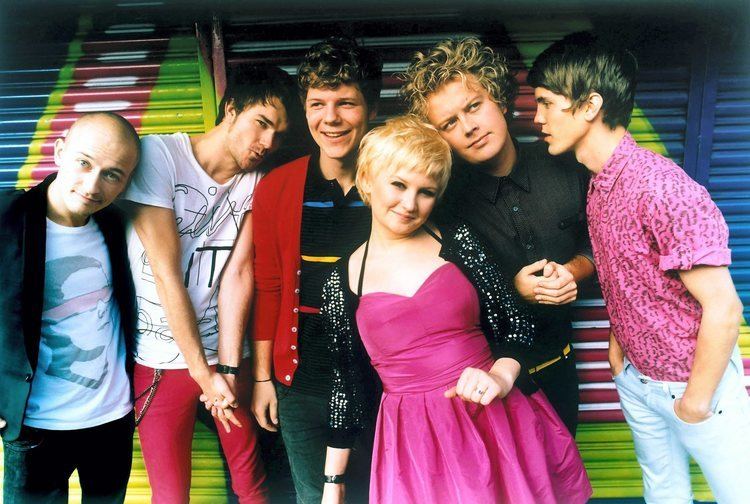 The bands self-titled debut album, Alphabeat, was released in Denmark on 5 March 2007, peaking at number two on the Danish Albums Chart and reaching platinum status in five months of release. The band's success in their domestic market attracted the attention of several major labels from larger markets abroad and Alphabeat was eventually signed to EMI's Charisma Records label in the United Kingdom. Their debut UK single, "Fantastic 6", was released on 26 November 2007, followed by the international release of Alphabeat, retitled This Is Alphabeat, the following year. It peaked at number ten on the UK Albums Chart and was certified gold by the British Phonographic Industry on 10 October 2008. In 2009 Alphabeat won an EBBA Award. Every year the European Border Breakers Awards (EBBA) recognize the success of ten emerging artists or groups who reached audiences outside their own countries with their first internationally released album in the past year.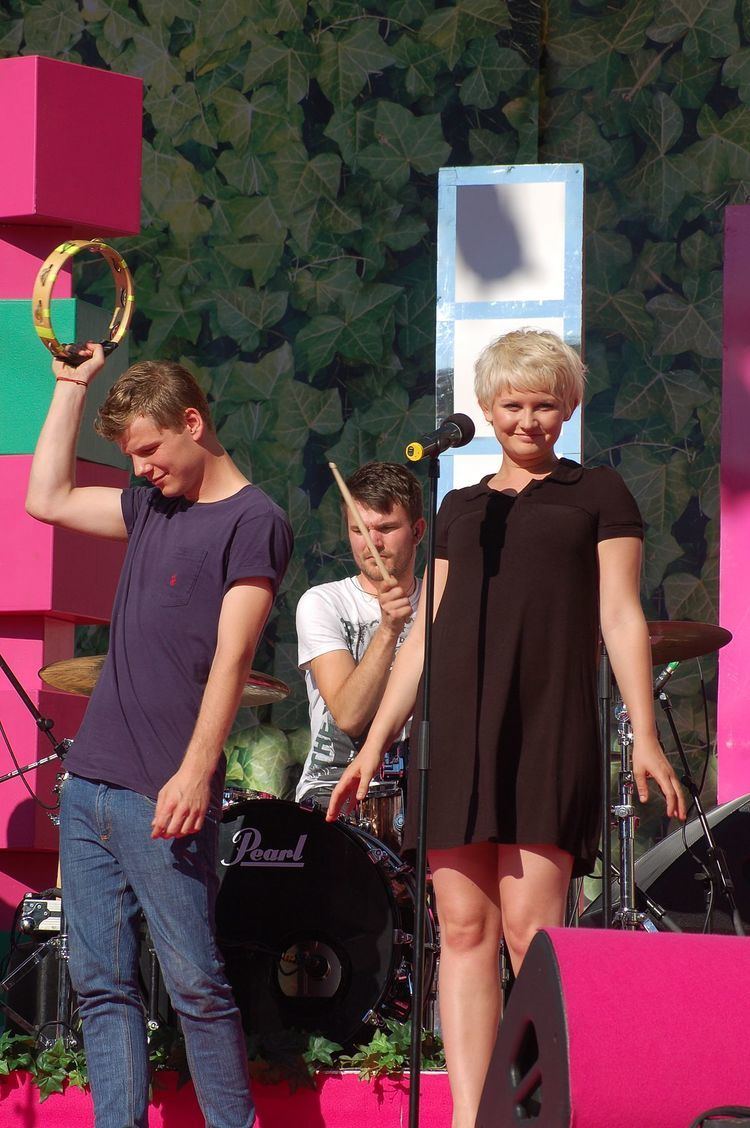 Alphabeat received several positive reviews in major British publications such as the NME, The Observer, Digital Spy and Popjustice. On 20 December 2008, it was announced via press release that the band had been dropped by their UK label Charisma Records. In a statement from the band on 19 January 2009, it was confirmed that they had chosen to leave the label after being given the opportunity.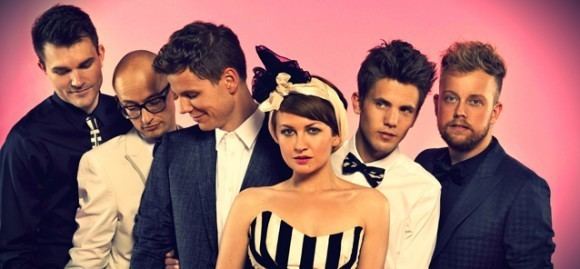 It was announced on 7 March 2009 that Alphabeat had signed a new record deal with Polydor Records. The band's manager said, "We are thrilled to be signing to one of the UK's most successful record companies, and looking forward to achieving even more success with the band and Polydor in the coming years."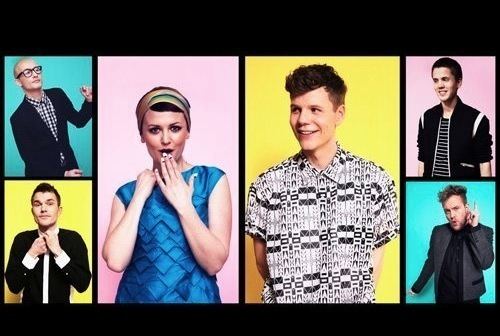 In August 2009, Popjustice premiered their single "The Spell" which was set for an October release, with their second album released shortly thereafter. The album was released as The Spell in Denmark on 26 October 2009, where it charted at number five and was certified gold in less than two months of release. Originally set for release on 2 November 2009, the UK release was subsequently pushed back until 1 March 2010 and the album's title was changed to The Beat Is... It debuted and peaked at number thirty-nine on the UK Albums Chart.
On 9 January 2010 "DJ" was released as the second single in the Danish market, with a UK release, under the title "DJ (I Could Be Dancing)", scheduled for 31 May. The second UK single, "Hole in My Heart", was released on 22 February 2010, debuting at number twenty-nine on the UK Singles Chart.
Alphabeat's third studio album, Express Non-Stop, was released on 24 September 2012. The album's first single, "Vacation", was released as a digital download in the UK on 12 March 2012. A second single, "Love Sea", was released on iTunes on 13 August 2012. Two more singles, "X-Mas (Let's Do It Again)" and "Show Me What Love Is" were released from the album before the band went on hiatus to focus on side projects in 2013.
Alphabeat made their UK debut at Monto Water Rats in May 2007 and later that year embarked on their first UK tour (The Wolfbaggin' tour), supporting Lil Chris and Daniel Powter. They were offered the chance to open for the Spice Girls during their 2007–08 Return of the Spice Girls tour, but declined the opportunity, feeling that it would be "too weird" to suddenly play in front of a 23,000 audience unfamiliar with the band's music.
They have often been associated with the wonky pop movement—their manager owns the brand name—and they have played a number of Wonky Pop events and tours.
During the summer of 2008 they played numerous British and international festivals including T in the Park on "Camper's Friday", Roskilde Festival, T4 on the Beach, Summerfestival (in Klaksvík, Faroe Islands, in early August), and in October 2008, along with many other bands at the National Exhibition Centre in Birmingham, England for hundreds of young girlguides.
During late 2008, Alphabeat began a twenty-two-gig tour in the UK and the Netherlands, with many shows sold out. In the same year, the band was planning to play select shows with American singer Katy Perry on her 2008 world tour. However, in March 2009, Alphabeat cancelled their appearances in support of her US tour. Their management stated that they were instead working on their second album and planned to tour the US later in the year.
They performed a mini UK tour to promote The Spell in autumn 2009 and toured the UK throughout April 2010, on The Beat Is... Tour. They also played a support slot for Lady Gaga on the UK and Irish leg of her The Monster Ball Tour, which took place in February and March 2010. They made their US debut at the 2010 SXSW Festival. In June 2010, they co-headlined with Wheatus at Trinity May Ball, in Cambridge, UK.
On 26 July 2011, Alphabeat were the midline act at the pre-event party for the UK contingent of 4000 scouts, the night before leaving for the 22nd World Scout Jamboree in Sweden. The year after, on 28 July 2012, Alphabeat performed as the closing act for Jamboree Denmark 2012.
Alphabeat (2007)
The Spell (2009)
Express Non-Stop (2012)
In 2011, Stine's vocals were featured in a dance hit by Danish duo Morten Hampenberg & Alexander Brown titled "I Want You (To Want Me Back)". The single was certified gold in Sweden. In 2013, she was featured in "32" a popular release by Danish band Carpark North. In 2014, she had even an even bigger success with her single "Prototypical," which was released in January 2014 and appeared at number 2 on the Sverigetopplistan Swedish Singles Chart in its first week of release.
On 2 June 2014, Bramsen released a second single, "Move Forward".
Discography / EPs
Discography / singles
Discography / featured in
In July 2014, lead singer Anders SG, and guitarist Anders B, formed a solo project called "THANKS". They have described their sound as "Motown meets EDM anno 2014. The Jets produced by Calvin Harris and Rostam Batmanglij with Phil Spector on the line".
On 24 July, the duo released a music video for their first single "Comeback Girl".
Discography / singles