Native name

Алматы метрополитені




Annual ridership

6.56 million (2013)




Operator(s)

Almatymetrokurylys




Began operation

December 1, 2011




Number of lines

1




Number of vehicles

7




Daily ridership

17,970 (average, 2013)




Website

KGP Metro Almaty




System length

11.3 km (7.0 mi)




Locale

Almaty




Number of stations

9




Transit type

Rapid transit







Similar

Central State Museum, Ascension Cathedral - Almaty, Kok‑Tobe, Almaty Zoo, 28 Panfilovets' Park
A guide to almaty metro kazakhstan
Almaty Metro (Kazakh: Алматы метрополитені; Russian: Алматинский метрополитен) is a rapid transit/metro system in Almaty, Kazakhstan. The first line of the system was opened on 1 December 2011, after more than 23 years of construction. A 2.9-kilometre (1.8 mi), two-station extension of the Metro to Moskva station opened on 18 April 2015.
Contents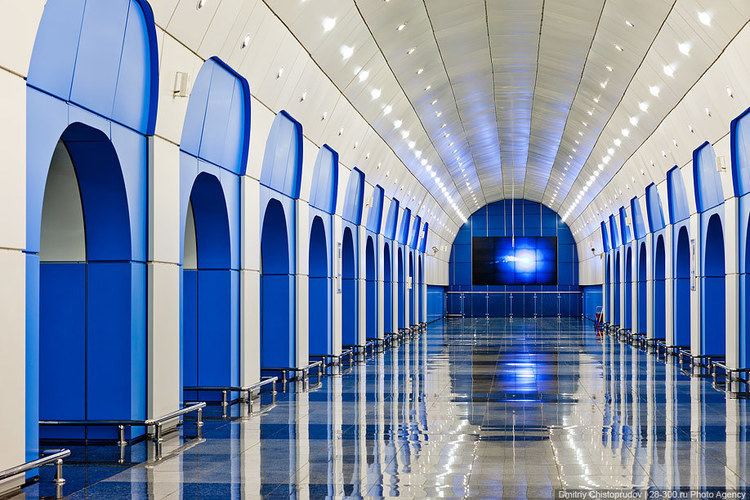 The metro system became the second metro in Central Asia, after the Tashkent Metro in Uzbekistan, the first one not considered a military installation, and the sixteenth metro in the former Soviet Union region.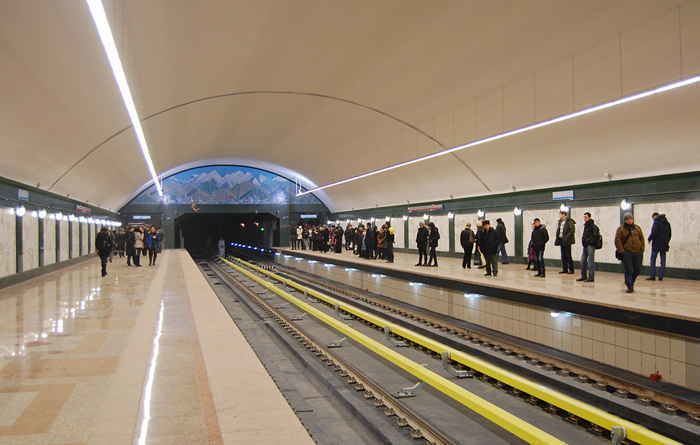 Silk road almaty metro system unique architecture with modern touch
History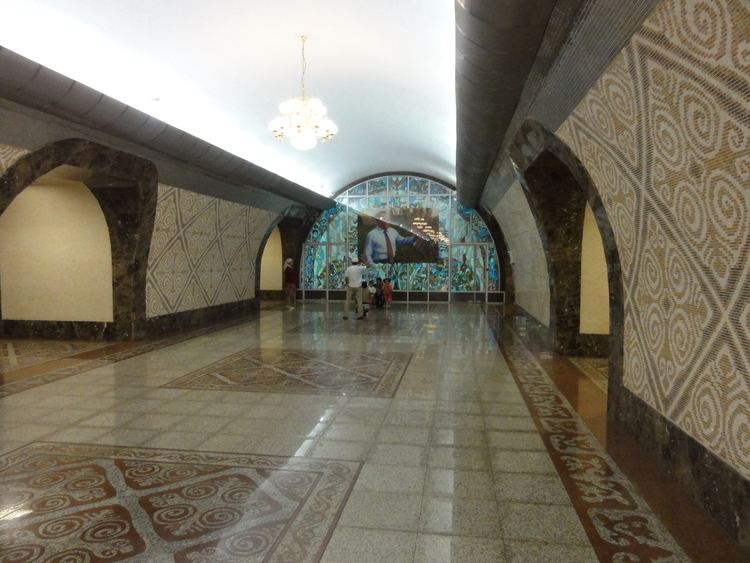 Construction of the Almaty Metro began on 7 September 1988 when Kazakhstan was still part of the Soviet Union. However, following the collapse of the Soviet Union, funds from Moscow dried up and the new Kazakhstani government was unable to continue construction. Efforts to preserve the already-completed work were made, but the high cost led to the accumulation of large debts to construction workers.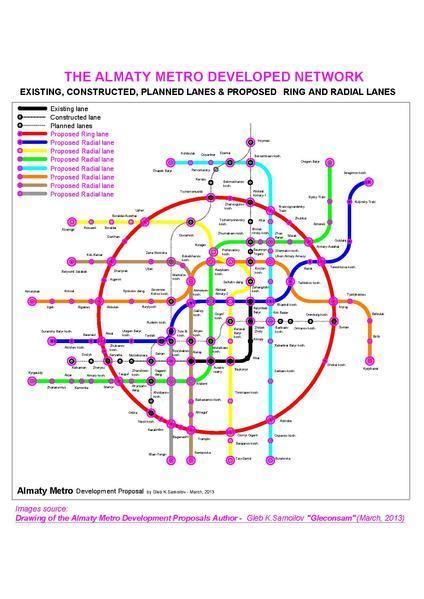 In 2003, the government of Kazakhstan laid out a new development initiative which included government funds for continued construction on the metro.
Construction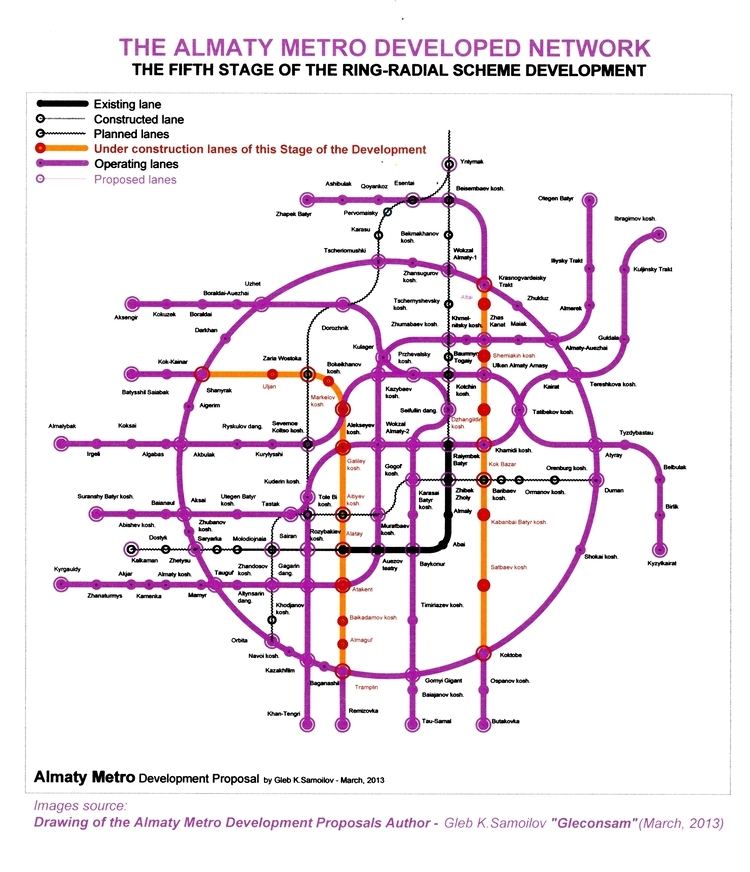 By 2005, the construction programme, now under the control of President Nursultan Nazarbayev, received commitments for 72 million tenge for 2006–2008.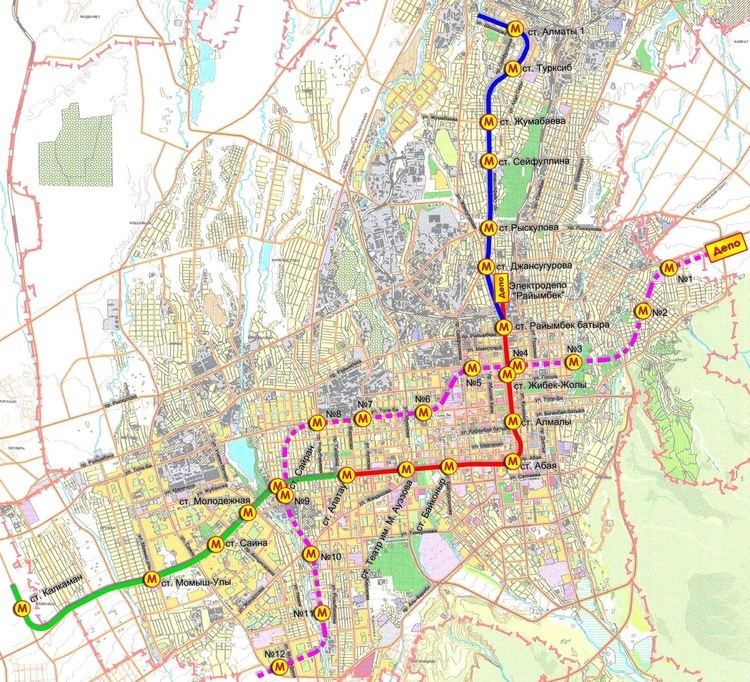 In May 2007, the tunnel between the Almaly and Abai stations was completed on the night of 24/25 May. The tunnel is 1.271 kilometres (0.790 mi) in length. At the connection point, it is situated at a depth of 73 metres (240 ft). The tunnel from Abai towards Baikonur (1.526 kilometres (0.948 mi) in length) was finished at the end of 2007. Another tunnel on this span was finished in the middle of 2008.
The construction cost on the first line is estimated at 101 billion tenge ($1 billion USD).
The first section of the Metro opened 1 December 2011, operating on 8.54 kilometres (5.3 mi) of route and serving seven stations (four deep-level stations and three sub-surface stations).
Construction on the expansion to Sairan and Moskva stations started in 2011, and opened for service on 18 April 2015, adding another 2.9 kilometres (1.8 mi) of route and two stations to the Metro.
Operations
As of April 2015, the Almaty Metro has a route length of 11.3 kilometres (7.0 mi) and serves nine stations.
The Almaty Metro owns 28 train cars which generally operate as seven four-car trainsets on the line.
Passenger numbers
12.4 million passengers used the metro in 2016, an increase on the 10.6 million who used it in 2015. Daily passenger numbers varied from 17,000 per day on Saturdays, Sundays and public holidays to up to 45,000 people who used it on working days.
Future plans
The Metro will expand in the future. Upon completion, the metro system is planned to total 45 kilometres (28 mi) in length.
References
Almaty Metro Wikipedia
(Text) CC BY-SA