Name

Allen West




Role

Prisoner





Full Name

Allen Clayton West




Born

March 25, 1929 (

1929-03-25

) New York City, New York, United States


Criminal charge

Carjacking, attempted escape from prison




Died

December 21, 1978, Gainesville, Florida, United States


Similar People

John Anglin, Clarence Anglin, Frank Morris, Robert Franklin Stroud, Theodore Cole and Ralph Roe, John Paul Scott
Allen Clayton West (March 25, 1929 – December 21, 1978) was a convicted criminal. He is known as one of the conspirators, involved in planning and preparing for the June 1962 Alcatraz escape, although did not participate in the escape.
Contents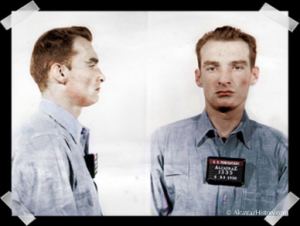 Alcatraz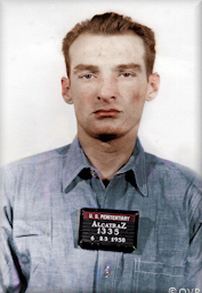 West was born in New York City in 1929. He was sent to the Atlanta Pententiary (where he first met Frank Morris and John and Clarence Anglin) and Florida State Prison for Carjacking as a car thief. He was sent to Alcatraz in 1957, charged with attempting escape, and became prisoner AZ1335. Morris and the Anglin brothers were sent to Alcatraz in 1960 and 1961, and by September 1961, the four were planning their escape. West was the only conspirator who did not participate in the actual escape, as he was unable to finish removing the ventilator grill in his cell in time.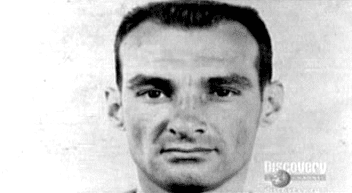 By the time West opened his ventilator grill, the others were gone and had taken the life raft with them. The only thing left behind was a small life raft, an oar made by the prisoners and a life jacket to help Allen West escape as they had left without him. As it was in the night and it was difficult to see, Allen did not find the items that were hidden, so instead he sat on the roof of the cells until dawn and eventually made his way back to his cell. In the morning after the breakout the items left on the roof of the cells were found by the guards. After the escape was discovered he gave several interviews to the FBI and prison authorities, during which he provided full details of the escape plan, possibly as some plea bargaining strategy. West was never charged for trying to escape from Alcatraz. Morris and the Anglin brothers were never seen again and their ultimate fate remains unknown.
Facts
Later life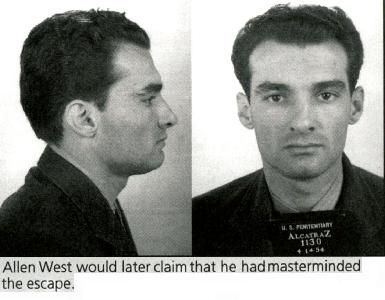 West left Alcatraz on February 18, 1963, then was transferred to McNeil Island, Washington and later Atlanta, Georgia. After his release from federal prison on January 7, 1965, West was sent to serve prison sentences in Georgia and Florida. He was released in 1967, but was later arrested in Florida on charges of grand larceny, robbery and attempted escape. Receiving multiple sentences, including life imprisonment, West was sent to Florida state prison in January 1969. On October 30, 1972, he fatally stabbed another prisoner in what may have been a racially-motivated incident. In December 1978, suffering severe abdominal pains, West was sent to the Shands Teaching Hospital, where he died of acute peritonitis on December 21, 1978, at the age of 49.
Popular culture
In 1963, J. Campbell Bruce published his book Escape from Alcatraz about escapes from Alcatraz Island, including that of Morris and the Anglin brothers. The 1979 film Escape from Alcatraz starred Clint Eastwood as Frank Morris; Fred Ward and Jack Thibeau as John Anglin and Clarence Anglin respectively. Allen West was played by Larry Hankin; his character's name was changed to Charley Butts.
References
Allen West (prisoner) Wikipedia
(Text) CC BY-SA