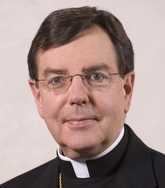 The eldest of six children, Allen Vigneron was born in Mount Clemens, Michigan, to Elwin and Bernardine (née Kott) Vigneron. He is of French descent on his father's side and German on his mother's. He graduated from Sacred Heart Major Seminary in 1970, receiving degrees in both Philosophy and Classical Languages. He then furthered his studies at the Pontifical Gregorian University in Rome, where he obtained a Bachelor's degree in Sacred Theology in 1973.
Upon his return to the United States, Vigneron was ordained to the priesthood by Cardinal John Francis Dearden on July 26, 1975. He then served as associate pastor of Our Lady Queen of Peace Church in Harper Woods. He earned his Licentiate in Sacred Theology from the Gregorian in 1977, and later resumed his pastoral work in suburban Detroit.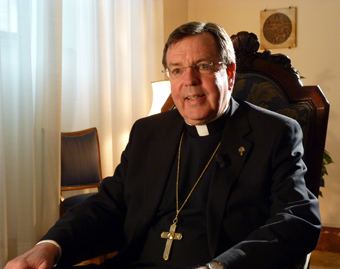 Vigneron completed his graduate studies at the Catholic University of America in Washington, D.C., earning his doctorate in philosophy in 1987 with a dissertation on Edmund Husserl. He was also made a professor (in 1985) and the dean (in 1988) of Sacred Heart Seminary. From 1991 to 1994, Vigneron served as an official in the Vatican Secretariat of State and adjunct instructor at the Gregorian. He then returned to Sacred Heart Seminary as its Rector. Vigneron, who was raised by Pope John Paul II to the rank of Monsignor in 1994, removed several teachers from the seminary for having strayed from official church doctrine.
On June 12, 1996, Vigneron was appointed Auxiliary Bishop of Detroit and Titular Bishop of Sault Sainte Marie in Michigan. He received his episcopal consecration on the following July 9 from Cardinal Adam Maida, with Cardinals James Hickey and Edmund Szoka serving as co-consecrators. Vigneron was later named Coadjutor Bishop of Oakland, California, on January 10, 2003, succeeding John Stephen Cummins as the third Bishop of Oakland on October 1 of that same year. In California, he helped lead protests against same-sex marriage. He compared abortion and stem-cell research to slavery and racism.
Pope Benedict XVI appointed Vigneron Archbishop of Detroit on January 5, 2009, replacing longtime incumbent Cardinal Maida. Installed on January 28, 2009, Vigneron is the first metropolitan Detroit native named Archbishop of Detroit. He was elected chairman of the Board of Trustees of The Catholic University of America on June 9, 2009. He received the pallium, a vestment worn by metropolitan bishops, from Benedict XVI on June 29, 2009 in a ceremony at St. Peter's Basilica. On April 21, 2011, as Archbishop of Detroit, he participated in an interfaith vigil held at the Islamic Center of America in Dearborn, Michigan.
In December 2015, following remarks from presidential candidate Donald Trump regarding restricting Muslim immigration into the United States, Vigneron wrote a letter to priests in the Archdiocese of Detroit, with a copy sent to the Imams Council of Michigan, condemning proposals to ban Muslims from entering the United States:
"While the Catholic Church refrains from weighing in for or against individual candidates for a particular political office, the Church does and should speak to the morality of this important and far-reaching issue of religious liberty. Especially as our political discourse addresses the very real concerns about the security of our country, our families, and our values, we need to remember that religious rights are a cornerstone of these values. Restricting or sacrificing these religious rights and liberties out of fear – instead of defending them and protecting them in the name of mutual respect and justice – is a rationalization which fractures the very foundation of morality on which we stand. This also threatens the foundation of religious liberty that makes it possible for us to freely practice our faith. These are not only Catholic sentiments on these issues; these, I believe, are the sentiments of all Americans."