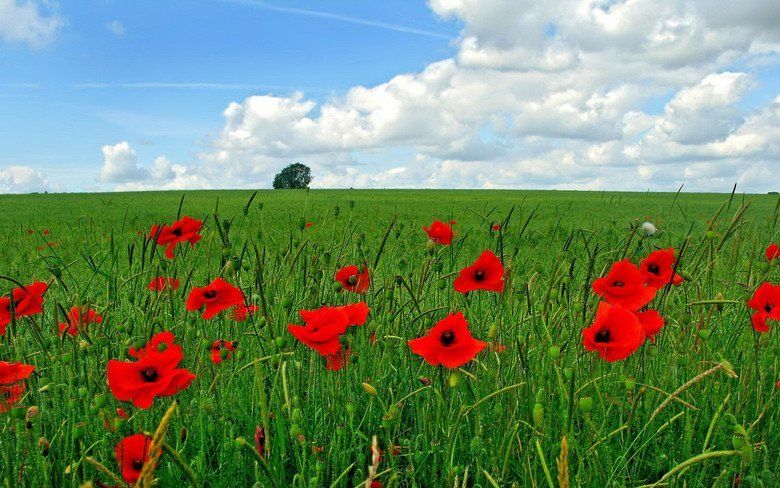 Paul Baumer, during World War I, enlists in the Imperial German Army with many of his high school friends, after being indoctrinated by their teacher (Donald Pleasence) as to the glory and superiority of German culture. After surviving training camp under the brutal Corporal Himmelstoss (Ian Holm), the young men board a troop train bound for the front lines. Ominously, at the same moment, they notice another train arriving in town loaded with returning wounded soldiers, who are carried off on stretchers. Once at the front lines, they are placed under the supervision of Stanislaus "Kat" Katzinsky, (Ernest Borgnine). Kat teaches them how to best take cover, how to find extra food, and other survival skills.
The French and German armies are shown attacking each other repeatedly over a few hundred yards of torn, corpse-strewn land. Paul's friend Franz Kemmerich is wounded, and soon dies in a crowded army hospital attended by nuns. Paul returns to the trenches with his troop, distraught by his friend's death.
When a French soldier falls into a trench Paul is hiding in, Paul stabs the man in the stomach with his bayonet, and Paul is forced to spend the night with him. Paul tries to bandage the dying soldier's wounds, but he dies anyway. Paul escapes the trench, stricken with guilt. Another comrade, after falling into a pit of poison gas, is carried off by the medics to a slow, painful death; the medics had appeared before Kat could put him out of his misery.
When Paul and his battalion return to a French town for a rest week, they see the new recruits have grown younger and younger. To their delight, the leader of these new recruits is their recently demoted training officer, Himmelstoss. When Himmelstoss tries to make them obey him, they stand up to him. Later in the trenches, while the Germans are launching an offensive attack, he sees a squad cowering in a crater, which includes Himmelstoss. Paul pushes Himmelstoss to force him to keep on the offensive.
Although at one point, Paul and two of his friends do have their first sexual experience with some accommodating French peasant girls, the vast majority of all the young men's experiences are horrific. One by one, practically all of Paul's other schoolmate friends die, one way or another. A haughty, stiff Kaiser Wilhelm II visits their camp to ceremoniously pin medals on heroic soldiers, which includes Himmelstoss.
Paul's squad are bombed in a French town close to the front, where one of his friends dies and another is severely wounded. Paul, who is also wounded, is granted leave. When home on leave, Paul is told by his sister that their mother (Patricia Neal), is dying of cancer. In visits to a beer garden and his former classroom, Paul realises that his town's older men, in their enthusiasm for war, have no sense of the horrors they have sent their youth to. He also visits Kemmerich's mother and lies to her that he did not suffer. Just before the end of the film, Kat is wounded by an artillery burst and Paul carries him many miles to a field hospital. There he finds out that Kat is dead.
Paul writes a letter to his friend, the sole survivor of their class, who is now an amputee. After finishing the letter, Paul walks through the trench checking on the younger soldiers, having taken up Kat's position as a mentor. He spots a bird and begins to sketch it, and when the bird starts to fly away Paul stands up to see where it went, exposing himself above the trench parapet. A lone sniper's shot rings out, killing him. A telegram with the film's title is shown to the viewer, revealing a segment from a report issued by the German High Command, only weeks before the war's end.
Richard Thomas as Paul Bäumer
Ernest Borgnine as Stanislaus Katczinsky
Donald Pleasence as Kantorek
Ian Holm as Himmelstoss
Patricia Neal as Paul's Mother
Paul Mark Elliott as Josef Behm
Dai Bradley as Albert Kropp
Matthew Evans as Friedrich Muller
George Winter as Franz Kemmerich
Dominic Jephcott as Peter Leer
Denys Graham as Kaiser Wilhelm II.
Mark Drewry as Tjaden
Colin Mayes as Westhus
Ewan Stewart as Detering
Michael Sheard as Paul's Father
Katerina Lirova as Paul's Sister
Mary Miller as Mrs. Kemmerich
The film won a Golden Globe Award in the category Best Motion Picture Made for TV as well as an Emmy Award for Outstanding Film Editing for a Limited Series or a Special.
Theatrical and home video releases
The original 150 minute US TV version, after being edited by 20 minutes, received a limited European theatrical release. The resulting 129 minute version is the one subsequently released to VHS video and DVD worldwide. The 2009 UK Blu-ray release features the original, unedited version.