Alison Loren Sudol (born December 23, 1984), also known by her musical moniker A Fine Frenzy, is an American alternative singer-songwriter, pianist, actor and Goodwill Ambassador for the International Union for Conservation of Nature (IUCN).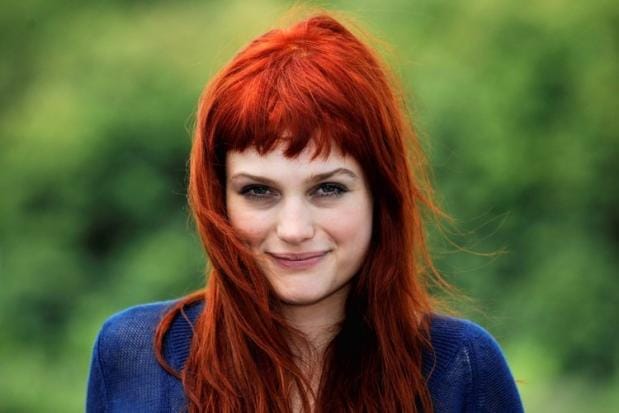 Born in Seattle, Washington to two dramatic arts teachers, Sudol and both parents moved to Los Angeles after their divorce, when she was five years old. She is the daughter of Sondra (Fraser) West-Moore and acting coach John Sudol. Sudol grew up listening to a wide range of music, including Aretha Franklin, Ella Fitzgerald, and swing. She has stated that her roots are "Scottish, Irish, Polish, and 'a bit' of German."
She graduated from high school at the age of 16, and considered herself "nerdy and quiet." Sudol did not "drink or smoke or do anything like that." She stated in an interview "I was so nervous about going into college like that and super young. I figured I would take two years and try to find out what I was doing with music. And when I was 18, I was just so deep into it that I didn't want to stop."
Sudol had a passion for literature, and immersed herself in the works of C. S. Lewis, E. B. White, Lewis Carroll, Anthony Trollope, and Charles Dickens. Her band's name, "A Fine Frenzy", is taken from a verse in William Shakespeare's A Midsummer Night's Dream: "The poet's eye, in a fine frenzy rolling, doth glance from heaven to earth, from earth to heaven" (Act 5, Scene 1). After teaching herself to play the piano, she began putting her creative energy into writing songs.
The short demo she sent out received attention from EMI's Jason Flom, who signed her after visiting her house and "listening to her play."
Her debut album, One Cell in the Sea, was released in 2007, followed in 2009 by Bomb in a Birdcage. Sudol's songs have charted in the United States, Germany, Austria, Switzerland, Poland, and France, among other countries, and as of October 2012, she has sold more than 650,000 albums. Her music has also been featured on numerous television shows and featured in several major motion pictures. A Fine Frenzy's latest album, Pines, was released on October 9, 2012.
In June 2015 Sudol stated that she will no longer perform as A Fine Frenzy. "A few years ago I put A Fine Frenzy to bed." Although choosing acting she continues to write songs.
Sudol has often referred to the literary influences on her music. Recently she disclosed that she is also pursuing a secondary career as a writer. In an interview, Sudol said she is working a children's story in the "Narnia" tradition, a fantasy featuring animals. In a later interview with Ladygunn magazine, Sudol revealed the title of her fantasy adventure book to be Three Sails and the Family Moss.
Beginning in 1997, Sudol played minor roles under the name "Alison Monro". In 2007 she appeared in and played a number of songs during an episode of CSI:NY, playing a musician targeted for death.
In 2014, Sudol appeared in both pilots and two episodes of the award-winning Amazon Studios series Transparent as Kaya, a singer and love interest of Jay Duplass' character Josh. She also appears in the television series Dig, as the archeologist Emma Wilson part of ensemble cast that also includes Jason Isaacs and Anne Heche. Elle (magazine) named Sudol one of "The 7 Most Exciting Newcomers on TV this Season" in January 2015.
In 2015 Sudol was cast in the film 'Fantastic Beasts and Where to Find Them', the first in a trilogy of Harry Potter spin-off films written by J.K. Rowling. Sudol plays 'Queenie', the younger sister of 'Tina' (Katherine Waterston), alongside Newt Scamander (Eddie Redmayne). The film is set in New York approximately seventy years before Harry Potter's story starts. The film is based on the Hogwarts textbook of the same name and follows the adventures of its author, "magizoologist" Newt Scamander. The film is set for release in November 2016.
Since 2011, Sudol has been a part of International Union for Conservation of Nature, becoming a goodwill ambassador in an effort to encourage others to participate in nature and conservation. She designed three tee shirts for Alternative Apparel in support for IUCN.