Name

Alireza Panahian







H i alireza panahian ramadan 2012 part 1 with english subtitles
Alireza Panahian (also Ali-Reza Panahian) is an influential Iranian Shiite cleric and official. He is a Hojatoleslam (a "middle-ranked" Shia cleric) and head of Iranian Supreme Leader Ali Khamenei's "think tank for universities." In February 2011 he was among some "70 high-ranking" officials of the Islamic Republic who established an "`Ammar` organization" or "Ammar Headquarters" calling for the "trial and execution" of former presidential candidates and Iranian Green Movement protest leaders Mir-Hossein Mousavi and Mehdi Karroubi. Raja News has listed him as one of 40-odd "students, confidants and political companions" close to conservative leader Ayatollah Mohammad-Taqi Mesbah-Yazdi.
Contents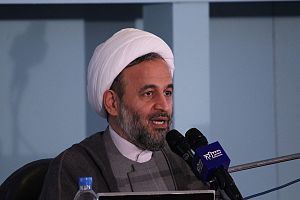 Panahian also addressed the 2010 "Islamic Unity Seminar" in Lahore, Pakistan on the subjects of the Prophet Muhammad's "character and Islamic Unity."
Faith without morals and morals without faith hojjat al islam alireza panahian eng subs
Duration of study
He tips the first year (1356) with school lessons,Religious education began in 1362 and continued his studies at Qom Seminary. After completing the courses, seminaries, for twelve years of course the grand ayatollah Hossein Vahid Khorasani, Abdollah Javadi-Amoli, Seyed Kazem al-Haeri and also Ali Khamenei benefited .Since the beginning of high school and besides studying at the Seminary , The books teach Morteza Motahhari,To promote and educate students in different environments,Collegiate and Religious Be activated.Psychology in the office Seminary and university cooperation Studied .He was a member of the faculty community center ad And in teaching and curriculum design And the development of textbooks With it The center works.
activities
Besides his missionary activities, administrative and management activities In the cultural arena As well as employment And the Cultural Department(Division 27 Muhammad Prophet) During the Iran–Iraq War,The Cultural Department«The representative of the Supreme Leader in universities»And«International Centre for Islamic Studies» Has always been active in the planning and management culture.More than ten years,While teaching at the University of the Arts,The responsibility of the university And next«Consultations on the organization representative of the Supreme Leader in universities» and «Promotional activities» Teaching in seminaries and universities As well as research and development in Islamic sciences is busy. Their relationship with Collection The early years Establishment of the Institute (Noore Marefat)it began And usually he Special programs and presentations were used So that this relationship reached its peak And workshop by their religious lecture This collection was created for advertisers
Views
In July 2010 he issued a statement "calling for the purge of `liberal-minded and clean-shaven` individuals from government offices" and warned against an unnamed "group that `will wage a war on values under the cover of Islamic slogans and symbols.`"
References
Alireza Panahian Wikipedia
(Text) CC BY-SA