Cooking style

California


Children

Fanny Singer




Spouse

Stephen Singer (m. 1985)





Role

Chef




Name

Alice Waters




Movies

Food Fight







Born

April 28, 1944 (age 71) (

1944-04-28

) Chatham Borough, New Jersey, U.S.


Awards

James Beard Foundation Award for Outstanding Chef


Books

The Art of Simple Food, My Pantry: Homemade Ingredien, The Art of Simple Food II, Chez Panisse Vegetables, Chez Panisse Cafe Coo




Similar People

Carlo Petrini, Jeremiah Tower, David Tanis, Paul Bertolli, Jean‑Pierre Gorin


Profiles




Twitter
Anthony bourdain alice waters and duff goldman
Alice Louise Waters is an American chef, restaurateur, activist and author. She is the owner of Chez Panisse, a Berkeley, California restaurant famous for its organic, locally grown ingredients and for pioneering California cuisine, which she opened in 1971.
Contents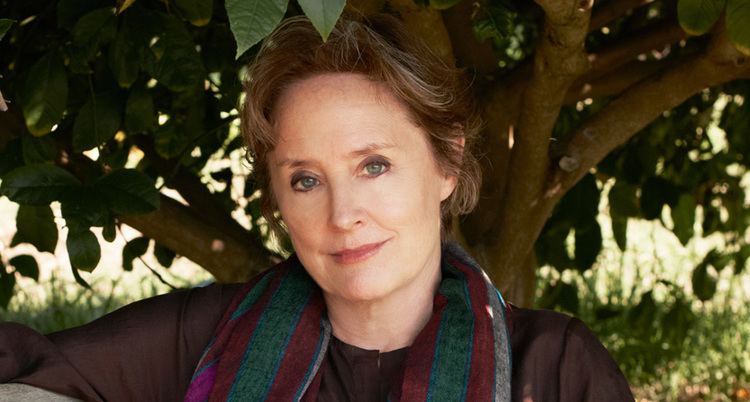 Waters has been cited as one of the most influential figures in food in the past 50 years, and has been called the mother of American food. She is currently one of the most visible supporters of the organic food movement, and has been a proponent of organics for over 40 years. Waters believes that eating organic foods, free from herbicides and pesticides, is essential for both taste and the health of the environment and local communities.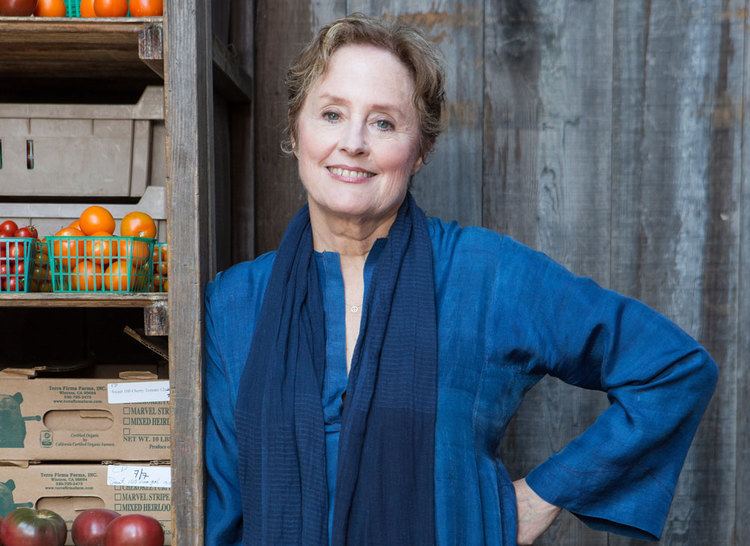 In addition to her restaurant, Waters has written several books on food and cooking, including Chez Panisse Cooking (with Paul Bertolli), The Art of Simple Food I and II, and 40 Years of Chez Panisse. She is one of the most well-known food activists in the United States and around the world.

She founded the Chez Panisse Foundation in 1996, and created the Edible Schoolyard program at the Martin Luther King Middle School in Berkeley, California. Waters serves as a public policy advocate on the national level for school lunch reform and universal access to healthy, organic foods, and the impact of her organic and healthy food revolution is typified by Michelle Obama's White House organic vegetable garden.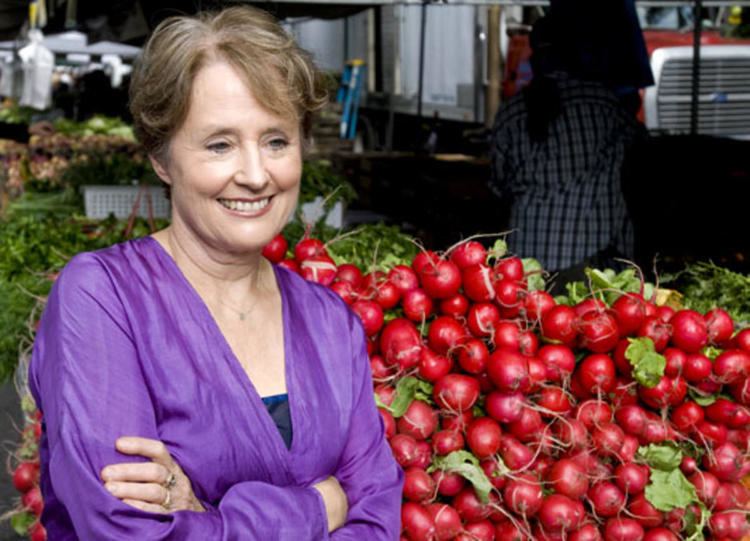 Greenroom alice waters charlie rose
Background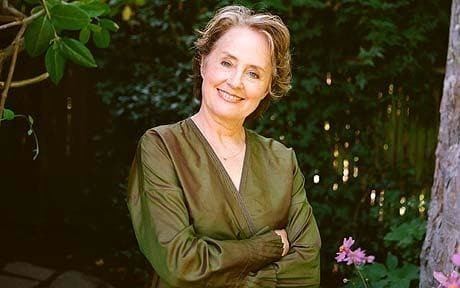 Waters was born in Chatham Borough, New Jersey April 28, 1944. She graduated from the University of California, Berkeley after transferring there from UC Santa Barbara. She received a degree in French Cultural Studies in 1967. During her time at UC Berkeley, she studied abroad in France, where she shopped for local produce and prepared fresh foods simply in order to enhance the experience of the table. During her time in France, she says she "lived at the bottom of a market street" and "took everything in by osmosis".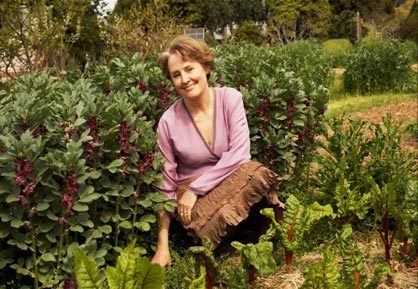 She brought this style of food preparation back to Berkeley, where she popularized the concept of market-fresh cooking with the local products available to her in Northern California. For her, food is a way of life and not just something to eat.
Free Speech Movement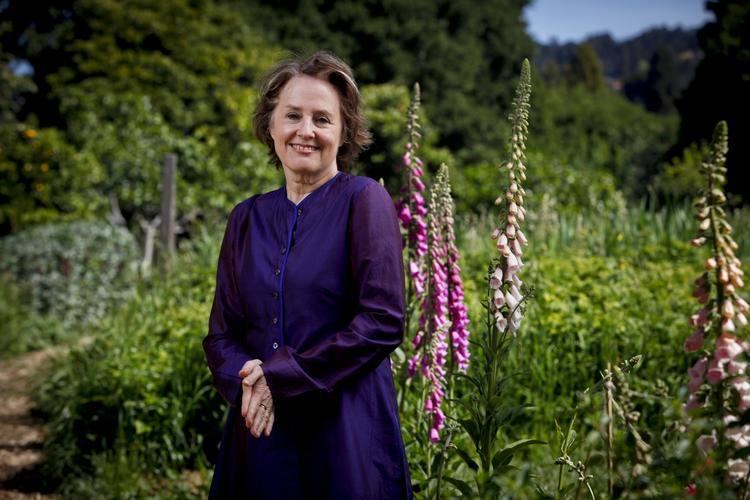 During her time at UC Berkeley, Waters became active in the Free Speech Movement, which was sweeping across the campus.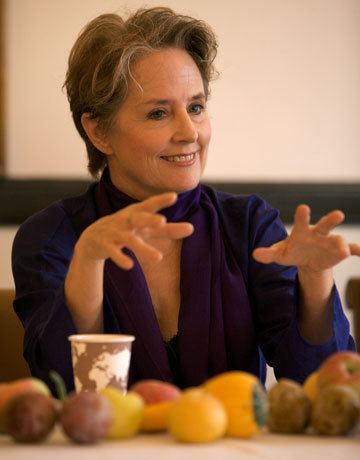 In response to a campus-wide ban on political involvement and activism, Berkeley students joined together to form the Free Speech Movement. One of the student leaders of this movement, Mario Savio, had a profound influence on Waters. Savio became famous in 1964 for delivering a speech, inciting individual student protesters to take action against the "machine" of political oppression. In his Sproul Hall Steps speech he said: "There's a time when the operation of the machine becomes so odious…And you've got to put your bodies upon the gears and upon the wheels, upon the levers, upon all the apparatus, and you've got to make it stop". Although her political aims have shifted, her approach to provoking change has remained constant over her tenure at Chez Panisse.
During this time, Waters worked on the congressional campaign of Robert Scheer, an anti-Vietnam War politician. She often cooked for and entertained her fellow campaigners, and for the first time was building her reputation as a cook in addition to an activist.
Additional influences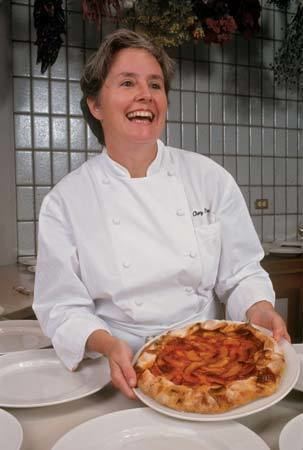 Waters eventually returned to Europe, where she first trained at a Montessori school in London, and then spent time traveling in Turkey and then in France once again. Principles of the Montessori method, which emphasize practical and hands-on activities for children, are evident in Waters' idea of "edible education" and her Edible Schoolyard, which engages children in the preparation of fruits and vegetables that they tend to with the supervision of their teachers.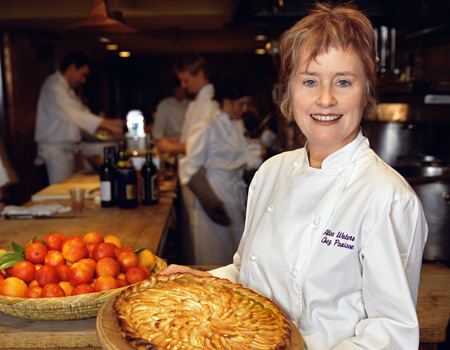 After training in London, Waters next traveled to Turkey, which she credits with influencing her approach to hospitality and deepening her respect for local communities. In his book Alice Waters and Chez Panisse, Thomas McNamee recounts Waters' experience in Turkey, where a young Turkish boy shared tea and a small bit of cheese with Alice and her traveling companions, even though he had very little. This small act of kindness had an effect on Waters's approach to hospitality and generosity in her own restaurant.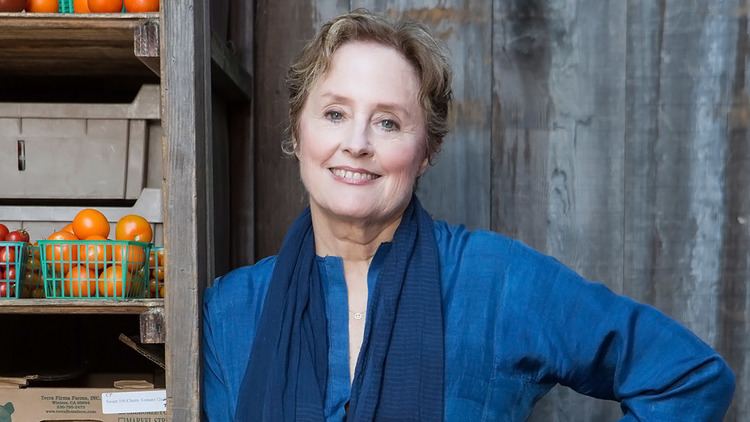 From Turkey, Waters then returned to France, where she embarked upon a year-long journey. Her travels solidified her love of all things food and French and inspired her to return to California and open Chez Panisse.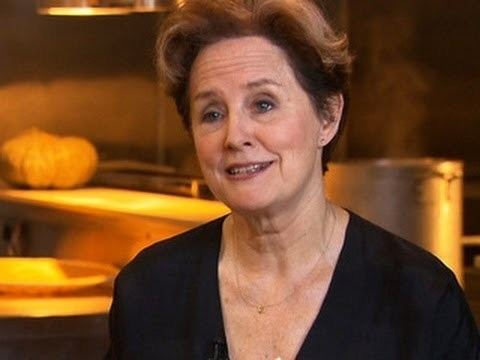 Waters counts Elizabeth David, the English cookbook author and writer, as one of her influences. She also credits Richard Olney, an American authority on French food who spent much of his life living in France, with influencing her simple, rustic cuisine.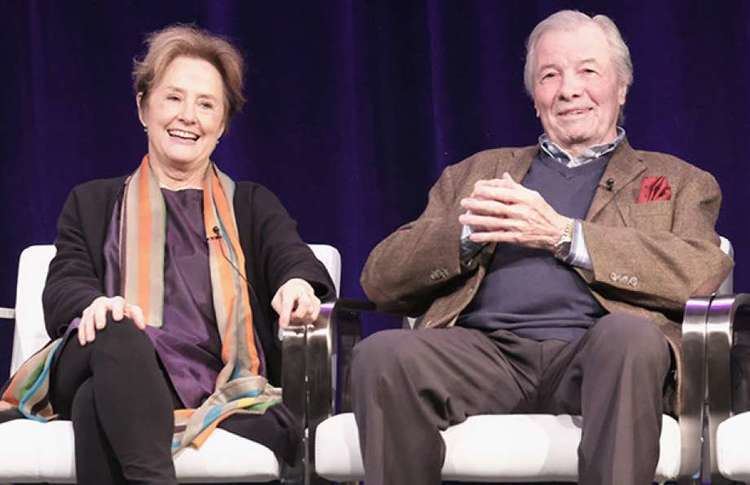 Olney introduced Waters to Lucien and Lulu Peyraud, owners of the Domaine Tempier vineyard in Provence. Lulu Peyraud's vineyard cooking significantly influenced Waters' cooking and her menus at Chez Panisse. In her foreword to Olney's book, Lulu's Provençal Table, Waters wrote: "Lucien and Lulu's warmhearted enthusiasm for life, their love for the pleasures of the table, their deep connection to the beautiful earth of the South of France – these were things I had seen at the movies. But this was for real. I felt immediately as if I had come home to second family."
In addition, Waters has said that she learned Chinese cooking from Cecilia Chiang, and the two became lifelong friends. Waters has said that what Chiang did to popularize Chinese cuisine in America is what Julia Child did for French Cuisine.
Background
In 1971, Waters opened Chez Panisse, which she named for a favorite character in a trilogy of Marcel Pagnol films. From the beginning, the restaurant was a collaborative effort, and was intended to serve primarily as a place where Alice could entertain her friends. Realizing the difficulty in sourcing fresh, high-quality ingredients, Waters began building a network of local farmers, artisans, and producers, and continues to source the restaurant's ingredients through her local network. Waters opened the upstairs Chez Panisse Café in 1980, which serves an a la carte menu for lunch and dinner. In 1984, Waters opened Café Fanny, named after her daughter, a few blocks from the restaurant. Café Fanny, which served breakfast and lunch in a casual, European-café setting, closed in 2012.
Dedication to organic food
Central to the operations and philosophy of Chez Panisse is Waters' and the restaurant's dedication to using organic ingredients. Waters has become a crusader for organic foods, believing that they are both better for the environment and for people's health in addition to tasting superior to commercially-grown, non-organic foods.
Waters became an organic devotee almost by accident, claiming that what she was originally after was taste. She says: "When I opened up Chez Panisse, I was only thinking about taste. And in doing that, I ended up at the doorstep of [organic farmers]."
Waters' current organic food agenda includes reforming the USDA school lunch program to include organic, local fruits and vegetables and changing the way America eats, but her passion for organics started at her restaurant, where she discovered that organic ingredients were the essential element necessary to create delicious food.
Recognition and legacy
Now in its 40th year, Chez Panisse has become one of the most awarded and renowned restaurants in the world. It was recognized as the Best Restaurant in America by Gourmet Magazine in 2001, and Waters was named Best Chef in America by the James Beard Foundation in 1992. She was the first woman to win this award.
In addition, Waters won the lifetime achievement award given by the S. Pellegrino 50 Best Restaurants association. She was the third recipient of the annual award, and is the only female winner in the award's history. About Waters, the 50 Best Restaurants writes: "Described variously as a visionary, a pioneer, 'the mother of American cooking' and 'the most important figure in the culinary history of North America', Alice Waters is certainly one of the most influential figures in American cooking of the last 50 years." [Waters' book] Chez Panisse Menu Cookbook was named as one of the 50 best cookbooks of all time by The Observer. Her book ranked number 11 on the list, which also included books by Deborah Madison, a Chez Panisse alum, and David Tanis, one of the restaurant's current head chefs. Alice Water's latest cookbook, entitled My Pantry, focuses on which basic dishes you should cook instead of buy.
Waters has also recently been named one of the TIMES Magazine Top 100 (2014), is a recipient of the Wall Street Journal Innovators' Award (2014), is a new member of the American Philosophical Society and the American Academy of Arts and Letters (2014), was mentioned in the 2010 International Raw Food Restaurant Directory, published by Ki Publishing. Former Chez Panisse staff include Mark Peel, of Campanile, in Los Angeles; Dan Barber, of Blue Hill at Stone Barns and Blue Hill Restaurant, in New York; Judy Rodgers, of Zuni Café, in San Francisco; Gayle Pirie, of Foreign Cinema, in San Francisco; and Suzanne Goin, of Lucques, in Los Angeles. The restaurant currently operates with a staff of over 100 people, including chefs, pastry chefs, and interns.
Activism and public policy influence
Waters' effort to promote fresh, sustainable food grown by local farms has extended into her work as a food activist and humanitarian. Waters has always been an outspoken supporter of the restaurant's approach to food, cooking, and supporting the local community, but has more recently formalized her efforts through the Chez Panisse Foundation.
In celebration of the restaurant's 25th anniversary, Waters founded the Chez Panisse Foundation in 1996, whose mission is to transform public education by using food to teach, nurture, and empower young people. In particular, the Foundation has worked with the Berkeley Unified School District to develop a public school curriculum that is integrated with the school dining services and incorporates growing, cooking, and sharing food at the table into the school day in order to build a humane and sustainable future for the school's students.
The Chez Panisse Foundation is a publicly supported 501(c)(3) organization.
The Edible Schoolyard and Edible Education
The primary work of the Chez Panisse Foundation has been to establish and sustain the Edible Schoolyard program at Berkeley's Martin Luther King, Jr. Middle School. The Edible Schoolyard was established in 1995 and is a 1-acre (4,000 m2) organic garden and kitchen classroom. Students at the middle school are involved in growing, harvesting, and preparing the foods from the garden, with the aim of promoting the environmental and social well-being of the school community.
Waters' work at the Edible Schoolyard has also developed into her School Lunch Initiative, which has the broader goal of bringing school children into a new relationship with food by making a healthy, fresh, sustainable meal a part of the school day. The School Lunch Initiative is a collaborative project with the Center for Ecoliteracy, also in Berkeley, and is also the topic of a series of studies through the Center for Weight and Health, at UC Berkeley.
The School Lunch Initiative is focused on bringing wholesome school lunch to the 10,000 students in the Berkeley Unified School District. In 2005, the Chez Panisse Foundation provided a grant to Berkeley schools to hire Ann Cooper as the Director of Nutrition Services for the district. Cooper and the Foundation eliminated almost all processed foods from the district and introduced organic fruits and vegetables to the daily menu, all while staying within the district's budget. Waters' vision is to teach subjects such as history, science, and art through the vehicle of food.
In September 2010, the Center for Weight and Health at UC Berkeley, Center for Ecoliteracy, and Chez Panisse Foundation released an evaluation report on the School Lunch Initiative. The report tracked elementary and middle school students over three years to determine the effects of the School Lunch Initiative on children's eating habits and knowledge. The report found that students in schools with highly developed School Lunch Initiative components ate more daily servings of fruit and vegetables than students in schools with lesser developed programs, and that they scored higher on food knowledge assessments. Schools with highly developed School Lunch Initiative components integrated kitchen and garden classes into the school curriculum, in addition to overhauling the school lunch program.
Although the work of the Chez Panisse Foundation has focused primarily on the Berkeley Unified School District, Waters has become a vocal and familiar advocate for school lunch reform and activism at the national level, as well. She encouraged President Bill Clinton to plant a White House garden. In 2009 she appeared on the CBS television program "60 Minutes," and made a public call for President Obama to plant an organic garden at the White House to catalyze change in the US food system. Michelle Obama, in conjunction with her anti-obesity campaign Let's Move!, planted the White House organic vegetable garden that year. An article in the ''San Francisco Chronicle'' states that:
Obama's Let's Move campaign, which replaced her predecessor's literacy drive, addresses much of what Waters has been preaching…Chris Lehane, a political consultant who has worked for Al Gore and Bill Clinton, sees Waters as "the George Washington of the movement and Northern California as the 13 colonies…If you're going to pick a figure who's responsible for it all, it all comes back to her."
Edible Schoolyard affiliate programs
In addition to the Edible Schoolyard in Berkeley, there are five affiliate Edible Schoolyard programs around the country. These include Edible Schoolyards in New Orleans, New York City, Los Angeles, San Francisco, and Greensboro, North Carolina. The Edible Schoolyard in New Orleans serves students in grades K through 8 from the Green Charter and Arthur Ashe Charter Schools. In addition to Open Garden, which includes the entire community in preparing a seasonal meal, the Edible Schoolyard has become a part of the school curriculum, and helps students learn about Creole cooking and indigenous food traditions. The affiliate program in New York City, located in Brooklyn at P.S. 216, will boast a newly designed kitchen and a four-season greenhouse in addition to a quarter-acre organic farm. P.S. 216 has nearly 500 students in grades K though 5, with 16% English language learners. The Greensboro affiliate program opened in 2009 at the Greensboro Children's Museum, and hosts a variety of weekend, after-school, and summer programs for children in the community. The program will also provide training and education for community parents and early childhood professionals.
The Larchmont Charter Schools in Los Angeles incorporate several gardens into their three campuses, which infuse the school curriculum with real-life applications through gardening and science. Participation in the school lunch program at the Larchmont Charter Schools is mandatory, and often features a family-style lunch made from local and organic ingredients. The San Francisco Edible Schoolyard program is operated through the Boys and Girls Club in Hunters Point, where there is a distinct need for access to healthy food and nutrition education. In addition to hosting an 800-square-foot (74 m2) garden, the program hosts cooking classes and organizes trips to local farmers markets.
Other advocacy projects
Currently, Waters is working at the national policy level to extend free school meals to all public school children in the United States. She hopes to expand programs like the Edible Schoolyard and the School Lunch Initiative in order to reach schools across the US. She supports the Child Nutrition Reauthorization Act, and believes that providing all public school students with free food in school would build the foundation for a healthier and more sustainable food culture in the US.
In 2003, Waters helped create the Yale Sustainable Food Project, which aims to make sustainable food an important part of university-level education. The project maintains an on-campus organic farm and integrates organic, local products into the university's dining program
Slow Food
Since 2002, Waters has served as a Vice President of Slow Food International, an organization dedicated to preserving local food traditions, protecting biodiversity, promoting small-scale quality products around the world. She was drawn to the Slow Food movement because of its work in passing food knowledge and traditions to future generations.
Film
In addition to food and advocacy, Waters' other passions include film. Chez Panisse was named for "Honoré Panisse", a favorite character in the "Marius", "Fanny", and "César" trilogy of Marcel Pagnol films, which chronicles the lives of working-class citizens in 1930s Marseilles. In the films, Honoré Panisse is a kind, older man who agrees to marry Fanny, a younger woman who is pregnant with another man's child. He is Waters' favorite character because of his kindness and generosity, qualities she wanted to emulate when opening her restaurant. Waters named her daughter after Fanny.
In 1984 Waters opened a small breakfast café in Berkeley. Café Fanny was named after the heroine of Pagnol's films - a love story involving the whole community, centered around a little standup café. Waters wanted to evoke their spirit: an ideal reality where life and work were inseparable and the daily pace left time for the afternoon anisette or the restorative game of petanque, where eating together nourished the spirit as well as the body-since the food was raised, harvested, hunted, fished and gathered by people sustaining and sustained by each other and by the earth itself. The café closed in March 2012. (http://cafefanny.com/history.html)
In turn, many people in the film industry are friends of Waters and of Chez Panisse. Francis Ford Coppola, Philip Kaufman, and others are notable restaurant patrons, and often attend events at the restaurant. In 1980, Werner Herzog asked Waters to cook his shoe for the film Werner Herzog Eats His Shoe. She prepared the shoe in the Chez Panisse kitchen, braising it in duck fat, herbs, and spices.
Awards
Waters received a 2014 National Humanities Medal for her work as a champion of a holistic approach to eating and health.
Other chefs
Other chefs who have cited Waters as a notable influence on their work include: René Redzepi, Stephanie Alexander, David Chang, Suzanne Goin, Rick Bayless, Yotam Ottolenghi, Ben Shewry, Judy Rodgers, Scott Peacock, Molly McCook, Rose Gray, Skye Gyngell, Frank Stitt,Darina Allen, and David Shalleck.
Books
California Fresh Harvest: A Seasonal Journey through Northern California (California Fresh) (with Gina Gallo, the Inc. Junior League of Oakland-East Bay, et al.)
Waters, Alice (1984). Chez Panisse Pasta, Pizza, Calzone. ISBN 978-0-679-75536-4.
Waters, Alice (1995). Chez Panisse Menu Cookbook. ISBN 978-0-679-75818-1.
Waters, Alice (1996). Chez Panisse Vegetables. ISBN 978-0-06-017147-6.
Waters, Alice (1997). Fanny at Chez Panisse : A Child's Restaurant Adventures with 46 Recipes. ISBN 978-0-06-092868-1.

, a storybook and cookbook for children
Waters, Alice (1999). Chez Panisse Café Cookbook. ISBN 978-0-06-017583-2.
Waters, Alice; Paul Bertolli (2001). Chez Panisse Cooking. ISBN 0-8446-7110-X.
Waters, Alice (2002). Chez Panisse Fruit. ISBN 978-0-06-019957-9.
Waters, Alice; Carlo Petrini; William McCuaig (2004). Slow Food : The Case for Taste (Arts and Traditions of the Table: Perspectives on Culinary History). ISBN 978-0-231-12845-2.
Waters, Alice (2007). The Art of Simple Food. ISBN 978-0-307-33679-8.
Waters, Alice (2008). The Edible Schoolyard. ISBN 978-0-8118-6280-6.
Waters, Alice (2010). In the Green Kitchen: Techniques to Learn by Heart. ISBN 978-0-307-33680-4.
Board memberships
Founder and President of the Chez Panisse Foundation
International Governor of Slow Food
Visiting Dean at the French Culinary Institute
Honorary Trustee of Copia in Napa
Board Member of the San Francisco Ferry Plaza Farmers' market.
Waters serves on the steering committee of the Yale University Sustainable Food Project, which brings locally grown, seasonal and organic food to students at Yale.
Awards and honors
Gourmet magazine awarded Chez Panisse restaurant as the Best Restaurant in America in 2001. In addition, Waters has won other honors.
National Audubon Society's 2004 Rachel Carson Award Honoree
Listed as one of the ten best chefs in the world in 1986 by Cuisine et Vins de France .
Best Chef in America by the James Beard Foundation in 1992
James Beard Humanitarian Award in 1997
Bon Appetit magazine's Lifetime Achievement Award in 2000
Elected to the American Academy of Arts and Sciences in April 2007
Given Global Environmental Citizen Award by Harvard Medical School February 2008 together with Kofi Annan
California Governor Arnold Schwarzenegger and First Lady Maria Shriver announced on May 28, 2008 that Waters would be inducted into the California Hall of Fame, located at The California Museum for History, Women and the Arts. She was among 12 inductees in 2008.
In 2009, she was awarded an honorary Doctorate of Humanities by Princeton University.
Senior Fellow of the Design Futures Council
French Legion of Honor in 2009
In 2014, she was inducted into the New Jersey Hall of Fame.
In 2015, she was awarded an honorary degree by American University of Rome.
References
Alice Waters Wikipedia
(Text) CC BY-SA