Alexey Pivovarov (Russian: Алексей Пивоваров) (born 12 June 1974, Moscow) is a well-known Russian TV journalist, TV producer and media manager. He is also known as a documentary maker and an author of historical movies for TV channels. He was the television host and managing editor for NTV News Division since 2005 until he left it for STS Media. From 2013 and through February 2016, he was a producer at STS Media.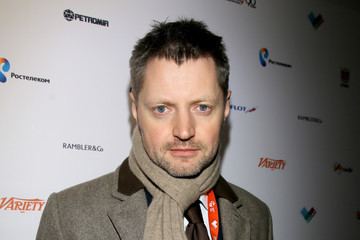 Pivovarov is currently an Editor-in-Chief and general producer of RTVI (international Russian-speaking Television,based in NYC), he has been appointed in September, 2016. Pivovarov's task includes the creation of a new news team and of an image that is attractive to advertisers. "We want to see not just the TV channel RTVi, but a modern media, available in on all environments [accessed by] our audience, both on air and through mobile applications and on social media," said Pivovarov
Pivovarov began his career in 1988 working in radio. Since 2005 he has been well known as a news presenter for Evening News "Segodnya" ("Today"), usually appearing with Lilia Gildeeva, and for his own TV projects. At the beginning of his TV career, Pivovarov was a protégé of Leonid Parfyonov. In 2004-2005 when Parfyonov was fired from "NTV", Pivovarov supported him with a sarcastic comment on the air, and was suspended from the Evening news as punishment. The news agency Reuters called Pivovarov "an unlikely opposition hero" after the website of the newspaper Kommersant reported that he allegedly refused to read the news on December 8, 2011 if he could not report on the ongoing protests in Moscow, which were being ignored by the state-controlled media. The next day, reports on the protests were included in the evening NTV news report, and other channels followed their example. NTV denied that Pivovarov had made any ultimatum, and Pivovarov himself never confirmed the report.
In recent years Alexey has written, produced and presented five docudramas about World War II: Rzhev: General Zhukov's Unknown Battle (2009); Moscow. Fall of 1941 (2010); The Captive Heroes of Brest (2010); Betrayal:The Story of Vlasov's Second Shock Army (2011); and June 22, 1941: Fateful Decisions (2011). Based on thorough research, newly released historic documents and interviews with experts and surviving witnesses, each film sheds new light on events of the recent past, deviating significantly from the version imposed by official soviet historiography. Poignant and revealing, these films depict the tragedy of war through the eyes of ordinary people, while stressing the parallels between Stalin and Hitler. All five films generated a wide response among the general public. One of the films, Rzhev: General Zhukov's Unknown Battle was awarded a special prize at the 2009 NIKA Ceremony (the Russian Oscars).
In 2011 Alexey participated in a joint Russian-German documentary project about the events leading up to World War II, acting as producer and one of the on-screen presenters.
In 2012, alongside documentary filmmakers Alexander Rastorguev and Pavel Kostomarov, Pivovarov created the documentary project "Srok" on political protests in Russia. Later, "Srok" was renamed Lenta.doc became a project on the old version of Lenta.ru, before Russia's media reforms of 2014. In 2014, the feature film Srok was assembled from the project's materials.
Aviator Production is an independent production company launched by Alexey Pivovarov in 2009. A studio develops and produces documentary films, docudramas, feature films and TV shows for Russian Channels.
Pivovarov is married to journalist Anna Schneider, and has a son named Ivan.
Documentary film "Rzhev: General Zhukov's Unknown Battle" was awarded a special prize at the 2009 "NIKA Ceremony" (the Russian Oscars).
In 2010 Alexey Pivovarov was the recipient of Russian GQ's Media Personality of the Year Award.