Known for

Ceramics




Name

Alexandre Bigot




Role

Artist







Born

5 November 1862 (

1862-11-05

)

Mer, Loir-et-Cher, France




Died

April 27, 1927, Paris, France
Alexandre bigot ceramiste
Alexandre Bigot (5 November 1862 – 27 April 1927) was a French ceramicist. He was primarily a ceramics manufacturer; producing the designs of many artists and architects of the French Art Nouveau movement; including: Jules Lavirotte, Hector Guimard, Louis Majorelle, Henri Sauvage, Henry van de Velde, Auguste Perret, Andre Arfidson, Anatole de Baudot and more.
Contents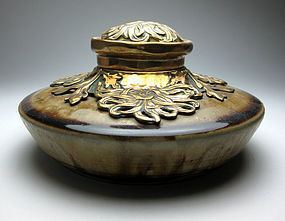 Bigot was a physics and chemistry instructor who became interested in ceramics in 1889 after viewing Chinese porcelain at the Exposition Universelle in Paris. With his knowledge of chemistry, Bigot was able to create glazes with a large variety of colors and finishes.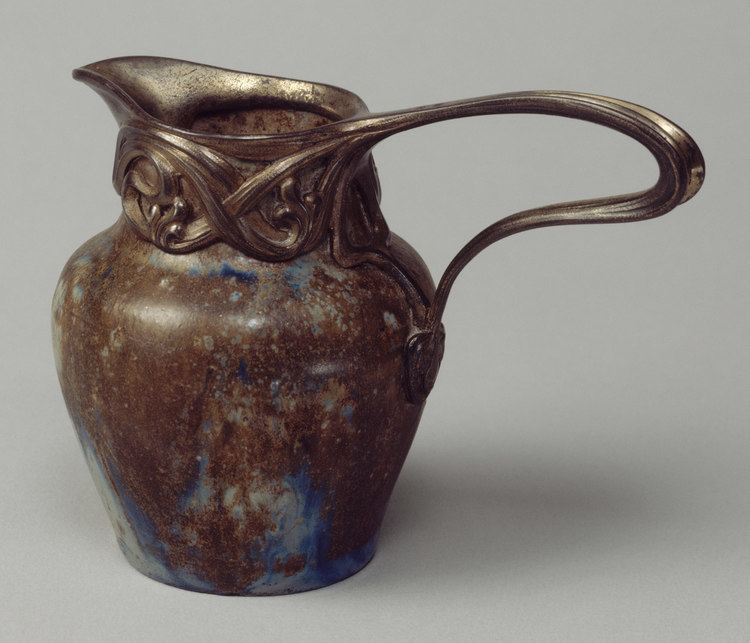 Bigot's firm was based at Rue des Petites Ecuries, Paris and he also created a ceramics factory in Mer in 1889 which employed as many as 150 people. Samuel Bing, a German art dealer in Paris, displayed works by Bigot, among others, and was responsible for exposing the Art Nouveau style. Bigot's Parisian firm closed in 1914 due to a decline in the popularity of Art Nouveau.
Castel Béranger, 1894-5
Architect: Hector Guimard
Paris Exhibition of 1900
Bigot fabricated René Binet's designs for the main gateway to the Paris Exhibition of 1900. Bigot's work was acquired in its entirety by Jenő Radisics, the director of the Budapest Museum of Applied Arts and remained in store until 2013, when much of it was displayed at the Museum.
Avenue Rapp No. 29, 1901
The Lavirotte Building, designed by Jules Lavirotte, Avenue Rapp no. 29, Paris was the residence of Alexandre Bigot.
In 1901, Jules Lavirotte's design for this won a municipal competition as the year's best. Its extraordinary portal is the ultimate in Art Nouveau exuberance. The carved elements feature a central bust of a woman with flowing hair, balanced by carved naked figures rising above the sides.
Rue d'Abbeville No. 14, 1901
Architects: Alexandre & Edouard Autant
Source
Avenue De Wagram No. 34 (Ceramic Hotel), 1904
This reinforced concrete building, built by Jules Lavirotte, was nicknamed "Ceramic Hotel" for its glazed earthenware façade, created by Alexandre Bigot and sculpted by [Camille Alaphilippe]. Exemplifying the sensual Art Nouveau style of turn-of-the-century Paris, this residence won the city prize for the best façade of 1905.
Saint Jean de Montmartre
Architect: Anatole de Baudot
Rue Franklin No. 25, 1904
Architect: Auguste Perret
Info
Rue Campagne-Premiere No. 31, 1911
Architect: Andre Arfidson
Ceramic detailing gives this industrial façade charm and helped the architect win an award for its frontage in 1911 from the Town of Paris. The sandstone tiling by ceramist Alexandre Bigot covers this reinforced concrete duplex of twenty workshops with residences. The three-dimensional floral elements add geometric patterning to the piers and around the window borders.
United States Patents
Patent No. 838,496. Application Filed: February 17, 1903. Patented: December 11, 1906. Link
A process for the manufacturing of glazed or enameled ceramic ware.
Patent No. 1,497,084. Application Filed: October 6, 1920. Patented: June 10, 1924. Link
A drying kiln for the production of ceramic ware.
References
Alexandre Bigot Wikipedia
(Text) CC BY-SA