Covid-19
Alexandre de





Politician






October 20, 1821, Paris, France




Daniel-Marie Anne de Talleyrand-Perigord
Alexandre Angélique de Talleyrand-Périgord (16 October 1736, Paris – 20 October 1821, Paris) was a French churchman and politician, and the paternal uncle of Charles-Maurice de Talleyrand-Périgord (1754–1838).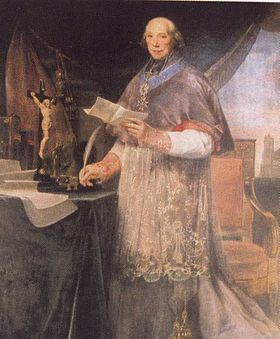 collège de La Flèche at Paris ;
seminary of Saint-Sulpice at Paris, which he left with a licence in theology ;
faculty of law at Reims (licence in canon law and civil law) ;
ordained priest in 1761 ;
in the service of the vicar general of the bishopric of Verdun (1762) ;
Coadjutor bishop of Reims (27 December 1766) ;
King's Almoner;
titular bishop of Trajanopolis ;
archbishop of Reims (27 October 1777) ;
last abbot of the abbey of Cercamps near Frévent (1777-1789 );
refusing to agree to the Concordat of 1801, he refused to resign the archbishopric of Reims, and continued to do so until 8 November 1816, after the Bourbon Restoration ;
Grand Almoner to King Louis XVIII (1808, during the king's exile) ; function still occupied at the time of Lent 1817;
cardinal (28 July 1817) ;
archbishop of Paris (1 October 1817, but only installed in 1819).
Clergy député at the Estates-General of 1789
Louis XVIII's representative in Poland (1803)
pair de France (1815)
main architect of the Concordat of 11 June 1817.
Emigrating in 1790, after the Civil Constitution of the Clergy, he stayed successively in Aix-la-Chapelle, Weimar and Brunswick. He had the abbot Nicolas Baronnet (1744–1820), vicar of Cernay-en-Dormois (Marne), as his secretary during this time. He came to England with Louis XVIII living at Gosfield Hall in Essex and Hartwell House, Buckinghamshire. In 1814 he returned to France upon the first Restoration, and in 1815 he followed Louis XVIII back into exile during the Hundred Days.
Commander of the Order of the Holy Spirit
Jacques Wilbault, Alexandre Angélique de Talleyrand-Périgord, Cabinet des Estampes, Paris
Louis Pierre Deseine, Portrait de monseigneur de Talleyrand Périgord (Alexandre Angélique) archevêque et pair de France, c.1822, bust, Paris, Musée du Louvre
Jean-Pierre Franque, Alexandre Angélique de Talleyrand-Périgord, cardinal, oil on canvas, after the cardinal's death, Musée du château de Versailles
Portrait
Alexandre Angélique de Talleyrand-Périgord Wikipedia