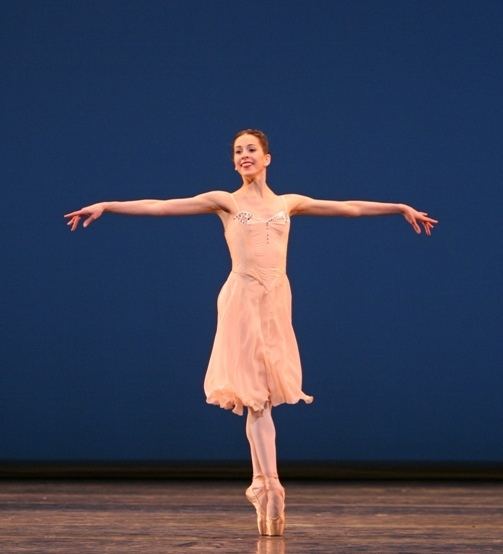 Ansanelli was born in Manhassett, Long Island. Her mother, Linda Ansanelli, is the daughter of the late Jack and Esther Young. Jack Young, stage name Ray Royce, was a Vaudevillian child star and later became the headliner for Ted Lewis and Eddie Cantor. Alexandra's grandfather Jack, was a descendant of Sir Walter Raleigh. Alexandra's grandmother Esther, was from the Miller family, grew up in Valley Stream, Long Island.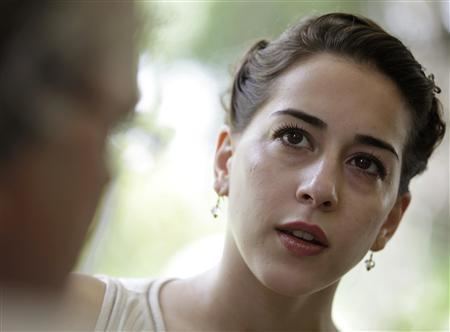 As a child, Linda was spotted and called to audition for the new Broadway show Gypsy produced by David Merrick and Leland Hayward. Linda auditioned for Jerome Robbins and was chosen for the role of Baby June. "Grandpa Jack" did not want Linda to be in show business and declined to let her go. Ironically many years later, her daughter Alexandra, was the last muse of Jerome Robbins before he died, and was the leading role as "The Bride" in his final staging, Les noces.
Alexandra's father Vincent Ansanelli, Jr. M.D., is the son of Italian immigrants, and grew up in The Bronx, New York. Alexandra's great-grandmother was an attorney on Ellis Island for the Italian immigrants, and Alexandra's great-uncle, Frank Ansanelli M.D., was a professor of neurology at Columbia Presbyterian Hospital. Alexandra's father is a pioneer of laser breast cancer surgery. Alexandra is the youngest of three daughters and five half brothers from her Father's previous marriage. She currently works at her father's medical practice as the director of operations and communications.
Alexandra attended Friends Academy in Locust Valley, New York, and was an athlete. At age 6, Alexandra was both on a soccer team and attended Trip Lake Camp, in Poland Spring, Maine. At nine, Alexandra incorporated dance lessons at Danny Holdstein's Two Worlds in Greenvale, N.Y., with Kirov ballerina Kaleria Fedicheva, in Glen Cove, New York. At 10 Alexandra was asked to join the traveling soccer team. That summer she attended a summer arts program, Belvoir Terrace, in Lenox, Massachusetts. Edward Villella, who was visiting his daughter, suggested Alexandra audition for the School of American Ballet in NYC. One month later, in the fall of 1991, Alexandra auditioned for SAB and was accepted. During the first month at SAB she got her first break. Another student could not get her working papers in time to perform in the annual performance of George Balanchine's The Nutcracker with the New York City Ballet at Lincoln Center. Alexandra was asked to replace her in the role of "Pollichinelle". Alexandra also performed children's roles with the company in Balanchine's Coppélia, A Midsummer Night's Dream, Harlequinade, Sleeping Beauty's "Garland Waltz", and Mozartiana.
The following year Ansanelli chose to fully commit to ballet and decided to leave her entire life on Long Island. She moved into New York City and attended the Professional Children's School for academia, which has had notable celebrities such as Scarlett Johansson, Yo-Yo Ma and Marvin Hamlisch, to name a few. Ansanelli later found out that her grandfather Jack had also attended PCS during his vaudeville days. In the fall of 1993 Fall/Winter edition of Kids Magazine Ansanelli was named a "Whiz Kid". Ansanelli performed in the PCS tribute to Rodgers and Hammerstein hosted by Sigourney Weaver and John Hart at the Manhattan Community Center. She was "Charlotte" in the schools production of Charlotte's Web. Ansanelli performed with Chen Min's China Ballet Company dancing the titke role in Snow White and the Don Quixote pas de deux. Ansanelli received full summer scholarships and attended the Chautauqua Institution, the Pennsylvania Ballet's Rock School, the Pacific Northwest Ballet School in Seattle, the New York State School of the Arts, San Francisco Ballet and the David Howard Dance Center in NYC.
In November 1996 Ansanelli was chosen to originate in Nichol Hilinka's piece Physical Properties to music by the Kronos Quartet for SAB's choreographic studio workshop performance. On the opening night, following her performance, Ansanelli was asked to attend New York City Ballet company class the next morning. One month later Ansanelli was dancing at the New York State Theater , Lincoln Center. in the leading role of the Dewdrop Fairy, in George Balanchine's The Nutcracker. She received her contract that same week for her 16th birthday. Clive Barnes of the NY Post wrote on December 30, 1996, "Ansanelli an authority which is given by good fairies, not just instilled by fine teachers, This young Ansanelli seems a kid with a golden future." Anna Kisselgoff of The New York Times, December 25, 1996, wrote, "Ansanelli a true prodigy ... commands the stage with a presence that is both bold and dreamy. Ms. Ansanelli is a rare find, a dancer of nuance and originality."
On February 3, 1997, Ansanelli performed Columbine from Balanchine's Harlequinade at the World Financial Center's Winter Garden celebrating St. Petersburg and later that year was named one of Elle Magazine's "25 to Watch". She received the Princess Grace Award for Outstanding Promise from Prince Albert of Monaco. In 1999, she was awarded the Teen People Magazine Award, "20 Teens to Change the World". Bazaar magazine placed Ansanelli on the "IT List", "20 Women for the Year 2000". Newsday featured Ansanelli as "Prodigy", "I love doing things to the fullest. I always try to push myself to get a little bit stronger. It's my approach. I don't know whether it's good or bad. It's the way I do it."
Ansanelli's repertoire included originating principal roles in NYCB artistic director Peter Martins' River of Light, Walton Cello Concerto, Eros Piano and Guide to Strange Places, also dancing principal roles in his Calcium Light Night, Fearful Symmetries, Swan Lake, Sleeping Beauty, Concerto for 2 Solo Pianos and Octet.
Ansanelli was the principal role as "The Bride" in Jerome Robbins final staging of Les noces. She was Jerry's last muse, working with assistant Jean Pierre Frohlich, dancing "The Novice" in The Cage. Clement Crisp of the London Financial Times wrote June 1, 1999, that "Her performance was as menacing and emotionally powerful as that of Nora Kaye who created the role in 1951." She also danced principal roles in Robbins' 2 and 3 Part Inventions, Afternoon of a Faun and Piano Pieces. She danced principal roles in National Dance Institute director Jacques d'Amboise's Irish Fantasy, David Allen's Reunions, and Miriam Madaviani's In the Midst.
At the end of the NYCB's Balanchine 's 50th Anniversary Celebration, Ansanelli had a severe foot injury, sidelining her for two years and almost ending her career. In Roslyn Sulcas' New York Times article, Saturday, June 6, 2002, "A Young Survivor in an Unforgiving World", it was described that after multiple prognosis's and diagnosis's she was told many times that she might not be able to dance again. During that period she completed high school.
Ansanelli returned to the stage in fall 2001. Ballet Review (Winter 2001) described Ansanelli's performance of Allegro Brillante as "spine chilling ... The performance was distinguished by an aerial emphasis unlike any ballerina predecessor (Talchief, McBride, Farrell). Everything was lifted in this account of the role. The dancer as young mistress of the element, but always calm in her course. Ansanelli achieves the empyrean in that mysterious stillness."
Ansanelli was a muse of British choreographer Christopher Wheeldon, originating principal roles in his Carousel (A Dance) which was created for the NYCB celebration of Richard Rogers; the premiere was opened by Mayor Michael Bloomberg. Critic Sylviane Gold wrote in Newsday November 28, 2002, describing the pas de deux, "There hasn't been anything to equal their dramatically charged achingly romantic duets since the last by Jerome Robbins and the audience erupted entirely justified bravos." Ansanelli also originated in Wheeldon's Morphoses, Polyphonia and Variation Serieuse. She performed Morphoses for an educational seminar Works & Process at the Guggenheim Museum.
Dance partner Benjamin Millepied, director of the Paris Opera Ballet as of September 2014, created on Ansanelli Triple Duet, performed for Dances Concertantes at Sadler's Wells, London, in 2002 and We Were Two to music by Philip Glass performed for the French Institute Alliance française at Florence Gould Hall.
Ansanelli originated principal roles in Broadway choreographer Susan Stroman's Makin' Whoopee, Saint Petersburg's Boris Eifman's, Musagète in the role of Tanaquil LeClercq, Italy's Mauro Bigonzetti's Vespro. Ansanelli's Balanchine repertory included from the title role in The Firebird and principal roles from Stars and Stripes, Allegro Brillante, The Steadfast Tin Soldier, Dances Concertantes, Symphony in C, Who Cares?, Scotch Symphony, Western Symphony, The Nutcracker, Valse Fantasie, The Four Temperaments, Serenade, Vienna Waltzes, Brahms–Schoenberg Quartet, Liebeslieder Waltzes, "Swanilda" from Coppélia, Stravinsky Violin Concerto, Divertimento No. 15, A Midsummer Night's Dream, "Rubies" in Jewels and "Columbine" in Harlequinade.
Ansanelli guested in Beijing, China and was asked to perform for the Chinese New Year at Madison Square Garden coached by Mikhail Baryshnikov in the Don Quixote pas de deux, Stars of the 21st Century at the Théâtre des Champs-Élysées in Paris, France and at the David H. Koch Theater in NYC. Ansanelli danced to Wynton Marsalis' live interpretation of George Gershwin's "The Man I Love" for "Live from Lincoln Center". Ansanelli guested with prima ballerina assoluta Alessandra Ferri at the Ravenna Festival, Ravenna Italy, Teatro Antico, Taormina, Sicily and Hadrian's Villa, Rome, Italy, coached by Wilhelm Burmann. She was featured along with Kirov director Valery Gergiev in New York City Ballet's film "Bringing Back Balanchine" filmed in St. Petersburg, Russia.
Ansanelli was featured in Eugenia Zukerman's book In My Mother's Closet, a collection of recognized women's stories on how their mother's influenced their lives. She was featured on WQXR's "Prodigies" June 23, 2002, and again on Francis Mason's segment on WQXR reviewing Ansanelli's debut in Firebird, "Ever since Maria Tallchief introduced Balanchine's version of Firebird and made NYCB's first big hit, this role had been key to the repertory, and so in Ansanelli's exquisitely fiery interpretation it will remain".
In 2003 Elle magazine again named Ansanelli "25 to Watch". The New York Times named her in "Dance and Dancers of the Year as the Seasons Highs and Lows of 2003". Dance Magazine 2003 named her "25 to Watch", Time Out featured her as "Alexandra the Great", The New York Times "Season's Best Offerings", Ansanelli in Balanchine's Rubies, Jewels.
Ansanelli was featured in Italian Vogue 2004, cover of Italy's Tutto Danza, 2004. cover of Dance Magazine 2004 as "Red Hot". Ansanelli promoted Levi's Red Campaign: and was defined "Ansanelli Cause: leading ballet with her heart, and not her feet".
Ansanelli was a guest of the NBA Ballet company in Japan, the Vail International Dance Festival in Colorado. In 2003, choreographer Leigh Witchel (later to be the dance critic for the New York Post) created "The Pause On the Way Down" on Ansanelli for his company, Dance as Ever. In a 2002 Interview Magazine feature, Ansanelli is asked "What advice can you give kids who want to be in your position one day? Her response " You should definitely have a goal because there are points in your career that are extremely difficult and you can't lose sight of what you initially wanted. There are moments that will be difficult, like my injury, which I had for 2 years".
On March 14, 2004 Liesl Shillinger wrote a feature for The New York Times, "The Paradox of the Self Effacing Diva", describing Ansanelli's career and questioning whether "the self effacing diva is something that can logically exist or should?" In regards to the many gifts from admirers of her artistry "Alexandra sees the tributes as homage not to her but to the ongoing tradition of ballet. She does not seem at risk of having her head turned, unless a ballet mistress is directing her to do so". Ansanelli says " It's very enlightening to be surrounded by talent and knowledge, the more greatness you are surrounded by the more you want to achieve greater heights".
On July 30, 2005, Gia Kourlas wrote an article for The New York Times, "City Ballet Principal leaves the West", announcing the departure of Ansanelli from the New York City Ballet. Ansanelli stated: "I joined the company at 15 so it's like a second family, but in terms of artistic growth as a ballerina I want to keep learning. I've always had a passion for the classics, the music, the choreography, the stories. I don't want to criticize the system but I knew I had to take the plunge in order to experience something new in my life. I have a dream and it may not happen, but I am willing to take that chance".
Upon leaving NYCB Ansanelli was invited and trained at Maurice Béjart's company in Lausanne, Switzerland with Azari Plezetski, master teacher, partner to legendary Cuban ballerina Alicia Alonso, and brother to legendary Russian ballerina Maya Plisetskaya.
Ansanelli represented Suzanne Farrell at the nationally televised Kennedy Center Honors, 2005. Ansanelli guested with Andrea Bocelli for his Christmas Show at Madison Square Garden, Sunday December 4, 2005, performing a solo to his ''Ave Maria''.
In December 2005 Ansanelli moved to London, England, to join The Royal Ballet as a first soloist and was promoted to principal ballerina in July 2007.
On December 30th 2005, The London Evening Standard announced Ansanelli would be joining the Royal Ballet in the "Next Year's Next Big Things from the World of Arts". The 2005 Sweet Sixteen Guidepost Magazine True Story, a biographical inspirational tale of Ansanelli's struggle with scoliosis.
While at The Royal Ballet, Ansanelli was a guest of Prince Charles at his home in Highgrove House and performed for Queen Elizabeth and Princess Anne. In 2007 she performed the role of Sugar Plum Fairy from Sir Peter Wright's The Nutcracker for the first live feed of ballet from the Royal Opera House to movie theaters throughout Europe. Ansanelli represented The Royal Ballet receiving the 2008 Laurence Olivier Award for the production of George Balanchine's Jewels, sponsored by jeweller Van Cleef & Arpels; Ansanelli performed the role of "Rubies". Ansanelli was fashion featured for a Sonia Rykel campaign in YOU magazine, 2007. She was on the cover of the Pointe Magazine 10th Anniversary Issue titled "Force of Nature" by Graham Watts; Dance Magazine 2007 "Under the Spell of Aurora"; Dance Magazine's feature "Royal's New Reign", 2006; About The House cover (Royal Opera House Magazine); Town & Country Travel, 2007; Pointe Magazine's VIP list of 2007 and represented Mirella Dancewear.
Ansanelli was coached by Dame Antoinette Sibley, and Jonathan Cope in the role of "Princess Aurora" from The Sleeping Beauty. In Roslyn Sulcas' article for the NY Times on December 17, 2006, "The Classical Test for a City Ballet Star Who Flew" Dame Sibley states " It was wonderful to coach Alexandra as Aurora because she really wanted to master the Petipa classicism."
Natalia Markarova, Sir Anthony Dowell, Dame Monica Mason, Jonathan Cope, Leslie Collier and Alexander Agadzhanov coached Ansanelli on the "Swan Queen" from Swan Lake, "Gamzatti" from Markarova's La Bayadère, "Sugar Plum" from Sir Peter Wright's The Nutcracker.
In Ashton principal roles, "Air" from Homage to the Queen, "Natalia Petrovna" from A Month in the Country, La Chatte for the Royal Opera House "World Gala", La valse, Checkmate, Birthday Offering, Les Patineurs, Coppélia and in the title of Ondine, created for Dame Margot Fonteyn. On May 31, 2009, Jenny Gilbert of The Independent described Ansanelli's transformation from a Balanchine dancer to an Ashton, (former director and choreographer of the Royal Ballet), " With her lovely long limbs, delicate oval face, and her whip-crack speed and lightness, she promised a delicious Ondine. And so it proved, gone were the spikey angles of the old Ansanelli. In place were flowing arms, soft hands and that in which every tiny watery allusion of Ashton's choreography registered."
Ansanelli guested at La Scala Opera House, Milan, Italy, performing Balanchine's Tschaikovsky Pas de Deux. She guested with Miami City Ballet's director Lourdes Lopez's company "Morphoses" at the Sadler's Wells Theatre in London, performing Balanchine's Allegro Brillante with Angel Corella. London Financial Times critic Clement Crisp reviewed the performance on September 25, 2007, "It was a performance of grandest distinction and irresistible charm".
On Tuesday June 23, 2009 Sarah Kaufman announced in The Washington Times Ansanelli's U.S. farewell performance, "An Early Swan Song: Alexandra Ansanelli Bids Ballet Adieu" at Washington's Kennedy Center. Immediately following her U.S. retirement in New York Ansanelli gave her final ballet performance, in Cuba with the Royal Ballet company (celebrating its 50th anniversary with a return to Cuba) as Natalia Petrovna in Ashton's A Month in the Country with Ivan Putrov as Beliaev.
In Graham Watts' feature on Ansanelli in Pointe Magazine's 10th Anniversary Issue she explains "to me ballet was a religion, a devotion, a marriage, something inside is calling me in a new direction. Time is passing by and I must make this next step in order to create more balance in my life". Reuters Cuba explained that balance as "going to college."
In the fall of 2010, Ansanelli attended Columbia University for one year full-time and then took a leave to support the cause of laser breast cancer surgery, as a surgical option in the fight against breast cancer. She received the Jerome Robbins Award in 2011, became a board member of the Professional Children's School and Clive Barnes Awards. Ansanelli returned to Columbia University in the fall of 2014 to resume her studies.