Covid-19
Aleksei Gan







Aleksei Gan (1887 or 1893 – 1942) was a Russian anarchist avant-garde artist, art theorist and graphic designer. Gan was a key figure in the development of Constructivism after the Russian Revolution.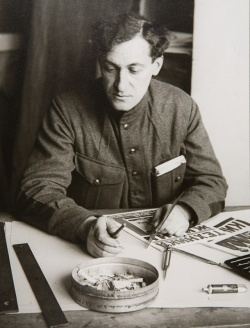 Gan was the first to write on art in the anarchist newspaper Anarkhiia (Anarchy) when it introduced an art section in early 1918. In March 1921, Gan was one of the seven artists, including Alexander Rodchenko and his wife Varvara Stepanova, who announced themselves as the first Working Group of Constructivists. The group rejected fine art in favour of graphic design, photography, posters, and political propaganda. Gan collaborated with Aleksandr Rodchenko and Varvara Stepanova on a Constructivist manifesto in 1922, and published his own pamphlet Konstruktivism in the same year. He also founded the first Soviet film journal, Kino-Fot (or Kinofot), in 1922.
In 1928 he was one of the founders of the October Group. Gan is believed to have died in a Russian labour camp.
Konstruktivizm (Constructivism). Tver: Tver'skoe izdatel' stvo, 1923.
The Island of the Young Pioneers, 1924. (Documentary)
Aleksei Gan Wikipedia