Alejandro Romualdo (December 19, 1926 Trujillo, Peru – May 27, 2008 Lima, Peru) was a Peruvian poet of the 20th century. His best known work is the Song of Tupac Amaru, exalting the revolutionary spirit of the 18th century leader. The poem, which glorified the Peruvian independence movement, won the Peruvian National Prize for Poetry in 1997.
Romualdo studied literature at the National University of San Marcos in 1946. His first poem, "La torre de los alucinados" made him the recipient of the Peruvian National Prize for Poetry in 1949. Having earned a scholarship, he attended the University of Madrid in 1951. Upon his return to Peru, Romualdo worked as a journalist as more of his works were published, which he used as an instrument of agitation and political propaganda that manifested his Marxist convictions. By the mid 1960s, he travelled to Mexico and Cuba, eventually returning to Peru and working as a professor of journalism at Universidad de San Martín de Porres in Lima.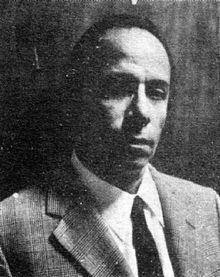 Romualdo was found dead in his home from heart complications on 27 May 2008 in San Isidro District, Lima, Peru.