Nationality

Colombian Canadian




Name

Alejandro Jadad





Role

Physician




Residence

Toronto, Canada






Born

August 9, 1963 (age 52) Medellin, Colombia (

1963-08-09

)


Fields

Health, Equity, Innovation




Institutions

University of Toronto University Health Network




Known for

Jadad Scale, re-conceptualization of health, happiness, eHealth, innovation, creative disruption, glocalization, end-of-life care




Education

Pontifical Xavierian University
Alejandro (Alex) Jadad Bechara (born August 9, 1963) is a Colombian Canadian physician whose mission is to enable people - either as individuals or groups - to live healthy and happy lives, full of love, and with no regrets, until the last breath.
Contents
Jadad's research and innovation work seeks to identify and connect people, knowledge and tools across traditional boundaries to create a pandemic of health, while eliminating unnecessary suffering, and to improve the capacity of humans to imagine, create and promote new and better approaches to living, healing, working and learning as part of a sustainable planet. His projects follow a radical 'glocal' innovation approach designed to deal with distress fuelled by high levels of uncertainty, especially in the presence of life-threatening conditions, and to enable people and organizations to achieve maximum levels of health, happiness and tranquility through the judicious use of state-of-the-art approaches to scenario planning, design thinking and crisis management.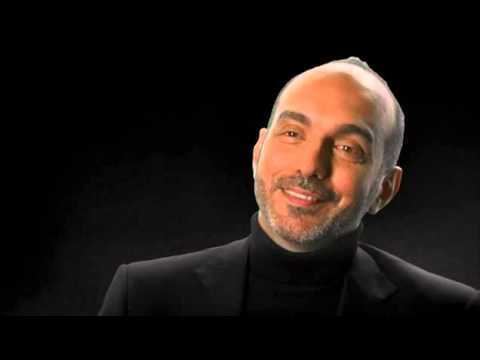 Jadad is the Founder of the Centre for Global eHealth Innovation at the University of Toronto where he is also a physician, Professor in the Dalla Lana School of Public Health, and Director of the Institute for Global Health Equity and Innovation.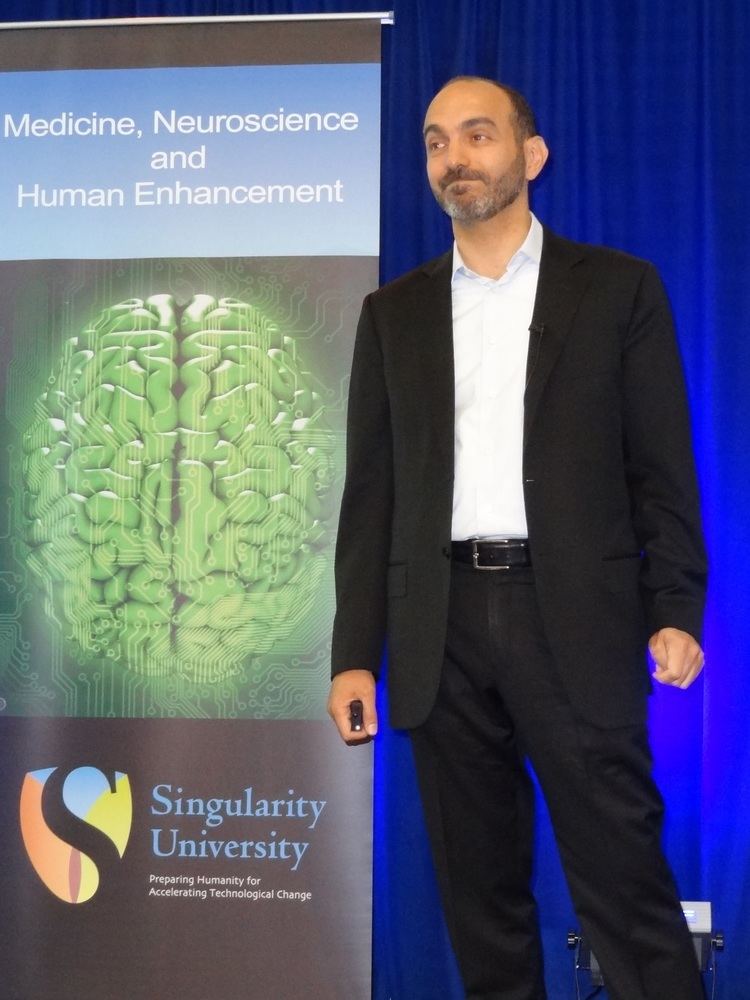 Early life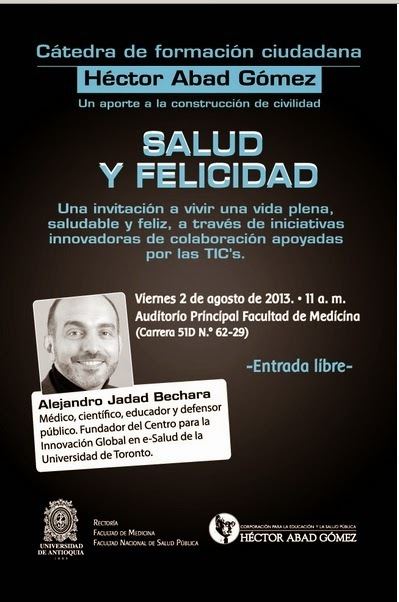 Dr. Jadad was born in Medellin, and grew up in Montería, Colombia. His parents were Enrique Jadad, a physician, and Ketty Bechara, an entrepreneur, whose families had migrated from the Middle East to South America at the beginning of the 1900s. Following the separation of his parents, at age 14, he moved with his younger brother, Enrique, to Cartagena, where they completed high school studies at La Esperanza School, the top institution in the country at the time. Inspired to become a physician by the example of his father and his maternal grandfather, who were very compassionate doctors, he obtained his medical degree in 1986 from Pontifical Xavierian University in Bogota.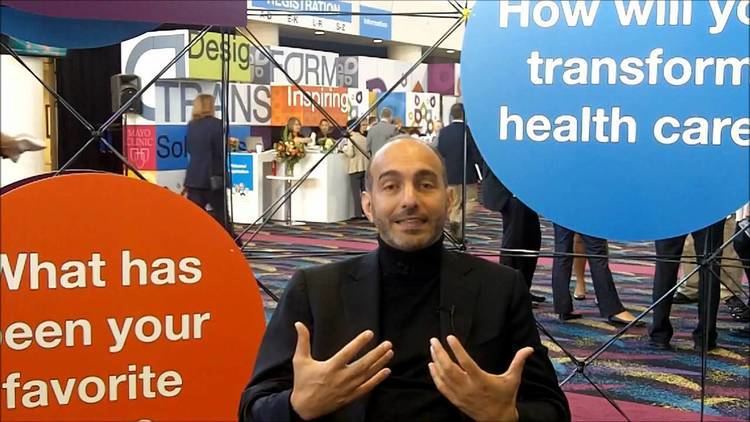 While still a medical student, driven by curiosity triggered by questions posed to him by small children in a very deprived school of Bogotá, he collected the largest data set on jargon, chemical composition and clinical implications of cocaine base (crack) abuse in Colombia. By the time he was 20, he had become an internationally sought after speaker, and an advisor to the Colombian Ministry of Health on drug-related matters.
Before initiating his residence in anaesthesiology and intensive care at Pontifical Xavierian University, at age 22, he published his first textbook in this area, with Dr. Mario Ruiz, a Colombian anaesthesiologist whom he regarded as a father figure. This was the first textbook in neuroanesthesiology and neurolosurgical intensive care published in Spanish.
In 1989, during the last year of his residency program, Jadad received a British Council Scholarship that enabled him to become a Clinical and Research Fellow at the Oxford Pain Relief Unit, Nuffield Department of Anaesthetics, University of Oxford, where he gained experience in the management of complex pain cases and end-of-life care issues, while conducting research on advanced analgesic techniques. His groundbreaking work on the responsiveness of neuropathic pain (pain in numb areas) to opioids (morphine-like drugs) made him the recipient, in 1992, of the Overseas Research Student Award from the Committee of Vice-Chancellors and Principals of the Universities of the United Kingdom That same year, he became a doctoral student at Balliol College, University of Oxford, where he received, in 1994, a Doctor of Philosophy degree in Clinical Medicine after completing a thesis entitled Meta-analysis of randomised clinical trials in pain relief, becoming one of the first physicians in the world with a doctorate on knowledge synthesis. His supervisors were Henry J. McQuay, Professor in Pain Relief, University of Oxford, and Sir Iain Chalmers, the father of the Cochrane Collaboration. His examiners were Drs. David Sackett, one of the founders of the Evidence-based Medicine movement, and Adrian Grant, then Director of the Health Services Research Unit at the University of Aberdeen. Dr. Jadad's doctoral work led to the creation of new tools to distill high-quality health-related information, new methods to build specialized bibliographic databases to support health-related decisions, innovative approaches the management of big data in health care, and the validation of the most widely used tool to assess the quality of clinical trials in the world: the Jadad scale.
The Jadad Scale
The Jadad scale appears to produce robust and valid results in an increasing number of empirical studies. The scale includes three items that are directly related to bias reduction: randomization; blinding; description of withdrawals and drop outs. These are presented as questions to elicit 'yes' or 'no' answers and produces scores from 0 to 5. A trial could be judged as having poor quality if it is awarded 2 points or fewer. Studies that obtain 2 or fewer points have been shown to produce treatment effects which are 35% larger, on average, than those produced by trials with 3 or more points. Although some concerns have been expressed about the inter-observer reliability of the assessments, the scale has been cited over 10,000 times in the biomedical literature and has been used successfully to identify systematic differences in over 1,000 reviews of trials in many areas of health care.
Life in Canada
While at Oxford, in the early 1990s, Dr. Jadad met Dr. Murray Enkin who had recently co-authored his opus Effective Care in Pregnancy and Childbirth with Iain Chalmers and Marc Keirse. Dr. Enkin persuaded Jadad to continue his research at McMaster University, in Canada, where he stayed from 1995 until 1999. During this period, he was Chief of the Health Information Research Unit; Co-Director of the Canadian Cochrane Network and Centre; Associate Medical Director of the Program in Evidence-based Care of Cancer Care Ontario; Founding Director of the McMaster Evidence-based Practice Centre (the first of its kind funded by the US government in a foreign country); and Professor in the Department of Clinical Epidemiology & Biostatistics.
In 2000, Dr. Jadad moved to Toronto, as the Rose Family Chair in Supportive Care (held until 2010); Director of the Program in eHealth Innovation and Professor in the Departments of Health Policy, Management and Evaluation (now an Institute); and Anesthesia. During the following 5 years, he led the creation of the Centre for Global eHealth Innovation, a simulator of the future of the health system, to study and optimize the use of information and communication technologies (ICTs) before their introduction into the health system. The construction of the Centre was supported by the Canada Foundation for Innovation and the University Health Network, where it is located. During the same time, he led the development of virtual clinical tools to transform the encounter between patients and health professionals, and new ways to use ICTs to respond to major public health threats (e.g., poverty, inequity, obesity, complex chronic diseases) and to enable the public (particularly young people) to shape the health system and society.
In 2002, Dr. Jadad was named the Canada Research Chair in eHealth Innovation (Tier 1), which he held until December 31, 2015. In 2008, he initiated the People, Health equity and Innovation (PHI) Group, in Toronto, to explore ways to level the playing field for disadvantaged groups in society through the innovative use of information and communication technologies.
Revisiting key concepts
In 2008, inspired by a personal experience as a patient with a potential diagnosis of cancer, Dr. Jadad wondered if it would be possible to be ill and healthy at the same time. This apparent paradox led to a three-year-long a global conversation supported by the British Medical Journal. This effort, which finally involved an international group of experts, yielded a re-conceptualization of the meaning of 'health' as the capacity to adapt and self-manage in the face of physical, mental and social challenges, a shift away from a disease-focused approach, which is motivating deep reflection and changes in health systems worldwide.
Based on the success of this effort, Dr. Jadad started other collaborative groups that are now re-visiting and re-conceptualizing other complex terms such as harm (using digital wearable computers as the model ), happiness, love and "a good death".
Global activities
In 1992, Jadad became the founder and convener of the Colombian Science and Technology Network, which was formally registered soon after his move to Canada in 1995. This network was a branch of the Caldas Network, a global initiative sponsored by the Administrative Department of Science, Technology and Innovation of Colombia (known as Colciencias), which promoted communication and collaboration between Colombian scientists working in the country, and members of the Colombia diaspora worldwide through the nascent world wide web.
In 1994, he became one of the founding members of a group interested in increasing the role of members of the public in research and evidence-based decision-making, which later became the Cochrane Consumer Network, and of the Cochrane Pain, Palliative and Supportive Care working group, which promotes high-quality syntheses of research knowledge in these areas, worldwide.
In 1998, Jadad was the founding Chair of the Working Group Working Group of the American Medical Informatics Association, co-founding and co-chairing a similar group within the International Medical Informatics Association the next year.
In 1998, his best-selling book Randomised Controlled Trials was published and launched by the British Medical Journal as part of the 50th anniversary of clinical trials in health care, becoming a medical bestseller in the United Kingdom that year. A new edition, co-written with Dr. Murray Enkin, was published in 2007, with a list of musings reflecting their concerns about the abuse of clinical trials and bio-medical research evidence in general in the form of musings .
From 2005 to 2009, Jadad acted as an advisor to the World Health Organization as a member of its Global Observatory for eHealth's Strategic Advisory Group of Experts (SAGE), representing the American continent.
In 2006, in close collaboration with Dr. Julio Lorca from Spain, he was instrumental in the creation of the Spanish eHealth Network and the development of Revista eSalud, the leading journal and portal in the Hispanic world focused on eHealth. The same year, with support from the Andalusian Ministry of Health and the Andalusian School of Public Health, Jadad designed and created the Global Observatory of Innovative Practices for Complex Chronic Disease Management (known in Spanish as OPIMEC), which became the largest collection in the world of research evidence and organizations dealing the most important source of unnecessary suffering and costs in the health system.
From 2006 to 2010, Dr. Jadad was the Founding Chair of the Board of Directors of the Institute for Innovation on Human Wellbeing, in Malaga, Spain, an effort funded by the Andalusian Government and the European Union, to support innovative projects to promote optimal levels of quality of life for all, worldwide.
In 2007, he was invited by the British Medical Journal to write an essay highlighting the role of computers as one of the 15 most important breakthroughs in medicine since 1840, when the journal was published for the first time, as part of a commemorative issue marking the journal's transformational efforts at the dawn of the 21st century.
In 2010, he chaired and convened the Global People-centred eHealth Innovation Forum during the European Ministerial eHealth Conference, and the International Forum¨"Youth-led Innovation and Entrepreneurship" in Brussels and Extremadura, two events designed to promote collaborative efforts among leading groups interested in optimizing human wellbeing through the innovative use of ICTs. In late 2010, he co-chaired the First International Summit on Human-centred and Family-focused eHealth in China.
In 2012, Dr. Jadad was honoured with the Pioneers for Change Award, which recognizes Canadians born abroad who have made extraordinary contributions to the country. In 2013, he started the largest effort in the world to collect data on the self-reported health status of humans, and on new approaches to the assessment of health ("salutometrics"). This work acted as a key piece of the foundational theme "Creating and Spreading Health" during the 2014 Global Summit "Creating a Pandemic of Health", hosted by the Dalla Lana School of Public Health, University of Toronto.
Global Health Equity and Innovation
In 2015, Dr. Jadad was selected as the Interim Director of the Institute for Global Health Equity and Innovation (IGHEI) at the University of Toronto. Inspired by the Global Summit, this university-wide entity, which is also housed at the Dalla Lana School of Public Health, has as its vision a world in which every person and community – regardless of gender, age, race, political views, socio-economic status, religious beliefs, cultural background or geographic location – can have the same opportunities to live a long and healthy life, as part of a sustainable planet. On January 1, 2016, Dr. Jadad became the formal Director of the Institute, where he is pursuing this vision guided by the following strategic objectives:
To enable the next generation of global citizens to question, challenge and redress the structures of power and privilege underlying health inequities.
To forge, incubate and accelerate scalable and sustainable interventions that eradicate differences in health status that can be traced to unequal conditions that are systemic and avoidable.
To catalyze collaborations across traditional boundaries that improve health equitably worldwide.
To develop a pool of resources that is accessible to support community-driven social innovation aimed at the intersection with health and equity.
To provide a space that legitimizes the "unasked" questions, the "elephants in the room", the taboos, the contradictions and the tensions that exacerbate inequities.
Books
Jadad AR. Medical education, professional practice and drug abuse among physicians [Educacion medica, ejercicio profesional y consumo de drogas entre medicos] Javeriana University Press, Bogota, 1988
Ruiz AM, Jadad Bechara AR. The neurosurgical patient: anesthetic and intensive care [El paciente neuro-quirurgico: manejo anestesico y de cuidados intensivos (with Mario Ruiz Pelaez)] Copilito Press, 1989
Jadad AR. Randomised Controlled Trials: A user's guide. London: BMJ Publishing Group, 1998
Jadad AR, Enkin MW. Randomized Controlled Trials: Questions, Answers and Musings. Oxford: Blackwell Publishing, 2007]
Jadad AR. Unlearning: incomplete musings on the game of life and the illusions that keep us playing. Foresight Links Press, 2008 ISBN 978-0-557-01508-5
Jadad AR, Cabrera A, Martos F, Smith R, Lyons RF. When people live with multiple chronic diseases: a collaborative approach to an emerging global challenge. Granada: Andalusian School of Public Health, 2010 (his is a live, interactive, co-created book, available in English and Spanish, on paper and online, which is open to contributions by any person interested in this topic, anywhere in the world)
Awards and recognitions
In 1991, Jadad received a Commission of the European Communities Technical Cooperation Scholarship in support of his work on pain relief, which was followed by the Overseas Research Student Award, Committee of Vice-Chancellors and Principals of the Universities of the United Kingdom in 1992. In 1994, his doctoral thesis was the subject of a special publication by the NHS Research and Development Directorate for Anglia and Oxford.
In 1997, received the Order of Knight Commander by Union Javeriana, Jesuit Order. The same year, he was given the National Health Research Scholar Award from the National Health Research and Development Program, Canada, which supported his work on evidence-based decision-making, eHealth and public engagement until 2002.
In 1998, he was selected as one of Canada's Top 40 Under 40 Award (awarded in April 1999), an initiative that recognizes those who have displayed extraordinary vision and leadership, innovation and achievement, community impact, substantial contributions to Canadian society, and led important growth and development strategies in the country before the age of 40. That year, he was awarded the Jose Maria Cordoba Science and Technology Medal, Government of Cordoba, Colombia, and received the Premier's Research Excellence Award, Ontario Ministry of Energy, Science and Technology (with funding for his research until 2004).
From 2000 to 2010, he held the Rose Family Chair in Supportive Care at the University of Toronto, and since 2001, the Canada Research Chair in eHealth Innovation at the University of Toronto and University Health Network.
In 2001, he was the Spinoza Professor at Academic Medical Centre and Faculty of Medicine, University of Amsterdam, and the First Art MacGregor Visiting Lecturer, at the University of Victoria in British Columbia, Canada. The same year, he was featured by Time Magazine [Canadian Edition] as one of 7 new Canadians who will shape the country in the 21st century. The following year, the same magazine selected him as one of the 6 most innovative medical researches in Canada. In 2002, Jadad also received the New Pioneers Award in Science and Technology, presented by Skills for Change, Canada, in recognition for his contributions as a new immigrant.
In 2003, together with Martha, his wife, and his daughters, Jadad received the Artistic Director's Award for most important contribution to the Nutcracker Ballet by the Canadian Ballet Youth Ensemble and the Hamilton Conservatory for the Arts. That same year, he received the American Academy of Pain Medicine/Pfizer Visiting Professorship Award, Johns Hopkins University.
In 2004, Jadad was given the Canadian Latin American Achievement Award for the most important contribution to Latin American-Canadian relations by a Hispanic person [Sponsored by Pulse Communications]. That year, the Revista eSalud was selected as one of the best 100 ideas in the health sector by Spain's Diario Medico.
In 2005, Jadad was selected by the Top 40 Under 40 alumni as one of "The Best of the Best" for achievements in Health and Science, and by his peers in Colombia as the scientist who probably has had the greatest impact in the country's history. He was also identified as the scientist with the greatest impact in the history of Colombia by Portafolio Magazine and El Tiempo newspaper. His Virtual Communication Centre was recognized as the most innovative project of the year by Cancer Care Ontario's Access to Cancer Services Initiatives.
In 2006, he received the Distinguished Lecturer Award from Health Canada's Chief Scientist for his contributions to health and the health system. In 2007, Dr. Jadad became the first Hispanic Fellow of the Canadian Academy of Health Sciences, and was selected by media and community leaders as one of Canada's "10 most influential Hispanic Canadians". In 2008, he received the Order of the Congress (equivalent to the Order of Canada) and the Jose Maria Cordoba Medal in his native Colombia. He was also given the Chief Scientist's Distinguished Lecturer Award by Health Canada.
In 2007, he joined the Board of Directors of the Royal Agricultural Winter Fair, the largest in-door agri-food event in the world, as a result of his contributions as leader of "The Journey to Your Good Health", an initiative that brought together innovations from the private, non-profit and community sectors that promoted optimal health, and introduced over 150,000 members of the public each year to the best knowledge on healthy eating and living. That year, he was selected as the inaugural speaker at the Annual Schneiderman Lecture, Toronto Rehabilitation Institute; as the first Hispanic Fellow of the Canadian Academy of Health Sciences; and as one of the "10 Most Influential Hispanic Canadians", selected by media and community leaders in Canada.
In 2008, he received the Bicentennial Medal, Antonio de la Torre y Miranda, City of Monteria (Dr. Jadad's home town), Colombia (equivalent to the Keys of the City); the Great Cross Medal, Government of Cordoba (Dr. Jadad's home state in Colombia; equivalent to the Order of Ontario in Canada); the Gold Medals for Lifelong Achievement, Universities of Cordoba and Sinu, Colombia (equivalent to honorary doctorates); and the Order of the Congress, Government of Colombia (equivalent to the Order of Canada).
In 2009, Jadad was given the Felix Restrepo Medal for Contributions to Science and Society by Xavierian University in Colombia. He received this recognition again in 2012, in the category of Learning and Education.
In 2012, he also was appointed as Honorary Fellow, School of Clinical Sciences & Community Health, University of Edinburgh, Scotland; and honoured with the inaugural Pioneers for Change Award, which recognizes Canadians born abroad who have made extraordinary contributions to the country.
Personal life
In 1988, Jadad married Martha Garcia, whom he had met during their first day at university in 1980. They had been dating since 1981, when they were studying medicine and biochemistry, respectively. Garcia acted as Jadad's research assistant on his cocaine-related work. They have two daughters, Alia and Tamen, who were born in Oxford, England, and adopted Jessie Venegas Garcia, Martha's niece, in 2000.
Jadad and his wife live in Toronto, Ontario, Canada.
References
Alejandro R. Jadad Bechara Wikipedia
(Text) CC BY-SA