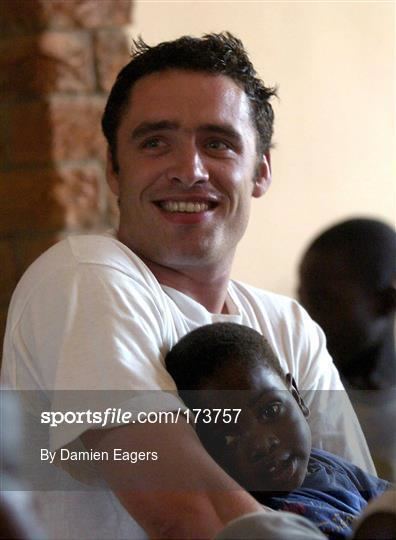 Alan plays his Football with Salthill-Knocknacarra. He won an All-Ireland medal with Galway in 2001. He also won a Club All-Ireland with Salthill-Knocknacarra in March 2006, he played at Right Half Forward.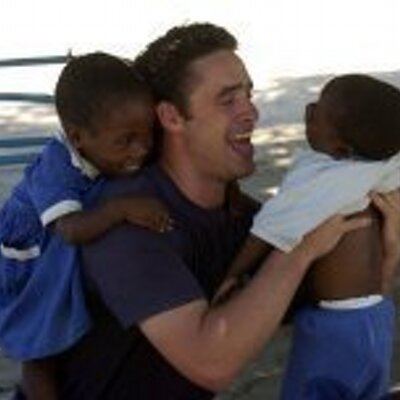 Kerins is the founder of Alan Kerins African Projects which works with children in Africa. In 2004 Alan Kerins took a three-month unpaid leave of absence from his job as a physiotherapist to volunteer in the Zambian township of Mongu, an area devastated by AIDS, drought and desperate poverty. What he saw there changed his life and set in motion a fundraising campaign that has brought hope and a future to a place and people abandoned by the rest of the world.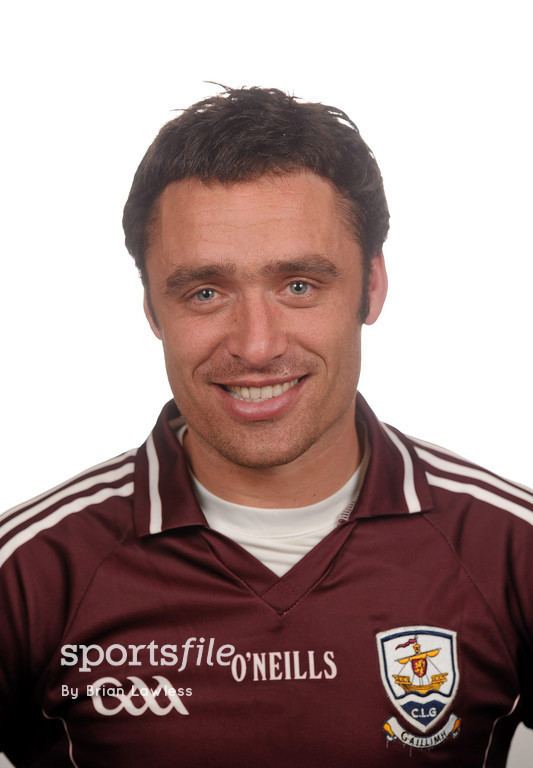 The year of 2004 had been a disappointment. The Galway hurlers had been hammered by Kilkenny. Salthill-Knocknacarra lost the county football final to Killererin. Dual player Alan had always had it at the back of his mind that he would like to go to Africa to do voluntary work. Now seemed like the right time. "I'd always been interested in Africa and going myself, so I approached one of the bigger agencies to go," he explains. "I wanted to go October, November to be back for the start of next year's play, but that fell through, and I had kind of given up on the idea. But then when I was on a weekend away with the lads, I had a chance meeting with Brother Dan Joe O'Mahony." Once Brother O'Mahony, a Capuchin in Dublin, heard how Alan's African trip had been scuppered, he offered to look into getting another placement. It found him. The Cheshire Home for children with physical disabilities in Mongu, the main township of Western Province, Zambia, needed a physiotherapist. And after taking leave from his post in Galway's Merlin Park Hospital, Alan was on a plane out there in January 2005. A much longer journey lay ahead.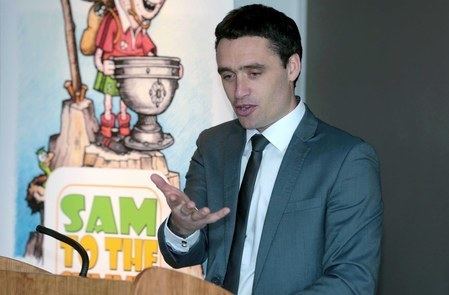 He landed in a country parched by drought and poverty. The rains that winter had been the poorest in 77 years; 75% of the crops had failed. The wells were contaminated by pollution and disease, and food was scarce. Government aid was non-existent. A whole generation of adults was being wiped out by AIDS. Life expectancy was set at 36. Babies starved. And Alan asked how this could be allowed to happen. "You'll see a grandmother who's lost 10 of her children in the last three years to AIDS, who's crippled and has to look after 15 orphaned grandchildren. Every house has orphans. Even the chef in the home has 16 children, seven of his own and nine of his deceased brothers and sisters. That's what you see. People are starving, no food, no electricity, no jobs. They lack even the basics of food and water," he stresses. "It does really affect you. And you find yourself asking questions. Why? Why is this happening? How can this be only nine hours away on a flight? Just how. When you see scenes on television, you can turn them off and go for a cup of tea and forget all about it. When you're in amongst it, it stays with you."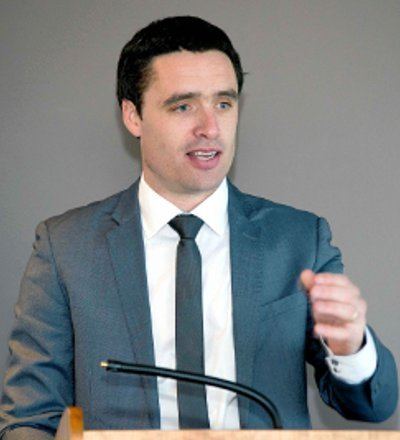 However, one person who had no intention of turning her back on Mongu was Sr Cathy Crawford, the Presentation nun from Co Laois who ran the Cheshire Home where Alan volunteered. The home is the only facility for physically disabled children in an area two and a half times the size of Ireland, providing food, medicine, corrective surgery, education and rehabilitation. Official support is practically non-existent and Sr Cathy relies on donations to keep it running. Not only that, but she also works at addressing wider social problems in Mongu, from providing families with basic food aid to creating enterprise. Alan was blown away by her tireless energy and commitment towards the people of Mongu. He had to help. "People say, 'Don't forget us when you go home.' You can't, really," he explains. "Before I went, I said I'd raise a few pounds for basic physical and medical needs, and we raised about €10,000. And then when I came back after seeing the situation that was there, I said I'd try and raise a few more pounds as well. And the next thing it just all took off and a charity came out of it."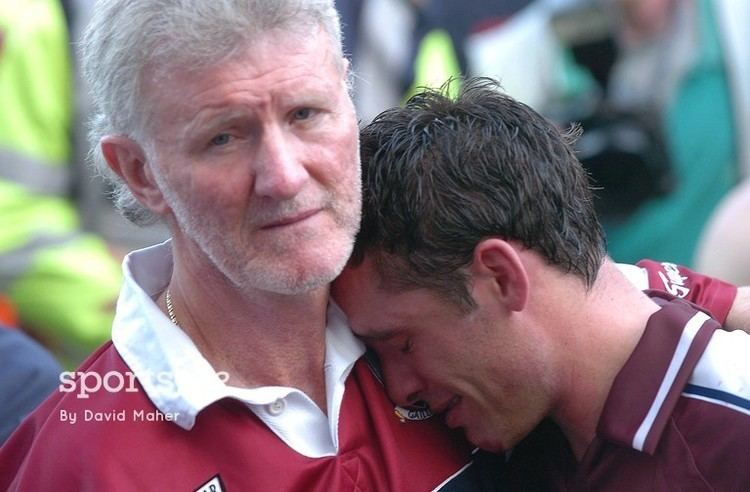 That charity is the Alan Kerins African Projects. And by a "few pounds", he means €300,000 in cash so far, with another €200,000 secured. That money goes directly to Sr Cathy, who invests it in essential projects and services. Already, it has had a vast impact on the daily lives of the people of Mongu. At the height of the drought, a programme was established to feed 700 starving families, each getting a bag of meal a month, which went some distance to fending off starvation. These food runs are now being phased out, and funding has been put in place in 60 villages to buy oxen, tilling implements and seed and educate people in good farming techniques, so that they can be self-sufficient in the future. The Cheshire Home itself can now afford medicines, corrective surgery, prosthetic limbs and basic physiotherapy equipment, as well as running costs such as food and clothing without being completely reliant on donations. It also has an income through a block-making project that was established to sell building materials to development agencies. Not only does the project allow the Cheshire Home to continue its valuable work, it is also providing solid homes for the most vulnerable in the community and creating sustainable industry and employment. Education is also a priority. An extension to a community school populated by orphans and vulnerable children is nearing completion, with plans to build more schools in the area. Meanwhile, a local girl called Namunda is being sponsored to train as a physiotherapist, just like Alan.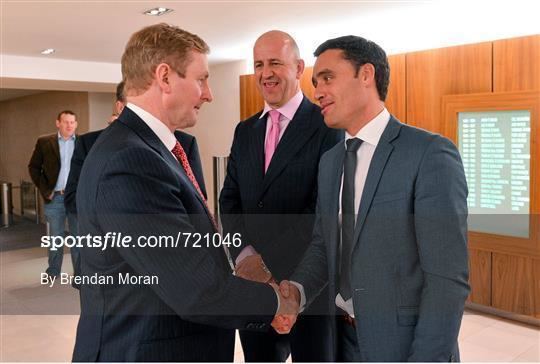 In March 2006, Alan Kerins returned to Zambia, accompanied by a TV3 film crew, who have made a documentary about the charity, which is due to be broadcast on 17 December. In just one year, things were beginning to change. The houses were going up. The well was down. And the people had a future. "Ah, they're brilliant," says Alan. "They're very humble and really appreciative of any small little thing they get. They've time for you, and they have time for each other. It's amazing how bright and optimistic they are in the circumstances they do live in. "It was great to go back and see the old people still alive, because normally you wouldn't. And the faces that you recognise as well. The children, how they've come on physically. Some of them have taken their first steps over the last few years. And that's vital for them: if they're not independently mobile by the time they're seven or eight, they're left in the sand to die. Because it's hard enough to survive when you're fit and able."
Everything that has been achieved by the Alan Kerins African Projects so far has been paid for by Irish people putting their hands in their pockets. There have been charity race nights, fun walks, sports quizzes, parachute jumps, and astounding acts of generosity. "I was away in America there and some lady in Wexford sent up a cheque for €7,500. She said she just came into a bit of financial luck and she wanted to share it. A neighbour who sold her house in Dublin came down and handed me a cheque for €1,000, a bit of surplus from the house. That kind of amazing generosity, you know," he explains. "At my own old National school, there were only 14 of them in Confirmation and they gave between them nearly €1,000 of their Confirmation money. There's a little group in Clarenbridge called the Funding Five, who sell their toys every week at market day, and they raised another €500 this year, €500 last year. It's small things like that that really are nice. And the fact that Sr Cathy is doing such an amazing thing and the money goes straight to her and to the root cause. That's what people like as well." However, one wonders how successful the charity would be without Alan. His sporting status and quiet passion for Africa – no Bono posturing here – attract euro coins like a magnet. And despite his other commitments, including his job as a physiotherapist at Merlin Park and club and county football and hurling, he is fully involved in the running of the project. But he admits that it can be stressful. "It's crazy," he says. "Hurling and football, as well and trying to hold down a full-time job. You've got to give talks, go to cheque presentations, do up booklets, websites, go to schools, do interviews, organise; and you're training and working a full-time job as well. So something will have to give. "But you fit it in and try and work at it. I have a great team with me; Siobhán Diskin is the treasurer and Darragh Geraghty the secretary, they're super; and a few great people, as well as my sisters and my family, have been good. I've 11 directors now, and hopefully I can step back and let them take on a bit more, and I'd thank them for coming on board, because you need help.