Covid-19
British




Alan Ashworth





University Professor






Institute of Cancer Research Breakthrough Breast Cancer




Imperial College London (BSc) University College, London (PhD)




Cloning and characterization of cDNAs derived from cytochrome P-450 mRNAs (1984)




Imperial College London, University College London




Elizabeth Iorns



Alan Ashworth, FRS (born 1960 in Bolton, Lancashire) is a British molecular biologist, noted for his work on genes involved in cancer susceptibility. He is currently the President of the Helen Diller Family Comprehensive Cancer Center at the University of California, San Francisco, a multidisciplinary research and clinical care organisation that is one of the largest cancer centres in the Western United States. He was previously CEO of the Institute of Cancer Research (ICR) in London.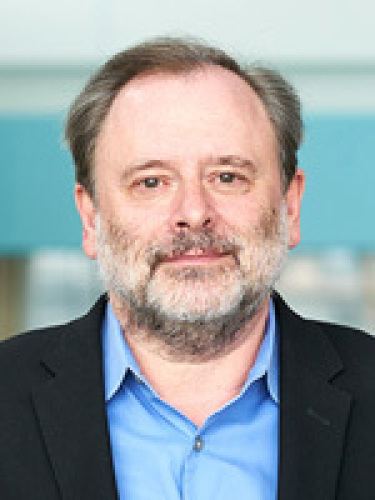 Ashworth was educated at St Mary's Primary School and Thornleigh Salesian College, Bolton. He completed his Bachelor of Science in Chemistry and Biochemistry at Imperial College, London, and was awarded a PhD in Biochemistry at University College, London.
Ashworth joined the ICR in 1986 as a Postdoctoral research Scientist in the Section of Cell and Molecular Biology and in 1999 he was appointed the first Director of the Breakthrough Breast Cancer Research Centre (BBCRC). The Centre is now recognised internationally and has more than 120 scientists and researchers working on aspects of the disease ranging from basic molecular and cellular biology through to translational research and clinical trials. Ashworth's Directorship ended in January 2011 when he took up the position of Chief Executive of the ICR which he held until December 2014.
One of Ashworth's major contributions to cancer research has been his work on genes involved in cancer risk. He was a key part of the team that in 1995 discovered the BRCA2 gene, which is linked to an increased risk of some types of cancers/ which is now used to identify women at high risk of the disease. Ten years later, Ashworth identified a way to exploit genetic weaknesses in cancer cells including mutated BRCA 1 or BRCA2, leading to a new approach to cancer treatment. Cancer cells that carry mutant forms of BRCA1 or BRCA2 are highly sensitive to a class of drugs known as Poly ADP ribose polymerase (PARP) inhibitors. Early results from clinical trials of PARP inhibitors are considered to be important and promising.
Ashworth's research and leadership reflects his passion for translating laboratory studies into improvements in patient care, particularly by the development of personalised cancer medicine. At ICR he was also joint leader, with Professor Tony Swerdlow, of one of the world's most comprehensive and largest (>100,000 participants), studies of breast cancer causation, the Breakthrough Generations Study (http://www.breakthroughgenerations.org.uk).
In 2014, Ashworth stepped down as Director of the ICR to join the University of California, San Francisco as President of the UCSF Helen Diller Family Comprehensive Cancer Center (HDFCCC) and Senior Vice-President of Cancer Services of UCSF Health from January 2015. He also serves as Professor of Medicine, Division of Hematology/Oncology, Department of Medicine and holds the E. Dixon Heise Distinguished Professorship in Oncology.
1991 British Postgraduate Medical Federation Prize
1999 Elected to European Molecular Biology Organization.
2002 Elected Fellow of the Academy of Medical Sciences
2008 Fellow of the Royal Society.
2009 European Society for Medical Oncology Lifetime Achievement Award
2009 Elected Fellow of the European Academy of Cancer Sciences
2010 Samuel Waxman Cancer Research Foundation David Workman Memorial Award
2010 Meyenburg Foundation Cancer Research Award
Alan Ashworth Wikipedia