Map of Akwa Ibom State
Akwa Ibom is a state in Nigeria. It is located in the coastal southern part of the country, lying between latitudes 4°32′N and 5°33′N, and longitudes 7°25′E and 8°25′E. The state is located in the South-South geopolitical zone, and is bordered on the east by Cross River State, on the west by Rivers State and Abia State, and on the south by the Atlantic Ocean and the southernmost tip of Cross River State.
Contents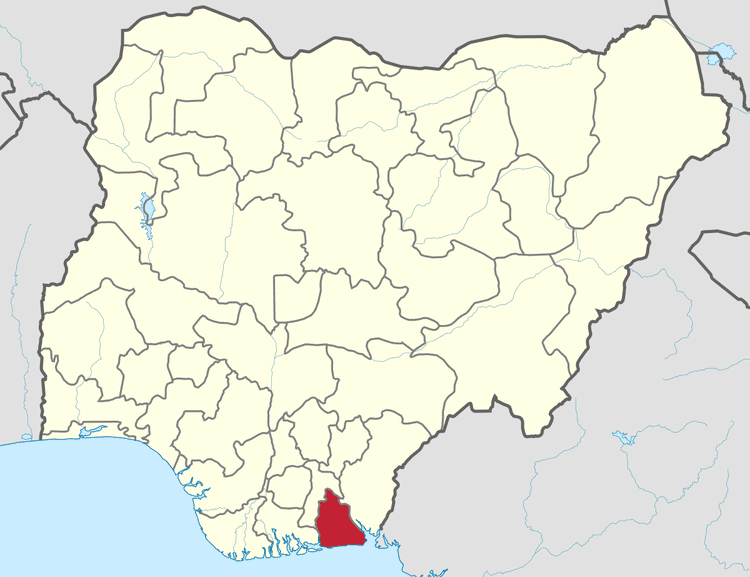 Akwa Ibom is one of Nigeria's 36 states, with a population of over five million people. The state was created in 1987 from the former Cross River State and is currently the highest oil- and gas-producing state in the country. The state's capital is Uyo, with over 500,000 inhabitants. Akwa Ibom has an airport and two major seaports on the Atlantic Ocean with a proposed construction of a world-class seaport Ibaka Seaport at Oron. The state also boasts of a 30,000-seat ultramodern sports complex. Akwa Ibom state is also home to the Ibom E-Library, a world-class information centre. In addition to English, the main spoken languages are Ibibio, Annang, Eket and Oron.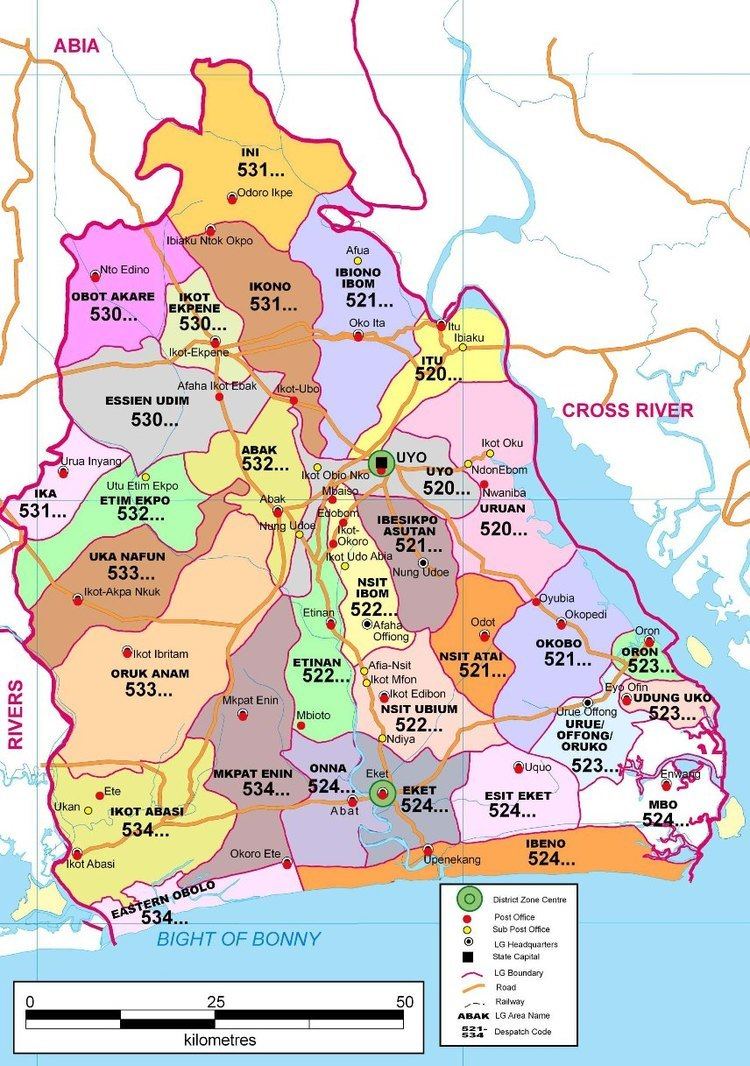 Investment opportunities in akwa ibom state
My trip to akwa ibom state in nigeria 2016
Major cities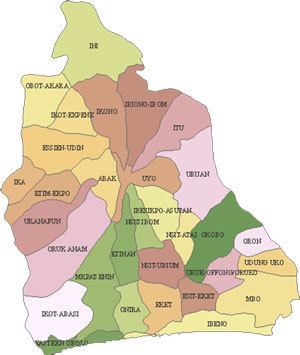 Uyo, Eket, Ikot Ekpene, Etinan, Oron, Abak, Ikot Abasi, and Ibeno.
Ministries Departments and Agencies (MDAs) in Akwa Ibom
Here are the list of ministries in Akwa Ibom
Akwa Ibom State Ministry of Justice
Akwa Ibom State Ministry of Agriculture and Food Sufficiency
Akwa Ibom State Ministry of Finance
Akwa Ibom State Ministry of Works
Akwa Ibom State Ministry of Education
Akwa Ibom State Ministry of Environment
Akwa Ibom State Ministry of Transport & Petroleum Resources
Akwa Ibom State Ministry of Local Government and Chieftaincy Affairs
Akwa Ibom State Ministry of Lands & Town Planning
Akwa Ibom State Ministry of Information & Strategy
Akwa Ibom State Ministry of Health
Akwa Ibom State Ministry of Science & Technology
Akwa Ibom State Ministry of Women Affairs and Social Welfare
Akwa Ibom State Ministry of Youth & Sports
Akwa Ibom State Ministry of Housing & Special Duties
Akwa Ibom State Ministry of Economic Development Labour and Manpower Planning
Akwa Ibom State Ministry of Investment, Commerce and Industries
Akwa Ibom State Ministry of Culture and Tourism
Akwa Ibom State Bureau of Political/Legislative Affairs and Water Resources
Akwa Ibom State Bureau of Rural Development & Cooperatives
Akwa Ibom State Roads and Other Infrastructure Maintenance Agency - AKROIMA
Local government areas
Akwa Ibom State consists of thirty-one (31) local government areas. They are:
Media Houses
State own Akwa Ibom State Broadcasting Corporation
Planet FM, Uyo
History
The region of the state was created out of Cross River State on September 23, 1987.
Demography
The people are predominantly Christian. The main ethnic groups of the state are:
Annang
Oron
Eket
The Ibibio, Annang, and Eket, who speak a dialect of the Ibibio language, Oron and Obolo, comprising Ibono (Ibeno) and Eastern Obolo people, are the largest ethnic groups. The Oro [Oron] is an ethnic group similar to the Efik, who speaks Oro a language of its own and predominate in neighbouring Cross River State, and are found in five of the state's Local Government Areas. Located at the Atlantic Ocean coast are the Oron, Eket, Ibeno and Eastern Obolo people. The Ibono have similarities with the Oro and Obolos. Some people of the North western border of Akwa by virtue of their interactions with the Igbos tend to be bilingual, likewise the Igbos at the border are fluent in Annang. However Igbos are not indigenous to Akwa ibom
The Ibibio language belongs to the Benue–Congo language family, which forms part of the Niger–Congo group of languages.
Despite the homogeneity, no central government existed among the people of what is now Akwa Ibom State prior to the British invasion in 1904. Instead, the Annang, Oron, Efik, Ibonos and Ibibio were all autonomous groups.
Although several Scottish missionaries arrived in Calabar in 1848, and Ibono in 1887, the British did not firmly establish control of the area until 1904. In that year, the Enyong Division was created encompassing the area of the current state of Akwa Ibom, with headquarters at Ikot Ekpene, an Annang city described by the noted Africanist Kaanan Nair, as the cultural and political capital of Annang and Ibibio.
The creation of Enyong Division for the first time allowed the numerous ethnic groups to come together. This further provided a venue for the creation of the Ibibio Welfare Union, later renamed Ibibio State Union. This social organization was first organized as a local development and improvement forum for educated persons and groups who were shut out from the colonial administration in 1929. Nonetheless, some historians have wrongly pointed to the union to buttress their argument about the homogeneity of groups in the area. The Obolo Union, comprising Ibono and Andoni stock, was another strong socioeconomic and cultural organization that thrived in the region. The Ibono people have fought wars to maintain their unique identity and territory in the region more than any other group.
When Akwa Ibom state was created in 1987, Uyo was chosen as the state capital to spread development to all regions of the state.
Education
The Akwa Ibom State Ministry of Education is tasked with monitoring the education sector of the state. The current region of Akwa Ibom State in old Calabar Kingdom was the first to encounter Western education in Nigeria with the establishment of Hope Waddell Training Institute, at Calabar in 1895, and the Methodist Boys High School at Oron in 1905 as well as other top schools such as the Holy Family College at Abak and Regina Coeli College in Essene.
Some educational institutes in the state are:
Akwa Ibom State University [Oruk Anam LGA And Mkpat Enin LGA]
Obong University, Obong Ntak Inyang
Akwa Ibom State Polytechnic
Uyo City Polytechnic
Apex Polytechnic
Heritage Polytechnic, Eket
School of Nursing; Uyo, Eket, Oron, Ikot Ekpene, Etinan
Akwa Ibom State College of Education, Afaha Nsit
School Of Basic Studies
College of Arts & Sciences, Nnung Ukim
Sure Polytechnic, Ukanafun
Notable People from Akwa Ibom
Senator Ita Enang Senior Special Assistant to President Muhammadu Buhari
Godswill Obot Akpabio Former governor of Akwa Ibom State. Present Senate Minority Leader
Obong Victor Attah Former governor of Akwa Ibom State
Idongesit Nkanga Former military governor of Akwa Ibom State
Effiong Bob
Nsikak Eduok
Chris Ekpenyong Former deputy governor of Akwa Ibom State in the Victor Attah administration.
Onofiok Luke, the 11th Speaker of the Akwa Ibom State House of Assembly and the Pioneer Speaker of the Nigeria Youth Parliament.
Bassey Albert
Late Dominic Cardinal Ekanem (CFR) first cardinal in English-speaking West Africa. First Nigerian Cardinal to qualify as a candidate to the papacy.
Late Chief (Dr) Clement Isong (CFR) first governor, Central Bank of Nigeria. First civilian governor of the former Cross River State
Samuel Okon Peter (OON), (DSP) World heavyweight boxing champion.
Vincent Enyeama Professional footballer and former Super Eagle captain.
Chief Don Etiebet (Former minister of Petroleum)
Politics
Politics in Akwa Ibom state are dominated by the three main ethnic groups, the Ibibio, Annang and Oron. Of these three, the Ibibio remain the majority and have held sway in the state since its creation. For the past eight years, the Annang people held sway, since the governor for those eight years was from Ikot Ekpene senatorial district.
Related Pages
Akwa Ibom State Ministry of Education
Ministries Of Akwa Ibom State And Commissioners
References
Akwa Ibom State Wikipedia
(Text) CC BY-SA