Website

akbarpadamsee.net




Occupation

painter




Name

Akbar Padamsee





Years active

1951–present




Role

Artist




Spouse(s)

Solange Gunelle




Children

Raisa Padamsee








Born

12 April 1928 (age 87) (

1928-04-12

)

Mumbai




Education

Sir Jamsetjee Jeejebhoy School of Art




Artwork

Metascape, Paysage aux toits, Portrait of Husain




Alma mater

Sir J.J. School of Art



Akbar padamsee interview by vandana shukla chandigarh lalit kala akademi
Akbar Padamsee (born 12 April 1928, Bombay) is a contemporary Indian artist and painter, considered one of the pioneers in Modern Indian painting along with Raza, Souza and M.F. Hussain. Over the years he has also worked with various mediums from oil painting, plastic emulsion, water colour, sculpture, printmaking, to computer graphics, and photography, as worked a film maker, sculptor, photographer, engraver, and lithographer. Today his paintings are among the most valued by modern Indian artists. His painting Reclining Nude was sold for USD 1,426,500 at Sotheby's in New York on 25 March 2011.
Contents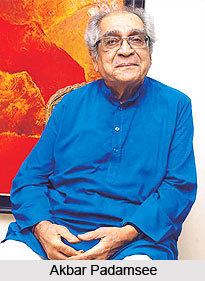 He was awarded the Lalit Kala Akademi Fellowship (Lalit Kala Ratna) by the Lalit Kala Akademi, India's National Academy of Arts, in 1962, the Kalidas Samman from the Madhya Pradesh Government in 1997 for Plastic Arts and the Padma Bhushan, India's third highest civilian honour in 2010.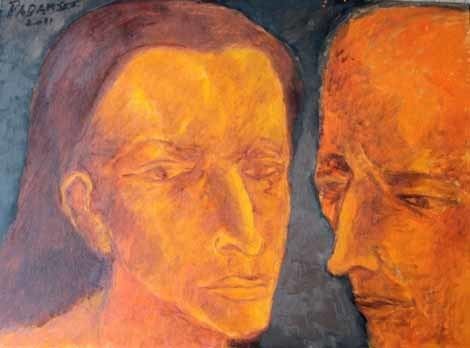 Akbar padamsee slde lecture chandigarh lalit kala akademi
Early life and education

Padamsee was born into a traditional Khoja Muslim family hailing from the Kutch region of Gujarat. Their ancestors had belonged to the charan caste of bards and court musicians. The family had been settled in the nearby Kathiawar region for some generations; Padamsee's grandfather, who had been the sarpanch (headman) of Vāghnagar, a village in Bhavnagar district, had earned the honorific name "Padamsee" (a corruption of "Padmashree") after he distributed his entire granary to the village during a famine. His original family name was "Charanyas", due to their ancestors being court poets.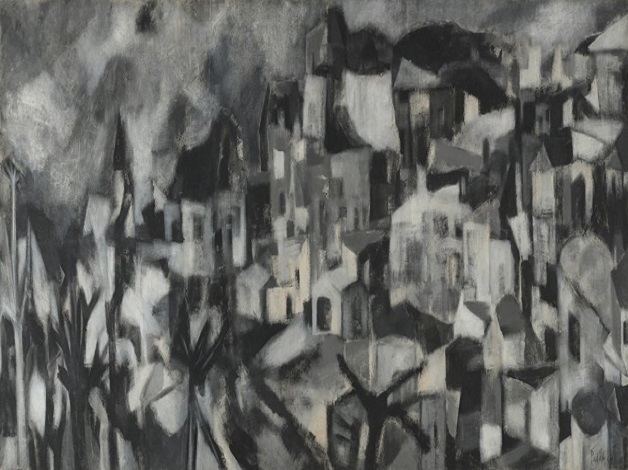 Padamsee's father, Hassan Padamsee, was an affluent businessman who owned 10 buildings and also ran a glassware and furniture business. His mother, Jenabhai Padamsee, was a home-maker. Akbar Padamsee was one of their eight children; one of his brothers is the actor Alyque Padamsee. Although rich, the family was not well-educated, and neither of his parents had received much education. Alyque and his brothers (but not his sisters) were the first to attend school and learn English there; the parents later picked up a smattering of the language from their sons.
Early in life, he started copying images from The Illustrated Weekly of India magazine in his father's accounts books at their store on Chakla Street, in South Mumbai. He studied at St. Xavier's High School, Fort, and it was here that met his first mentor, his teacher Shirsat, a watercolourist. He first learned this medium, followed by classes on nudes at Charni Road in preparation for his studies at the Sir J.J. School of Art. As a result, he was allowed to join the course directly in its third year. He was still studying fine art at the school, when the Progressive Artists' Group (PAG) was formed in 1947 by Francis Newton Souza, S. H. Raza, and M. F. Husain. The group was to have a lasting impact on Indian art. By the time he received his diploma he was already associated with the group.
Personal life
Akbar married the late.Solange Gounelle, in Paris in 1954. The couple had one daughter, Raissa Padamsee.Akbar moved to india in 1968 and now lives & works in Mumbai with his wife Bhanumati Padamsee
Career
In late 1950, Raza was awarded a French government scholarship, and he invited Padamsee to accompany him to Paris. Padamsee left for Paris in 1951, where artist Krishna Reddy introduced him to the surrealist Stanley Hayter, who became his next mentor. Padmasee soon joined his studio, "Atelier 17". His first exhibition was held in Paris in 1952. The artists exhibited anonymously, thus he shared the prize awarded by the French magazine Journal d'Arte with the painter Jean Carzou.
His very first solo show was held at the Jehangir Art Gallery in 1954, and soon he became one of leading artists. He received the Lalit Kala Akademi Fellowship in 1962, a fellowship by the Rockefeller Foundation in 1965 and was subsequently invited to be an artist-in-residence by the University of Wisconsin–Stout. He returned to India in 1967.
As a member of many artistic committees, he took part in the development of the collections of the Bharat Bhawan museum of Bhopal, and created the VIEW (Vision Exchange Workshop). He curated major cultural events and received many distinctions such as the Padma Shri in 2009.
His work is introspective; his "Metascapes" or his "Mirror Images" are abstract images formed from the search for a formal logic. His topics include landscapes, nudes, heads and he has done portraits created in pencil and charcoal. The depth which emerges from his oil-based works, emanates from the coloured matter. This creates a pictorial technique juxtaposing emerging split forms.
He has done, in addition to his painted work, black and white photographs which use light to create dimension. Padamsee always explored new plastic genres; he also created "SYZYGY", "Events in a Cloud Chamber" films shot in 1970, and explored computers in "Compugraphics".
He lives in South Mumbai with his wife Bhanumati, and works at his studio in Prabhadevi.
Recent publications
Padamsee, Padamsee, Text by Shamlal, Published by Pundole Art Gallery`, 2004
Padamsee, Works on Paper-Critical Boundaries, Text by Shamlal, Published by Vakils & Son,s, 1964
Padamsee, Work in language, Marg/Pundole gallery, 372 p, 348 ill; Mumbai 2009,
Padamsee, Works and Words, film by Laurent Brégeat, 55mn, Lalit Kala Akademi, 2010
Padamsee, Events in a Cloud Chamber, film by Ashim Ahluvalia, 2016
Honours and awards
2004 Lalit Kala Ratna, Lalit Kala Akademi, New Delhi
1997–98 Kalidas Samman by the Madhya Pradesh Government
1969 Jawaharlal Nehru Fellowship
1967 Artist in Residence, Stout State University, Wisconsin
1965 J.D. Rockefeller IIIrd Fund, Fellowship
References
Akbar Padamsee Wikipedia
(Text) CC BY-SA