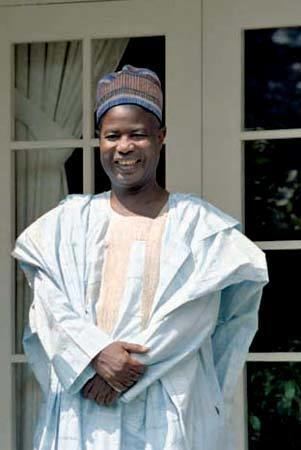 Ahidjo was born in Garoua, a major river port along the Benue River in northern Cameroun, which was at the time a French mandate territory. His father was a Fulani village chief, while his mother was a Fulani of slave descent.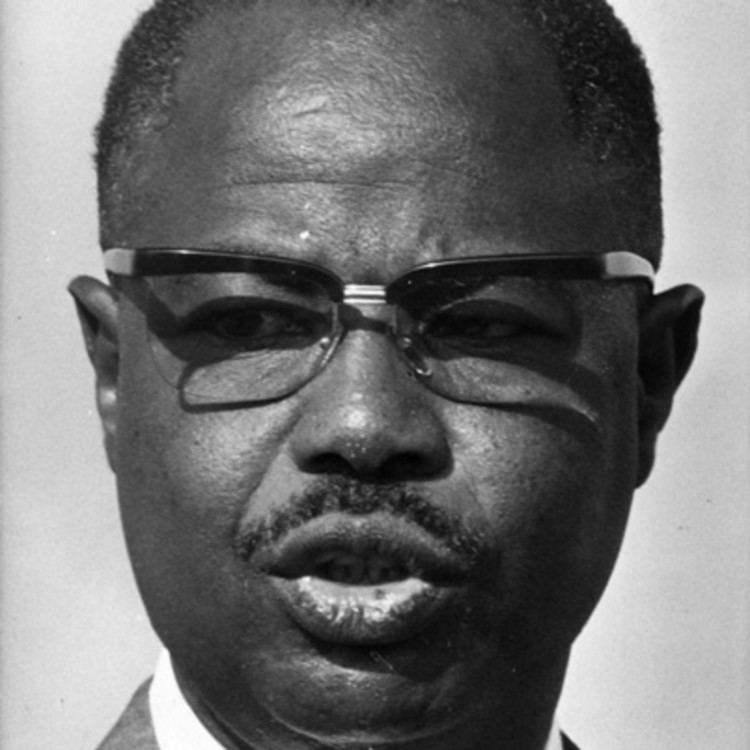 Ahidjo's mother raised him as a Muslim and sent him to Quranic school as a child. In 1932, he began attending local government primary school. After failing his first school certification examination in 1938, Ahidjo worked for a few months in the veterinary service. He returned to school and obtained his school certification a year later. Ahidjo spent the next three years attending secondary school at the Ecole Primaire Supérieur in Yaoundé, the capital of the mandate, studying for a career in the civil service. At school, Ahidjo also played soccer and competed as a cyclist.
In 1942, Ahidjo joined the civil service as a radio operator for a postal service. As part of his job, he worked on assignments in several major cities throughout the country, such as Douala, Ngaoundéré, Bertoua, and Mokolo. According to his official biographer, Ahidjo was the first civil servant from northern Cameroun to work in the southern areas of the territory. His experiences throughout the country were, according to Harvey Glickman, professor emeritus of political science at Haverford College and scholar of African politics, responsible for fostering his sense of national identity and provided him the sagacity to handle the problems of governing a multiethnic state.
In 1946, Ahidjo entered territorial politics. From January 28, 1957, to May 10, 1957, Ahidjo served as President of the Legislative Assembly of Cameroon. In the same year he became Deputy Prime Minister in de facto head of state André-Marie Mbida's government. Upon independence in 1960, Ahidjo, as leader of the Cameroon Union, was elected President, and he persuaded part of British Cameroon to join his country. He was reelected in 1965, 1970, 1975 and 1980, gradually establishing the complete dominance of his own party and outlawing all others in 1976.
He experienced a rebellion in the 1960s from a group known as the Union of the Peoples of Cameroon, but defeated it by 1970. In the early 1970s he created an unpopular constitution which ended the autonomy of British Cameroon and established unitary rule. Though many of his actions were dictatorial, his country became one of the most stable in Africa. He was considered to be more conservative and less charismatic than most post-colonial African leaders, but his policies allowed Cameroon to attain comparative prosperity.
Ahidjo resigned, ostensibly for health reasons, on 4 November 1982 (there are many theories surrounding the resignation; it is generally believed that his French doctor "tricked" Ahidjo about his health) and was succeeded by Prime Minister Paul Biya two days later. That he stepped down in favor of Biya, a Christian from the south and not a Muslim from the north like himself, was considered surprising. Ahidjo's ultimate intentions are unclear; it is possible that he intended to return to the presidency at a later point when his health improved, and another possibility is that he intended for Maigari Bello Bouba, a fellow Muslim from the north who succeeded Biya as Prime Minister, to be his eventual successor as President, with Biya in effectively a caretaker role. Although the Central Committee of the ruling Cameroon National Union (CNU) urged Ahidjo to remain President, he declined to do so, but he did agree to remain as the President of the CNU. However, he also arranged for Biya to become the CNU Vice-President and handle party affairs in his absence. Additionally, in January 1983, Ahidjo travelled across the country in a tour in support of Biya.
Later that year, however, a major feud developed between Ahidjo and Biya. On July 19, 1983, Ahidjo went into exile in France, and Biya began removing Ahidjo's supporters from positions of power and eliminating symbols of his authority, replacing Ahidjo's portraits with his own and removing Ahidjo's name from the anthem of the CNU. On August 22, Biya announced that a plot allegedly involving Ahidjo had been uncovered. For his part, Ahidjo severely criticized Biya, alleging that Biya was abusing his power, that he lived in fear of plots against him, and that he was a threat to national unity. The two were unable to reconcile despite the efforts of several foreign leaders, and Ahidjo announced on August 27 that he was resigning as head of the CNU. In exile, Ahidjo was sentenced to death in absentia in February 1984, along with two others, for participation in the June 1983 coup plot, although Biya commuted the sentence to life in prison. Ahidjo denied involvement in the plot. A violent but unsuccessful coup attempt in April 1984 was also widely believed to have been orchestrated by Ahidjo.
In his remaining years, Ahidjo divided his time between France and Senegal. He died of a heart attack in Dakar on 30 November 1989 and was buried there. He was officially rehabilitated by a law in December 1991. Biya said on 30 October 2007 that the matter of returning Ahidjo's remains to Cameroon was "a family affair". An agreement on returning Ahidjo's remains was reached in June 2009, and it was expected that they would be returned in 2010.
There is a stadium named after Ahidjo in Yaoundé.
Few images remain of President Ahmadou Ahidjo, and it is often said that the Biya regime made an active effort to erase any visual or audio references to Cameroon's first head of state.