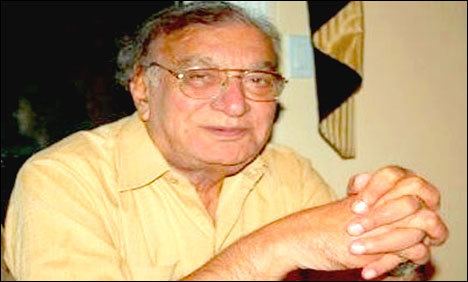 Ahmad Faraz was born in Kohat, (then British India) to Syed Muhammad Shah Barq. His brother is Syed Masood Kausar. He moved to Peshawar with his family. He studied in famous Edwardes College, Peshawar and received Masters in Urdu and Persian from Peshawar University.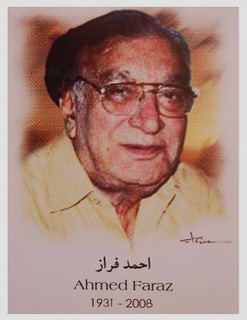 During his college life, the progressive poets Faiz Ahmad Faiz and Ali Sardar Jafri were his best friends, who impressed him and became his role models. Ethnically a [Kohati Hindko] Syed, Ahmad Faraz studied Persian and Urdu at the Peshawar University. He later became a lecturer at the Peshawar University.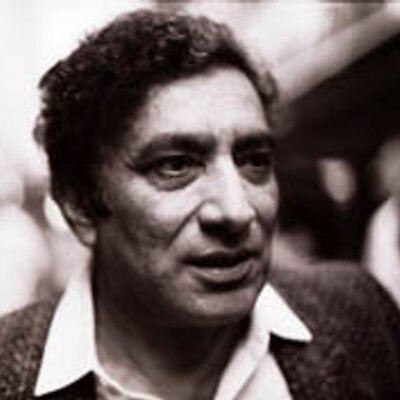 Ahmad Faraz served as Chairman of the National Book Foundation in Islamabad, Pakistan.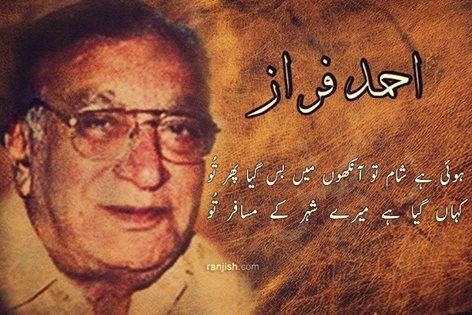 Faraz has been compared with Faiz Ahmad Faiz, holds a unique position as one of the best poets of current times, with a fine but simple style of writing. Even common people can easily understand his poetry.
In an interview with BBC Urdu, he recalls how his father, once bought clothes for him on Eid. He didn't like the clothes meant for him, but preferred the ones meant for his elder brother. This led him to write his first couplet:
:سب کے واسطے لائے ہیں کپڑے سیل سے

:لائے ہیں میرے لیے قیدی کا کمبل جیل سے
Sab kay waste laye hein kaprye sale se
Laye hein mere liye qaidi ka kambal jail se
(He brought clothes for everybody from the 'sale')
(For me, he brought a blanket of a prisoner from jail)
Faraz was arrested for writing poems that criticised military rulers in Pakistan during the reign of General Zia-ul-Haq . Following that arrest, he went into a self-imposed exile. He stayed for 6 years in Britain, Canada and Europe before returning to Pakistan, where he was initially appointed as Chairman of the Pakistan Academy of Letters and later chairperson of the Islamabad-based National Book Foundation for several years. He has been awarded with numerous national and international awards. In 2006, he returned the Hilal-e-Imtiaz award he was given in 2004.
He mentioned his current writings and said: "I now only write when I am forced to, from the inside." Maintaining a tradition established by his mentor, the revolutionary Faiz Ahmad Faiz, he wrote some of his best poetry during the days when he was in exile. Famous among the 'poetry of resistance' has been "Mahasara". Faraz was also mentioned by actor Shahzada Ghaffar in the Pothwari/Mirpuri telefilm "Khai Aye O".
Faraz died of kidney failure in a private hospital in Islamabad on 25 August 2008. His funeral was held on the evening of 26 August, among many admirers and government officials at H-8 Graveyard, Islamabad, Pakistan.
A sample of his poetry is:
Nazm:
'Wo adakar hi kya
Wo adakar hi kya jis ka naam Mozzam Hussain
Khwaab martay naheen

Khwaab dil hain, nah aankhen, nah saansen keh jo

Rezaa, rezaa huwe to bikhar jaayen ge

Jism kii maut se ye bhii mar jaayen ge
English translation.
Dreams do not die
Dream are heart, nor eyes nor breath
Which shattered, will scatter
Die with the death of the body
Another poetic translation of the above
Dreams do not die
Dreams are heart, nor eyes nor a breath
Which shatter and then they scatter,
Die they all, with end being nigh