Director

K. Shankar




Language

Tamil






Country

India







Release date

1 May 1969



Adimaippenn Full Movie HD
Adimaippenn (English: Slave Girl) is a 1969 Indian Tamil-language peplum film directed by K. Shankar.
Contents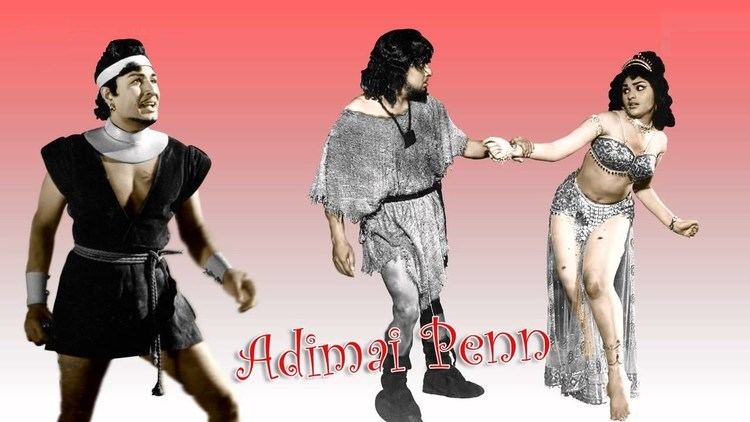 The film features M. G. Ramachandran as the main character, with Jayalalithaa, S. A. Ashokan, Pandari Bai, Rajasree, R. S. Manohar, J. P. Chandrababu and Cho Ramaswamy in supporting roles.This film was box office hit and a Silver Jubilee movie (Madurai - Chinthamani ) and it ran more than 100 days in all other major cities. This industrial record was beaten by Ulagam Sutrum Valiban four years later.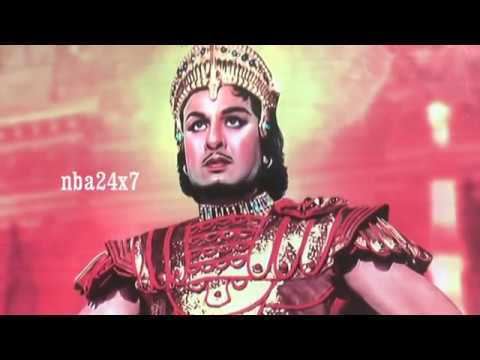 Adimai Penn broke many records. For the first time in Tamil film history, a movie was houseful for 400 shows in four theatres in Chennai.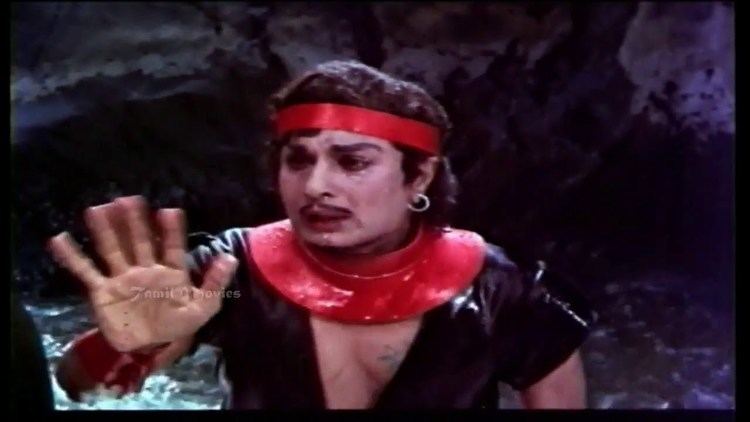 Jayalalithaa plays the role of a peasant and a queen, two very different characters, which she carried off with equal conviction.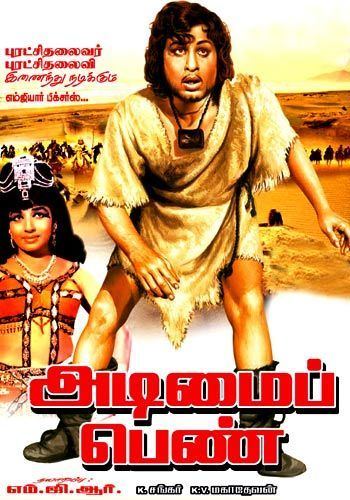 Plot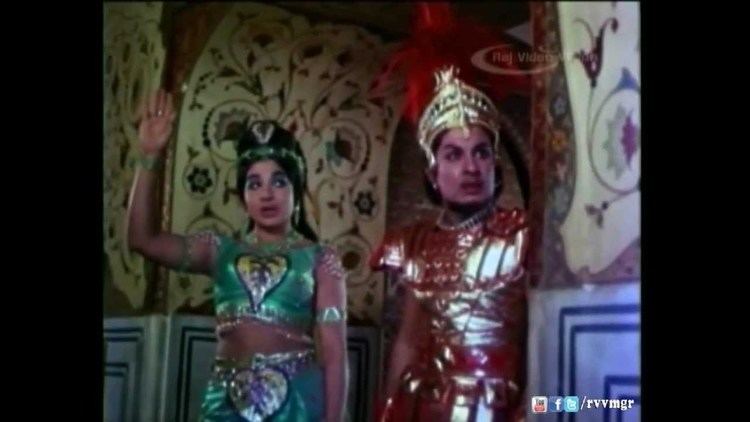 Abhirami Mangamma (Pandari Bai), a queen is desired by another ruler, Sengodan (S. A. Ashokan). Several years later, Sengodan sees the girl (now a queen) out hunting. He declares his love, but the queen says that she is a mother. Sengodan tries to kill her son, prince Vengaiya and the queen cuts off Sengodan's leg with an axe.
The king Vengaiyan (M. G. Ramachandran) from the Vengaiya Mount Kingdom goes to Sengodan's country (Soorukathu Kingdom) seeking justice, and Sengodan agrees to a duel. The duel takes place over a net with spears below it; whoever falls on the net will die. A dueler will lose if he loses his weapon or falls from the net, and his country will be enslaved by the winner.
Since Sengodan has only one leg, king Vengaiyan binds his own leg and they begin the duel. Although king Vengaiyan wins, Sengodan kills him with a spear. Sengodan orders his men to seize the country and summon the queen and her son. One of the king's aides escapes and saves the queen, but the prince Vengaiya is taken prisoner. All women in the country are enslaved.
The queen stays in hiding for many years. The king's aide is imprisoned and sees the prince Vengaiya, who has been forced to live in a two-foot-high cell. The prince Vengaiya has forgotten how to talk or eat with his hands, and the aide is horrified by his condition. They escape from the prison by the river. The aide dies in his granddaughter's arms after she promises to heal the prince and help abolish slavery in their country. The granddaughter, Jeeva (Jayalalithaa), takes the prince to her hut. Although he behaves badly, Jeeva teaches him to speak, write and fight. Vengaiya begins to understand that he is a prince, but is a hunchback because of his confinement.
Vengaiya saves a girl (Jothilakshmi) from two warriors. When he is helping the girl (who has been bound between two heavy wooden planks, like a pillory), his spine straightens and he can stand normally. Jeeva tells the prince what he must do, and shows him his mother. When he sees his mother's condition, Vengaiya vows that he will release the country from Sengodan's enslavement. The prince, with help from Jeeva and others, attacks a group of soldiers and begins freeing people from slavery. During one assault, he meets Magudhapadhy (R. S. Manohar), the leader of a neighbouring nation (Pavala Kingdom) who is related to Sengodan. The commander Magudhapadhy is astonished to see Jeeva because of her resemblance to his queen, Pavala Vaalee (Jayalalithaa). He conspires to replace the queen with Jeeva and take over the country, which separates Vengaiya and Jeeva from their followers. The commander, claiming the prince is a spy, hides Jeeva.
Pavala Vaalee (who is actually Jeeva's sister) presides over the prince's trial. She is attracted to him, and orders that he be released as her bodyguard. The commander plans to kill both the queen and the prince at a party with a poisoned drink, but it is moved by one of the prince's aides, a magician (Cho Ramaswamy).
The commander orders the arrest of the prince and the queen. Jeeva impersonates the queen so she and Vengaiya can be freed and allowed to return to their country. The queen Pavala Vaalee is dressed in Jeeva's clothes and kept in captivity, to be killed later. The commander goes to the prison and admits his plan; Vengaiya kills him and escapes with Pavala Vaalee, thinking she is Jeeva.
Vengaiya finally reaches his country, which has changed during his long absence. His house has been gutted by fire, his farms plundered and his men oppose him. Vengaiya tells them his story, coercing them to rejoin the army. Pavala Vaalee joins Sengodan's side, awaiting revenge.
Abhirami Mangamma is captured by Sengodan's men, who threaten to execute her. Vengaiya and his men sneak into the palace and fight Sengodan; he kills Sengodan, releases his mother and frees his kingdom.
Cast
The casting is established according to the original order of the credits of opening of the movie, except those not mentioned
Awards
Tamil Nadu State Film Award for Best Film - First Prize
Tamil Nadu State Film Award for Best Music Director
Around the movie
J. P. Chandrababu's lastmovie with MGR.
One of the first Tamil peplum (or sword-and-sandal movie) where MGR finances (under his Emgeeyaar Pictures Ltd, the second production) and plays a character in Hercules or close to Maciste, it is as we want.
MGR re-hangs just a little the weft of Maciste of 1961 and some scenes, Atlas in the Land of the Cyclops, the original title was Maciste nella terra dei ciclopi.
Filming for Adimaippenn began in 1968 with B. Saroja Devi initially as the lead actress and many of her scenes were shot.
Halfway during the filming, M. G. Ramachandran decided to replace her with Jayalalithaa in a dual role.
Soundtrack
The soundtrack of the film was composed by K. V. Mahadevan. It also marked Jayalalithaa's debut as a playback singer; she performed "Amma Endral Anbu".
Reception
Adimai Penn was digitally restored and re-released in July 2017.
References
Adimaippenn Wikipedia
(Text) CC BY-SA
Adimaippenn IMDb
Adimaippenn themoviedb.org