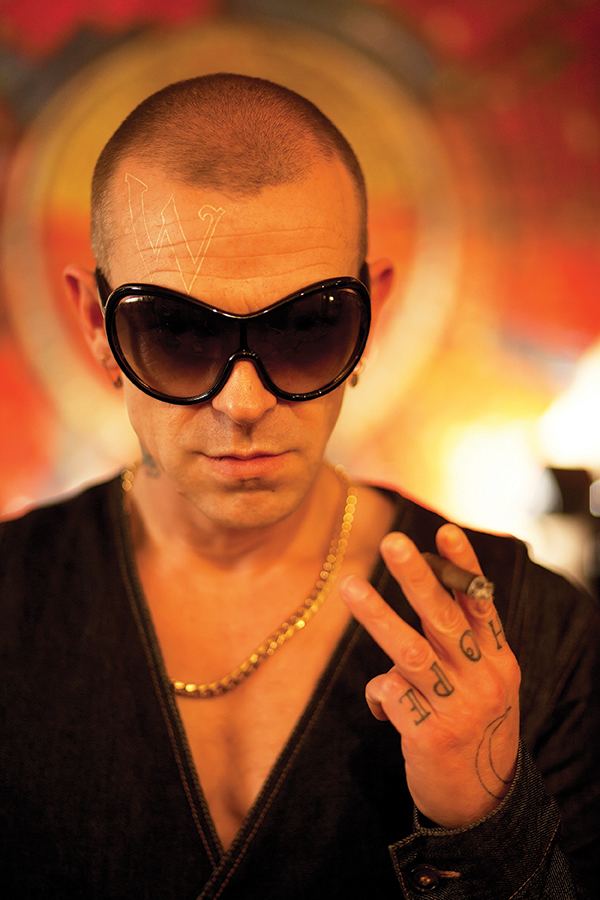 Tinley was born in Lymington, Hampshire. As a youngster, influenced by punk rock and John Peel, he formed his first band The Stupid Babies when he was 11 and living in New Forest in England. Persuaded by his 5-year-old brother Dominic, they sent a demo tape to the indie label Fast Product Records, run by The Human League's manager Bob Last. "Everyone thought that was a really precocious and strange thing for an 11 year-old to do," Adamski recalls "but I just thought that's what everybody did". The kiddie-punk tracks were released on a sampler. When alternative BBC Radio 1 DJ John Peel started playing their song "Babysitters" the band caused quite a stir, receiving positive write-ups in music mags like "Smash Hits" and "Melody Maker". He performed with his brother Mark Tinley, and Johnny Slut of the band Specimen, as Diskord Datkord. The band was signed to SOHO GIRL Records and released one 12" E.P. The Tinley brothers continued to work together even after the demise of Diskord Datkord. In the late 1980s, Adam Tinley adopted his stage name after the UFO enthusiast, George Adamski.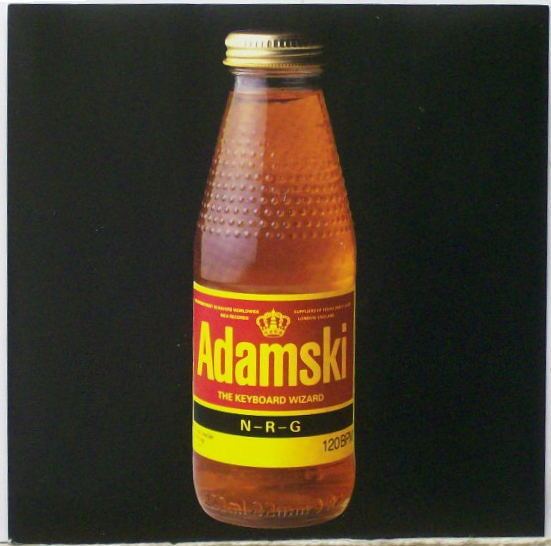 Adamski was discovered by entrepreneur Phil Smith who ran the "Le Petit Prince" restaurant in London. He introduced Adamski's music to the rave scene and got him a deal with MCA Records, producing the first rave record on MCA called "Liveandirect". The artist enjoyed modest success with this first release, which was a collection of tracks recorded live at various venues in England and Ibiza. It contained a short, live version of his first single, "NRG", as well as "I Dream of You", which appeared on a free 4-track 7" vinyl single given away with the music paper "Record Mirror" in 1989. The cover of the single "NRG" featured a mocked up Lucozade bottle with the word "Lucozade" replaced with "N-R-G".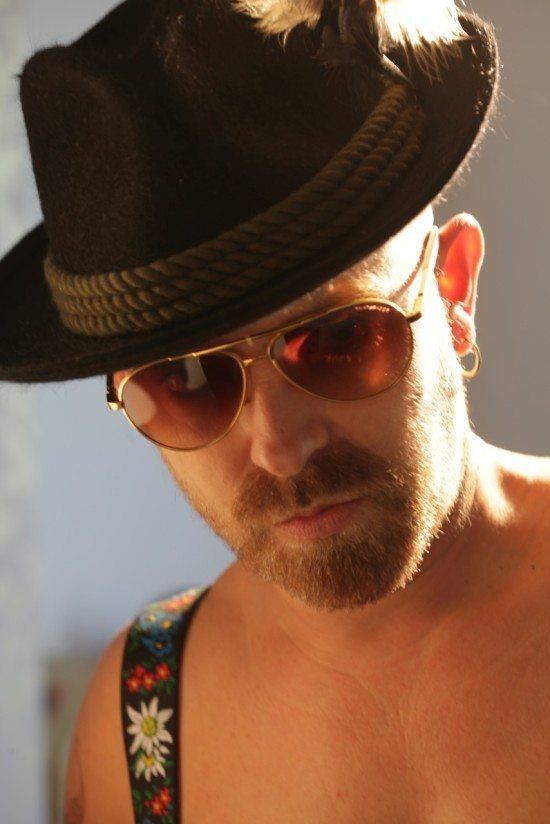 Commenting on the comparisons between rave culture and the earlier punk rock scene, he said in 1990, "I liked the energy and the visual side of punk, but it was all just saying 'no, no, no, no,' whereas now everybody's saying 'yes, yes, yes.' I much prefer the positivity thing we have now, plus it's a much easier environment to score in."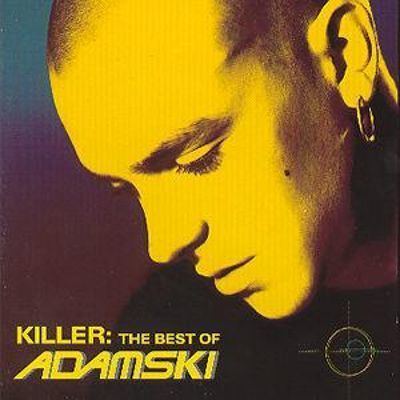 Adamski toured many clubs with his portable keyboard set up, playing long sets, with an MC, Daddy Chester, and later with Seal. In front of his keyboard was a UK car number plate with the word ADAMSKI on it. Early versions of future singles "Killer" and "Future Love Paradise" were played on some of the Seal dates. One date of particular note was at Cambridge Corn Exchange, in early 1990, when Seal leapt on to a smaller, lower catwalk stage, the coins in his pockets all spilled out, showering some of the front row with cash causing a fight. He played live at the opening party of Amnesia nightclub in Ibiza in 1989, with Ricardo da Force MCing who later joined The KLF. Adamski continued to play at this club on and off throughout that summer including the closing party in October.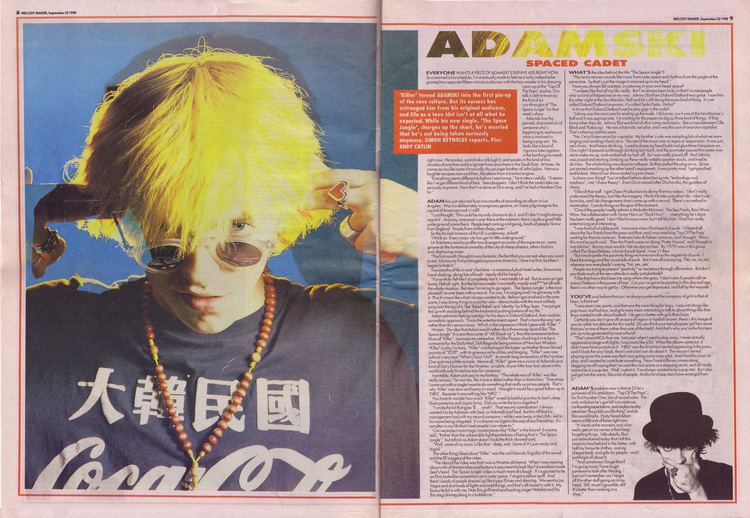 Seal and Adamski met at the London nightclub Solaris and together they recorded "Killer". It crossed over into the mainstream music charts, becoming a worldwide hit, featured on the album Doctor Adamski's Musical Pharmacy which also contained the follow-up singles "The Space Jungle" and "Flashback Jack".
His third album was Naughty. It featured a collaboration with Nina Hagen on "Get Your Body!" and plenty of club tunes, expanding from the artist's acid house roots into the pop and rock genres. The cover art featured Adamski with his head shaven bare, hugging an umbrella. Commercially, this album was not a big success.
The next album, Adamski's Thing, was issued in late 1998 on the ZTT Records label. The style followed the trend started with Naughty, with guitars, strings, raw vocals and introspective lyrics, but maintaining a rhythmic dance sensibility. The album spawned two singles, "Intravenous Venus" and "One of the People".
In 2000, he released his last single as Adamski Products Inc., "In the City." The song charted in Italy, but did little business elsewhere. In the early 2000s, Tinley decided to assume a new identity. For a while, he began to produce music as Adam Sky.
As Adam Sky, his songs included collaborations with the musician Danny Williams. In 2007, he released a remake of The Pop Group's 1979 single "We Are All Prostitutes" with Mark Stewart which appeared on a number of compilations. His single "ApeX" was released on Kitsuné Music in 2006. In 2009, he began to release more material on Shir Khan's record label. Simultaneously, the label Do It Yourself Italy released singles by "Adamski Products Inc.".
Adamski released a new version of "Killer" on Rob Roar's Phonetic label in 2011. He is working on a project entitled Futurewaltz, under the guise of Adamski. In May 2012 he released "I Like It", this one had much more of a disco house vibe to it. In the same year he teamed up with dub producer Gaudi and released their collaborative track "Pawa 2 Da PPL".
In 2014 he released "It's a Man's Man's Whirled/Happy Ness" using the alias Fleas on Skis. In early 2015 saw the release of a 20-track album titled Revolt which features artists such as Lee "Scratch" Perry, David McAlmont, Congo Natty, Asia Argento, Bishi, Betty Adewole, and Rowdy SS.
Liveandirect (1989) – UK No. 47
Doctor Adamski's Musical Pharmacy (1990) – UK No. 8
Naughty (1992)
Adamski's Thing (1998)
Killer – The Best of Adamski (1999)
Mutant Pop (1999)
This is 3-Step EP (2014)
Revolt (2015)
Miss Kittin and The Hacker – "Stock Exchange" (2003)
Mignon – "Demons of Love" (2004)
ESKA – "She's in the Flowers" (2015)