Covid-19
Bacteria




Rhodospirillales




Acetobacter




Genus




Proteobacteria




Acetobacteraceae




Acetic acid bacteria







Acetobacter xylinum, Acetobacter aceti
Acetobacter is a genus of acetic acid bacteria. Acetic acid bacteria are characterized by the ability to convert ethanol to acetic acid in the presence of oxygen. Of these, the genus Acetobacter is distinguished by the ability to oxidize lactate and acetate into carbon dioxide and water. Bacteria of the genus Acetobacter have been isolated from industrial vinegar fermentation processes and are frequently used as fermentation starter cultures.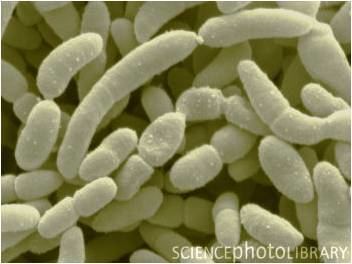 In 1998, two strains of Acetobacter isolated from red wine and cider vinegar were named Acetobacter oboediens and Acetobacter pomorum
In 2000, Acetobacter oboediens and Acetobacter intermedius were transferred to Gluconacetobacter on the basis of 16S rRNA sequencing.
In 2002, Acetobacter cerevisiae and Acetobacter malorum were identified by 16S rRNA sequence analysis of Acetobacter strains.
In 2006, a strain of Acetobacter isolated from spoiled red wine was named Acetobacter oeni.
Acetobacter Wikipedia