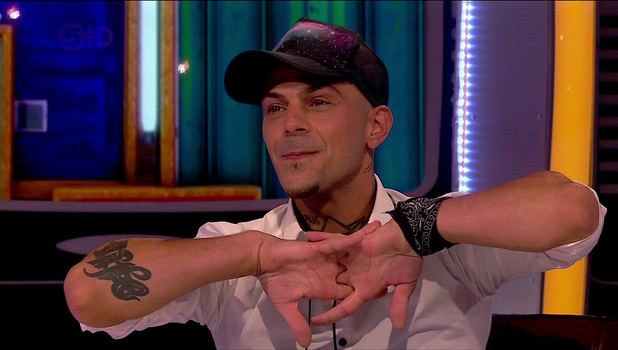 On 29 June 1979 Love was born in London to Turkish father Turan Sanveren and Irish mother Kathleen Breen. Love was raised on a council estate in Hackney, East London until he left home at 16 to join boyband five. He won a scholarship to attend the Italia Conti Stage School where he studied acting, singing and dance. One day his teacher suggested he audition for a boy band that was being put together by Simon Cowell.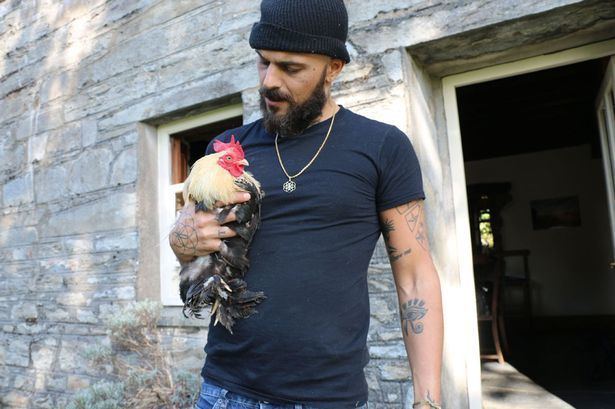 After performing in front of Cowell and a panel of managers, Love was chosen from over 3,000 auditionees to be in the band Five (also known as 5ive), which went on to have massive international success winning a Brit Award for Best Pop Act 2000, an MTV award and ASCAP awards for songwriting. Love and fellow 5ive members J Brown and Sean Conlon were heavily involved in writing many of the band's greatest hits such as "Everybody Get Up", "Keep on Moving" and "If You're Getting Down".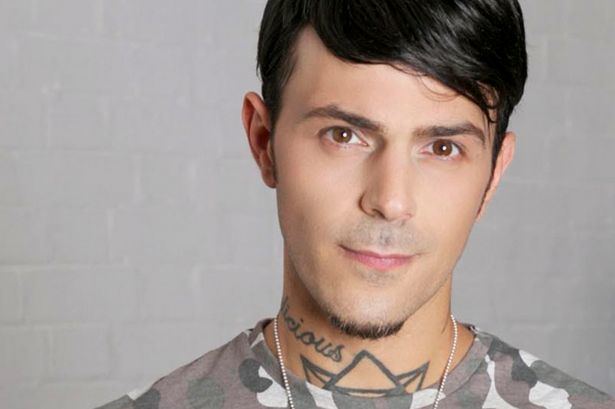 Five (stylised as 5ive) were a successful British boy band in the '90s consisting of members Richard Abidin Love (Abz), Jason Brown ('J), Sean Conlon, Ritchie Neville, and Scott Robinson. Formed in 1997 by father/son management team Bob Herbert and Chris Herbert for Safe management ltd. (The same team that originally formed the Spice Girls ) The band went on to be signed by music industry boss & A&R Simon Cowell (at the time Cowell was a music executive at Sony BMG).
Based on current BPI certifications 5ive have sold an over 1.6 million albums and 2 million singles in the UK alone.[1] The band split on 27 September 2001 when new father Robinson convinced the other members to take a break. Love has since stated on ITV's The Big Reunion that he "did not want the band to split and wanted to continue" saying "It felt like they were taking something away from me".
After Five split, Love was signed to Sony BMG by Simon Cowell as a solo artist and became the only band member to release a solo album. Abstract Theory had three Top 10 hits in the UK Singles Chart with "What You Got" (UK no. 4), "Stop Sign" (UK no. 10) and "Miss Perfect" (UK no. 5). Plans for "7 Ways" as the fourth single were aborted despite a music video shot for it. The solo album stalled at number 29 in the UK Albums Chart, leading him to be dropped by Sony in December 2003.
After 5ive split in 2001, Love admits his life spiralled out of control when he began partying and abusing drugs and alcohol. He reached his lowest point when a rogue agent to whom Love had become close robbed his life savings from the sale of his house. Over £200,000 in total was stolen and, with no income or savings and no career to speak of, Love became homeless and resorted to sleeping in the loft space of his cousin's bakery in East London.
Eventually, Love moved into the basement of a wealthy friend he had met on the London club scene but after exhausting his legal options he grew frustrated, became angered at his ex-agent and 'went after him' leading to a dispute in which Love was arrested by police. 5ive reformed in 2006 without Conlon, but split up again a year later after record label talks failed to materialise and despite recording material for their fourth album.
In 2008 Abz changed his surname from Breen to Love by deed poll. Shortly afterwards Love also altered the spelling of his stage name from 'Abs' to 'Abz'. In a January 2013 Radio 1 interview Love was asked why he had changed the spelling and he stated, "I just got a bit annoyed with everyone thinking I was named after my six-pack. My name (Abz) actually comes from my Turkish middle name 'Abidin'."
Asked why he changed his surname to Love, he stated, "Breen was my mum's surname from her previous marriage before I was born so it never felt like my name." In an interview with a Welsh radio station in 2015 Abz was challenged about his ever-changing moniker and responded, "Growing up family and friends just called me 'Abidin' or 'Abz'; nobody ever called me Richard. Except my mum when I was naughty!"
In early 2009, Love came across Vicky Fallon on Myspace and sent her a message. In June 2009 Love arranged a songwriting session at Fallon's studio. Fallon picked him up from the tube station and struggled to recognise him due to his dramatic weight loss from drug abuse. A month later, Love moved into Fallon's rented house in Rickmansworth and in late 2009, she officially became his co-manager (alongside Love) and they formed a songwriting and production team.
In 2011 the couple moved to rural Lincolnshire and rented a farmhouse. Love credits this period as being pivotal in his healing journey, both physically and mentally. The house had a garden and allowed them to have their first dabble at growing things. Love was happy in Lincolnshire but the couple were forced to leave in 2013 following several violations of their privacy by a landlord who lived on-site (including letting herself into the house when Fallon was asleep upstairs).
On 18 October 2012, it was revealed via Twitter that Five would be taking part in an ITV2 documentary series called The Big Reunion, which also featured Atomic kitten, Blue, 911, Honeyz, B*witched and Liberty X and followed their journey as they prepared for a comeback show at Hammersmith Apollo. The Big Reunion aired in January 2013 and was an unexpected hit for ITV2, with each episode averaging 1 million viewers.
The show revealed what had happened to the bands after finding fame, with 5ive's stories, both as a band and as individuals, heavily featured on the show. Viewers quickly fell in love with Love's quirky sense of humour and ruthlessly hilarious honesty. In episode 4 he gave the audience a tour of his vegetable garden and showed off his 'curly carrots' which subsequently trended at No. 8 on Twitter. Love's eccentric choices of headwear garnered him attention from fans, with his favourite 'rainbow unicorn hat' selling out within days on eBay.
Love entered the Celebrity Big Brother house on 22 August 2013. When asked by CBB presenter Emma Willis why he was doing the show he responded, "I need a home cos I'm currently living with my aunty Wendy". While Love has never confirmed how much he was paid to do the show, it has been speculated that he was offered a £100,000 fee.
Whilst in the house, he struggled to socialise and integrate with his fellow housemates. Love made headlines around the world when he confessed in the diary room that he suffers from Aspergers syndrome, a neurological condition that can cause the sufferer social anxiety and affect speech and communication.
Despite his shaky start, Love hit it off with former Saved by the Bell star Dustin Diamond, The Only Way Is Essex reality star Mario Falcone and, although they were from completely different worlds, he grew fond of housemate reality star Charlotte Crosby. During their time in the house, American reality star Courtney Stodden developed a crush on the ex-Five star telling housemate Lauren Harries "Abz is lovely, he's so nice to be around. He's so funny. I'm like obsessed with him now." When asked by Vanessa Feltz why he didn't show an interest in Courtney's "obvious" assets, Love insisted "I honour my girlfriend."
Despite his quietness viewers fell in love with him anyway, marvelling at his quirky and creative ways to pass the time and retain his sanity such as pillow stacking, spider watching, bug saving, swan apple carving and face painting. As the house numbers got smaller Love grew in confidence and was eventually announced as the favourite to win the show.
On 13 September, Love was announced as the CBB12 runner-up, behind Charlotte Crosby.
In August 2014 Love announced via Twitter that he had left Five, stating: "As of today I am no longer a member of 5ive, thank you to all the fans who supported. I love you all".
Natasha Hamilton of Atomic Kitten quickly took to Twitter to criticise Love, stating: "@abzlove has left @official5ive via the world of twitter...I'd be gutted if one of the girls did that. Publicity stunt if you ask me!"
In an interview with reveal mag in October 2014 shortly after his departure, Neville made his feelings about Love's exit clear stating "I'm more than happy to be a three-piece. It's never felt better to be in 5ive. To be honest, five people just get in your way, do you know what I mean? You've got a bit more space to move around now."
In a frank and brutal interview with Auspop magazine, Love stated that member J Brown ('J') changed his mind at the last minute and without the full original lineup Love felt the reunion was tainted. Love claims he attempted to convince his bandmates and their manager to contact Brown and make amends but they refused.
He states in the interview: "If we were making a cake, J would be the eggs," he muses. "He's an essential part of the ingredients and so with him missing, the cake never rose. It just kind of stayed flat and not properly cooked. There were a few raisins in it and I don't like raisins so I had to take them out. You get what I'm trying to say with that analogy? There was no cherry icing on the top. It was just a shitty cake and that's all it's been since."
Love has admitted that while money was an issue for him it wasn't his only reason for reuniting "I've been accused of only reuniting with Five for the money but that's rubbish, I could've kept on touring with them cos it was good regular money, but I chose to walk away cos I wasn't happy and I had to follow my heart. It's a shame for the fans, but I tried my best." Since Love's exit, his former bandmates continue to tour nightclubs performing as a three-piece still called 5ive
After a brief attempt at rural living in Lincolnshire from 2011 to 2013, Love decided to buy a smallholding in rural Wales with his partner. After seeing his hilarious antics during their first attempt his partner and manager Vicky Fallon felt that his transition to fully fledged farmer would make for entertaining viewing so she contacted executive producer and owner of Norfolk-based production company Tin Can Island, Andrea Cornes. Cornes got the project straight away and presented the project to Tom Mcdonald at BBC2 who commissioned the project.
The BBC cameras followed the couple's journey throughout 2014 as they purchased a dilapidated smallholding and navigated the highs and lows of adjusting to rural life on a budget and the docu-series Country Strife: Abz on the Farm aired on BBC Two in August 2015. BBC Two were taking a huge risk in introducing Love to their audience and were criticised for it by some, but Love's trademark analogies and clueless antics hilarious on the show soon became a cult hit with viewers and critics alike.
On 8 September 2015, Love put his Brit Award for best pop act 2000 on eBay. The morning the auction went live he announced his plans on The Wright Stuff explaining that he hoped to raise some funds for 'topsoil and some gardening tools' for the farm. The bidding started at 99p and Abz constructed a tongue in cheek item description to go with the award. News of the auction quickly spread around the world reaching as far as Asia and Australia.
The high level of media interest in the auction resulted in bids rapidly rising, eventually reaching over £1 million. Love was reportedly made several offers to end the auction early (including a Ferrari sports car), but turned them down believing that the 1 million bid was real. The day before the auction ended eBay's fraud squad cancelled the account denying him the chance to see if the top bid was genuine.
Love dated singer/songwriter Vicky Fallon starting in 2009 and the couple subsequently got engaged. In October 2014 Love bought a dilapidated smallholding in Carmarthenshire, Wales. Fallon and Love have since split and Love has recently been linked to The Only Way is Essex star Chloe Sims.
Love split with Fallon on 13 March 2017. On 20 May 2017 a story and video was released by the Mirror newspaper, where Abz claims he was in an "emotionally and mentally abusive" relationship with Fallon. He also claimed he discovered she was working as an escort for £2000 a night. Fallon immediately fired back at his claims with releasing a series of videos on a YouTube channel called Narcissistic Abuse Awareness. These videos included her emotional reaction to the article and shows evidence of her split with Love that proves his allegations to be false.