Preceded by

Isa Gambar


Name

Abulfaz Elchibey




Religion

Shia Islam





Nationality

Azerbaijani


Succeeded by

Heydar Aliyev


Education

Baku State University





Prime Minister

Rahim HuseynovAli MasimovPanakh Huseynov




Born

7 June 1938Nakhchivan ASSR, Azerbaijan SSR, Soviet Union (

1938-06-07

)


Political party

Azerbaijan Popular Front




Role

Former President of Azerbaijan


Died

August 22, 2000, Ankara, Turkey


Party

Azerbaijani Popular Front Party


Presidential term

June 16, 1992 – September 1, 1993




Previous office

President of Azerbaijan (1992–1993)


Similar People

Heydar Aliyev, Isa Gambar, Uzeyir Hajibeyov, Tofig Guliyev, Fikret Amirov
INTERVIEW WITH SABIT BAGIROV FRIEND AND PARTNER OF ABULFAZ ELCHIBEY
OPPOSITION PARTIES MARK NATIONAL REVIVAL DAY
Abulfaz Elchibey, (Azerbaijani: Əbülfəz Elçibəy; 24 June 1938, Nakhchivan – 22 August 2000, Ankara) was an Azerbaijani political figure and a former Soviet dissident. His real name was Abulfaz Qadirqulu oglu Aliyev (Azerbaijani: Əbülfəz Qədirqulu oğlu Əliyev; Russian: Абульфа́з Гадиркули́ оглы́ Али́ев), but he assumed the nickname of "Elçibəy" (Azerbaijani for the "noble messenger") upon his leadership of the Azerbaijani Popular Front in 1990. Elchibey was the second president of Azerbaijan, serving from 16 June 1992 until his overthrow in a coup d'état in June 1993.
Contents
Biography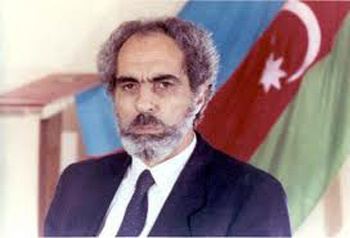 Elchibey studied Arabic at the Baku State University, graduated in 1957 from the department of Arab philology of the Faculty of Oriental Studies. He worked as a translator and later as a lecturer of history at the Baku State University. From 1963 to 1964 he practiced in Egypt, working as a translator. He soon joined dissident movement, supporting the re-establishment of Azebaijani independence. 1975-1976 he was arrested. Thereafter he worked at the Institute of Manuscripts of Azerbaijan. Elchibey published over 50 scientific works on Oriental philosophy, history, literature and religion.
Presidency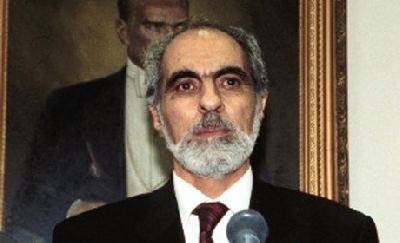 Elchibey's rise to presidency came after the first round of heavy losses of Azerbaijan in the war against Armenia over the Nagorno-Karabakh region. After the Khojaly Massacre (26–27 February 1992), the fall of Shusha (8 May 1992) and Lachin (15–17 May 1992), the temporary Azerbaijani communist establishment led by Yaqub Mammadov could no longer hold power. Amidst the disorder on the frontline, former Azerbaijani president Ayaz Mutalibov's attempted comeback, two months after his resignation, in a parliamentary coup on 14 May 1992, resulted in public outrage and military overthrow of Mutalibov by the Azerbaijani Popular Front in Baku on 15 May 1992.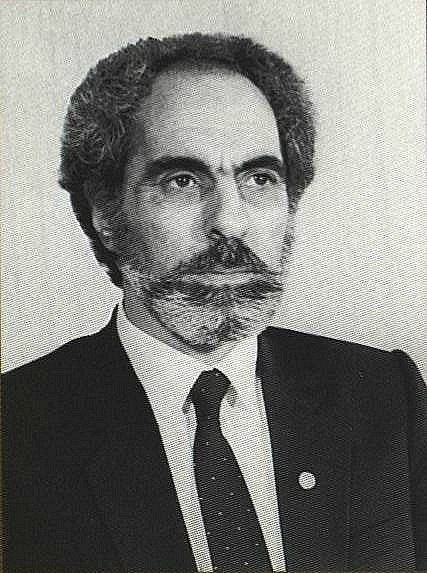 The national presidential elections with 7 candidates were held on 7 June 1992 in which Elchibey was elected the President of Azerbaijan, gaining 54% of votes and becoming Azerbaijan's first democratically elected, non-communist president. During the summer of 1992, Elchibey secured the full withdrawal of the Soviet army from Azerbaijan, which became the first and only former Soviet republic (after the Baltic states) free of Soviet military presence. At the same time, Elchibey's government established the national Caspian Navy and managed to reach an agreement with Russia on receiving one-quarter of the Soviet Caspian Navy based in Baku. In June 1992, the Azerbaijani army started a counter-offensive codenamed Operation Goranboy in Nagorno-Karabakh, establishing control of over 40% of the region by the fall of 1992 and approaching within 7 kilometers of Shusha. However, as the Azerbaijani offensive pushed further into Karabakh, it became further bogged down in controversy, mismanagement, corruption and treachery by Elchibey-appointed Defense Minister Rahim Qaziyev, along with the guerilla tactics of the NKR Army in mountain warfare. This led to unexpectedly heavy Azeri casualties, loss of heavy military equipment, and the campaign ending in failure. He also held some Pan-Turanian views, for which he enjoyed the support of the leader of Turkey's Nationalist Movement Party, Colonel Alparslan Türkeş. Upon his election, Elchibey appointed İsgandar Hamidov, a police colonel and the leader of the newly established Grey Wolves movement in Azerbaijan, as the Minister of Interior. Hamidov, despite his personal devotion and contributions in capturing Agdere district of Azerbaijan, proved to be generally incompetent and resigned in April 1993 after the fall of Kelbajar.
As rebellious troops were advancing onto Baku, President Elchibey invited Heydar Aliyev, former Soviet Politburo member and then head of Nakhchivan (and no relation to Elchibey, whose real surname was Aliyev), to Baku on 9 June 1993 for negotiations with Huseynov. Aliyev quickly took control of the power, becoming the Chairman of the Azerbaijani parliament on 15 June 1993 and giving a chair of the Prime-Minister of the country to Huseynov. Nine days later, in the vacuum of power left by Elchibey's departure to Nakhchivan, Aliyev, as a speaker of the parliament, constitutionally assumed presidential powers. He signed the Bishkek Protocol to cease hostilities on the frontline, and further solidified his power by organizing impeachment hearings and holding a national referendum on 29 August 1993, which formally stripped Elchibey of the presidency. In another national election, on 3 October 1993, Heydar Aliyev, was elected as president of Azerbaijan with 99% of the votes..
Elchibey met with the nationalist leader Alparslan Türkeş.
Opposition and death
During Aliyev's presidency, Elchibey returned to Baku in 1997 and joined the opposition as the leader of Azerbaijani Popular Front Party.
In 2000, Elchibey was diagnosed with prostate cancer and died in August of the same year in a military hospital in Ankara, Turkey. His body was flown to Baku and given the state funeral at the Alley of Honor with special attendance by then-President Heydar Aliyev.
References
Abulfaz Elchibey Wikipedia
(Text) CC BY-SA