Service

Continental Army


Nationality

American





Name

Abraham Woodhull




Codename(s)

Samuel Culper, Sr.




Role

Magistrate





Born

October 7, 1750 (

1750-10-07

)


People also search for

Caleb Brewster, Jamie Bell


Spouse

Lydia Terry (m. 1824–1826), Mary Anna Smith (m. 1781–1806)




Children

Mary Woodhull, Jesse Smith Woodhull, Elizabeth Woodhull




Parents

Richard Woodhull, Margaret Smith




Allegiance

United States of America



Died

January 23, 1826 (aged 75) Setauket, New York
Three village historical society presents abraham woodhull
Abraham Woodhull (October 7, 1750 – January 23, 1826) was a leading member of the American Culper Spy Ring in New York City and Setauket, New York, during the American Revolution. He used the alias "Samuel Culper", later "Samuel Culper, Sr.," a play on Culpeper County, Virginia, suggested by George Washington. The Culper Ring was a successful operation which provided Washington with valuable information on the British Army headquartered in and operating out of New York, from October 1778 until the end of the American Revolutionary War. After the United States gained independence, Woodhull served as a magistrate and a judge in Suffolk County, New York.
Contents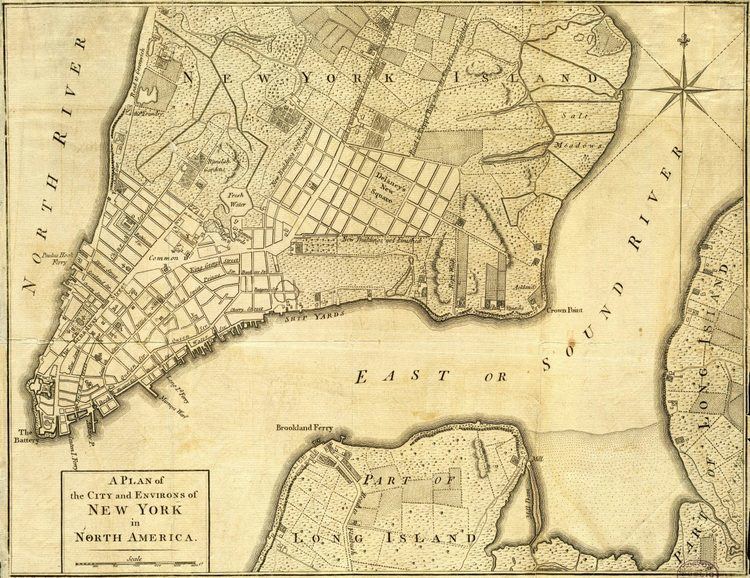 Abraham Woodhull's final resting place
Background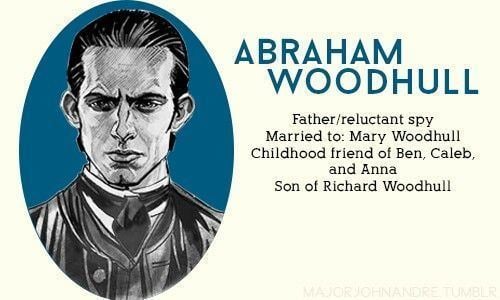 Woodhull was a descendant of Richard Lawrence Woodhull, Esq., a wealthy settler of Setauket and a relative of New York militia Brigadier General Nathaniel Woodhull. His parents were Judge Richard Woodhull (1712–1788) and Mary Woodhull (née Smith).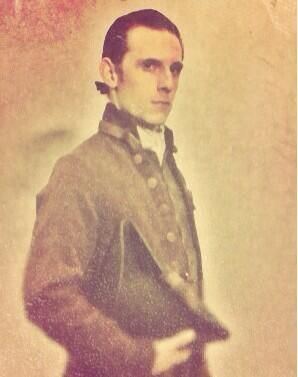 Woodhull served as a lieutenant in the Suffolk County, New York, militia in the fall of 1775 but resigned after a few months. Woodhull was motivated by the murder of his older cousin, Brigadier General Nathaniel Woodhull of the New York militia, who was wounded by sword and bayonet cuts after being captured on August 29, 1776. According to some reports, General Woodhull was deprived of medical care and food and suffered an agonizing death on September 20, 1776. Though he was inflamed against the British by this event, Abraham Woodhull did not immediately take up arms or begin spying. Not only was he more placid than some of his friends who joined the Continental Army at the outset of the war, but as the only surviving son of aging parents and brother of a sister still at home, the unmarried Woodhull stayed on the family farm to attend to his family and their property.
Beginnings
In August 1778, Continental Army Major Benjamin Tallmadge approached his neighbor from Setauket, Abraham Woodhull, about spying for the Patriot cause in the American Revolutionary War. Tallmadge had just talked with Connecticut Governor Jonathan Trumbull, who then released Woodhull after he had been caught smuggling across Long Island Sound. Woodhull soon agreed. In September 1778, a traditional spy operation in New York City authorized by Continental chief of intelligence General Charles Scott lost three officers. Washington then permitted Tallmadge to go ahead with his operation to set up a spy network in New York with Woodhull as the lead agent. Tallmadge became chief of intelligence in October 1778.
Woodhull began spying in October 1778, sending his first "Samuel Culper" letter on October 29, 1778, after swearing an oath of loyalty to the Crown as cover. His plan was to travel to Manhattan, ostensibly to visit his married sister, Mary Underhill and her husband, Amos Underhill (a descendant of Captain John Underhill), at their boarding house. While in Manhattan, he would collect information from various sources, including British officers staying at the Underhill boarding house, and then return to Setauket, where he could pass the information to Continental Army Lieutenant and whaleboat operator, Caleb Brewster to take across Long Island Sound to Tallmadge. Tallmadge would then send the information to General George Washington.
Tallmadge developed a code to communicate with members of the ring that the casual member of the British forces would be unable to decode. This code was a series of letters and numbers that could make an ordinary message look like gibberish. In some of his letters, Woodhull used a type of invisible ink (gallic acid), invented by Sir James Jay, brother of John Jay. The letter containing the ink needed to be brushed with iron sulfate, rather than just passed over heat or light, to be read. These measures helped maintain secrecy and ease Woodhull's anxiety about possibly being detected.
The initial plan had problems. Woodhull's visits to his sister were too frequent to be understandable, especially given the danger. Additionally, he spent all of the time he was supposed to be visiting with his sister wandering the city without an obvious purpose, suggesting there was another reason he traveled to New York. The British became suspicious by the spring of 1779, and on June 5 of that year, the Long Island-based Queen's Rangers, under the command of Colonel John Graves Simcoe, were sent to the Woodhull family home to find Abraham. Abraham was not at home at the time and avoided capture, but the Rangers attacked his father. Later, a distant relative, Colonel Benjamin Floyd, a Loyalist militia officer vouched for Woodhull and immediate suspicion of him was lifted.
Woodhull's situation was too precarious to continue using the same plan. To escape the immediate danger of capture, he sought help from a friend who was sufficiently powerful to personally know the "Gen'l Aid", a phrase that seems to refer to one of Major John André's many military titles, to take over the operation in New York City. Woodhull recruited Robert Townsend, who lived at his sister's boardinghouse, was distantly related, and shared Woodhull's social status. Woodhull sounded out Townsend and discovered that he was a secret Patriot, having been radicalized by depredations in his home town of Oyster Bay and on his family property by Colonel Simcoe and his men. Townsend sent his first report as "Samuel Culper, Junior" on June 20, 1779. Townsend was better suited to spy in Manhattan, since he had an obvious reason to be in New York. Moreover, his mercantile background gave him a good reason to inquire about British troop movements and shipping.
Austin Roe, main courier for the Ring after Woodhull stopped going to New York City to gather intelligence personally, and Jonas Hawkins dropped out, would deliver messages via dead drop, burying the messages in a box in a pasture he rented on Woodhull's property to avoid suspicion by his presence there, where Woodhull would know to look for it.
Improvements
In October 1779, after an encounter with a British patrol which could have discovered a secret letter in his saddle, Woodhull wrote to Tallmadge that he would soon be visiting New York again and "...by the assistance of a 355 [lady] of my acquaintance, shall be able to outwit them all." Historians Alexander Rose and Mark Anthony Phelps write that the lady identified only as "a 355", 355 being Tallmadge's substitution code for "lady", was proposed to be Anna Strong. Men traveling alone might come under suspicion as spies and be stopped and searched but a man traveling with a wife drew less suspicion and might not even be stopped, much less searched. Anna had her own reason to visit New York to visit her husband aboard the prison ship where he was confined and to bring him food if possible. Her main service on their trips would have been to divert attention from Woodhull. However, the identity of Agent 355 was never recorded and to this day remains a mystery.
Other writers, such as Harry Thayer Mahoney, have interpreted this letter to mean that Woodhull had recruited a female agent. There is no further evidence to indicate that the Culper Ring had a female agent gathering intelligence for them.
With the ring's new structure and Townsend sending intelligence from New York, Woodhull rarely carried messages between New York and Setauket, and then would take only verbal messages which he would write down when he reached Setauket. He would simply retrieve Townsend's intelligence from a prearranged dead drop on his property, where it was left by a courier, usually Austin Roe but occasionally Jonas Hawkins, especially in the summer and early fall of 1779. Woodhull's job was to simply collect the message, monitor for a signal from the whale boat ferryman Caleb Brewster, and deliver the dispatches to Brewster. It is generally thought that Woodhull only needed to watch his neighbor Anna Strong's clothesline, where she would arrange her laundry to signal Brewster's presence and location. After the recruitment of Townsend to gather information in New York City, Woodhull only traveled to Manhattan when he felt there was a problem with Townsend he needed to discuss.
The letters Woodhull wrote as cover letters or supplements to Townsend's dispatches are particularly valuable in some cases, especially in instances where Townsend's letters no longer survive. It was the urgent cover letters Woodhull wrote on July 20, 1780 (coinciding with the British discovery of the French fleet's arrival), that make historians think the Culpers discovered the British plans to attack the vulnerable fleet.
Benedict Arnold discovery
When Major André was captured and the Benedict Arnold plot was discovered, Woodhull continued to report. Woodhull's dispatches often provided information about the ring's mindset and concerns, along with the dangers everyone faced. Also, it was Woodhull's dispatches that informed Tallmadge and historians of the capture of "friends", including "one who hath been ever serviceable to this correspondence" on October 26, 1780, during the period of Arnold's spyhunt. The friend was Hercules Mulligan who passed information to Townsend. Mulligan had been arrested but Arnold could not hold him for long because he had no hard evidence against him. At the time Woodhull wrote that letter, Townsend was hiding at Woodhull's family's home, presumably because it would be easier to escape from there to Connecticut than from the Townsend family home, which was occupied by the British.
In the aftermath of the Arnold plot, Townsend had an extreme emotional response, documented by Woodhull, and refused to continue spying until the following spring. Nonetheless, Woodhull continued reporting, even though he had little information of any true value. Woodhull's reports were not of a particularly good quality, and after Andre's death, Townsend's few reports were also lacking.
Aftermath
Woodhull married his cousin Mary Smith in 1781 and had three children with her. He held a few minor political appointments, including Suffolk County magistrate, in which position he served from 1799–1810. His wife died in 1806. In 1824, Woodhull married Lydia Terry. He died in Setauket on January 23, 1826, and is buried alongside his wife and several generations of Woodhulls in the Burial Ground of the Presbyterian Church in Setauket.
In popular culture
In 1956, Dr. Warren S. Walker, an English Professor and student of the works of James Fenimore Cooper, suggested that Cooper's character Harvey Birch was based upon "Samuel Culper's" work as a spy. This would include both Woodhull as "Culper, Sr." and Robert Townsend, who used the alias "Samuel Culper, Jr."1
Woodhull is portrayed by Jamie Bell in the highly fictionalized Revolutionary War spy thriller series, AMC's Turn: Washington's Spies, based on Alexander Rose's historical book Washington's Spies: The Story of America's First Spy Ring (2007). Other real-life persons from Woodhull's life, who appear in the television show, are documented in the show's cast list.
References
Abraham Woodhull Wikipedia
(Text) CC BY-SA