Full name

Aaron Pico




Country

United States




Events

Freestyle wrestling




Weight

145 lb (65 kg)




Coached by

Sazhid Sazhidov




Height

5 ft 7 in (1.70 m)




Name

Aaron Pico




Nationality

American




Sport

Wrestling










Born

September 23, 1996 (age 26) (

1996-09-23

)

Whittier, California, United States




Residence

Whittier, California, United States
Takedown wrestling aaron pico
Aaron Pico (born September 26, 1996) is an American freestyle wrestler and mixed martial arts fighter. Pico was born in Whittier, California to Gina and Anthony Pico.
Contents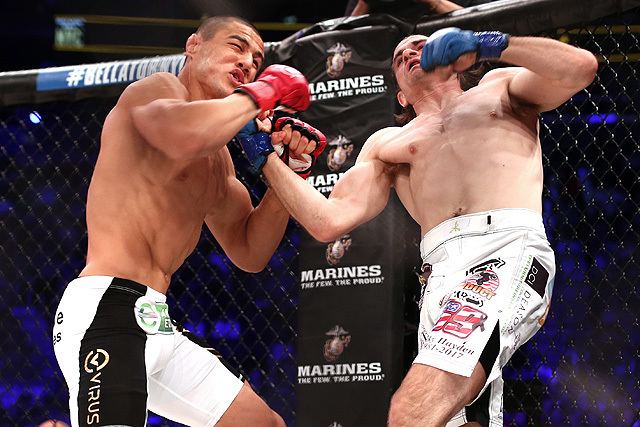 Aaron Pico is a 7th generation Californio. Pico is a direct descendant of Pío de Jesus Pico, who was the last Mexican Governor of California under the Providence of Mexico.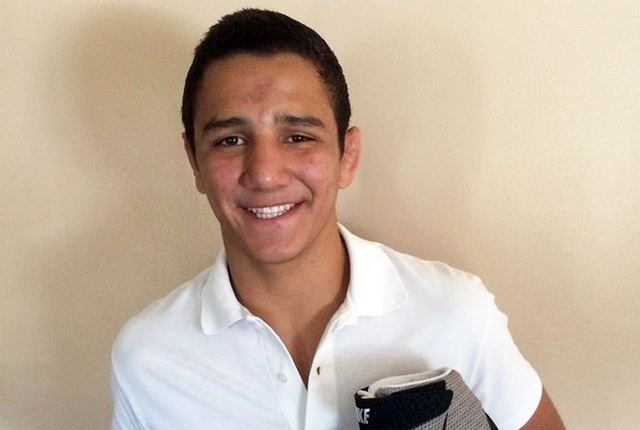 Aaron Pico vs. Zain Retherford
Wrestling
Pico has experience in folkstyle, freestyle, and Greco-Roman wrestling, having won the U.S. national championship in all 3 styles, at both the cadet and junior level. To win the freestyle junior national championship in 2014 and 2015, Pico defeated 2017 Dan Hodge Trophy winner Zain Retherford in the finals. He won 7–0 in 2014 and 8–5 in 2015.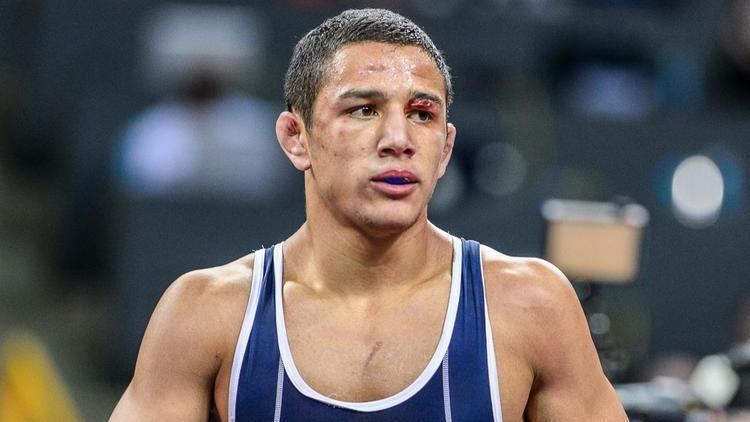 Pico would go on to compete at the world championships in freestyle. In 2013, in Zrenjanin, Serbia, Pico was the only gold for Team USA at the World Cadet Championships. Aaron Pico defeated Japan's Fujinami 8–6 in the Gold medal match. Pico was quoted. "I'm so happy to be here, as World Cadet Champion, and proud to have been representing my country." Aaron gave praise to the many community supporters for his professional development including his parents, family and friends as well as his valuable coach which has made all the difference".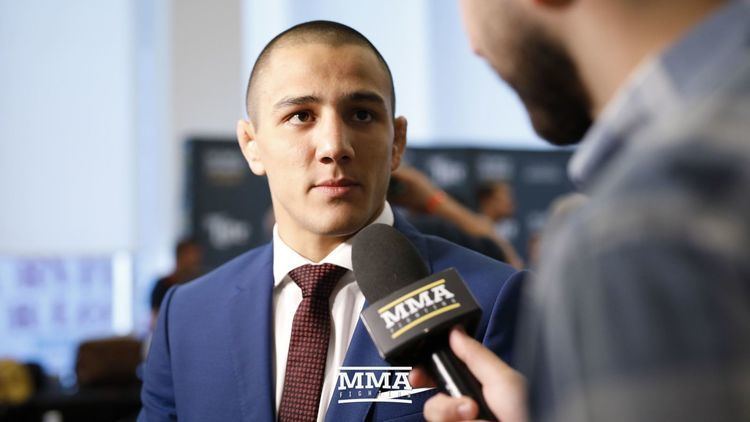 At the freestyle junior world championships, Pico won a silver and bronze medal in 2014 and 2015. He lost to 2016 Olympic gold medal winner Hassan Yazdani of Iran 9–2 in the finals in 2014, and lost by tiebreaker in a 7–7 match against Teymur Mammadov of Azerbaijan in the semifinals of 2015. In the bronze medal match Pico beat Enes Uslu of Turkey 13–4. At the trials to make the U.S. team, his final match was again against Zain Retherford in both 2014 and 2015. He won 3–0, 5–1 in 2014 and 5–2, 6–2 in 2015.
In November 2013 as high school sophomore, he made his senior level debut in a U.S.A. vs. Russia dual meet in Clifton Park, NY. Pico faced Alibeggadzhi Emeev of Russia, winning by decision 8–0.In early November 2014 defeated former 2013 Senior World Champion, David Safaryan of Armenia at the 40th Annual Henri Deglane 40th in Nice, France. He would medal at multiple senior level events while still a teenager. Pico broke into the top 20 UWW world freestyle rankings.
Pico qualified for the Olympic trials in 2016 at 19 years of age. No teenager had made the freestyle wrestling Olympic team for 40 years. Pico defeated Jayson Ness by tech. fall, Jordan Oliver 11–9, and Reece Humphrey by tech. fall, making it to the finals against Frank Molinaro. In the best-of-3 finals, Pico won round 1, 4–2, but lost round 2, 4–3, and round 3, 4–4 on a tiebreaker rule. Ness, Oliver, and Molinaro are all former NCAA Division I national champions, and Humphrey was a national runner-up and senior U.S. freestyle national champ.
Boxing and pankration
In addition to wrestling, Pico also competed in boxing and pankration. Pico won the national PAL championship in 2008 and was national junior golden gloves champion in 2009. He won most outstanding boxer at both tournaments. In pankration Pico also was a national champion in 2008. In addition, Pico went to the Ukraine in 2010, and won the golden cup European pankration championship. During this time Pico also won California state championships in both sports.
Coaches
Strength Coach: Dr. E.J."Doc" Kreis
E.J. "Doc" Kreis is co-author of the ISSA's Strength and Conditioning Certification course.
In 2001, Doc Kreis was named one of ten Master Strength and Conditioning Coaches by the Collegiate Strength and Conditioning Coaches Association—the highest honor for a strength and conditioning coach. Doc Kreis was also named National Collegiate Strength Coach of the Year in both 1991–92 and 1994–95, and was the recipient of the 1995 Stan Jones Award. On June 1, 2003, Doc Kreis was inducted into the USA Strength and Conditioning Coaches Hall of Fame.
Wrestling Coach: Valentin Kalika
Valentin Kalika has dedicated his whole life to wrestling. Valentin was a National Champion of USSR among students. He was a National Ukrainian Champ in Greco-Roman wrestling. He performed the rating: National Soviet Union Master of Sports in Greco-Roman Wrestling in 1977. Coach Valentin Kalika is the Coaches Education Coordinator for Beat the Streets Los Angeles. Also his second coach is a bronze olympic medalist and a two time World Champion Sazhid Sazhidov.
Professional MMA career
Aaron Pico is represented in MMA by Zinkin Entertainment. Pico was offered and signed major endorsement contracts with Dethrone Royalty, an MMA lifestyle apparel company owned by Nick Swinmurn founder of Zappos and ownership partner of the Golden State Warriors.
In April 2014, Aaron signed a multi-year shoe endorsement with Nike.
In early November 2014, Aaron signed a long term unprecedented contract with MMA promoter Bellator MMA and its parent company Viacom, as their new blue chip prospect. Pico is versed in wrestling, amateur MMA and boxing and has multiple wins under his belt. Bellator MMA President, Scott Coker states, "Simply put, Aaron has all the makings of MMA's next great superstar, and to have him here at Bellator MMA is something special. Like many of us in the MMA community, Aaron is someone we've been watching closely over the last few years, and after sitting down with Bob Cook and his team, getting a chance to meet Aaron, and hearing his long-term aspirations, the fit became very obvious."
Pico made his professional MMA debut at Bellator NYC on June 24, 2017, at the Madison Square Garden. He lost to Zach Freeman via submission just 24 seconds into the first round in an upset.
After his upset loss to Freeman, Pico moved down to the featherweight division and faced Justin Linn at Bellator 183 on September 23, 2017. He won the fight via knockout in the first round.
Championships and accomplishments
Freestyle wrestling
2016 U.S. Olympic Trials Senior Men Freestyle 65 kg 2nd place
2016 Alexander Medved International Senior Men Freestyle 65 kg Bronze Medal
2015 Cerro Pelado Int'l Senior Men Freestyle 65 kg Champion – Havana, Cuba
2014 Henri Deglane Challenge Senior Men Freestyle 65 kg Champion – Nice, France
2014 Soslan Andiyev Senior Men Freestyle 70 kg Bronze Medal – North Ossetia – Alania, Russia
2014 Grand Prix of Spain Senior Men Freestyle 65 kg Silver Medal – Madrid, Spain
Boxing
2008 Desert Showdown Champ – Indio, CA
2008 California State PAL Champ – Oxnard, CA
2008 National PAL Champ – Tournament Outstanding Boxer Award– Oxnard, CA
2009 Desert Showdown Champ – Indio, CA
2009 National Junior Golden Gloves Championship Champ – Mesquite, NV Tournament Outstanding Boxer Award
Pankration
2008 – CA State Pankration Championships Champ – Santa Ana, CA
2008 – National Pankration Championships Champ – Santa Ana, CA
2009 – CA State Pankration Championships Champ – Santa Ana, CA
2010 – Golden Cup European Pankration Champ – Kharkov, Ukraine
References
Aaron Pico Wikipedia
(Text) CC BY-SA