An All-American at the University of Florida, Hernandez was drafted by the Patriots in the fourth round of the 2010 NFL Draft. Alongside Rob Gronkowski, he formed one of the league's most dominant tight end duos, becoming the first pair of tight ends to each score at least five touchdowns in consecutive seasons for the same team. He made one Super Bowl appearance in XLVI.
During the 2013 offseason, Hernandez was arrested and charged for the murder of Odin Lloyd, a semi-professional player who was dating the sister of Hernandez's fiancee. He was immediately released by the Patriots following his arrest. Hernandez was found guilty of first-degree murder in 2015, and sentenced to serve life in prison without the possibility of parole at the Souza-Baranowski Correctional Center. While on trial for Lloyd's murder, Hernandez was indicted for the 2012 double homicide of Daniel de Abreu and Safiro Furtado; he was acquitted of the double homicide after a 2017 trial. Five days after the acquittal, Hernandez was found dead in his cell by hanging, which was ruled a suicide. Because he died during the appeal of the murder conviction, the conviction was vacated. His brain was later found to have stage 3 chronic traumatic encephalopathy (CTE), an advanced form of the disease, especially for his age.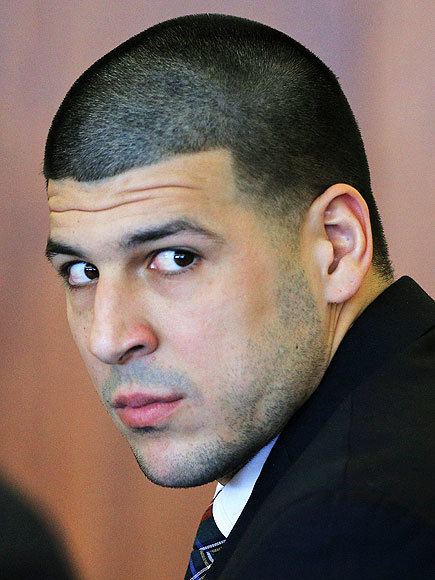 Aaron Josef Hernandez was born in Bristol, Connecticut, the son of Dennis Hernandez, who was of Puerto Rican descent, and Terri Valentine-Hernandez, who is of Italian descent. He had a brother Dennis, Jr., known as D.J. Their father Dennis died in January 2006 from complications from hernia surgery, when Aaron Hernandez was 16. According to Hernandez's mother, his father's death greatly affected their son; he acted out his grief by rebelling against authority figures.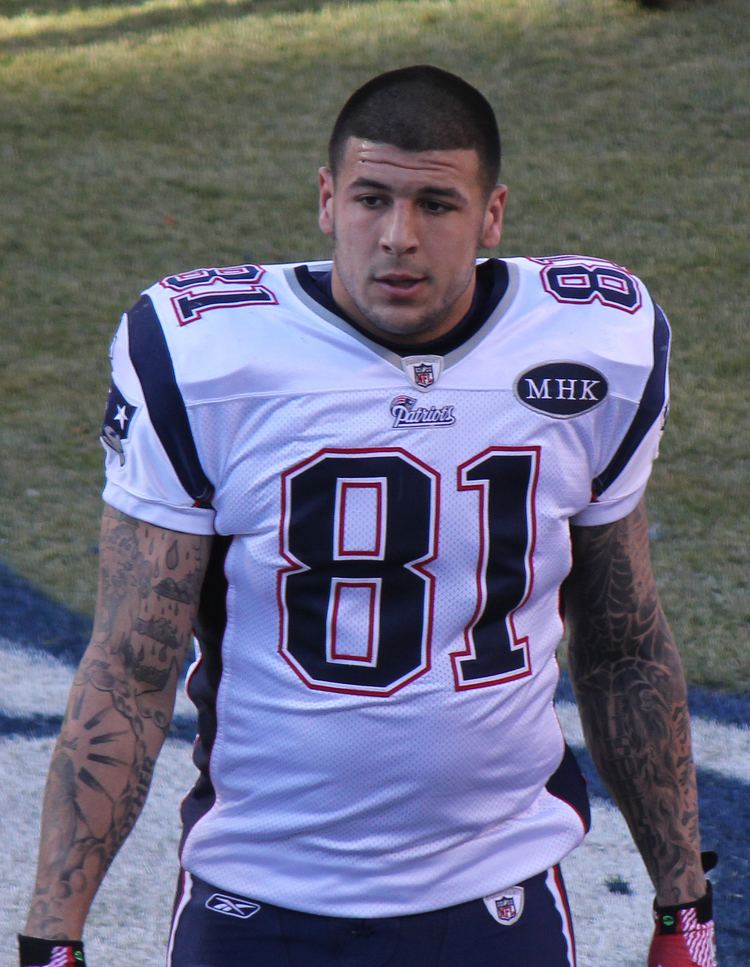 Hernandez attended Bristol Central High School. He played there for the Rams as a wide receiver until becoming a tight end, and also played defensive end. As a senior, he was Connecticut's Gatorade Football Player of the Year after making 67 receptions for 1,807 yards and 24 touchdowns on offense and 72 tackles, 12 sacks, three forced fumbles, two fumble recoveries, and four blocked kicks on defense. The 1,807 receiving yards and 24 touchdowns were state records. Hernandez's 31 career touchdowns tied the state record. He also set the state record for receiving yards in a single game with 376, the seventh-best in national high school history; he set a national high school record for yards receiving per game with 180.7. Hernandez was considered the top tight-end recruit in 2007 by Scout.com.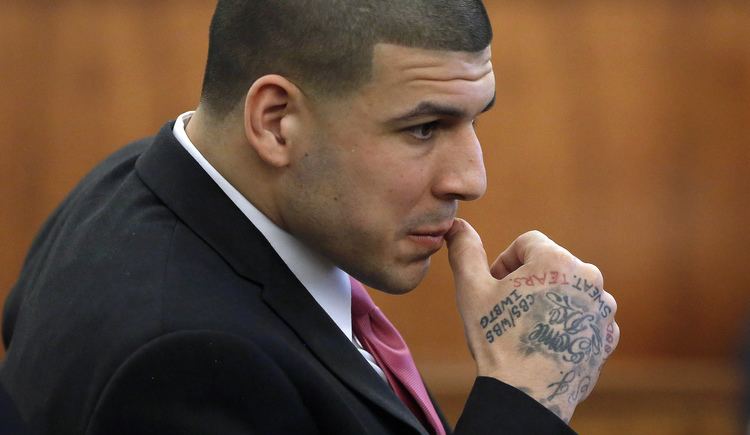 At first, Hernandez committed to play at the University of Connecticut with his brother D.J., but ultimately chose to play for the University of Florida under coach Urban Meyer.
As a freshman in 2007, Hernandez started three games for the Florida Gators. He finished the season with nine receptions for 151 yards and two touchdowns. As a sophomore in 2008, he started 11 of 13 games in place of the injured Cornelius Ingram, and finished the season with 34 receptions for 381 yards and five touchdowns. In the 2009 BCS National Championship Game against the Oklahoma Sooners, Hernandez led the Gators in receiving yards with 57 on five receptions, as the Gators defeated the Sooners 24–14 to win their second BCS championship in three seasons.
As a junior in 2009, Hernandez won the John Mackey Award, given annually to the nation's best tight-end, after leading the team in receptions with 68 for 850 yards and five touchdowns. He was also a first-team All-Southeastern Conference selection and was recognized as a first-team All-American by the Associated Press, College Football News and The Sporting News. Hernandez finished his college career with 111 receptions for 1,382 yards and 12 touchdowns.
After his junior year, he decided to forgo his senior season and enter the 2010 NFL Draft.
Hernandez was drafted by the New England Patriots in the fourth round (113th overall) of the 2010 NFL Draft. The previous day, the Patriots drafted another tight end, Rob Gronkowski. Shortly after Hernandez was drafted, The Boston Globe reported from multiple sources that he had admitted to marijuana use and had failed multiple drug tests while in college, causing his draft stock to drop. Later that day, the Patriots released a statement from Hernandez, who said he had failed only one drug test while in college and was candid about it to interested teams at the NFL Scouting Combine.
Hernandez signed a four-year contract on June 8, 2010. The contract included a signing bonus of $200,000, less than half the bonus received by Patriots fourth-round pick placekicker Stephen Gostkowski in 2006. To compensate for the smaller signing bonus, the deal also included a series of roster and workout bonuses up to an additional $700,000, which meant Hernandez could get the money a third-rounder would over four years, but would have to "walk the straight and narrow line to do so".
Hernandez started the 2010 season as the youngest player on any active roster in the NFL. In Week 2, against the New York Jets, he caught six passes for 101 yards, making him the youngest player since 1960 to have 100 yards receiving in a single game. In the Patriots' Week 3 victory over the Buffalo Bills, Hernandez led all Patriots receivers with six catches for 65 yards and had one rush for 13 yards. In the Patriots' Week 9 loss against the Cleveland Browns, Hernandez caught his first career touchdown on a one-yard pass from quarterback Tom Brady and added another touchdown later in the game. In Week 15, Hernandez caught two touchdown passes from Brady in a win over the Green Bay Packers, earning Hernandez Pepsi NFL Rookie of the Week honors. He finished the 2010 season with 45 receptions for 563 yards and six touchdowns in 14 games played (7 starts).
For his first season in the NFL, Hernandez wore the No. 85 jersey. In July 2011 during training camp, wide receiver Chad Johnson came to the team from a trade with the Cincinnati Bengals. Hernandez immediately let Johnson, who then legally had the last name "Ochocinco" based on his uniform number, have the No. 85, choosing to go back to his college number of No. 81, which had been taken by Randy Moss from 2007 until his mid-season trade to the Vikings in 2010.
Hernandez played in 12 of the Patriots' first 14 games, starting 10. (For the second season in a row, he missed two regular-season games with a knee injury.) In Week 15, against the Denver Broncos, he set career bests with 129 yards on nine receptions, including one touchdown.
In December 2011, Hernandez was named a Pro Bowl alternate during the season. In the NFL playoffs, Hernandez had the longest run of the postseason, a 42-yard run against the Broncos on the Patriots' first offensive drive of the game. Hernandez helped lead the Patriots to Super Bowl XLVI, scoring a touchdown during the game, but the Patriots lost to the Giants, 21–17.
On August 27, 2012, the Patriots signed Hernandez to a five-year contract extension, running through 2018. The $12.5 million signing bonus was the largest ever given to an NFL tight end, and the $40 million total was the second-largest extension ever, after teammate Rob Gronkowski's $53 million. Hernandez was sidelined during the Patriots' Week 2 game against the Arizona Cardinals with a high ankle sprain and missed several weeks. On December 10, during the Monday Night Football game against the Houston Texans, Hernandez recorded 8 receptions for 58 yards and two touchdowns. Hernandez's last NFL appearance was the 2012 AFC Championship game on January 20, 2013, against the Baltimore Ravens.
At the start of the 2011 season, there were only two tight ends on the Patriots roster: Hernandez and his fellow 2010 draftee Gronkowski.
Although Hernandez's stats were eclipsed by Gronkowski, Hernandez still ranked in the top 5 in receptions, yards, and touchdowns among tight ends. According to NBC Sports, Hernandez and Gronkowski were the first pair of tight ends in NFL history to catch at least five touchdowns each in consecutive seasons for the same team. Both ranked in the top 20 among all receivers in number of catches. In 2011, they also set NFL records for yardage, receptions, and touchdowns by tight ends on one team, combining for 169 receptions, 2,237 yards, and 24 touchdowns. The previous records for receptions and yards by multiple tight ends on a single team were set in 1984 by the San Diego Chargers, who had four tight ends combine for 163 receptions and 1,927 yards; the 24 touchdowns eclipsed the record of 18 touchdowns caught by Gronkowski, Hernandez, and Alge Crumpler in 2010.
Hernandez began dating Shayanna Jenkins in 2007. They had a daughter, Avielle Janelle Jenkins-Hernandez, who was born in November 2012. They became engaged in the same month their daughter was born. That month, Hernandez purchased a 7,100 square foot (660 m2) four-story home, with an in-ground pool, in North Attleborough, Massachusetts, for $1.3 million, where the family lived together.
On April 28, 2007, according to a police report in Gainesville, Florida, 17-year-old Hernandez consumed two alcoholic drinks in a restaurant, refused to pay the bill, and was escorted out by a restaurant employee. As the employee walked away, Hernandez punched him on the side of the head, rupturing his eardrum. Although the police department recommended charging Hernandez with felony battery, the incident was settled out of court with a deferred prosecution agreement.
On September 30, 2007, five gunshots were fired into a car containing Randall Carson, Justin Glass, and Corey Smith while they were waiting at a Gainesville traffic light after having left a nightclub. Carson, a passenger sitting in the back seat who was uninjured, told police that the shooter was a "Hawaiian" or "Hispanic" male with a large build weighing about 230 lb (100 kg) and having many tattoos. Glass, the driver, was shot in the arm, and Smith was shot in the back of the head. He continues to suffer seizures as a result of the shooting.
Hernandez invoked his right to counsel and refused to talk to police, and no charges were filed at the time. However, due to his 2013 arrest and subsequent conviction for the murder of Odin Lloyd, Massachusetts authorities contacted police in Florida to try to determine whether Hernandez may have had a role in the 2007 shooting.
Hernandez was investigated in connection with a double murder that took place on July 16, 2012, in Boston's South End. Daniel Jorge Correia de Abreu, 29, and Safiro Teixeira Furtado, 28, both immigrants from the Canary Islands who lived in Dorchester, were killed by gunshots fired into their vehicle. On May 15, 2014, Hernandez was indicted on murder charges for the killings of de Abreu and Furtado, with additional charges of armed assault and attempted murder associated with shots fired at the surviving occupants in the vehicle. The trial began March 1, 2017. The evidence was strongly based on testimony by a man who was a known drug dealer. On April 14, 2017, Hernandez was acquitted of the murders and most of the other charges. He was found guilty of illegal possession of a handgun.
On June 13, 2013, Alexander S. Bradley, described as a friend of Hernandez, filed a civil lawsuit for damages against Hernandez in a Florida federal court. Bradley claimed that on February 13, 2013, Hernandez had shot him while the two were riding in a car on Interstate 95 in Palm Beach County, following an altercation at a Miami strip club. Bradley alleged that he lost his right eye as a result. At the time, when police came to assist Bradley, he declined to name his assailant. No arrest was made. Bradley's lawsuit was dismissed on June 17, 2013, as a result of incorrect paperwork; his attorney refiled it on June 19, 2013.
On September 3, 2013, Hernandez's lawyers filed a postponement request in federal court until his murder charges were resolved. They said it would be legally unfair to Hernandez to permit the lawsuit to continue while he was on trial in the shooting death of 27-year-old Odin Lloyd. In February 2016, Hernandez reached a settlement with Bradley over the lawsuit. The terms of the settlement were not disclosed.
On May 11, 2015, Hernandez was indicted for witness intimidation in relation to the 2013 shooting of Bradley, since Bradley was reportedly a witness to the 2012 Boston double homicide. The intimidation charge for Hernandez carried a maximum penalty of 10 years in prison.
This charge was included in the trial that began March 1, 2017, for the 2012 Boston double homicide. He was later acquitted of the charge of witness intimidation by a jury on April 14, 2017. They also acquitted Hernandez of all other charges in the murders of Daniel de Abreu and Safiro Furtado, except for finding him guilty on one count of illegal possession of firearms.
On June 18, 2013, the police searched Hernandez's house in North Attleboro for several hours in connection with an investigation into the shooting death of a friend, Odin Lloyd. Lloyd's body was found in an industrial park about a mile from Hernandez's house with multiple gunshot wounds to the back and chest. The Massachusetts State Police obtained a search warrant after evidence surfaced that Hernandez had intentionally destroyed his home security system. A cell phone belonging to Hernandez was turned over to police "in pieces" and Hernandez allegedly hired a "team of house cleaners" the same day Lloyd's body was discovered, raising additional suspicion.
On June 20, 2013, the Boston Herald reported the Patriots had "barred" Hernandez from Gillette Stadium. According to NFL.com, Patriots owner Robert Kraft decided to have Patriots staff ask Hernandez to leave because he did not want Gillette to be "the site of a media stakeout". The Boston Globe reported that Kraft, head coach Bill Belichick (who is also effectively the Patriots' general manager) and other members of the team's management had decided, given Hernandez's history, to cut ties with Hernandez if he was arrested on any charge related to the case. Reportedly, this decision was made a week before Hernandez' arrest.
On June 26, 2013, Hernandez was handcuffed by police and taken into custody. The Patriots released Hernandez from the team about 90 minutes later, before officially learning the charges against him. Their press release stated:
A young man was murdered last week and we extend our sympathies to the family and friends who mourn his loss. Words cannot express the disappointment we feel knowing that one of our players was arrested as a result of this investigation. We realize that law enforcement investigations into this matter are ongoing. We support their efforts and respect the process. At this time, we believe this transaction is simply the right thing to do.
Later that day, Hernandez was charged with first-degree murder, in addition to five gun-related charges; he was held without bail at the Bristol County Jail.
Two other men were also arrested in connection with Lloyd's death: Carlos Ortiz on June 27, 2013, and Ernest Wallace on June 28, 2013. Ortiz revealed to the police that Hernandez had secretly rented an apartment in Franklin, Massachusetts. A subsequent search of the apartment, according to the Associated Press, "turned up ammunition and clothing that police believe could be evidence in the murder case against him".
On August 22, 2013, Hernandez was indicted by a grand jury for the murder of Lloyd. On September 6, 2013, he was arraigned and pleaded not guilty to first-degree murder. He was held without bail but reserved the right to request bail later.
On September 27, 2013, Hernandez's fiancee Shayanna Jenkins was indicted on a perjury charge in connection with Lloyd's killing.
On April 15, 2015, Hernandez was found guilty of murder in the first degree, a charge that in Massachusetts automatically carries a sentence of life in prison without a possibility of parole; he also was found guilty of five firearm charges.
Immediately following the conviction, Hernandez was temporarily transferred to the Massachusetts Correctional Institution – Cedar Junction, a maximum-security intake facility to begin serving his sentence. (It is located 1.5 mi (2.4 km) from Gillette Stadium where he formerly played for the NFL.) He was transferred to serve the remainder of his life sentence at the Souza-Baranowski Correctional Center, a maximum-security facility adjacent to the medium security Massachusetts Correctional Institution – Shirley.
Hernandez's arrest and subsequent termination by the New England Patriots resulted in financial and other consequences.
Hernandez's release from the team meant he automatically forfeited his 2015–18 salaries, totaling $19.3 million, which were not guaranteed. The Boston Globe reported that the Patriots voided all remaining guarantees, including his 2013 and 2014 salaries, on the grounds that those guarantees were for skill, injury, or salary cap room, and did not include being cut for "conduct detrimental to the best interests of professional football." The Patriots planned to withhold $3.25 million of Hernandez's 2012 signing bonus that was due to be paid in 2014, and to recoup the signing bonus already paid.
Since Hernandez had not completed his fourth season in the league, the Patriots were required to place him on waivers after releasing him. He went unclaimed. After Hernandez cleared waivers on June 28, NFL commissioner Roger Goodell announced that, while charges against Hernandez are pending, the NFL would not approve any contract signed by Hernandez until Goodell held a hearing to determine if Hernandez should face suspension or other action under the league's Personal Conduct Policy.
CytoSport and Puma canceled their endorsement deals with Hernandez. Puma canceled its deal after Hernandez's arrest, while CytoSport canceled its deal a few days prior.
EA Sports announced that Hernandez's likeness would be dropped from its NCAA Football 14 and Madden NFL 25 video games.
After visitor complaints, a prize-winning photo of Hernandez from his rookie season was removed from the Pro Football Hall of Fame.
Panini America, a sports memorabilia and trading card company, removed stickers of Hernandez from approximately 500,000 sticker books which had not yet been sent to collectors. The company replaced the stickers, as well as trading cards, with cards depicting Tim Tebow.
The University of Florida removed Hernandez's name and likeness from various locations at its football facilities.
The NFL salary cap allows teams to pro-rate signing bonuses over the life of a contract or a five-year period, whichever is shorter. By cutting Hernandez, the Patriots accelerated all of Hernandez's remaining guaranteed money into the 2013 and 2014 salary caps: the team took a $2.55 million hit in 2013, and another $7.5 million in 2014.
Within hours of Hernandez's arrest, the team's official pro shop at Patriot Place removed all of his memorabilia and merchandise; it also removed these items from its website. The Patriots ProShop exchanged about 2,500 previously sold Hernandez jerseys for other jerseys, destroying and recycling the Hernandez jerseys for a loss of about $250,000.
On April 19, 2017, at 3:05 a.m. EDT, five days after Hernandez was acquitted of the 2012 Boston double homicide, correction officers found Hernandez hanging by his bedsheets from his window in his cell at the Souza-Baranowski Correctional Center in Lancaster, Massachusetts. He was transported to UMass Memorial Hospital-Leominster, where he was pronounced dead at 4:07 am. State Department of Correction spokesman Christopher Fallon first said no suicide note was found in Hernandez's single-occupant cell. On April 20, 2017, investigators reported that three handwritten notes were next to a Bible opened to John 3:16 and "John 3:16" was written on his forehead in ink. The notes reportedly said he was entering the "timeless realm" and would see his family in heaven. Shampoo was found covering the floor, cardboard was under the cell door to make it difficult for someone to enter, and there were drawings in blood on the walls showing an unfinished pyramid and the all-seeing eye of God, with the word Illuminati written in capital letters underneath.
Prison officials had not observed any signs that Hernandez was at risk for suicide, so he was not put on around-the-clock watch. Upon completion of the autopsy by the medical examiner, the death was officially ruled a suicide. At the request of his family, Hernandez's brain was released to Boston University to be studied for signs of chronic traumatic encephalopathy (CTE), a progressive degenerative disease found in people who have had a severe blow or repeated blows to the head, including football players who suffer concussions. His lawyer-agent, Jose Baez, disputed any claim of suicide and stated that he would initiate his own investigation of the death.
In September 2017, doctors at the Boston University CTE Center released a statement diagnosing Hernandez as having brain injuries consistent with CTE, Stage 3 out of 4, at the time of his death. The statement noted that "CTE is associated with aggressiveness, explosiveness, impulsivity, depression, memory loss and other cognitive changes." After release of the statement, Hernandez's fiancée and daughter sued the Patriots and the NFL for causing Hernandez's death and depriving his daughter of her father's companionship, arguing that Hernandez's NFL career had caused "the most severe case of [CTE] medically seen" in a person at his age.
On April 25, 2017, lawyers for Hernandez filed a motion at Massachusetts Superior Court in Fall River to vacate his murder conviction. The request was granted May 9, 2017; therefore Hernandez technically died an innocent man, due to the legal principle of abatement ab initio. Under Massachusetts law, this principle asserts that when a criminal defendant dies but has not exhausted all legal appeals, the case reverts to its status "at the beginning" – the conviction is vacated and the defendant is rendered "innocent." At the time of his death, Hernandez was in the process of filing an appeal for his 2015 conviction in the murder of Odin Lloyd.
As of May 9, 2017, the date of the judge's ruling to vacate, the Bristol County district attorneys stated they planned to appeal the ruling all the way to the Massachusetts Supreme Court if necessary. The family of Odin Lloyd was disappointed with the ruling, but their attorney didn't believe it would affect the wrongful-death civil suit which the family has filed.