Aadupuliyattam ("The Goat and Tiger Game") is a 2016 Indian Malayalam-language horror film directed by Kannan Thamarakkulam, starring Jayaram in the lead role. The story and screenplay is written by Dinesh Palleth. The major filming locations are Palani and Thodupuzha. Film released on 20 May 2016. The horror thriller film will be dubbed in Tamil and Telugu and will be released soon. In Tamil, it will be released as Shenbaga Kottai and in Telugu it is titled as Mathangi.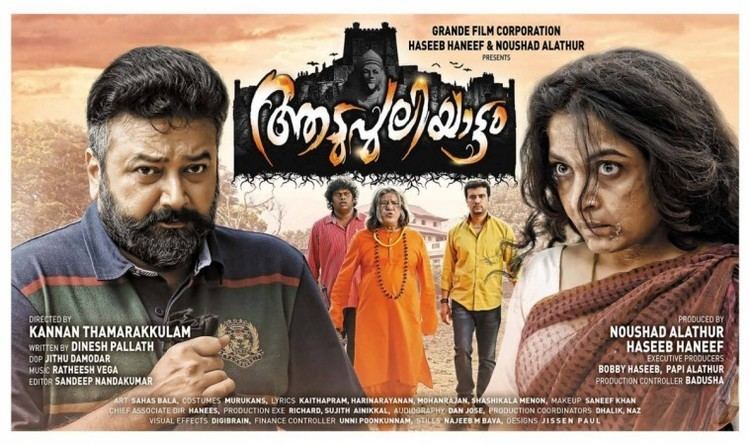 Satyajith (Jayaram) is a wealthy businessman who is haunted by some visions. On his psychiatrist's advice, he meets a yogi (Om Puri). The yogi tells him that the property, Chempakakottai, which he bought 2 years ago, is the reason for his visions and that some spirits are waiting to take revenge against him by killing his family and friends. He also says that soil taken from four corners of the kottai should be brought to him. Satyajith sends his friend to take the soil. Although his friend who does not believe in ghosts manages to get the soil, he is brutally beaten up and put in the ICU. Satyajith takes the soil to the yogi who puts it with some statues and does some karmas in three bags. He tells Satyajith to take the two bags to a priest and a musalyar while the third one is left with him.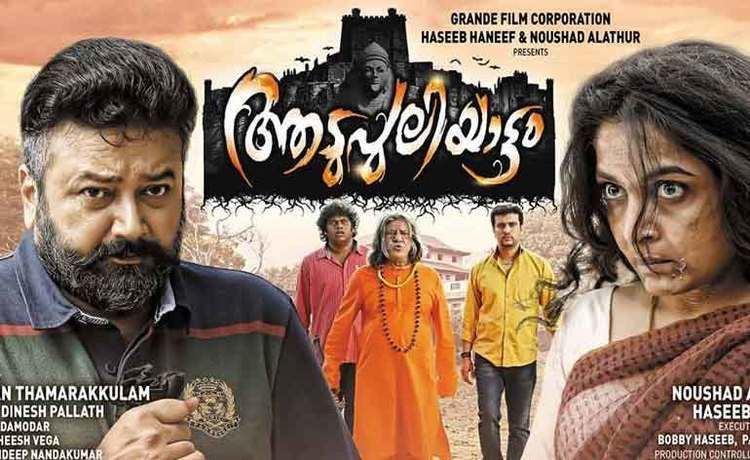 Later, the yogi asks him to stay in the house before the next full moon, 13 days from then as the spirit gets full powers on that day. The yogi gives them a raksha to be buried in front of the house. Satyajith and his friends go there. Meanwhile, the ghost kills anothter friend. The sequence of events from then take Satyajith back in time and reminds him of the bad things that happened in that house.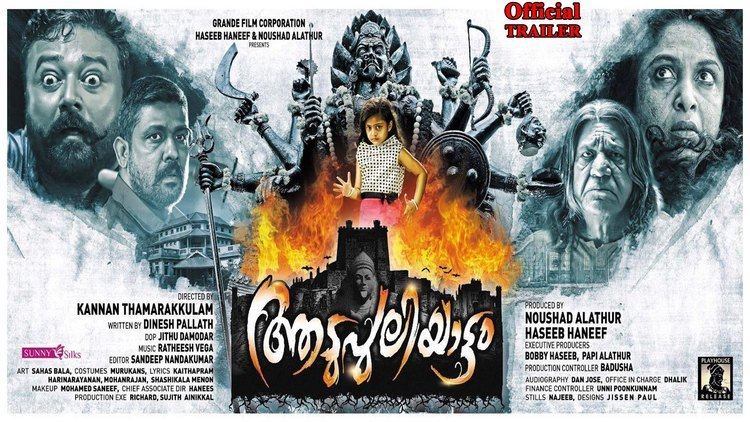 The story unfolds that years before he married a single mother named Mathangi by showing love and care for her little daughter Malli just in order to capture Chempakakottai. After a series of incidents, Mathangi and Malli gets trapped in Chempakakottai. After living there without food and water Malli dies due to starvation. It is Malli's ghost which returns to torture him.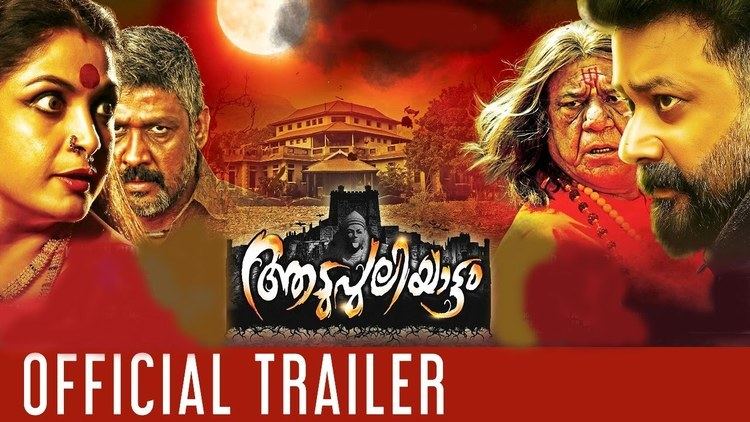 Jayaram as Sathyajith
Ramya Krishnan as Matangi (Voice Dubbed By Bhagyalakshmi)
Om Puri as Yogendra Muni(Voice Dubbed By Shobi Thilakan)
Sheelu Abraham as Amala
Ramesh Pisharody as Sunny
Saju Navodaya as Saju
Akshara Kishor as Aami
Aangelina Abraham as Malli
Sampath Raj as Aadhishwaran
Siddique as Psychiatrist/Narrator
S. P. Sreekumar as Appu
Pradeep Kottayam as Kunji Narayanan
Valsala Menon as Black magic lady
Thampy Antony as Father Arun Mouli
Bijukuttan
Veena Nair as Jyothi
The film is directed by Kannan Thamarakkulam which is a "horror comedy". Jayaram was selected in the leading role along with Om Puri and Ramya Krishnan in other pivotal roles. Jayaram used a salt and pepper hair style in the film which was suggested by his son Kalidas Jayaram. Sheelu Abraham is playing the female lead, the role which was initially offered and rejected by Jewel Mary, Sheila Kaur, and Asha Sarath.
The film's pooja ceremony was held in November 2015 at Thodupuzha, Kerala.
The soundtrack and background score was composed by Ratheesh Vegha. The soundtrack comprising 4 tracks was released on 6 April 2016 by East Coast Audios. The release coincided with a promotional event held at the Adlux International Convention & Exhibition Centre in Angamaly, Kochi.
All lyrics written by Kaithapram Damodaran Namboothiri, Mohan Rajan, Harinarayanan.
Aadupuliyattam released on 20 May 2016 in 70 centers across Kerala.
The film collected around ₹5.42 crore (US$810,000) within 10 days from Kerala box office.
Soon after the release, it was announced that a percentage of the film's gross profit will be shared with the family of 'Jisha', a Dalit girl from Perumbavoor who was brutally raped and killed in 2016.