4.7

/

10

Alchetron

Rate This





Release date(s)

January 27, 2003




Publisher

Acclaim Entertainment







Initial release date

13 January 2003




Genre

Racing video game






Developers

Climax Group, Black Rock Studio




Platforms

PlayStation 2, Xbox, GameCube, PlayStation




Modes

Single-player video game, Multiplayer video game




Similar

Acclaim Entertainment games, Racing video games
Atv quad power racing 2 gameplay xbox hd 720p
ATV Quad Power Racing 2 is an all-terrain vehicle racing video game released in 2003. It is the sequel to ATV Quad Power Racing. It is available for the GameCube, PlayStation 2, and Xbox. It was developed by Climax Brighton, and published by Acclaim Entertainment under their AKA Acclaim label. The game is notable for its inclusion of a three-wheeled ATV, not seen in any other video games, and not sold in the real world since the late 1980s.
Contents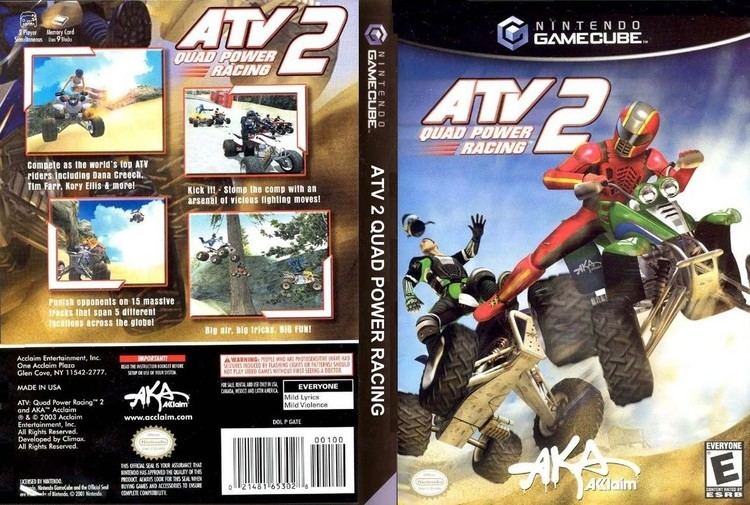 Dolphin emulator 4 0 2 atv quad power racing 2 1080p hd nintendo gamecube
Game types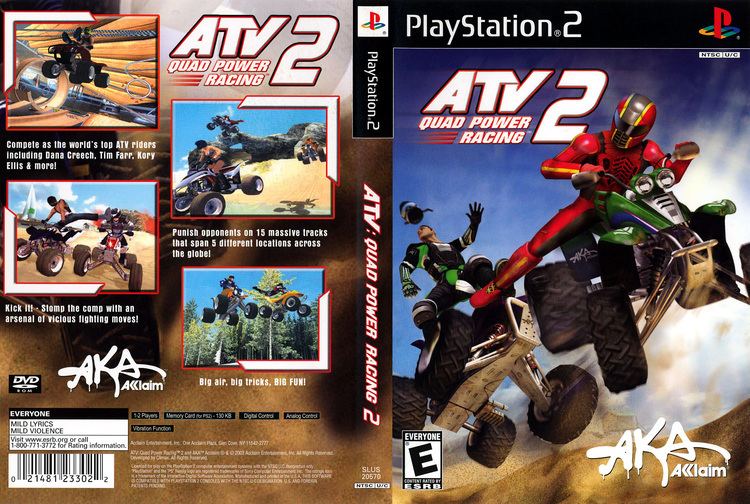 Career- Players first must create a profile by selecting from a list of characters. In Career Mode, the character starts out as an Newbie, working his or her way up to become a Master. There are three levels in Career Mode- Amateur, Professional, and SuperStar. In order to move up in status you must complete the previous level. As you progress you unlock more ATVs and tracks. Also as you win, you begin to develop the rider's skill level and attributes.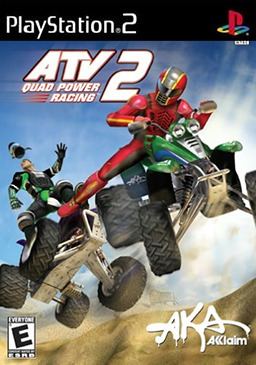 Arcade- Arcade mode is a little different from Career mode. Unlike in Career mode, you are timed. In Arcade mode, racers compete in a two-lap series. In order to complete each track, checkpoints are placed throughout the track to prevent time from elapsing. You must complete each track to move to the next one. Like Career mode, you also can boost your players attributes and skill levels.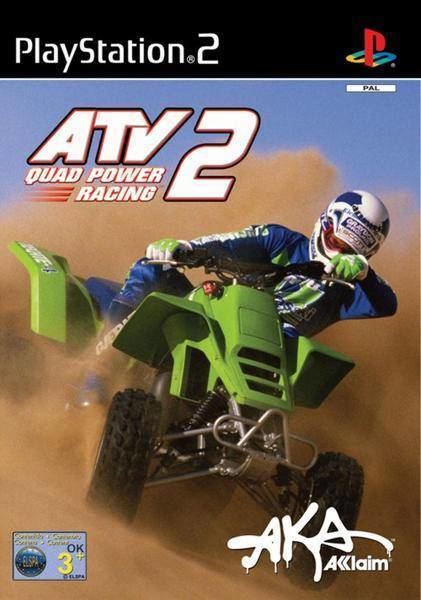 Single Race- In Single Race you can ride the tracks you've unlocked during Career Mode. Or you can test out new ATVs that you've unlocked. The difficulty of the race depends on your riders skill.
Freestyle- In Freestyle mode you are put into an indoor arena, unlike the outdoor tracks in the other modes. Here you perform tricks in an arena full of ramps and other stunt enhancers. You may select from various time limits or keep racing under unlimited time.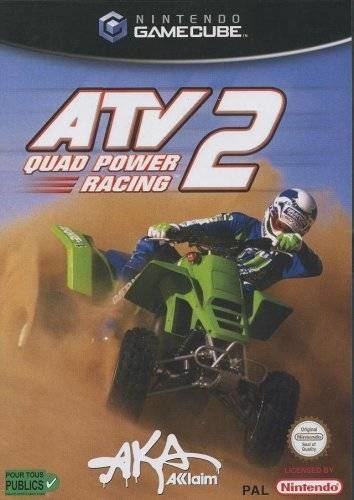 Challenge- There are two types of challenges in Challenge mode. There are Ground Challenges and Tower Challenges. You must complete each challenge to move on to the next one. You can earn either bronze, silver, or gold. Earning gold unlocks the SuperStar riders.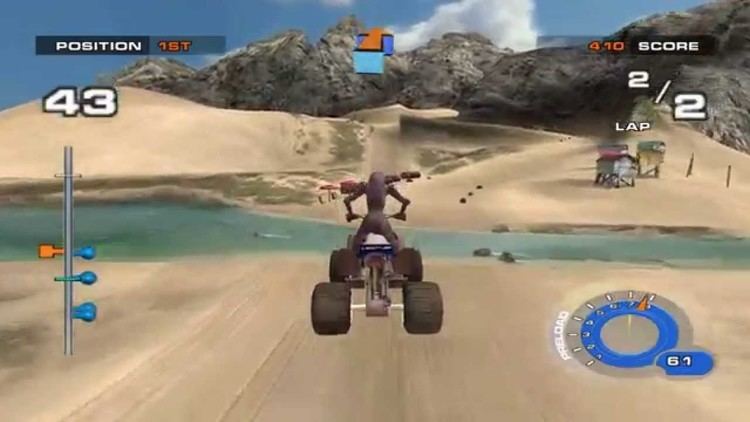 Time Trial- In Time Trial you may choose any available track to race from. In Time Trial you race against your best time and try to improve on your lap speed.
Custom- Custom mode can only be unlocked after completing Career mode. Once you do that you have your chance to create your own Championship race. You choose which tracks to include, how many races, points system, and difficulty. Custom mode can also be unlocked for use in Multiplayer mode.
Multiplayer- In Multiplayer mode you can race with up to four friends at a time. There are three different types of multiplayer races which include:
Single Race- race with other CPU players.
Head to Head- race wiith your buddies without any CPU players.
Championship- compete for the championship.
Freestyle- perform tricks to see who can get the highest score.
Reception
The game scored mostly average to positive reviews.
References
ATV Quad Power Racing 2 Wikipedia
(Text) CC BY-SA