ASAP (All-Star Sunday Afternoon Party) is the longest-running musical variety show in the Philippines shown on ABS-CBN. It is mainly presented by Ogie Alcasid, Amy Perez, Mariel Rodriguez-Padilla, Martin Nievera, Zsa Zsa Padilla, Vina Morales, Gary Valenciano, Jolina Magdangal, Toni Gonzaga, Piolo Pascual, Billy Crawford, Sarah Geronimo, Luis Manzano and Bamboo. The show is also seen worldwide through the subscription-based global TV channel The Filipino Channel. The show has been shown every Sunday since its pilot episode on February 5, 1995, surpassing GMA Supershow's record of nearly two decades. In October 2015, ASAP became the first live entertainment program in the Philippines to be broadcast in true high-definition picture, the other being a sports program.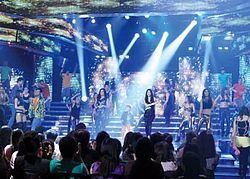 When "Sa Linggo nAPO Sila" became "'Sang Linggo nAPO Sila" to replace Eat Bulaga which left ABS-CBN to transfer to GMA Network, ASAP was conceptualized and launched in 1995 as a "concert party" on Sundays. Then, Martin Nievera and Pops Fernandez, along with Ariel Rivera and Dayanara Torres were tapped as main hosts for the show. The cast of "Pare Ko" (Claudine Barretto, Victor Neri, Roselle Nava, Gio Alvarez, Jao Mapa, Mark Anthony Fernandez, Nikka Valencia) and later on joined by Marvin Agustin, Rico Yan, Diether Ocampo, Jolina Magdangal, Baron Geisler, and Mylene Dizon (from the youth-oriented show - GIMIK) and Rica Peralejo became co-hosts for the show to attract the younger viewers. In 1996, the show celebrated its first anniversary and later top-caliber leading man Piolo Pascual joined the show. The show added Carol Banawa, John Lloyd Cruz, Jericho Rosales, and Lea Salonga to the ASAP family in 1997. When Dayanara Torres left the country, Charlene Gonzales took her place. Channel V's Joey Mead also joined the show for a while. By 1998, regular guests Zsa Zsa Padilla and Vina Morales became regular hosts the following year.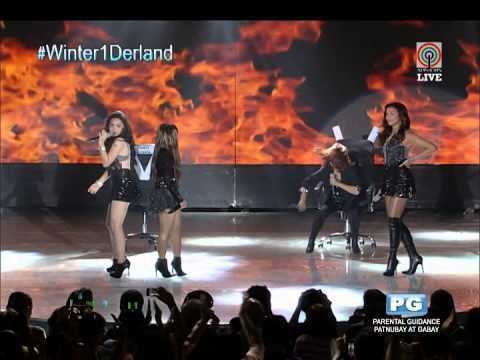 The show originally had their own theme song, Hot na Hot sa ASAP in 1995. In the show's 2nd anniversary, another theme song was released, Better Than Ever. Initial broadcast commenced on February 1995 at the Delta Theatre in Quezon Avenue. In March 1998, they transferred to their own studio at the Studio 3 of the ABS-CBN Broadcast Center in Quezon City. In 2000, they finally transferred again to their own studio at the Studio 10 of the said address. In 2002, Rico Yan died due to pancreatic cancer, while Jolina Magdangal left ASAP and she transferred to GMA Network to join SOP Rules, along with Marvin Agustin which he later be at the network in 2006.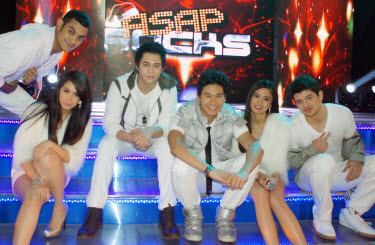 In 2003, the show was reformatted as ASAP Mania, after which some of its original hosts went to the show SOP Rules. In 2004, ASAP regained leadership with the addition of singing champions Sarah Geronimo, Mark Bautista, Christian Bautista, Rachelle Ann Go, Nikki Bacolod, Johann Escañan, Melo Valena, OJ Mariano, Jerome Sala, Frenchie Dy, Raymond Manalo, Michael Cruz, Marinel Santos, Sheryn Regis, and Erik Santos along with their runners-up. In 2005 the format changed to ASAP '05 and later Toni Gonzaga joined ASAP. In 2006, the show launched a somewhat complicated logo where the words ASAP were made out of dots connected which had been in use until 2014. In February 2007, Lani Misalucha joined ASAP. Ex-SOP performers Karylle (daughter of Zsa Zsa Padilla) and Billy Crawford, joined ASAP in 2008.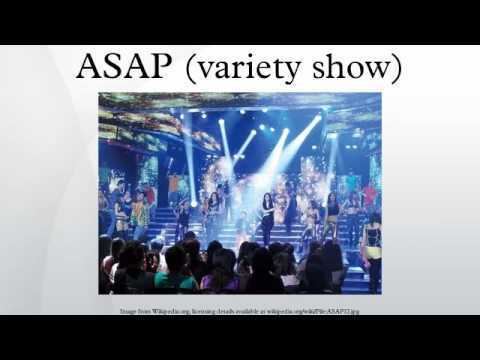 On January 3, 2010, the show was relaunched as ASAP XV to mark its fifteenth anniversary. In the show's special anniversary on February 7, 2010, a new set was introduced. After the year numbers in the show title wasn't adapted in 2010, a new show named ASAP Rocks launched January 2, 2011. On April 3, 2011, a new set was introduced. On January 1, 2012, the show was launched as ASAP 2012.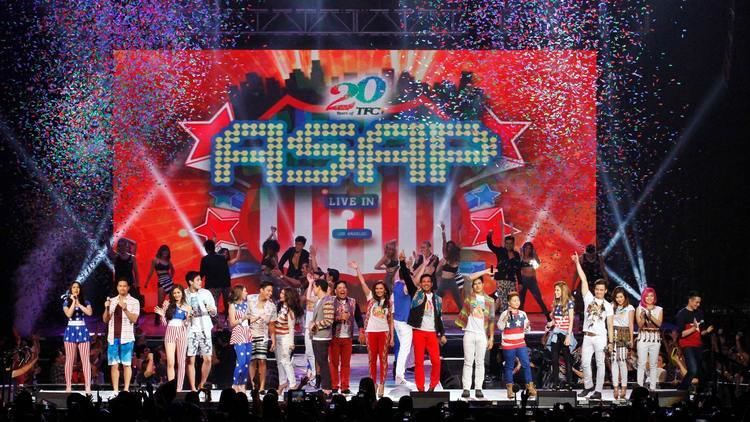 On January 6, 2013, the show was renamed ASAP 18 to commemorate the show's 18th anniversary. On January 5, 2014, the show was renamed ASAP 19 to commemorate the show's 19th anniversary.
On January 4, 2015, the show was renamed ASAP 20 to commemorate the show's 20th anniversary. It launched a new, simple logo that replaced the one being used in 2006. Thereafter, Sarah Geronimo, Toni Gonzaga, Piolo Pascual, & Bamboo were promoted to be main hosts of the show as seen in their OBB.
The show was also known for being the venue show for the premiere of ABS-CBN summer station IDs. Actress Iza Calzado left Party Pilipinas in 2012, and moved to ASAP after ten years at GMA Network. R&B Royalties Jay-R and Kyla bolted out of Sunday All Stars, and moved to ASAP, after they decided to not renew their contract with GMA, their network for almost eleven years. In addition, ASAP Dance Goddess Sarah Lahbati also performed regularly on her remarkable fierce and sizzling sexy dance moves who is also one of Kapuso turned Kapamilya after 5 years. In 2015, they had a tough ratings battle with GMA's new noontime show Sunday PinaSaya showcasing comedy skits than musical numbers. The show made some additional segments on their show like a short skit and games with Kapamilya stars. Its host Martin Nievera clarified his reaction saying he believes these changes in the format of the show are a way to "satisfy many markets with dignity and class." However, the management cut its runtime to 3 hours, when its comedy gag show Banana Split Extra Scoop was transferred to Sunday as "Banana Sundae" in early November 2015. In early December 2015, Elmo Magalona, son of Philippine King of Rap Francis Magalona, transferred to ABS-CBN and joined ASAP after 6 years in GMA Network.
On January 3, 2016, for the first time in 13 years, the show retained the title ASAP alone. Thereafter, Jolina Magdangal and Luis Manzano became main hosts of the show along with Toni Gonzaga, Piolo Pascual and Sarah Geronimo.
On late February 2016, Jonalyn Viray, transferred to ABS-CBN under the screen name "Jona" and officially joins ASAP after eleven years at GMA Network.
In May 2016, ASAP extended its runtime to 3 hours and 30 minutes when its comedy gag show Banana Sundae transferred its timeslot again at 3:00pm.
As of 2017, Martin Nievera, Patrick Garcia, Mark Anthony Fernandez, Carlo Aquino, Maxene Magalona, Claudine Barretto, Ogie Alcasid, and Jolina Magdangal are the only remaining original artists since 1995.
Ogie Alcasid (1995–1996; 2016–present)
Martin Nievera (1995–present)
Gary Valenciano (1995–present)
Amy Perez-Castillo (1997–2003; 2016–present)
Zsa Zsa Padilla (1998–present)
Vina Morales (1998–present)
Jolina Magdangal (1995–2002; 2014–present)
Toni Gonzaga (2005–present)
Mariel Rodriguez (2005–2010; 2016–present)
Piolo Pascual (1996–1998; 2001–present)
Sarah Geronimo (2004–present)
Luis Manzano (2003–present)
Jaya (1998–2000; 2016–present)
Billy Crawford (2008–present)
Bamboo (2011–present)
'ASAP Music' is the record label of ASAP, distributed by Star Records. The label has released a tribute compilation album to OPM classic pop-rock band, Hotdog. It has also released soundtracks of ABS-CBN TV series Sana Maulit Muli, My Girl and My Only Hope—all of which starred Kim Chiu and Gerald Anderson. It has also released dance compilations for the defunct segment "Ultimate Dance 4" and the current segment "Supah Dance Plus". All of which contain original remixes and dance songs. Here is a list of albums released by the label:
'ASAP Pop Viewers' Choice Awards' is an annual award show which is held on a Sunday afternoon during ASAP variety show every end of the year, usually November or December. It honors the year's biggest television, movie, and music acts, as voted by Kapamilya fans.
Since 2006, 'ASAP Live' has become a concert producer in the Philippines, staging and mounting concerts. ASAP Live has produced:
ASAP Lifestyle - ASAP's clothing line, available through BUM boutiques in the Philippines.
ASAP Bookazine - ASAP's book-magazine, and the first ever book-magazine released by a Philippine TV show.
ASAP Online - ASAP's official website, where viewers, fans and supporters can view information about the show, read fun facts about the cast, get an update on the events and lifestyle, view photos and videos on-set, send their requests to artists, and even chat with them.
ASAP Remix - A "throwback" spin-off musical variety show aired on cable channel Jeepney TV every Sunday midnight, just hours before the latest ASAP episode that will air on ABS-CBN. It features selected memorable production numbers featuring the entire ASAP cast with special guests for the past 20 years.
Delta Theatre (February 1995–February 1998)
ABS-CBN Studio 3 (March 1998–2000)
ABS-CBN Studio 10 (2000-present)