Top speed

150 km/h




Length

7.2 m




Wingspan

13 m




Manufacturer

AEG





The AEG J.I was a German biplane ground attack aircraft of 1917, an armored and more powerful version of the AEG C.IV reconnaissance aircraft.
Contents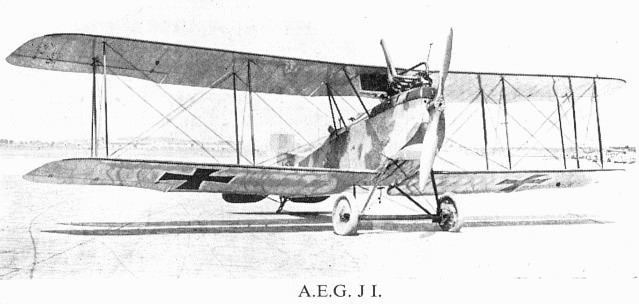 Design and development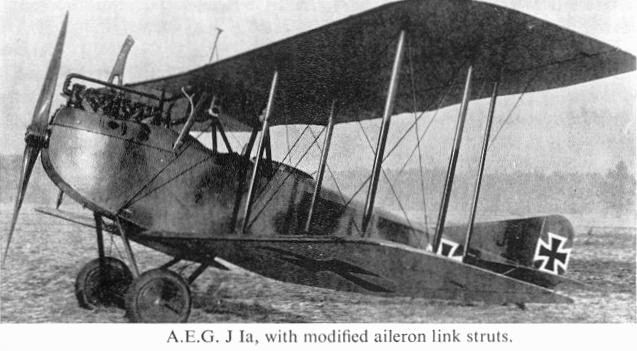 AEG J.I featured armour protection for the pilot and for the more powerful engine that was fitted to the heavier aircraft. Two 7.92 mm (.312 in) LMG 08/15 machine guns were fitted to the floor of the observer's cockpit for ground targets. One 7.92 mm (.312 in) Parabellum MG14 machine gun was provided in the typical rear-facing defensive position. Finally, armour plating was added around the engine and cockpits.
Aircraft fitted with ailerons on the lower wing as well as the upper wing were designated AEG J.Ia.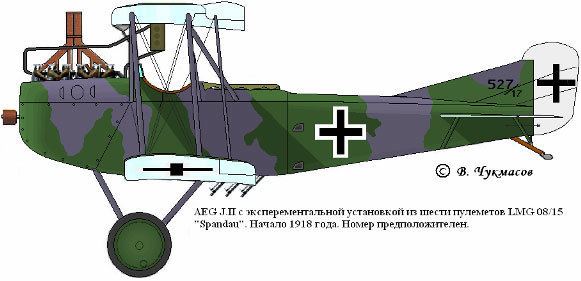 An improved version of the J.I was developed as the AEG J.II, which had aerodynamically balanced ailerons with overhanging horn balances, extended rear fuselage with a larger fin to improve directional stability and a re-located aileron link strut.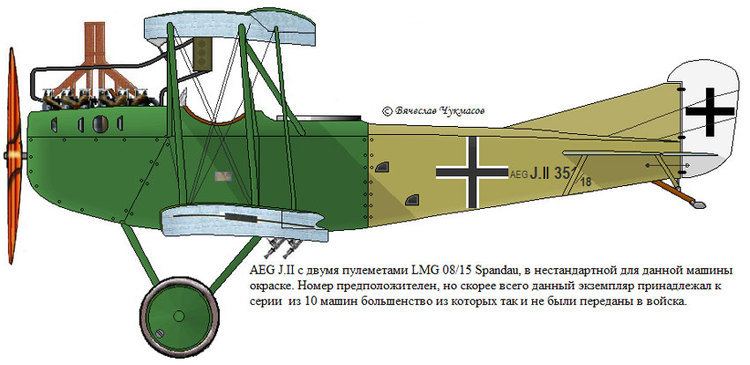 After the war, several J.IIs served the first sustained daily passenger aeroplane service in the world, between Berlin and Weimar, flown by Deutsche Luft-Reederei. This route began on 5 February 1919. Early commercial J.II's retained open cockpits, but modified versions with enclosed cabins for the two passengers quickly replaced them.
Variants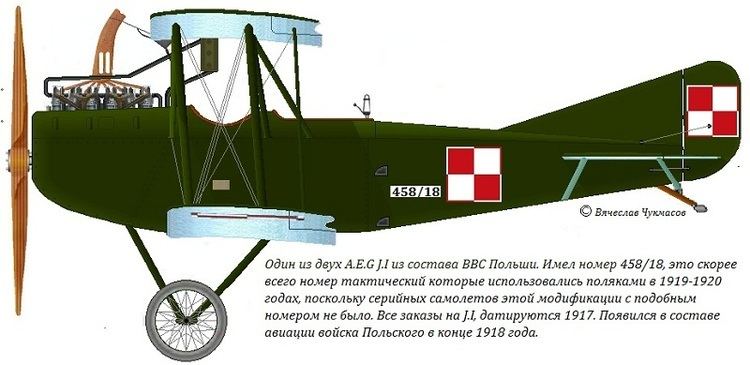 AEG J.I
An armoured version of the AEG C.IV fitted with downward pointing machine guns in the floor of the rear cockpit for ground strafing and a defensive hand-aimed machine-gun in the observers cockpit.
AEG J.Ia
The
J.Ia
version featured aileron controls on the lower wings, in addition to the upper.
AEG J.II
Structurally similar to the J.I the J.II introduced ailerons aerodynamically balanced by large horn extensions at the wing-tips, increased fin area to improve directional stability and a re-located aileron link strut.
Operators
German Empire
Luftstreitkräfte
Deutsche Luft-Reederei
Specifications (AEG J.I)
Data from German Aircraft of the First World War
General characteristics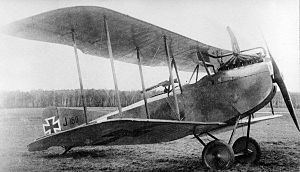 Crew: 2
Length: 7.2 m (23 ft 7 in)
Wingspan: 13.46 m (44 ft 2 in)
Height: 3.35 m (11 ft 0 in)
Wing area: 33.18 m2 (357.1 sq ft)
Empty weight: 1,455 kg (3,208 lb)
Powerplant: 1 × Benz Bz IV 6-cyl. water-cooled in-line piston engine, 149 kW (200 hp)
Performance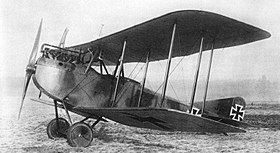 Maximum speed: 150 km/h (93 mph; 81 kn)
Range: 375 km (233 mi; 202 nmi)
Endurance: 2.5hr
Service ceiling: 4,500 m (14,764 ft)
Rate of climb: 2.78 m/s (547 ft/min)
Time to altitude: 1,000m in 6min
Armament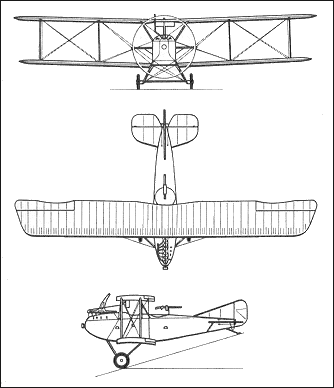 Guns: * up to 6 × 7.92 mm (.312 in) fixed, downwards-firing LMG 08/15 machine guns (standard fit of 2)
1 × 7.92 mm (.312 in) Parabellum MG14 in rear cockpit
References
AEG J.I Wikipedia
(Text) CC BY-SA