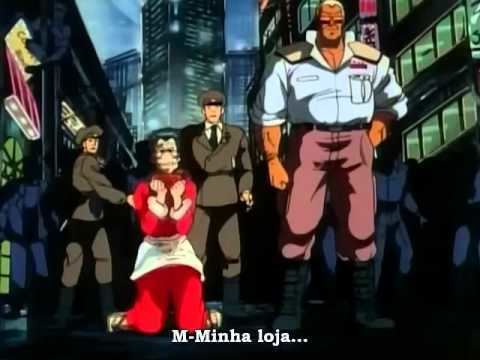 Chronologically set before the events narrated in Bubblegum Crisis, it tells about AD. Police inspector Leon McNichol's early days in the AD. Police when he was a mere officer.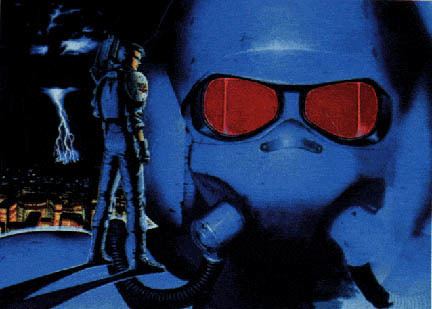 At the beginning of the episode, a heavily-wounded Leon, who is still part of the regular police force, faces down and manages to kill a rampant female Boomer. The action then cuts to a later incident, where regular police are attempting to subdue an older-model female Boomer that has gone rampant in a local tea shop. The Boomer proves too tough for them to take down, killing and injuring several officers, and the A.D. Police are called in to assist. Several AD officers rush the synthetic and attempt to physically shut it down. Alles, one of the A.D. Police's veterans, is shot dead when the Boomer slips out of the squad's control. Having obtained the shop owner's permission, the squad commander orders the boomer to be destroyed by firing squad. Later, as the squad mourns Alles, an administrative official calls the legitimacy of his death into question. He says that after some investigation, there were no faults found in the tea shop boomer's programming, it was simply overworked, and could not be at fault for going haywire. He says that Alles knew the boomer that killed him, frequented the tea shop regularly, and theorizes that he had tampered with the synthetic to kill him so that his family could collect on his large life insurance policy. Leon and Gina both disagree with this claim, and aim to prove it incorrect. They set out to show that other local boomers had hidden faults as well. They make a visit to a hacker contact of Gina's who is able to provide them with a list of possible users that have been illegally recycling old and decommissioned boomers. Meanwhile, they are shadowed by an unknown female, who is revealed to be the boomer Leon killed when he was with the regulars, obsessed with finding him. Gina and Leon split up to follow separate leads on boomer recycling operations. After interrogating a shady factory owner, Gina discovers that the original, recycled boomer was part of an underground sex trafficking business. Leon is stalked by his boomer, but does not recognize her, instead taking her for a common prostitute. The boomer begins erotically fantasizing about Leon killing her again, is driven mad with bloodlust, and attacks him, hoping that he'll shoot her again. In the ensuing fight, Leon is again injured, and runs out of bullets. Just as the psychotic boomer is about to kill him, Gina arrives and puts a round through her head, saving him. The episode ends with Leon questioning whether humans have a place in the city, or whether it belongs to the boomers.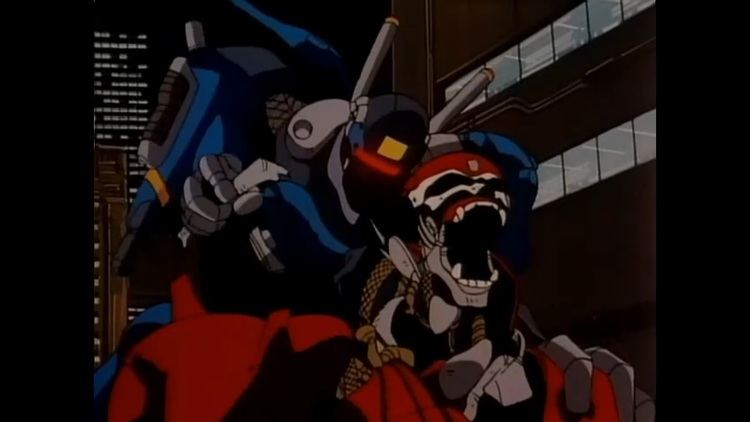 After a gruesome murder on the subway in an area called Paradise Loop, A.D. Police steps in to help find the killer when the normal police don't seem up to the task. A total of six prostitutes are found to all have been murdered on this subway line and it is suspected the work is done by a boomer. Two officers of the normal police, Iris Kara and her partner, doubt that the killer is a boomer and are cast in this episode to help find the killer and bring them to justice. While the victims all share the same stabbing to the abdomen, they died however from massive cardiac arrest or shock. Iris goes to the organ bank to replace her eye with a cybernetic one and runs into Leon, who knows her from his time in the regulars. Leon attempts to dissuade her from the surgery, saying she'll lose part of her humanity. Iris laughs it off. Later, during a consult with the doctor, she overhears an argument started by another of the clients, Ms. Caroline Evers, a billionaire and business tycoon. Iris has a hunch Caroline is somehow connected to the murders, and asks Leon and Gina to help her shadow her. They track Caroline to an abandoned industrial district that Paradise Loop runs under. After some further investigation, Iris discovers that Caroline has had her entire lower body replaced with cybernetics. While investigating Paradise Loop, Iris is ambushed by Caroline. Caroline explains that long ago she had been competing for CEO of her current company, however a man got the job because he concocted a falsified chart that compared her menstrual cycles to her productivity. To alleviate the concerns of the company's board of directors, she had most all of her female organs replaced with cybernetic versions. There no longer being any reason to keep her from becoming CEO, she got the job. In time, the same man came to work under her and they fell in love and eventually married. She later discovered he had cheated on her with a Paradise Loop prostitute, and when asked why, his response was "real women are better after all." After finishing her confession, Caroline moves to kill Iris, but AD Police led by Leon and Gina break through the walls and open fire, saving her. Caroline escapes, and Leon reveals that should more than 70% of the human body becomes cybernetic, a citizen is treated as a "boomeroid" and thus can be killed with the same prejudice as a boomer. Iris disagrees, saying that Caroline is still human, and should be arrested instead of killed. Fleeing to a subway train on the Loop, Caroline enters a car full of lowlifes and exposes herself, hoping to feel like a woman again. After AD Police stop the train with crash foam, she is found stabbed to death. Leon remarks that it didn't matter to the city whether or not Caroline was a boomer or a human. The episode closes with Iris opting to undergo the cybernetic surgery, and "throw away a bit of her humanity."
Billy Fanword is captain of the A.D. Police Special Mobile Squad. After sustaining massive injures during a fight with a rogue boomer and almost dying, his only remaining viable organs—his brain and tongue—are transplanted into an experimental battle cyborg body. He has a habit of biting his tongue, as the pain of it reminds him that he was once human. After Billy physically tears apart a heavy boomer in a firefight, concerns are raised about his combat abilities and performance. The doctor who created his body blames him for what she sees as degrading performance, but her colleague argues that since he is not fully a cyborg, as he retains his brain and memories, it is an emotional issue. He suggests that Billy's memories should be wiped to improve his performance. It is revealed that the doctor has developed an unhealthy sexual attraction to Billy and decides to up his dosage of DA-27, a sensory stimulant drug, so that he is more receptive of her overtures. Billy gets hooked on the drug and becomes increasingly aggressive whenever he is deployed, which happens more and more frequently thanks to his doctor's influence. Suspecting something is amiss, Gina, his former lover, confronts the scientist and accuses her of intentionally addicting him. The scientist waves the accusation away, saying that Billy is simply getting back to normal again. Gina disagrees, saying the she can feel that he's changed. As the scientist attempts to wean Billy off DA-27, he flies into a rage and experiences hallucinations. He obtains DA-27 from an illicit source to keep getting high without the scientist's permission. After finding out that she plans to let him die in the line of duty once she has gained prestige from selling his design, he helps himself to a massive dose of DA-27 that finally causes him to lose touch with reality. He kills the scientist when she comes to check up on him, and goes on a rampage through the AD Police station, gunning down many of his comrades. Gina, who has discovered his drug connection, arrives with an anti-tank rifle just in time to stop him from murdering Leon. Billy begs her to kill him, saying that he can't feel anything and that pain will make him human again. As his final request, he asks her to shoot him in his tongue. The episode closes with Billy being buried atop the station, in its cemetery.
In North America, the series is licensed by AnimEigo, who first released the series to VHS and Laserdisc in 1993 in Japanese with English subtitles. They later reissued it in both formats in 1995 with an English dub produced by Southwynde Studios in Wilmington, NC. The show was released to bilingual DVD in 2004, with bonus content featuring music videos for various songs featured in the series as performed by Filipino singer Lou Bonnevie in addition to translation notes and production artwork. On September 27, 2015, AnimEigo announced that they will be funding a brand new HD telecine of the series from the original 35mm film in-house through Kickstarter, with a Blu-ray release planned for 2016.
In the UK, the series was licensed by Manga Entertainment, who produced their own English dub for VHS in 1994, and later issued it onto dub-only DVD in 2004. Their release is now out-of-print.
Helen McCarthy in 500 Essential Anime Movies describes The Phantom Woman as the video "definitely not for the faint hearted", noting that the "design is good and the atmosphere well maintained, but it's Aikawa's script that will stick in your mind". She also praised The Man Who Bites His Tongue as a "stylish, dark retelling of Robocop".
Justin Sevakis of Anime News Network described A.D. Police Files as being "a flawed work, but has enough memorable moments and beautiful, macabre touches to redeem it in some way."
A.D. Police: Dead End City (Japanese: A.D.POLICE 終焉都市, Hepburn: A.D.POLICE Shuuen Toshi), a seinen manga series written by Toshimichi Suzuki and illustrated by Tony Takezaki, is set between the first and the second part of A.D. Police Files. It was serialized by Byakuya Shobo on its seinen magazine Bandai B-Club between November 1989 and August 1990. Its chapters were compilled into a single volume that was later translated into English by Viz Communications for the United States and by Manga Books for the British audience and in French by Samourai.
The manga is set in 2032. The A.D. Police are an elite group of highly trained and specially equipped police officers, who have been formed to deal with terrorist activities and Boomer crimes in the city of Mega Tokyo.
The A.D. Police are offered a great deal of leeway in their activities, often blockading large sections of the city and causing great amounts of property damage in the course of fulfilling their duty. Despite their dedication to their jobs, however, the citizens of Mega Tokyo tend to dislike and distrust members of the A.D. Police, seeing them as corrupt and ineffectual.
Exploring A.D. Police Files setting, nine years later AIC team created a twelve-episode anime television series called A.D. Police: To Protect and Serve that was broadcast by TV Tokyo.
Another three-episode OVA series by AIC, Parasite Dolls, was released in 2003.