Covid-19
5

/

10

1

Votes

Alchetron

Rate This




Leung Hung-wah





Cantonese






Horror, Chinese Movies




Hong Kong






4 November 1999 (1999-11-04)




Hung Wah Tony Leung




Gigi Lai

,

Francis Ng

,

Gabriel Harrison

,

Celia Sze

,

Edward Mok




A Wicked Ghost II: The Fear (2000), Possessed (2006), Troublesome Night (1997), Coming Soon (2008), New Mr Vampire (1987)



A Wicked Ghost is a 1999 Hong Kong horror film directed by Leung Hung-wah, starring Francis Ng, Gigi Lai, Gabriel Harrison, Edward Mok, Nelson Ngai and Celia Sze. It was followed by A Wicked Ghost II: The Fear in 2000 and A Wicked Ghost III: The Possession in 2002.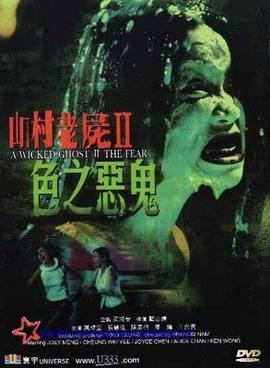 Ming, Annie (Ming's girlfriend) and three other friends (Rubbish, Big B, and Biggie) play a game of "contacting ghosts". They mix their blood with water and drink from the mixture, form a circle by holding hands, and inhale fumes from the burning of oil secreted from a dead body. Ming backs out before the game starts. While the others are playing, Ming sees a long-haired female ghost in a blue dress appearing near them. He immediately stops them. The three friends meet their ends not long later: Rubbish dies of a heart attack on the same day, Big B falls to his death from a rooftop, while Biggie strangles her mother to death and then commits suicide.
Ming's sister, Cissy, is worried that something will happen to her brother after hearing about the incident. They seek help from Fa-mo, a drama teacher who knows a lot about the supernatural. He suggests that they trace the origin of the oil, but the lead is broken because Rubbish, the only person who knows, is already dead. Meanwhile, Annie has been possessed by a ghost, who tells Ming that Annie has only three days to live. Cissy's fiancé, Jack, who is sceptical about the supernatural, has a ghostly encounter in the washroom. After doing some research, Fa-mo learns that Rubbish and Jack lived in the same town, which is situated near a village where a bizarre incident happened nearly a century ago – 66 villagers died mysteriously over three days.
Ming and Fa-mo find Lee Keung, a bearded old man who lived in the village in his childhood. He reluctantly tells them the story of Cho Yan-may, a Cantonese opera singer who lived there. She doted on Lee and gave him a bracelet. Cho's husband framed his wife for adultery so that he could get rid of her and marry another woman. Cho was brutally beaten to death by the villagers and her body was abandoned in the wilderness. Lee approached her dead body, cried and told her the truth about her husband. Cho's hands suddenly sprang up and stretched towards the sky. Over the next three days, Cho's vengeful ghost caused 66 villagers (including her wicked husband) to die in unnatural ways. On the third day, Lee pleaded with her to spare everyone and attached the bracelet to her wrist. Her arms fell back to the ground and she became peaceful.
Lee then brings Ming and Fa-mo to Cho's burial site to find her remains but the graves there have been excavated to make way for construction works. On the way back, they drink from a freshwater pool and spot Cho's ghost in the water. Ming believes that Cho's remains might have been accidentally dumped into the pool. Later, while walking along the streets, Lee hears Cho's voice calling out to him and follows it to an alley, where a metal bar falls on him and kills him. One night, Jack has a terrifying encounter with Cho's ghosts at home. In the meantime, the possessed Annie attempts suicide by overdosing on drugs but is stopped by Ming in time and taken to hospital.
By then, Fa-mo has figured out that the problem lies with the water from the freshwater pool. Cho can channel her vengeful aura through the water and cause people who drank the water to experience hallucinations and die in unnatural ways. Ming and Fa-mo go to Jack's house and see him in a trance, trying to force Cissy to drink a glass of the "polluted" water. They knock him out and tie up him and Cissy to prevent them from hurting themselves or each other. They return to the pool. Ming dives in, retrieves the bracelet, and dives in again to search for Cho's remains. On the second dive, he passes through a supernatural portal and finds himself at Cho's burial site. He sees his doppelgänger among a procession of ghostly figures. He tries to attach the bracelet to Cho's wrist, but she strangles him to death. After Fa-mo sees Ming's dead body surfacing, he rushes back to Jack's house and drinks the "polluted" water so that he can see Cho and confront her. When he hugs Cissy, whom he is secretly in love with, she transforms into Cho, but he recognises that it is an illusion so he embraces her tightly. Cho is touched by their love and spares them. By then, Jack has regained consciousness. He is unhappy to see Fa-mo embracing his fiancée. Cho suddenly appears beside him and he screams. The end credits start rolling against a background of a ghostly hand rising out of the water.
Francis Ng as Fa-mo
Gigi Lai as Cissy
Gabriel Harrison as Ming
Edward Mok as Jack
Chow Yan-yan as Cho Yan-may
Nelson Ngai as Po Man-tin
Celia Sze as Annie
Lui Tat as Lee Keung
Cheung Yue-lee as Lee Keung (boy)
Lam Suk-yan as Biggie
Joseph Tang as Rubbish
Man Yeung as Big-B
A Wicked Ghost Wikipedia
A Wicked Ghost IMDb
A Wicked Ghost themoviedb.org