Covid-19
A. Vaidyanatha Iyer (1890-1955), also known as Madurai Vaidyanatha Iyer or Ayyar was an Indian activist, politician and freedom-fighter who spearheaded the temple entry movement in Madras Presidency in 1939.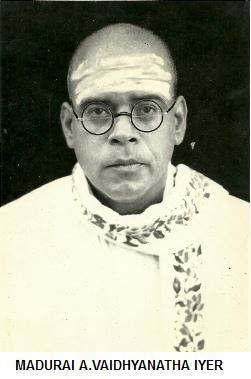 Vaidynatha iyer was born on May 16th, 1890 in Thanjavur in then Madras Presidency in 1890 as the second of eight children in a Tamil brahmin family to Arunachalam Iyer and Lakshmi Ammal. His siblings were Raamanaathan, Kamalaamba, Sankaran, Vaalaamba, Parvathi, Subramanian, Sivakaami. He entered the Indian independence movement in 1922 when he participated in the Non-Cooperation Movement. He also participated in the Vedaranyam Salt Satyagraha (1930) and the Quit India Movement of 1942.
The Temple Entry Authorization and Indemnity Act was passed by the government of C. Rajagopalachari in 1939 by which restrictions prohibiting Shanars and Dalits from entering Hindu temples was removed.This was done by C.Rajagopalachari to save his friend Vaidyanatha Iyer from legal action who entered the Temple surreptitiously. During this time, Vaidyanatha Iyer was the President of the Tamil Nadu Harijan Seva Sangh.U. Muthuramalingam Thevar Strong supported this reform, U. Muthuramalingam Thevar issued a warning statement. He said, "I would be there at the entrance of the Meenakshi Temple. Those who dare to prevent the Dalits' entry into the temple, could come there and meet me. I will answer them". After this statement, the caste Hindus hesitated to prevent. On 8 July 1939, Vaidyanatha Iyer entered the Meenakshi temple at Madurai in the company of L. N. Gopalasamy and six of his Dalit friends, P. Kakkan, Muruganandam, Chinniah, Purnalingam and Muthu. This was stringently opposed by upper-caste Hindu leaders and those seeking to preserve Varnashrama Dharma.
Vaidyanatha Iyer died in 1955. A postage stamp was issued in his memory by the Government of India on 9 December 1999.
A. Vaidyanatha Ayyar, P. S. Chandraprabu (1999). Voice of a great soul: speeches of Shri A. Vaidyanatha Ayyar in Madras. Gandhi Memorial Museum.
A. Vaidyanatha Iyer Wikipedia