Website

www.aperfectcircle.com




Record labels

Virgin Records, EMI






Origin

Los Angeles, California, United States




Years active

1999–2004, 2010–present




Associated acts

Tool, Ashes Divide, Nine Inch Nails, Tapeworm




Past members

Troy Van Leeuwen Paz Lenchantin Tim Alexander Josh Freese Danny Lohner Jeordie White




Members

Maynard James Keenan, Paz Lenchantin




Genres

Alternative rock, Alternative metal, Progressive metal, Progressive rock, Hard rock, Art rock




Albums

Mer de Noms, Thirteenth Step, Emotive, A Perfect Circle Live: Featuring, Three Sixty




Profiles




Facebook

Twitter

Myspace

Instagram
Judith a perfect circle expert pro drums
A Perfect Circle is an American rock supergroup formed in 1999 by guitarist Billy Howerdel and Tool vocalist Maynard James Keenan. The original incarnation of the band also included Paz Lenchantin on bass, Troy Van Leeuwen on guitar, and Tim Alexander on drums, with Josh Freese as the primary drummer after the band's initial round of touring prior to their first album. The latest lineup features Puscifer and Ashes Divide bassist Matt McJunkins; former The Smashing Pumpkins guitarist James Iha; and Puscifer and Ashes Divide touring drummer, Jeff Friedl. Despite having a varied cast since inception, the stylistic content of the songs has remained consistent with Howerdel as composer, and Keenan penning the lyrics and melodies.
Contents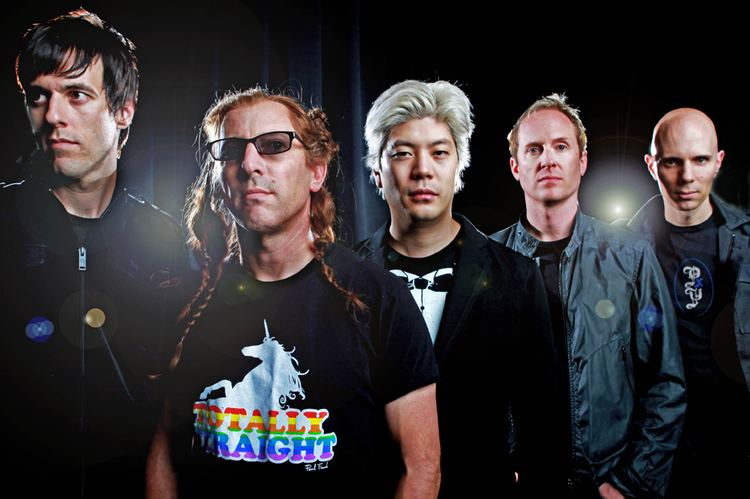 A Perfect Circle has released three albums: their debut Mer de Noms in 2000, a follow up, Thirteenth Step in 2003, and an album of cover songs titled Emotive in 2004. Shortly after Emotive's release, the band went into hiatus while members focused on other projects, the most notably being Keenan's work with Tool and Puscifer, and Howerdel's putting out a solo album, Keep Telling Myself It's Alright, under the moniker Ashes Divide.
In late 2008, Keenan and Howerdel announced the band would reform, though the band's activity would ultimately be sporadic in the coming years. The band toured in 2011 and played some live shows in 2013 to promote the release of a live album, A Perfect Circle Live: Featuring Stone and Echo, and a greatest hits album, Three Sixty. Work on new material has been alluded to by members since 2008, though progress has been slow due to Keenan's other commitments and uncertainty in the direction of the releases. The only new studio material released since the band's hiatus was the single "By and Down" in 2013. A North America tour has been announced for May and June 2017 as well.
A perfect circle judith 100 fbfc autoplay
Mer de Noms (1999–2001)
A Perfect Circle was conceived by Billy Howerdel, a former guitar technician for Nine Inch Nails, The Smashing Pumpkins, Fishbone and Tool. Howerdel met singer Maynard James Keenan in 1992, when Tool was opening for Fishbone, and the two became friends. Three years later, Keenan offered Howerdel, who was looking for lodging, a room in his North Hollywood home. This provided Howerdel the opportunity to play demos of his music for Keenan. Pleased with what he heard, Keenan remarked, "I can hear myself singing [those songs]." Although he originally desired a female vocalist, Howerdel agreed that Keenan would be a good fit, and A Perfect Circle was formed a short time later. They were then joined by bassist and violinist Paz Lenchantin, former Failure guitarist Troy Van Leeuwen, and previous Primus drummer Tim Alexander. The band played their first show at LA's Viper Club Reception on August 15, 1999. After playing shows in L.A., the band entered the studio to begin work on their first album. Alexander was soon replaced with session drummer and member of The Vandals, Josh Freese, who previously worked with Howerdel on the Guns N' Roses album Chinese Democracy. Alexander's performance can still be heard on the album version of the song "The Hollow".
The band's debut album, Mer de Noms (French for "Sea of Names"), was released on May 23, 2000. The album is distinctive in that it is the highest ever debut for a rock band, selling over 188,000 copies in its first week, and appearing at number four on the Billboard 200. Howerdel had been working on some of the music, including tracks "The Hollow" and "Breña", as far back as 1988. The band began touring soon after recording for the album was finished. Initially, they served as the opening act for Nine Inch Nails on the 2000 Fragility v2.0 tour, but subsequently embarked on a number of headlining tours all over the world, including the Canadian festival Summersault. As Keenan was well known through his other band, he would often wear long wigs on his otherwise bald head when performing, to distinguish himself from his Tool persona. Mer de Noms went certified platinum by the RIAA on October 31, 2000, while the band was on tour.
The album produced three singles: "Judith", "3 Libras", and "The Hollow". "Judith" is named after, and is about, Keenan's mother, who suffered a stroke and was left paralyzed when he was 11. The song "Renholdër" is a reference to guitarist and sound engineer Danny Lohner and reads "Re:D.Lohner" backwards. Lohner did not know the song was about him despite his first name being sung—albeit in a distorted fashion—in the song.
In the album review by Rolling Stone, Pat Blashill wrote that Keenan "added an almost operatic angst to Howerdel's songs" and concluded that "A Perfect Circle sound like a desperate dream of what rock used to be. Maybe that's the point." AllMusic's review expressed that "there's little question that the addicting combination of Keenan's aching voice and Howerdel's accomplished songs and production skills made for one of 2000's best splashes in whatever was left of 'modern rock'."
Thirteenth Step and Emotive (2002–2004)
During the recording, release and tour for Tool's album Lateralus, from 2000 to 2002 the band experienced a considerable amount of downtime. This made the band extremely dynamic in terms of its members. During the recording of Thirteenth Step, A Perfect Circle lost two of its members, Paz Lenchantin and Troy Van Leeuwen. Lenchantin left to join Billy Corgan's new band Zwan in April 2002, while Van Leeuwen left to handle touring duties as the new guitarist for Queens of the Stone Age. Ex-Marilyn Manson bassist Jeordie White, formerly known as Twiggy Ramirez, replaced Lenchantin on bass in January 2003, with Danny Lohner taking the reins on guitar. However, Lohner did not quite fit as a second guitarist, and former The Smashing Pumpkins guitarist James Iha eventually replaced him.
The band released their second album, Thirteenth Step, on September 16, 2003. With the new album came a new sound. While Mer de Noms had a heavier, deeper sound, Thirteenth Step was more melodic and straightforward. After the release of the album, John Lappen from The Hollywood Reporter wrote, "They were never a band who beat the listener over the head with metal brutality, but now they're even more song-oriented than before—a move that illustrates that the band has a knack for writing instrumental hooks that show off a melodic talent that was not as apparent on the first album." This different sound can be heard in the three singles that came off the album: "Weak and Powerless", "The Outsider" and "Blue". Following the release of the album, the band toured throughout the U.S. until the year's end. In January 2004, the group left the country to play shows in Europe, Australia, New Zealand and Japan. They headed home in mid-March and finished touring in mid-June.
The album received mostly positive reviews. AllMusic's review stated the album "is the sound of a musical and lyrical maturity that normally doesn't occur until a band's third or fourth albums". The review by Yahoo! Music expressed that the album "has its share of anthemic moments, but the real passion spills over in the moody overtures where menacing danger feels seconds away". Rolling Stone wrote in an attempt to summarize the album that it "sounds more like the dusky thrum of Disintegration-era Cure than it does any of the members' previous bands", and continued "Thirteenth Step doesn't bludgeon listeners into submission—it lulls them with droning guitars, dub-deep bass and simmering vocals."
A third album, Emotive, was released on November 2, 2004 (election day in the United States), and contains covers of anti-war songs by artists such as John Lennon ("Imagine") and Joni Mitchell ("Fiddle and the Drum"). Emotive was recorded with current and former members of the band, but is mostly the work of Keenan and Howerdel. The single "Passive" was adapted from the defunct band Tapeworm, a project composed mainly of Keenan, Trent Reznor of Nine Inch Nails, and Danny Lohner. "Passive" first appeared under the title "Vacant" at a show played by A Perfect Circle in Portland, Oregon on January 31, 2001, notably, without the blessing of Reznor to play the song. The song remained unreleased by any artist until it appeared on Emotive as the song "Passive". In addition to being the second single, "Passive" was also used in the 2005 movie Constantine.
The album received mixed reviews. An AllMusic review stated the album "falls flat and fails to raise the bar set so high by the quality of their previous two releases". Rolling Stone praised half the album while criticizing the other, as did The Guardian which stated "cover versions are often hobbled by the artist's inability to step outside the original and find a fresh perspective, but some of these treatments verge on the visionary." Ken Micallef of Yahoo! Music wrote "the band builds on the power of the previous Thirteenth Step, applying hypnotic arrangements, brooding melodies, and droning rhythms to a collection that sounds absurd on its surface, but is woven together by A Perfect Circle's heavy and dark-lidded instrumental approach."
On November 16, 2004, the CD-DVD set entitled Amotion was released. The DVD contains music videos for six singles; previously unreleased videos for other songs, including three contest runner-up videos and the winning video for "Blue"; and three trailers for Bikini Bandits. The CD is composed entirely of remixes of the singles from Mer de Noms and Thirteenth Step. The songs were retooled by Danny Lohner, Joshua Eustis, Massive Attack, and James Iha among others.
Hiatus and other projects (2005–2009)
The future of A Perfect Circle remained uncertain and wobbled between "done for now" and "alive and well." The band became inactive after they played their last show in Denver, Colorado on June 13, 2004. Keenan left to work on Tool's album 10,000 Days while Howerdel began work on a side-project with Josh Freese that flourished into Ashes Divide. In addition to Keenan's work with Tool, his side-project Puscifer released its first album, V is for Vagina on October 30, 2007. The rest of the band also went their separate ways. Freese once again took up the reins as drummer for Nine Inch Nails. White moved on to rejoin Marilyn Manson at guitar under his pseudonym Twiggy Ramirez, and while there was talk of Iha joining Billy Corgan for The Smashing Pumpkins reunion tour in 2007, this idea was rebuffed and he instead began work on a solo record.
Both Howerdel and Keenan discussed the future of the band in various mediums from 2006 through 2008. During a February 2006 interview with Rock Hard, Keenan remarked, "I think [APC] is over. ... We pushed this project as far as it could go, and I see ourselves playing again together only in a few years to make one or two songs, nothing more." Howerdel's thoughts on the reunion of the band were similar to those of Keenan in a May 2006 interview with MTV. In a November 2007 issue of Spin featuring Keenan, when asked "Will there ever be another APC album," he reiterated his comments from 2006 replying, "Um, no. Maybe, someday, a song on a soundtrack. But an album? No." Despite these comments, in an interview with Revolver the following month, Keenan discussed the other members of A Perfect Circle's recent activities and also hinted at the possibility of a reunion. During the interview, Keenan stated:
The real problem with running Tool and A Perfect Circle at the same time was they both operate the same way. They're both live touring bands with a label, still working under the old contract mentality. So I thought it was time to let A Perfect Circle go for now and let Billy explore himself. It's tough for a guy who went from being a guitar tech [for Tool] to being in a band with a pretentious, famous singer and having to live in that shadow. It was important for Billy to go and do his own thing and really explore his own sound and let people hear what he has to say and how he would do it on his own, and then we'll get back and do some A Perfect Circle stuff.
Although the band's official website had offered no insight as to whether or not the group would reunite, news continued to arrive through Keenan about the existence of the band. In Puscifer's May 2008 newsletter, Keenan remarked on the status of A Perfect Circle: "As many of you may have heard, Billy and I are engaged in our own little projects for the moment. His is called Ashes Divide and mine is called Puscifer...Please be advised that A Perfect Circle and Tool are still alive and well. This is simply more."
Return and touring (2010–2012)
As early as December 2008, Keenan had announced that he and Howerdel had been writing new music for A Perfect Circle, although it wasn't until over year and a half later, mid-2010, when various band members began teasing a return on respective Twitter accounts, that the band actually became active. This led up to a September announcement of tour dates in which they would be playing the entirety of each of their three albums at each concert, with one album being played per night. The new touring lineup was announced Maynard James Keenan, Billy Howerdel, Josh Freese, Matt McJunkins, and James Iha.
There have been conflicting reports as to what degree the band will be releasing new material. Keenan's initial thoughts in 2008 referred to focusing on "one or two songs at a time", which would most likely be released digitally via the internet, rather than a full album release on compact disc. Keenan jokingly mentioned that CDs have become "plastic discs that no one cares about anymore." In June 2010, Keenan stated that he was working on a fourth LP for A Perfect Circle. However, when asked about an album again in August, his response focused on single songs again, stating that he's "...not really into albums anymore. Might be more going back to the singles. The days of the singles market makes a lot more sense at this point." and that "We have no label, so neither Billy nor I are really into kicking down hundreds of thousands of dollars to record a record and put it out." Howerdel, in a September 2010 interview, said that he had been working on demos for the last three to four years, and he presents them to Keenan, who decides which he would like to develop into A Perfect Circle songs, or leave for Howerdel to develop into Ashes Divide songs. No new songs were played at the initial reunion concerts, as no songs were finished yet, and the band was still trying to "remind everybody" who they are at these concerts. The possibility of a live concert DVD was discussed, but ultimately not released.
In addition the initial 2010 concerts, the band also played a few songs on live television programs Jimmy Kimmel Live! and Last Call with Carson Daly in October and November 2010 respectively.
The band continued touring into 2011, stopping in 24 cities and performing at events such as Rock on the Range Festival in Columbus, Ohio on May 21 and 22, 2011, Boonstock Music Festival in Edmonton, Alberta on July 2, 2011, Edgefest in Toronto, Canada on July 9, 2011, Bluesfest in Ottawa, Canada on July 10, 2011. Kanrocksas Music Festival in Kansas City, KS on August 6, 2011. and Lollapalooza in Chicago, IL, on August 5–7, 2011. Freese was unavailable for the 2011 touring due to a scheduling conflict with Weezer. Jeff Friedl, drummer for Ashes Divide, filled in for him.
The band continued to allude to working on new music throughout 2011, referring to the process as "Slow but steady." Howerdel also referred to "road testing" new songs during touring, that could ultimately be placed on a future album. On June 29, 2011, The sole new song, "By and Down", was debuted in Portland, Oregon. After this, Howerdel reiterated the band's stance on a new album, stating "Right now the intention is not to put out a (full album) but just to release some songs along the way, and then they might be re-imagined and put together in some collection... If you need to have an album then there will be something more like a photo album where you collect these things and you put them in."
After the 2011 tour, Keenan said that new material still was not ready, and that for the time, he and Howerdel were turning back to their respective side projects, Puscifer and Ashes Divide. During this time, in October 2012, Freese left the band without any intentions of returning.
The band returned to touring in 2013, playing Soundwave Music Festival and Lollapalooza Chile in early 2013. In February 2013, Keenan again stated that a new album was still "currently off the table", due to his continued work with Puscifer, and Howerdel's commitment to working on a second yet-to-be-released Ashes Divide album. He shortly after appended that they are still working on new material, but it is still mostly just "jamming" and working on bits and pieces, not entire songs.
Compilations and future releases (2013–present)
In September 2013, it was announced that the band would release two separate compilations in November 2013. The first, a greatest hits album entitled Three Sixty, containing one new song, "By and Down", the second, a box set entitled A Perfect Circle Live: Featuring Stone and Echo. The box set contains their three concerts in 2011 where they played one album in its entirety each night, and a performance of the band at Red Rocks.
In regards to future material from the band, Keenan stated "Of course, there's always writing going on constantly. It's just stuff that's not quite sitting right yet, so you don't know about it". In November 2013, Howerdel stated that "there are fully developed songs without lyrics and melody...as far as the music end goes, I've got 75% of the foundation of [the next] A Perfect Circle record ready to go." He did concede that this could change depending on Keenan's stance on music, and that Keenan prefers smaller releases, while Howerdel prefers the form of a full album. While little news has come from the band in 2014 through 2016, Howerdel reiterated he was still 100% invested in the band, and in 2016, Keenan stated that he still hopes to make and release new music as well.
In November 2016, Keenan and Howerdel announced that the band would reform and embark on a North American tour in 2017, including a live show at the Hollywood Bowl in May 2017. They also confirmed that the they were continuing to work on new material for future release as well. Howerdel stated that he was starting off 2017 with writing more material for the band, and that he hopes the 2017 touring will inspire the band to record and release new material. Touring lineup will remain the same as it had in 2011, consisting of Keenan, Howerdel, Iha, McJunkins, and Friedl.
Musical style
A Perfect Circle's music has been described mainly as alternative rock, alternative metal, hard rock and nu metal. The band is also associated with various music styles, including art rock, art metal, progressive rock and progressive metal. Troy J. Augusto of Variety wrote that the band's music combines equal parts of "'80s Goth, contemporary alt metal and progressive art rock."
Discography
Mer de Noms (2000)
Thirteenth Step (2003)
Emotive (2004)
Songs
The OutsiderThirteenth Step · 2003
3 LibrasMer de Noms · 2000
JudithMer de Noms · 2000

References
A Perfect Circle Wikipedia
(Text) CC BY-SA