Covid-19
A. Weberman





Writer






Inside Bob Dylan's Jesus Years: Busy Being Born Again




Coup D'etat in America: The CIA and the Assassination of John F. Kennedy
Alan Jules Weberman (born May 26, 1945), better known as A. J. Weberman, is an American writer, political activist, gadfly, and popularizer of the terms garbology and "Dylanology". He is best known for his controversial opinions on, and personal interactions with, the musician Bob Dylan.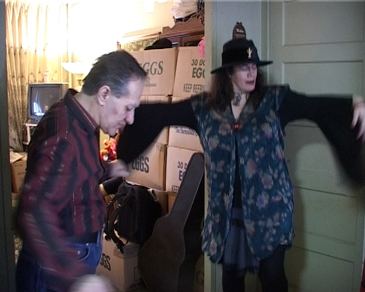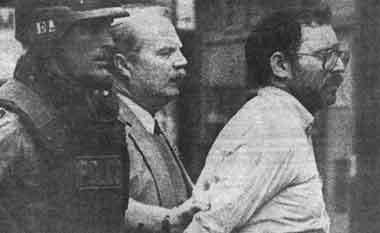 Weberman has written on the life and works of Bob Dylan, including creating a word concordance of Dylan's lyrics, and writing the Dylan to English Dictionary published in 2005. One of Weberman's theories on Dylan's songwriting is that some of Dylan's songs are actually about, or addressed to, Weberman himself. Most Dylan scholars and biographers have rejected Weberman's interpretations of Dylan's work.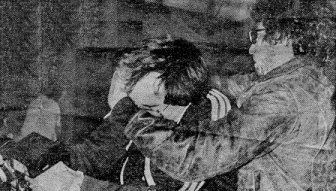 Rolling Stone magazine called Weberman "the king of all Dylan nuts" and he has been described as obsessively stalking Dylan and being "off the deep end". Dylan, annoyed by Weberman who was constantly digging through his garbage, assaulted Weberman on Elizabeth Street in Manhattan. In another article, Rolling Stone reported that Weberman, "a man that terrorized Bob Dylan during the '60s," had now "returned to hassle his son," Jakob Dylan. Weberman claimed that the younger Dylan was a heroin addict.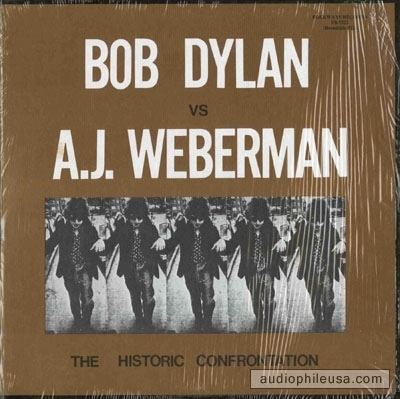 Weberman expressed his unhappiness with Bob Dylan to him in a telephone conversation that he recorded and was able to have briefly distributed as an LP by Folkways Records.
In 1975, Weberman wrote Coup D'Etat In America: The CIA and the Assassination of JFK with Michael Canfield. According to one account, "Canfield and Weberman propose a basic theory on the assassination, revolving around the CIA and the Bay of Pigs fiasco, and then use the bulk of the book to document and substantiate their allegations." According to Weberman and Canfield, the CIA planned the assassination of Kennedy because he had agreed to stop the Cuban exiles' anti-Castro operations. Among the book's contentions are that Lee Harvey Oswald was a patsy and that two of the "three tramps" photographed by several Dallas-area newspapers under police escort near the Texas School Book Depository shortly after the assassination Kennedy were Watergate burglars E. Howard Hunt and Frank Sturgis. Coup D'Etat In America was reported to influence United States House of Representatives member Henry B. Gonzalez to initiate a resolution that would result in the formation of the House Select Committee on Assassinations.
A reviewer for The Harvard Crimson wrote: "Despite its lapses into obsessive speculations about connections between irrelevant figures and dubious arguments by analogy of modus operandi, Coup d'Etat is a chillingly convincing book."
Coup d'Etat in America reiterated Tad Szulc's allegation that Hunt was the acting chief of the CIA station in Mexico City in 1963 while Lee Harvey Oswald was there. In July 1976, Hunt filed a $2.5 million libel suit against Weberman and Canfield, as well as the book's publishers and editor.
In 2002, Weberman, along with the Jewish Defense Organization, and JDO chief Mordechai Levy, were successfully sued for libel in Brooklyn, New York. The jury stated that Weberman was responsible for $300,000 of the $850,000 judgement.
In 2005, Weberman joined forces with Yippies including Dana Beal and Pie Man Aron Kay to turn the long-time Yippie headquarters at 9 Bleecker Street on Manhattan's Lower East Side into a counterculture museum. As of 2006, renovation of the building was partially completed, and a charter from the New York State Board of Regents was granted. The museum would house the remains of Jerry Rubin's roadkill (Rubin was killed by a car) and Abbie Hoffman's trash.
Weberman, A.J. (1969). Dylanology. Whitepress. p. 25 pages.
Weberman, A.J. (1971). Concordance to the songs, poetry, and assorted writings of Bob Dylan. New York: Private printing. ASIN B00072TJ6C.
Dylan, Bob, and A.J. Weberman (introduction) (1971). Poem to Joanie (Limited edition of 300 ed.). London: Aloes.

CS1 maint: Multiple names: authors list (link)
Weberman, A.J. Keep the Fuck Outta My Goddam Garbage. Privately printed. p. 22 pages.
Weberman, Alan J. & Michael Canfield (1992) [1975]. Coup D'Etat In America: The CIA and the Assassination of JFK. Quick American Publishing [originally by The Third Press]. ISBN 978-0-932551-10-8.
Weberman, A.J. (1980). My Life in Garbology. Stonehill Press. ISBN 978-0-88373-096-6.
Weberman, A.J. (2005). Dylan to English Dictionary. New York: Yippie Museum Press. ISBN 978-1-4196-1338-8.
Weberman, A.J. "Article (title unknown)". On The Tracks, issue 5. Rolling Tomes.
Weberman, A.J. (2009). RightWing Bob: What the Liberal Media Doesn't Want You To Know About Bob Dylan. BookSurge Publishing. ISBN 978-1-4392-5615-2.
Weberman, A. J. Homothug: The Secret Life of Rudy Giuliani (New York: Yippie Museum Press)
Weberman, A. J. (2012). Ron Paul: America's Most Dangerous Nazi. CreateSpace Independent Publishing Platform. ISBN 978-1470014537.
Weberman, A. J., Bob Dylan: Holocaust Denying Scum, Scribd, retrieved

February 8,

2014
Classic Interviews, Vol. 2: The Weberman Tapes (UK: Chromedreams. US: United States Dist Media, Catalog #541, released May 31, 2005.)
Recordings of telephone conversations between Weberman and Dylan, New York City, January 6 and January 9, 1971. Originally released as
Bob Dylan vs. A.J. Weberman
on Folkways Records, Catalog #FB 5322, 1977, quickly deleted for legal considerations, but circulated in various bootleg pressings. Original Folkways recording also contains an otherwise unreleased version of David Peel's "The Ballad of A.J. Weberman".
An excerpt from a transcript of the above
Full transcripts:
East Village Other (periodical), January 19, 1971
Authors or editors unknown. The Fiddler Now Upspoke Volume 1 (Desolation Row Promotions, other publishing data unknown)
David Peel and the Lower East Side. "The Ballad of A.J. Weberman", on Santa Claus - Rooftop Junkie (1975, Orange Records. Re-released in box set David Peel, Rock 'n' Roll Outlaw — the Apple and Orange Recordings, 2005, Orange Records)
Weberman recordings, private collection
Bob Fass Show With A.J. Weberman & Ellen Sanders, WBAI Radio, New York, 1968 (155 minutes)
Bob Fass Show, WBAI Radio, New York (Studio discussion with Bob Fass, Allen J. Weberman & Ellen Zander) (Part 1) 1970
Bob Fass Show, WBAI Radio, New York (Studio discussion with Bob Fass, Allen J. Weberman & Ellen Zander) (Part 2) 1970
Bob Fass Show WBAI Radio New York (Studio Discussion With Bob Fass, Allen J. Weberman & Ellen Zander) (Part 3) 1970
Alex Bennett Show, WPLJ Radio, With A.J. Weberman & Anthony Scaduto, 1974 (46 Minutes)
John Roberts, telephone interview with A.J. Weberman for The Telegraph, (July 20, 1994) (12 Minutes)
A.J. Weberman, WFMU Radio, New Jersey (18 Minutes) (no date given)
The Larry King Show with A.J. Weberman, Garbologist (no date given)
A. J. Weberman Wikipedia