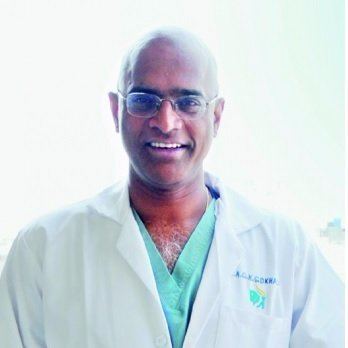 Dr Gokhale hails from an agricultural family at Tamirisa near Gudivada, a small village in the Indian state of Andhra Pradesh. He was born in a Telugu chowdary family to sri Alla Venkateswara Rao and Smt Jhansi bai in Vijayawada, Krishna District, Andhra Pradesh, India. He has two brothers and one sister.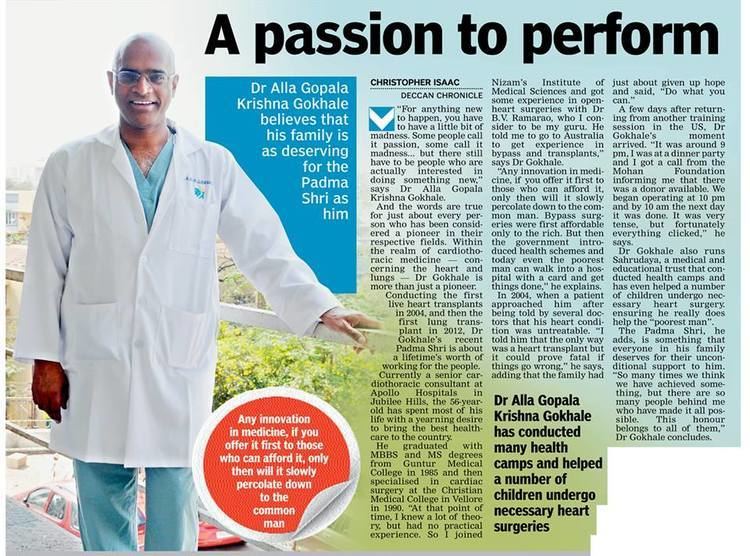 1. Dr.Ramaseshaiah Alla, Eye surgeon at Miryalaguda, Telangana
2. Nagabushanarao Alla, Mining Engineer, Vijayawada
3. Aruna Kumari Parvathaneni, retd Principal, Railway Mixed High School, Vijayawada, now in Washington DC, USA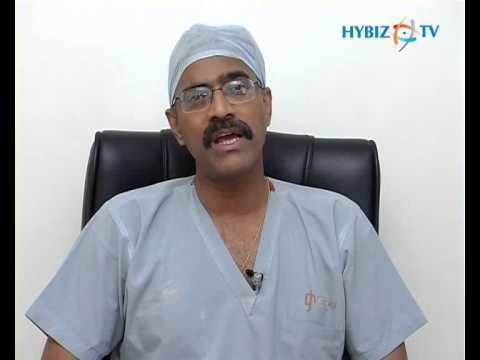 Dr Gokhale is married to Dr Surapaneni Venkata Lakshmi. She is a paediatrician and neonatologist. working at Rainbow children's hospital, Hyderabad. They have 2 daughters - Yamini and Mrinalini. Both were tennis players at national and international circuits and are into medical profession like their parents.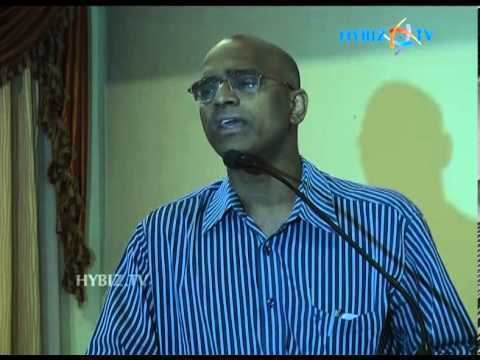 His primary school education was at Zilla Parishad High School, Tamirisa and passed 10th class in 1974 in First class. The family moved to Guntur in 1974 and he joined J.K.C.College for Intermediate and graduated in 1976 with First Class Distinction. He passed MBBS from Govt. Medical College, Guntur in 1982.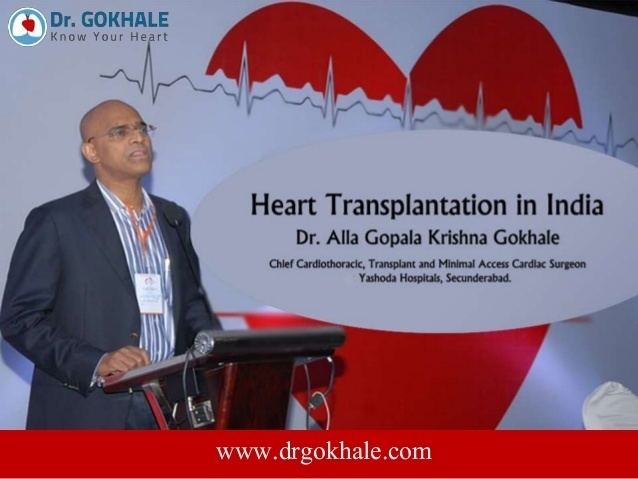 He completed M.S. General Surgery in 1985 from Guntur Medical College, Guntur. He joined initially as non-PG registrar, then as PG registrar with Prof Stanley John and Prof P.S.Jairaj in the cardiothoracic surgery department of Christian Medical College Hospital, Vellore. He completed M.Ch (Cardiothoracic surgery) in 1990 from Dr MGR medical university, Chennai. The same year he completed DNB in Cardiothoracic surgery from National Board of Examinations in New Delhi. He worked for two years till June 1992, as Assistant Professor in Nizam's Institute of Medical Sciences, Hyderabad. He did Senior Management Programme from IIM, Calcutta in 2010.
He worked as Clinical Fellow in Cardiothoracic Surgery including Cardiopulmonary transplantation, in the Department of Cardiothoracic Surgery, St. Vincent's Hospital, Sydney with Dr.A.Fransworth, Dr.Philip Spratt and Dr.Mark Shanahan. (1992-1993)and at Westmead Hospital, Sydney as Senior Registrar in the Department of Cardiothoracic Surgery under the supervision of Dr. G. Nunn, Dr. W. Meldrum Hanna, Dr. R. Chard and Dr. D.C. Johnson. This involved adult Cardiac Surgery in the areas of Redo-Coronary and Valve surgery and arrhythmia surgery Cox Maze procedure.(1993 - 1995)
From Australia, he went to USA and worked at Barnes Jewish Hospital, Washington, University of St. Louis as Clinical Fellow in Cardiothoracic surgery with Dr. Nicholas T. Kouchoukos and Dr. Bill Daily. It involved training in Aortic root surgery, Thoraco abdominal aortic surgery, Ross procedure, Redo-coronary surgery and Valve surgery. (1995 - 1996).
After coming to India, he used to visit centers abroad frequently to keep himself updated with the recent advancements in the field especially in areas of heart and lung transplantations and minimal access cardiac surgery. Some of the centers he visited include: Columbia Presbyterian Hospital, New York for their heart transplantation programme (2004), Barnes Jewish Hospital, St. Louis for their lung transplantation programme (2004), Prince of Wales Hospital, Hong Kong (2005) for their video thoracoscopy work, East Carolina Heart Institute, Greenville (2009) for their minimal access cardiac surgery programme and Debakey Heart Institute, Texas (2010) for their lung transplantation work "Debakey heart center" before Texas.
He returned to India in 1996 and worked as Senior Consultant - Division of Cardiothoracic and Vascular Surgery at Mediciti Hospitals, Hyderabad, India till 2003. Then he moved to Global Hospitals, Hyderabad, India as Senior Consultant and Head of Division of Cardiothoracic, Vascular and transplant Surgery to do work in the areas of transplantation and minimal access cardiac surgery. In March 2012 he moved to Yashoda hospitals, Secunderabad, India.Since January 2016, he is working at Apollo Hospitals, Jubilee Hills, Hyderabad as Senior consultant cardiothoracic and transplant surgeon.
On 4 February 2004, soon after coming back from visiting the heart transplant programme at Columbia Presbyterian Hospital, New York, he created history by performing the first ever Heart transplantation in the combined state of Andhra Pradesh. Mr. Ramesh, a 27-year-old mason who was suffering from an end-stage heart failure received the heart from a brain dead donor, victim of road traffic accident at Nizam's Institute of Medical Sciences who sustained brain death in a road traffic accident.
He did "Combined Heart and Kidney Transplant" for the first time in India in 2007. In 2012, a 69-year-old man had a successful heart transplant, oldest man to undergo heart transplant in India. He has performed 18 heart transplants till November 2016.For the first time in the states of Telangana and Andhra Pradesh, he did the first interstate transfer of heart from Bangalore to Hyderabad and did heart transplant successfully on a 46-year-old lady (2015). Dr Gokhale implanted "Left Ventricular Assist Device" (LVAD) successfully for the first time in the State of Andhra Pradesh as a (2013)bridge to heart recovery in a patient with advanced heart disease. In 2016, Dr. Gokhale and his team performed first successful heart transplant at Government General Hospital, Guntur.
Dr. Gokhale and his team successfully performed the First Lung Transplantation in Andhra Pradesh at Yashoda Hospitals, Secunderabad(2012), taking the medical facilities at Hyderabad one more step forward. Cardiothoracic surgery team at Yashoda Hospitals, Secunderabad, headed by Dr A.G.K. Gokhale, Chief Cardiothoracic, Transplant and Minimal Access Surgeon and Dr G. Subramanyam, Senior consultant Anesthetist, transplanted a lung for a 34 years old Mrs. Archana from Pune, making her breathe comfortably again after a long time. Till December 2015, he performed 3 single lung transplants for patients with end-stage lung disease.
He not only created an impact by achieving enviable results in minimal access cardiac surgery in India but also was involved with public education on the advantages of minimal access surgery. He conducted live workshops on minimal access cardiac surgery for training surgeons all over the country. He was invited by surgeons in India and abroad (Malaysia and Iran) to give lectures and to train them in this area. He has done more than 300 such surgeries for heart valve replacements and repairs, coronary artery bypass surgeries and closure of holes in the heart.
Until now he did more than 10,000 heart surgeries including coronary artery bypass surgeries, heart valve replacement/repairs, correction of birth defects of the heart, heart transplantations, implantation of heart assist devices (VADs) and lung surgeries, lung transplantations and vascular surgeries. Surgeons trained by him are working as senior consultants in many esteemed institutions in India and abroad.
A charitable trust - to help poor patients; educate the common people of India about the heart diseases and their prevention and to do research activities - was founded by Dr. Gokhale in 2007. Through the trust, he helped many children to undergo heart surgeries, conducted many health camps and education sessions to various sectors of people on prevention of heart diseases. With a view to develop open heart surgery in his almamatter-Guntur Medical College and General hospital, he entered into PPP agreement with Government of Andhra Pradesh in 2015. He did the first successful open heart surgery in Guntur General hospital on 18 March 2015, thus establishing successful open heart surgery programme for the poorest of the poor in a government hospital for the first time in the state of Andhra Pradesh. By November 2016, Dr.Gokhale and his team completed more than 260 open heart surgeries at Government General Hospital, Guntur. On 20th of May 2016, Dr.Gokhale and his team did the first successful heart transplant in the history of Government General Hospital, Guntur on a 38 year old poor person suffering form dilated cardiomyopathy and heart failure.
He was the founder secretary of Heart failure society, India which was established in 2001. Through the society, he conducted many conferences to train physicians, cardiologists and cardiac surgeons in the area of heart failure and update on advances in managing the patients with heart failure and in prevention of heart failure.