4.6

/

10

1

Votes

Alchetron

Rate This





Directed by

Remo D'Souza




Initial release

25 August 2016




Budget

350 million INR







Story by

Remo D'Souza




Box office

560 million INR






Produced by

Ekta Kapoor Shobha Kapoor




Written by

Aakash Kaushik Madhur Sharma (Dialogue)




Screenplay by

Tushar Hiranandani Remo D'Souza Additional screenplay: Aakash Kaushik Madhur Sharma




Starring

Nathan Jones Jacqueline Fernandez Tiger Shroff




Cast

Tiger Shroff, Jacqueline Fernandez, Nathan Jones, Kay Kay Menon, Mukesh Hariawala
a flying jatt to take off with a u a certificate
A Flying Jatt is a 2016 Bollywood superhero action film co-written and directed by Remo D'Souza and produced under the banner of Balaji Motion Pictures. It features Tiger Shroff, Nathan Jones and Jacqueline Fernandez in the lead roles. A Flying Jatt narrates the story of an ordinary man (Shroff) who gains superpowers. The film released worldwide on 25 August 2016 on Janmashtami weekend.
Contents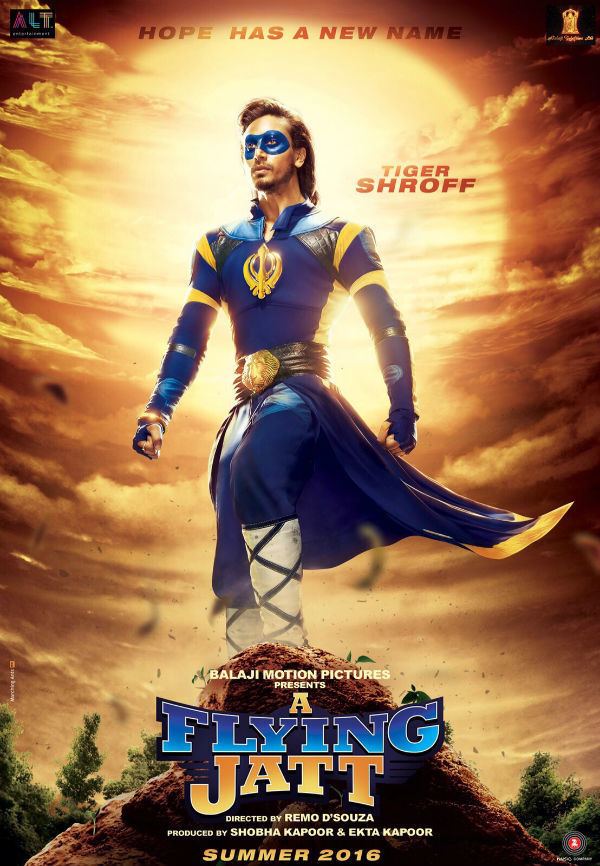 Plot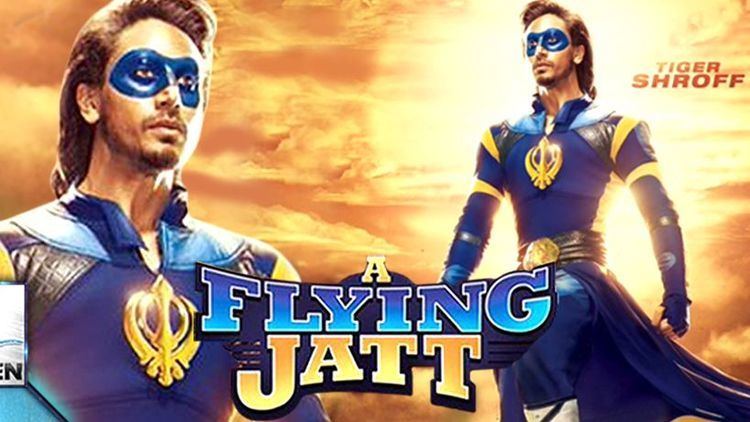 The story begins with a strong influential businessman Mr. Malhotra (Kay Kay Menon) who has his factory on a land near a lake into which pollutants and toxins are leaked. He wants to build a bridge across it for faster transportation but cannot do so due to a sacred tree present on the other side of the lake on a piece of land which belongs to Mrs. Dhillon.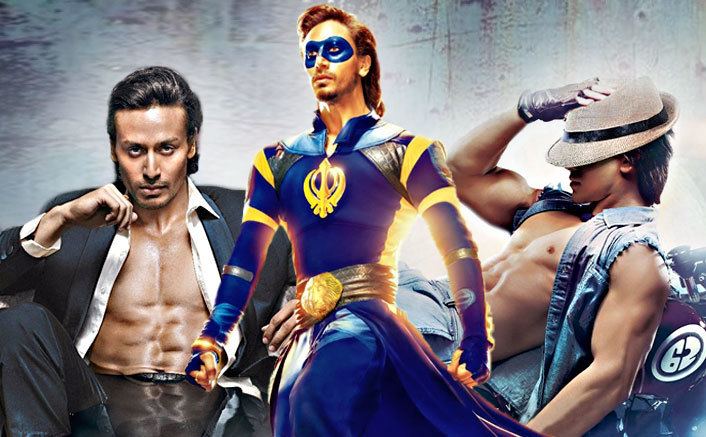 Mrs. Dhillon is a hard core Punjabi woman living with her two sons Aman Dhillon (Tiger Shroff) and Rohit Dhillon (Gaurav Pandey). Aman is a martial arts teacher in a school. He has a crush on Kirti (Jacqueline Fernandez).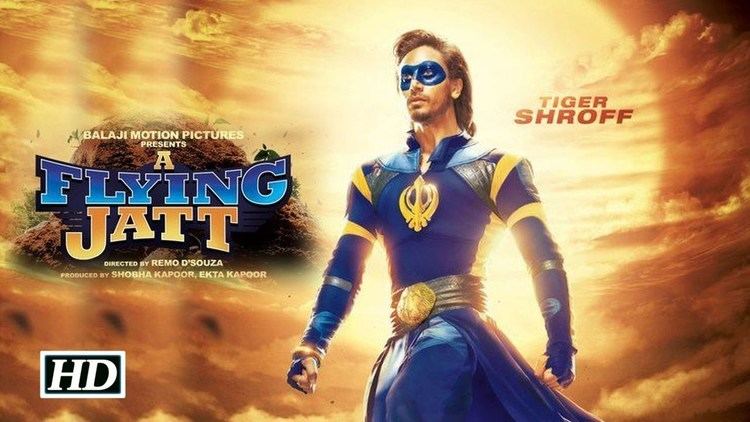 Malhotra who wants to get rid of the tree brings in Raka (Nathan Jones), a mutant, to get the job done.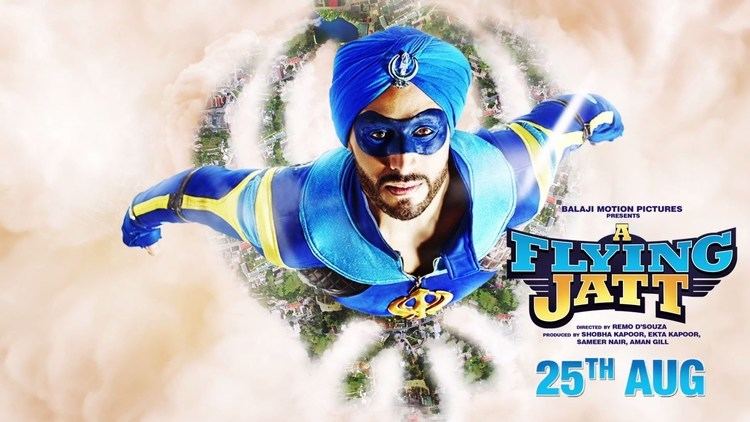 He reaches the spot but Aman is present there and tries to stop Raka. Raka sticks Aman against the tree and tries to kill him. He does not notice that Aman has got a certain glow emanating from his body after hitting the tree. Raka tries to insert the saw blade into his neck but as soon as it touches the skin, a sudden thunderstorm hits the tree. The impact throws back Raka and he lands in Malhotra's factory's garbage area.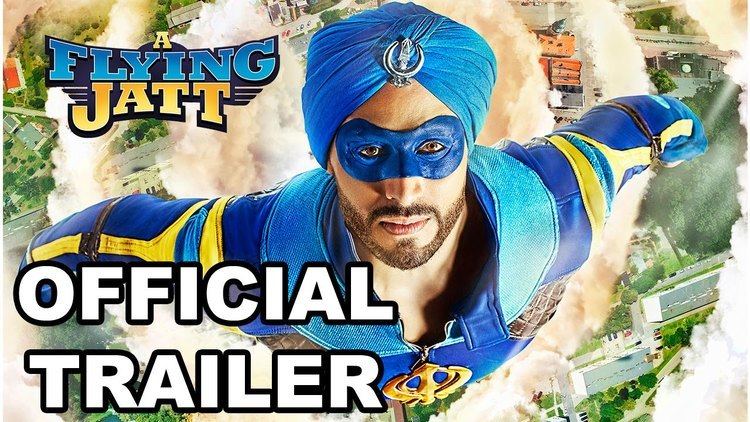 Next morning Aman finds himself on his bed alive with no sign of any injury and presumes all that happened to be a dream. He does not notice the khanda that has appeared on his back, which is also carved on the tree. That day, he and his brother notice a few unusual things such as easily catching fast balls from a bowling machine, learning new stuff quickly by just touching items, etc. Later his mother also confirms this by hitting Aman various times with a sharp knife and all wounds are healed within seconds, confirming he gained access to a rapidly advanced healing factor. She immediately declares him a super hero.
She then goes so far as to remove Aman's fear of heights by showing him several superhero films from both Marvel and DC, and even tells him the story of his father Sardar Kartar Singh Dhillon, a Sikh who went to Shaolin to learn martial arts and was named "Flying Jatt". She asks Aman to take up the legacy of his father and keep "Flying Jatt" as his superhero name to which he agrees. Initially various events takes place like flying low due to his fear of heights, misunderstandings due to his costume, but he is recognised when he saved hostages from a terrorist attack at an airport. He even proposes to Kirti in the process and reveals his identity.
Raka, who had been missing all this while, is found alive but is now stronger and more dangerous than before because he has more toxins deposited in his body and started growing stronger with increased pollution. Aman goes to battle him various times but is fatally injured. To save him from further pain, his brother Rohit goes in his place as Flying Jatt and gets killed. Not wanting to lose her other son, Mrs. Dhillon decides to leave the town.
Aman decides to stay, saying that he can leave the town, but the cries and sounds of pain of the people would never leave him. Aman's mother asks him to wear his father's turban, but he refuses. She then reminds him of a story of their town, in which all women were kidnapped. It was only the men of the town that had saved all of them while wearing their turbans. She said their turbans gave them power, and the power of his father would be with him if he would wear his turban. Aman then finally agrees to wear the turban and fight Raka.
On the other hand, the people who think Flying Jatt is dead decide to defeat Raka on their own and even Malhotra joins them, after his daughter is affected by the pollution. They decide to eliminate pollution by planting trees everywhere, but Raka comes to kill them once and for all, but Flying Jatt suddenly appears. Raka, in a fit of rage, drags Flying Jatt to the tree and tries to kill him when his mother comes in front and prays, giving more inspiration to Aman who gets up, and, while cutting through the clouds, takes Raka to an asteroid near Earth. He says that there is no place on Earth to defeat him, but he becomes vulnerable on the pollution free asteroid. After a long fight, Aman finally inserts his kara (steel bracelet) into Raka due to which Raka explodes. A victorious Am
Cast
Nathan Jones as Raka
Jacqueline Fernandez as Kriti
Tiger Shroff as Aman Dhillon/Flying Jatt
Kay Kay Menon as Mr. Malhotra
Amrita Singh as Mrs. Dhillon
Gaurav Pandey as Rohit
Shraddha Kapoor as Herself (cameo appearance)
Reception
The Times of India gave the film 3 and a half stars out of five.
Firstpost said "The film's comedy, occasional inventiveness and aura of innocence are what make it effective in its own way, despite the lack of depth. D'souza had displayed his natural wit even in his first film F.A.L.T.U. in 2011. A Flying Jatt could have been so much better than what it is, if he had not kept one eye fixed Westward for inspiration. This one is perhaps best suited to the very very young."
The Economic Times said "Overall, the director seems to have lost the plot after the second act, as the narrative meanders making the entire comic affair agonising."
Anupama Chopra from the Hindustan Times gave the film 1.5 stars out of 5, and said "The first half of A Flying Jatt has moments of fun — I loved that despite being a superhero he has a fear of heights, so he flies very close to the ground. But post-interval, laughter takes a back seat."
Soundtrack
The songs are composed by Sachin-Jigar.
Graphic novel
A Flying Jatt has been made into a graphic novel by Thought Bubbles Studio Planet. The story continues where the film ends.
Songs
1A Flying Jatt (Title Track)Raftaar - Taniska Sanghvi - Mansheel Gujral4:36
2Toota Jo Kabhi TaraAtif Aslam5:05
3Khair MangdaAtif Aslam4:17

References
A Flying Jatt Wikipedia
(Text) CC BY-SA