A Date with Judy is a 1948 MGM musical film starring Wallace Beery, Jane Powell, and Elizabeth Taylor. Directed by Richard Thorpe, the movie was based on the radio series of the same name.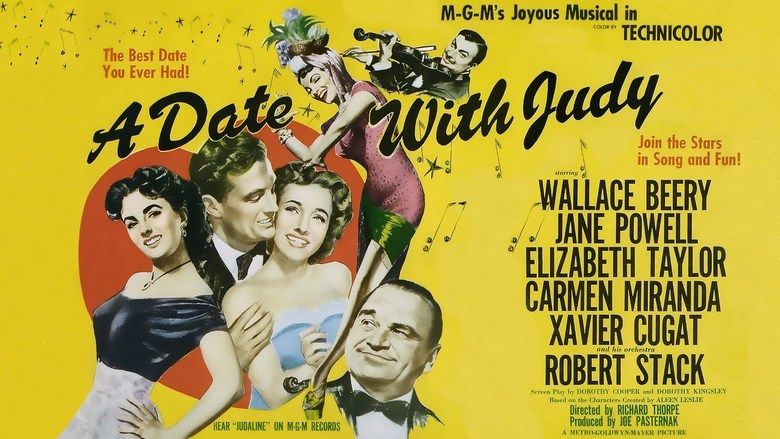 The film was photographed in Technicolor and largely served to showcase the former child star Elizabeth Taylor, age 16 at the time. Taylor was given the full MGM glamor treatment, including specially designed gowns.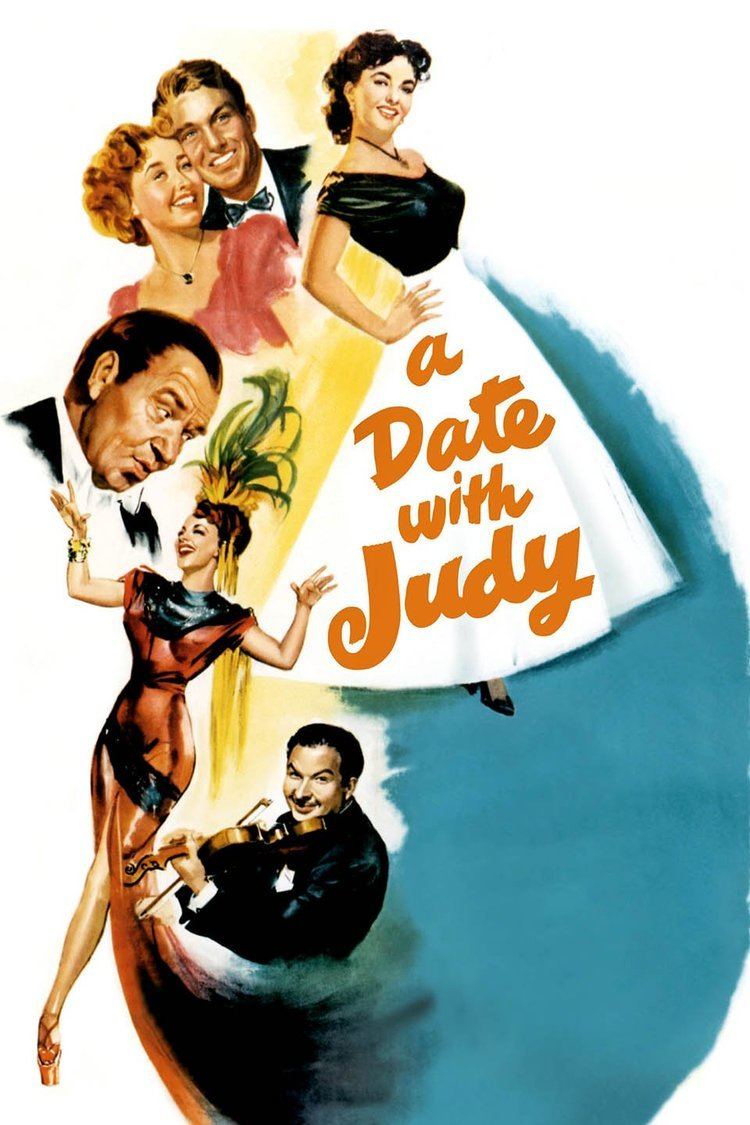 Robert Stack appears in a prominent supporting part. Many others in the MGM stock company appear in their customary roles, including Leon Ames as a dignified father figure, the same role he played in the Judy Garland film Meet Me in St. Louis (1944) and top-billed Wallace Beery in his penultimate role as a contrasting "rough and ready" father figure.
The film features the soprano singing voice of young Jane Powell, and is also a showcase for the musical performances of the Latin American singer Carmen Miranda and bandleader Xavier Cugat. In this film, she is given to humorous malapropisms such as "His bite is worse than his bark" and "Now I'm cooking with grass". The songs "Judaline" and "It's a Most Unusual Day" also debuted in this film.
The big high school dance in Santa Barbara is coming up. Judy Foster (Jane Powell) expects boyfriend "Oogie" Pringle to be her escort, but he declines. Meanwhile, Oogie's sister, sophisticated senior Carol Pringle (Elizabeth Taylor), has booked famous bandleader Xavier Cugat and his orchestra for the dance.
Cugat's lady friend, Rosita Cochellas (Carmen Miranda), is a dance instructor. She is secretly giving rumba lessons to Judy's dad, Melvin Foster (Wallace Beery), who wants to surprise his wife with a dance for their upcoming wedding anniversary.
Soda shop owner Pop Scully (Lloyd Corrigan) introduces a disappointed Judy to his handsome nephew Stephen I. Andrews (Robert Stack), who volunteers to take Judy to the dance, even though he's considerably older. Judy finds him dreamy, and having Stephen as her date definitely makes Oogie jealous.
Stephen, however, falls for the beautiful Carol instead. This is annoying to Judy, as is her discovery that her dad is seeing Rosita behind her mother's back, presumably carrying on a romantic affair. Misunderstandings abound, including Rosita trying to explain the situation to her boyfriend, Cugat.
During the dance scene in which Mrs. Foster dances with Xavier Cugat, the song is the instrumental version of "The Walter Winchell Rumba", which Cugat and his band played during their normal gigs. The words, can be heard during a PBS Lawrence Welk show called, "The New York Show" by Gail, Sandy, and Marylou.
Wallace Beery as Melvin R. Foster
Jane Powell as Judy Foster
Elizabeth Taylor as Carol Pringle
Carmen Miranda as Rosita Cochellas
Xavier Cugat as Himself
Robert Stack as Stephen Andrews
Scotty Beckett as Ogden "Oogie" Pringle
Selena Royle as Mrs. Foster
Leon Ames as Lucien T. Pringle
Clinton Sundberg as Jameson
George Cleveland as Gramps
Lloyd Corrigan as "Pop" Sam Scully
Stuart Whitman as Young Man in the ballroom (uncredited)
Jerry Hunter as Randolph Foster
Jean McLaren as Mitzi Hoffman
Although Xavier Cugat is credited in the opening credits as "Xavier Cugat and His Orchestra," the end credits simply bill Cugat as "Himself." The A Date with Judy radio show ran from 1941 to 1949 on the NBC network, and from 1949 to 1950 on the ABC network. The character of "Judy Foster" was portrayed on the radio by Dellie Ellis, Louise Erickson and Ann Gillis.
Thomas E. Breen was originally set to co-star in the film with Jane Powell, and Leslie Kardos was set to direct. Selena Royle replaced Mary Astor, who withdrew from the film due to illness.
A biography of director Vincente Minnelli notes that a musical number entitled Mulligatawny, which was created by Stanley Donen, was cut from the film before its release. Actress Patricia Crowley portrayed "Judy Foster" in the ABC television series A Date with Judy, which ran from 1951 to 1953.
The film was a hit, earning $3,431,000 in the US and Canada and $1,155,000 elsewhere resulting in a profit of $1,495,000.
The New York Times reviewer pointed out that "the picture's gaiest moments" were provided by Carmen Miranda, "whose singing remains a source of delighted amazement to this observer."
Judaline ... Performed by Jane Powell, Scotty Beckett & Quartet
It's a Most Unusual Day ... Performed by Jane Powell
I'm Strictly on the Corny Side ... Performed by Jane Powell & Scotty Beckett
Love Is Where You Find It ... Performed by Jane Powell
It's a Most Unusual Day ... Performed by Elizabeth Taylor (Dubbed by Jean McLaren)
Swing Low, Sweet Chariot ... Performed by Lillian Yarbo
Smiling Through The Years ... Performed by Jane Powell & George Cleveland
Love Is Where You Find It (Reprise) ... Performed by Jane Powell
Home Sweet Home ... Performed by Jane Powell, Jerry Hunter & Selena Royle
Cooking With Gas ... Performed by Carmen Miranda with Xavier Cugat and His Orchestra
Marguerita ... Performed by Xavier Cugat and His Orchestra
Cuanto La Gusta ... Performed by Carmen Miranda with Xavier Cugat and His Orchestra
It's a Most Unusual Day (Reprise #2 - Finale) ... Performed by Elizabeth Taylor, Jane Powell, Carmen Miranda, Wallace Beery, Xavier Cugat, Robert Stack, Scotty Beckett, Selena Royle, Leon Ames, George Cleveland, Jerry Hunter & Ensemble