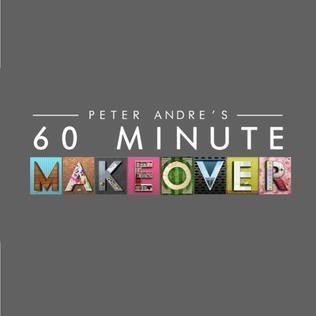 60 Minute Makeover is a British daytime home interior design television programme broadcast on ITV in the United Kingdom. In 2013, Peter Andre took over as the main presenter for the show with the show's name changed to reflect this.
Contents
Overview
The serious challenge was (when Peter Andre took over they changed format) to redecorate and makeover a number of rooms in a house in 60 minutes. The house owner is usually nominated by a relative or friend for a secret visit by the 60 Minute Makeover team who remodel their house whilst they are away. The team has the task of completing the total renovation of run-down and tired rooms before the house owner returns home. The house owner approaches their house in a taxi/car to be greeted by a crowd of supporters prior to the big reveal. They are given a tour of their remodelled rooms by the host who invites them to react to the changes. At the end of the reveal, the expert's identity is also revealed with an emotional response from the participants. The cost of the makeover is stated at the end of each show which obviously excludes the labour fees. The house owner earning the makeover is often in need of help due to illness or difficult times which adds to their emotional reaction to the completed makeover. Throughout the makeover, the presenter keeps time with a stopwatch and marks breaks in the task with a loud whistle. Halfway through the task, the team take a well-earned tea break which gives the designer an opportunity to assess the progress of the makeover. The team return to work once the host starts the stopwatch again.
Presenters
Claire Sweeney (2004–06)
Terri Dwyer (2007–09)
Catherine Gee (2011–12, 2017–)
Peter Andre (2013–17)
Claire Sweeney was the original host, presenting the programme for several series before Terri Dwyer took over. In series 7, 60 Minute Makeover was fronted and timed by the designer who also acted as presenter with and commentary provided by Alex Hall. From series 7 to date, the number of rooms made over has been reduced from 4 to 3, to cut production costs.
In Spring 2011, the programme returned to its original format and was given a new look with Catherine Gee as the new host for series 8 with the designers once again concentrating on remodeling the rooms as prior to series 7. The team decorated three rooms per show. Gee also provided the narration for the show for these two series.
In 2013, singer and reality TV star Peter Andre took over as the main presenter. The show was rebranded as Peter Andre's 60 Minute Makeover, beginning on 11 November 2013. Andre is the first male presenter since the show began in 2004.
Designers
Derek Taylor
Ben Hillman
Scott Waldron
Kathryn Rayward
Carl Machin
Ann Hazell
Leah Hughes
References
60 Minute Makeover Wikipedia
(Text) CC BY-SA