Start date

1998






Similar

1997 British Touring C, 1999 British Touring C, 1995 British Touring C, 2000 British Touring C, 1994 British Touring C
The 1998 Auto Trader RAC British Touring Car Championship was a prominent BTCC season during the 'golden era' of touring car racing in Britain. It was eventually won by Rickard Rydell in a Volvo S40 with a round to spare. The runner-up was Anthony Reid in a Nissan Primera. The Autosport Cup for Independents, a championship for privateer entries was won by Tommy Rustad in a Renault Laguna. The video game TOCA 2 Touring Cars is based on this championship season.
Contents
Background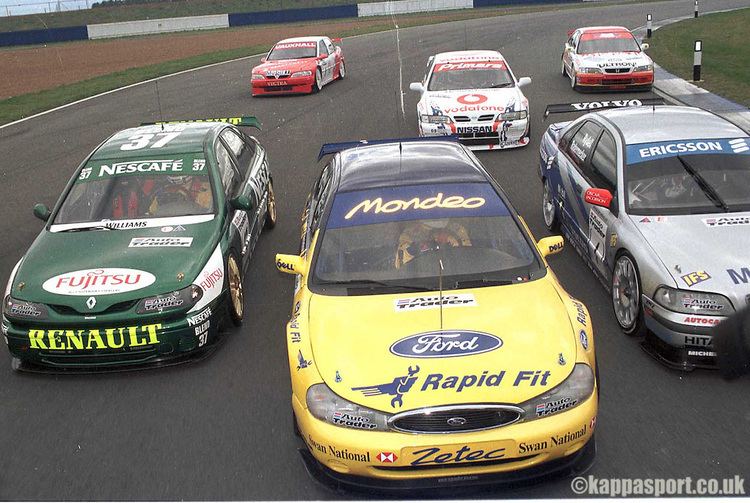 There were three major rule changes to the championship prior to the start of the 1998 season. Race weekends were changed notably with two different types of races now elected: a "sprint" race and a, longer, "feature" race with two-tyre pit stops being mandatory in the latter. Qualifying for the sprint race involved drivers holding a "shoot-out" style session where each driver was sent out one of a time and were given a single timed lap to determine their starting position. Qualifying for the feature race remained the same as the previous season.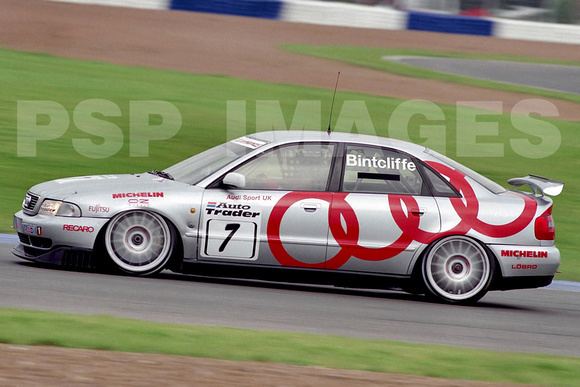 Four wheel drive systems were also banned for 1998, a system used notably by 1996 champions Audi. Audi continued to use their A4 platform for the 1998 season.
Team and driver changes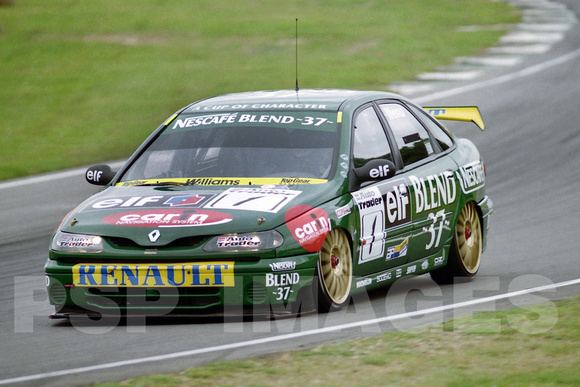 Following their success in 1997, the Williams backed Renault team, now in their third year as partnership in the BTCC, retained their driver line up of champion Alain Menu and Jason Plato. The same Laguna platform was also retained. The only change for the team saw them take away the yellow-blue livery for a new dark green livery as they changed. Nissan were another team to retain their driver line-up with the experience Scots David Leslie and Anthony Reid leading the Japanese manufacturers bid for the championship.
Following a very promising test programme with their Accord fastest in most of the winter testing, Honda replaced 1994 champion Gabriele Tarquini with GT Racer Peter Kox to race alongside James Thompson who was looking to build on his career best fifth overall in the previous seasons drivers' championship. Volvo had also changed their lineup with former Ferrari and Sauber driver Gianni Morbidelli replacing the experienced Kelvin Burt to partner Swede Rickard Rydell in this Volvos fifth season in the BTCC.
Derek Warwick added to the former Formula One drivers in the BTCC paddock as he continued driving for the Vauxhall works team this year alongside double champion John Cleland. The 1992 team champions were looking for their first win in the championship since James Thompson took victory in race two at Snetterton in 1996. Ford had made headlines in the press during pre-season after signing 1992 Formula One champion Nigel Mansell to compete in three rounds of the championship. Ford retained Will Hoy, now in his eleventh season of BTCC competition, and swapped New Zealander Paul Radisich for another one in Craig Baird.
Radisich meanwhile had joined Tim Harvey at Peugeot who were developing their 406 car since its introduction in the 1996 season. The French outfit had yet to win a race with the car. Following the regulation changes banning four wheel drive systems, Audi were forced to abandon their four-wheel-drive A4 which helped them to the 1996 title for a more conventional front-wheel drive car. The team also bringing in 1995 French touring car champion Yvan Muller to their line up who helped the German manufacturer develop the new system in the Super Tourenwagen Cup. Muller was joined by John Bintcliffe now in his third season with Audi with Frank Biela moving to Audis Sportscar project.
Alfa Romeo announced that they would make a comeback to the BTCC by entering selected events. Fabrizio Giovanardi and Nicola Larini were scheduled to drive the new 156 but Alfa's plans fell through, and the team never appeared.
Calendar
All races were held in the United Kingdom.
Drivers Championship
No driver may collect more than one "Lead a Lap" point per race no matter how many laps they lead.
Note: bold signifies pole position (1 point awarded all races), italics signifies fastest lap
* signifies that driver lead feature race for at least one lap (1 point given). Note: All bonus leading points may not be added due to them being added after seeing Season Review footage and some race reports.
Note: No points were awarded for leading in the feature race at Knockhill.
References
1998 British Touring Car Championship Wikipedia
(Text) CC BY-SA