The second Palm Sunday tornado outbreak occurred on April 11–12, 1965, in the Midwest U.S. states of Indiana, Ohio, Michigan, Wisconsin, Illinois and Iowa, with 47 tornadoes (32 significant, 17 violent, 21 killers). It was the second-biggest outbreak on record at the time. In the Midwest, 271 people were killed and 1,500 injured (1,200 in Indiana). It was the deadliest tornado outbreak in Indiana history, with 137 people killed. The outbreak also made that week in April 1965 the second-most-active week in history, with 51 significant and 21 violent tornadoes.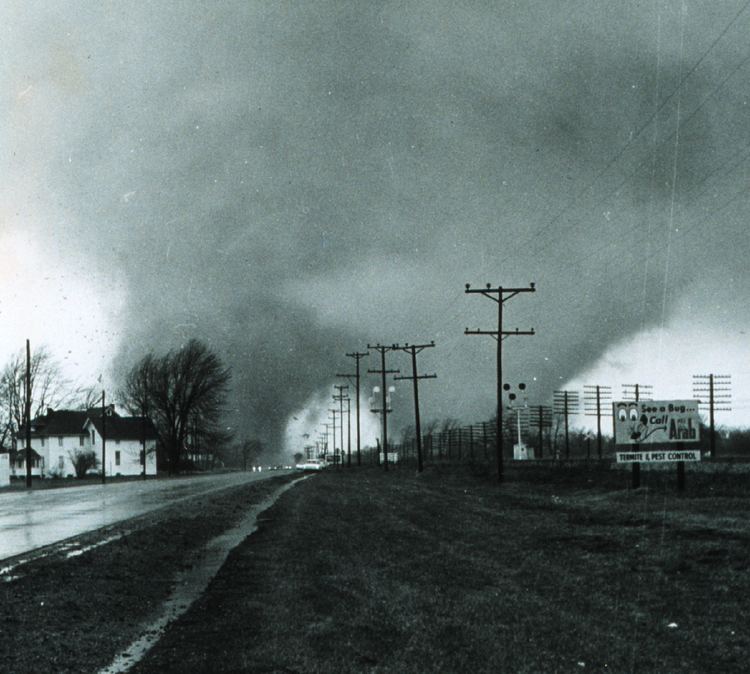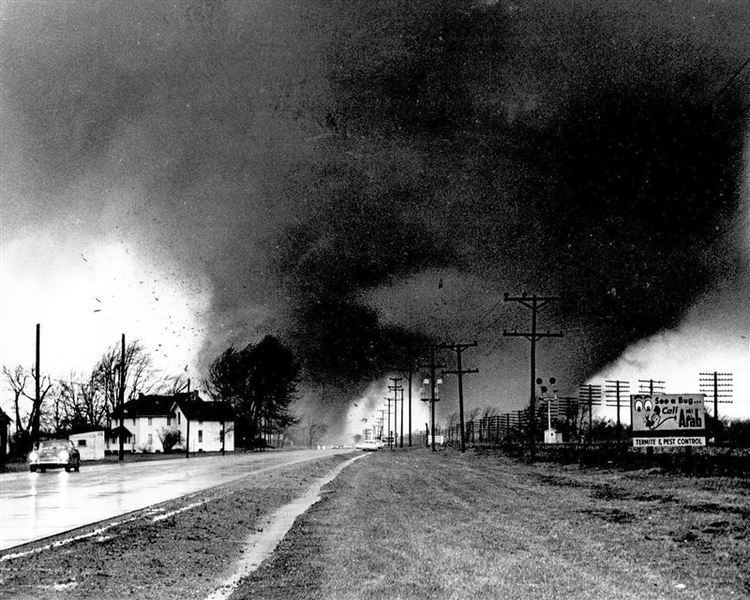 The tornadoes occurred in a swath 450 miles long (724 km) from Cedar County, Iowa, to Cuyahoga County, Ohio, and a swath 450 miles long (724 km) from Kent County, Michigan, to Montgomery County, Indiana. The outbreak lasted 11 hours and is among the most intense outbreaks, in terms of number, strength, width, path, and length of tornadoes, ever recorded, including four "double/twin funnel" tornadoes.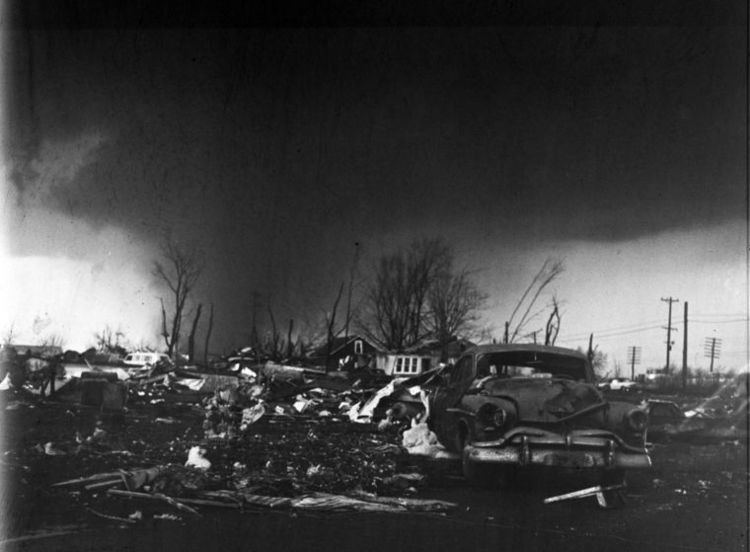 The outbreak was one of the deadliest, and most violent ever documented, with 17 confirmed violent tornadoes (F4-F5 intensity) all of which were rated F4, the second most amount of violent twisters in one outbreak behind the Super Outbreak of 1974. It occurred on Palm Sunday, an important day to Protestants and Catholics, and many people were attending services at church, one possible reason why some warnings were not received. There had been a short winter that year, and as the day progressed, the temperature rose to 83 °F (28 °C) in some areas of the Midwestern United States.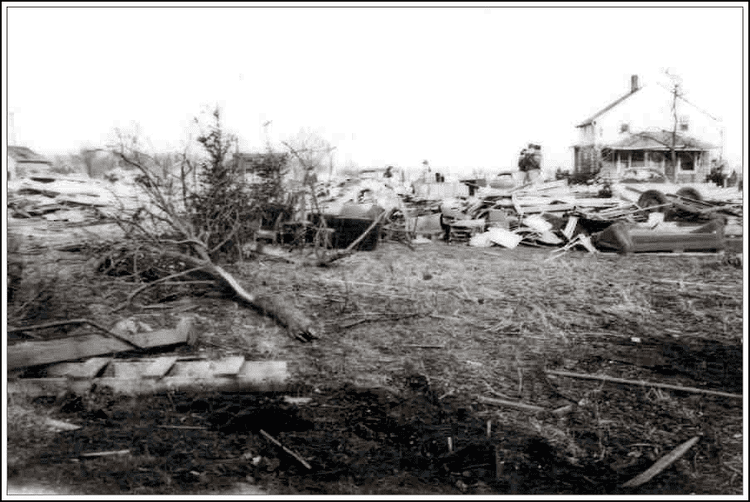 At around 12:55 p.m.[1], the first tornado touched down in Cedar County, Iowa. It was rated F4 on the Fujita scale and spawned from a thunderstorm cell first detected near Tipton in Cedar County, Iowa, around 12:45 p.m. by radio news reporter Martin Jensen. He was stationed at WMT in Cedar Rapids located some 50 miles (80 km) northwest of Tipton. The station was equipped with a Collins Radio aviation radar mounted on the roof of the station building and used to support severe weather reports on local and regional newscasts. After detecting the severe thunderstorm, the reporter called National Weather Service offices in Waterloo (which had no radar) and Des Moines to alert them about the storm. The phone call became the first hard evidence for the Weather Service regarding the growing threat of severe storms which spawned dozens of tornadoes over the next 12 hours.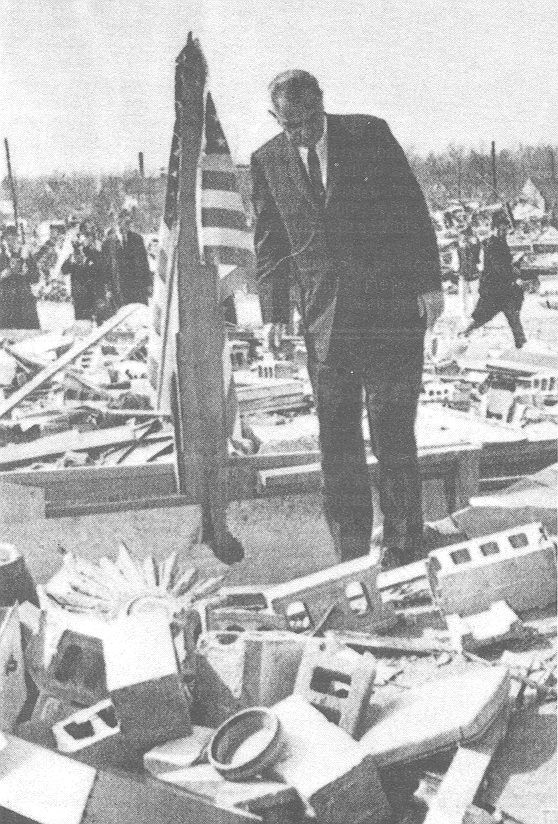 A tornado touched down at Crystal Lake, Illinois, where it destroyed several subdivisions and a golf course. It grazed a junior high school before destroying several homes in a small community (Colby's Home Estates). There, 110 homes were damaged and 45 others were destroyed, as well as a shopping center: Crystal Lake Plaza on Route 14. Five people were killed, with three of the fatalities occurring when a truck was thrown into an exposed basement, where several people were taking shelter. The tornado then crested a hill and destroyed the small community of Island Lake, killing one person before ascending back into the clouds at 3:42 p.m. This was one of the many F4 tornadoes that occurred during this outbreak.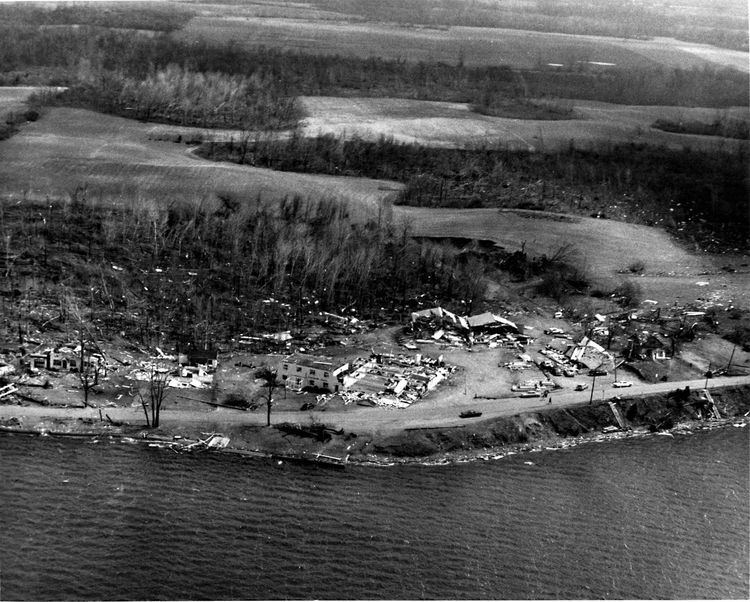 The tornado count increased as the day progressed. Several touched down in Indiana, many of them fatal. Individual supercells spawned as many as 5 violent tornadoes as they tracked west to east. The first touched down at around 5:30 p.m. in Koontz Lake, Indiana. This F3 tornado killed 10 people and injured 180. The tornado moved northeast past La Paz and Lakeville where it damaged LaVille Jr.-Sr. High School, which was under construction. The tornado continued into Wyatt and destroyed twenty homes.
Another tornado formed near the St. Joseph County-Elkhart County border. It tracked east-northeasterly, striking Wakarusa, Indiana, where it killed a child. The tornado moved toward Dunlap, and the Midway trailer park. Elkhart Truth reporter Paul Huffman captured a series of photographs as the twin-funneled, F4 tornado obliterated the trailer park, just south of Dunlap. This initial tornado killed 14 people. One half-hour later, a second F4 tornado directly struck Dunlap to the north and devastated the Sunnyside Housing addition and the unoccupied Sunnyside Mennonite Church. The death toll from the Sunnyside Housing Addition was 28 people, with another six killed at a truck stop at the intersection of Highways 15 and 20. The Palm Sunday Tornado Memorial Park now exists near this location, at the corner of County Road 45 and Cole Street in Dunlap. Most of the 36 people killed in the tornado had no warning because the high winds from the first tornado had knocked out telephone and power grids. For the first time in the U.S. Weather Bureau's history, all nine counties in the northern Indiana office's jurisdiction were under a tornado warning. This is called a "blanket tornado warning." Both tornadoes were officially rated as F4 according to the National Weather Service records. However, both the Midway and Dunlap tornadoes were previously rated F5.
Ninety miles (145 km) to the south, at just past 7:30 p.m., another massive tornado slammed into the town of Russiaville, Indiana. Most of the town was destroyed, leaving several dead. The storm churned into nearby Alto, obliterating it completely, before striking the southern edge of the larger city of Kokomo. As the tornado continued east, it killed ten more people in Greentown, Indiana, most of whom had been riding in automobiles that were hurled across the landscape. Multiple homes were completely destroyed there as well. More destruction ensued in Marion, Indiana before the tornado lifted. In Berne, Indiana, another tornado cut a path through the northern part of the small city damaging homes and businesses including a bowling alley, grocery store and lumber yard before the storm crossed into Ohio and destroyed additional homes before dissipating.
With the telephone lines down, emergency services in Elkhart County, Indiana, could not warn Michigan residents that the tornadoes were headed their way. The radar operator at the U.S. Weather Bureau, at Detroit Metro Airport, observed that the thunderstorms over northern Indiana and western Lower Michigan, were moving east-northeast at 70 mph (112 km/h). In Michigan, tornadoes hit as far north as Kent County, Michigan, just north of Grand Rapids. Of the southernmost counties of Michigan, all but three (Berrien, Cass, and St. Joseph counties) were hit. Two F4 tornadoes struck Hillsdale County (along with several other counties) and destroyed about 200 cottages along Baw Beese Lake. Many people escaped harm as they were in church instead of out at the lake. Later, the Manitou Beach-Devils Lake area in Lenawee was hit by the two tornadoes in a span of a little more than 30 minutes, causing numerous fatalities (including a family of six). The local dance pavilion on Devils Lake was demolished, having recently been rebuilt after a fire on Labor Day in 1963. One of the tornadoes damaged parts of Onsted; in the nearby village of Tipton, which suffered a direct hit, 94% of the town's buildings were damaged or destroyed.
The pair of F4 tornadoes also struck Milan (at that point, still a village), south of Ann Arbor, straddling the county line in southeastern Washtenaw County (York Township) and northwestern Monroe County (Milan Township). One tornado destroyed the Wolverine Plastics building on the Monroe County side of town (then, the top employer in the village), completely removing the roof in the process. That or the other tornado then struck and seriously damaged the Milan Junior High School and the adjacent, disused (since 1958) senior high school, at Hurd and North streets, on the Washtenaw County side of Milan. Milan became a city in 1967; opened a new Middle School in 1969, which replaced the old Junior High School; and eventually demolished the 1900 building that housed the former junior and senior high schools.
Tornadoes continued from Indiana into Ohio where additional fatalities occurred across the state border. A double tornado was sighted near Toledo, Ohio, which devastated northern parts of the city with at least F4 tornado damage. Five people were killed when the tornado flipped over a bus on the Detroit-Toledo Expressway (today's Interstate 75). Other violent tornadoes occurred near the Indiana/Ohio border.
At around 11 p.m., a tornado touched down in Lorain County, Ohio, and struck Pittsfield, Ohio, killing seven and destroying most structures. The same tornado caused severe damage to homes in Grafton. When the storm neared the Cleveland, Ohio area, it diverged into two paths about 1⁄2 mile (0.8 km) apart. Several witnesses also saw two funnels merging into one similar to the first Dunlap tornado. Large trees laying 50 feet (15 m) apart were felled lying in different directions. The storm also displayed at least F4 damage in Strongsville, where homes simply disappeared. This tornado killed 18 people and was also previously rated as an F5 before being lowered to an F4 by NWS officials. Some tornado experts such as Thomas P. Grazulis, still consider it to be an F5.
The last killer tornado occurred at 12:30 a.m. on April 12. It moved along a 22 miles (35 km) path north of Columbus, Ohio, causing F2 damage and killing four people.
The U.S. Weather Bureau investigated the large number of deaths. Although Radar stations were few and far between in 1965, the severe nature of this storm was identified with adequate time to disseminate warnings. But the warning system failed as the public never received them. Additionally, the public did not know the difference between a Forecast and an Alert. Thus the Tornado watch and Tornado warning programs were implemented. Pivotal to those clarifications was a meeting in the WMT-TV studio in Cedar Rapids, Iowa. Officials of the severe storms forecast center in Kansas City met with WMT meteorologist Conrad Johnson and News Director Grant Price. Their discussion led to establishment of the official "watch" and "warning" procedures in use since 1965.
As technology has advanced since 1965; warnings can be spread via cable and satellite television, PCs and the Internet, solid-state electronics, cell phones, and NOAA Weather Radio.
Dr. Ted Fujita discovered suction vortices during the Palm Sunday tornado outbreak. It had previously been thought the reason why tornadoes could hit one house and leave another across the street completely unscathed was because the tornado would "jump" from one house to another. However, Dr. Fujita discovered that the actual reason is most destruction is caused by suction vortices: small, intense mini-tornadoes within the main tornado.
In the Midwest, 271 people were killed and 1,500 injured (1,200 in Indiana). It was the deadliest tornado outbreak in Indiana history with 138 people killed.[2]