Manager

Season




Champion

New York Yankees




Radio

NBC, CBS




Dates

4 Oct 1928 – 9 Oct 1928







Umpires

Brick Owens (AL), Cy Rigler (NL), Bill McGowan (AL), Cy Pfirman (NL)




Hall of Famers

Umpire: Bill McGowan Yankees: Miller Huggins (mgr.), Earle Combs, Stan Coveleski (dnp), Bill Dickey (dnp), Leo Durocher‡, Lou Gehrig, Waite Hoyt, Tony Lazzeri, Herb Pennock (dnp), Babe Ruth. Cardinals: Bill McKechnie (mgr.), Grover Cleveland Alexander, Jim Bottomley, Frankie Frisch, Chick Hafey, Jesse Haines, Rabbit Maranville. ‡ elected as a manager.




Radio announcers

NBC: Graham McNamee and Phillips Carlin CBS: J. Andrew White




Similar

1943 World Series, 1927 World Series, 1923 World Series, 1937 World Series, 1936 World Series
1928 world series ball to go to new home
In the 1928 World Series, the New York Yankees swept the St. Louis Cardinals in four games. This was the first time a team had swept consecutive Series.
Contents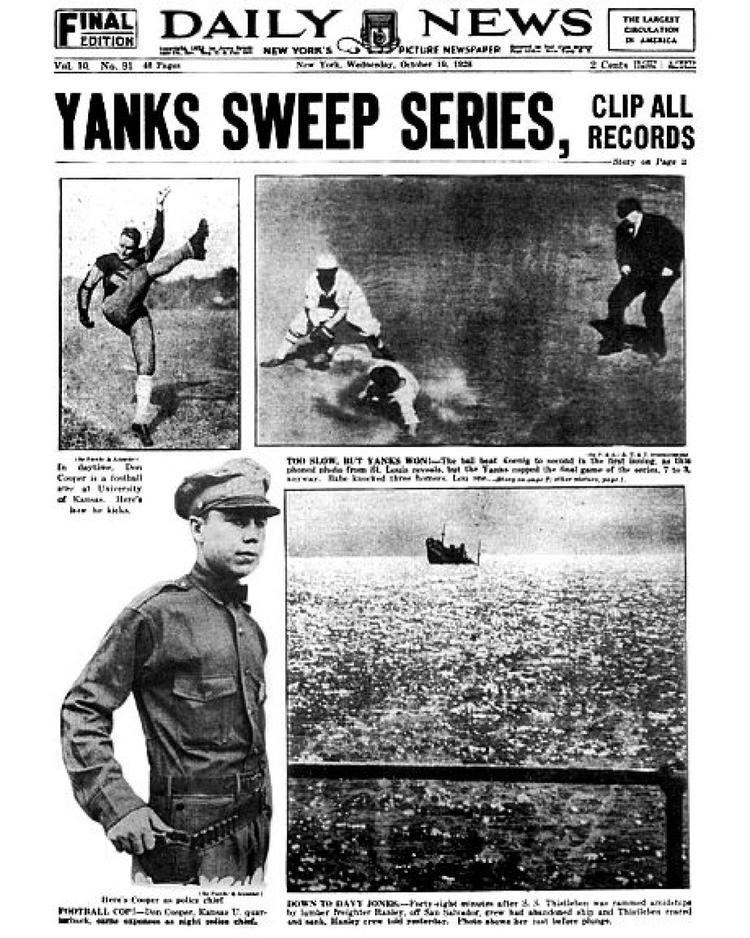 Babe Ruth hit .625 (10 for 16) as the Yankees demolished their opponents by a combined score of 27 to 10. As he had done against the Cards in the 1926 Series, Ruth rocketed three home runs over the right field pavilion in Sportsman's Park in Game 4, the only one to do it twice in the World Series through the 2014 season. Unlike 1926, however, it occurred in the final game of a Series won by the Yanks and put an exclamation mark on their two consecutive World Series sweeps.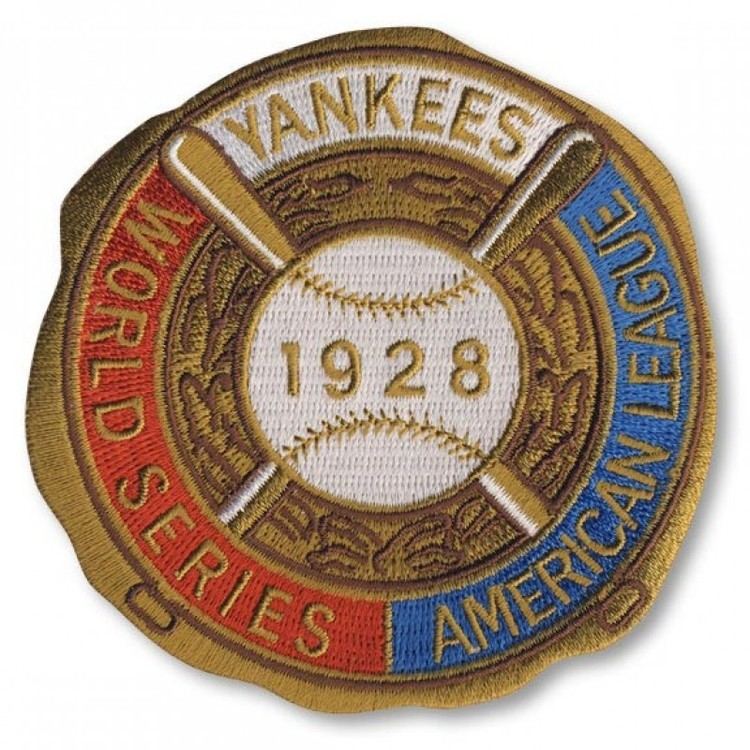 Lou Gehrig also had a good Series. He drove in as many runs by himself as the entire Cardinal team combined.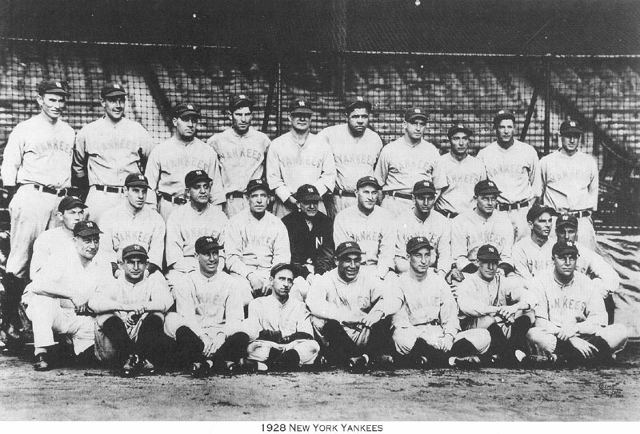 Bill McKechnie became the second manager to lead two different teams to the World Series, and like Pat Moran, won one and lost one.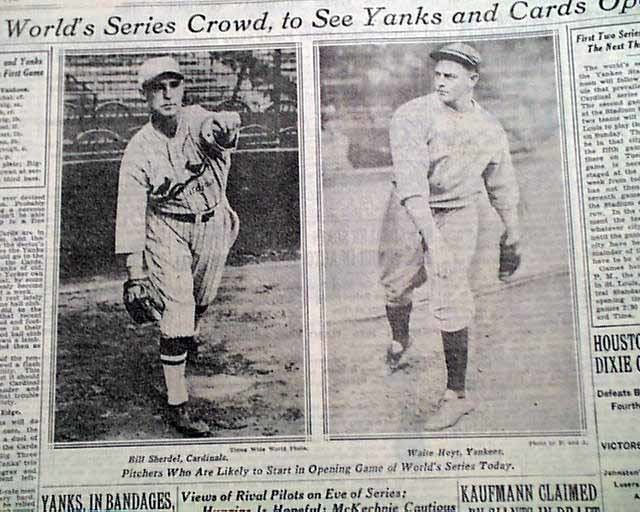 Summary
AL New York Yankees (4) vs. NL St. Louis Cardinals (0)
Game 4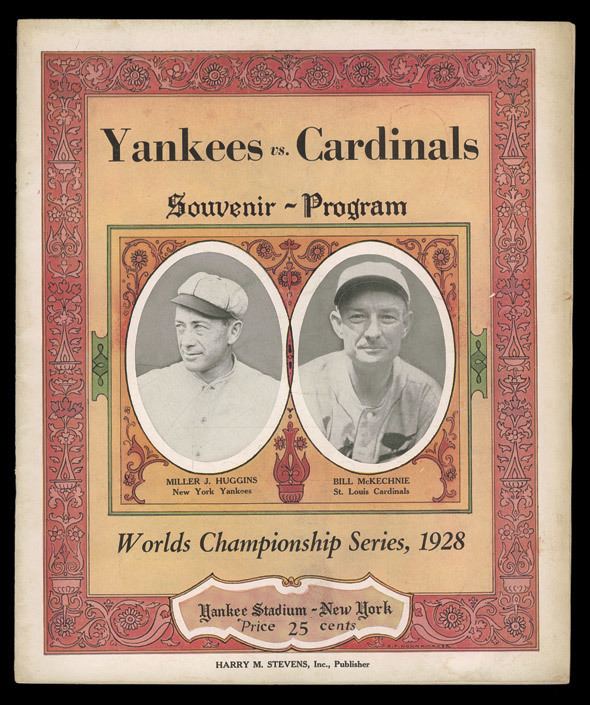 The Cards led 2–1 in the top of the seventh. 21-game-winning southpaw Will Sherdel had an 0–2 count on Babe Ruth, who turned to say something to catcher Earl Smith, Sherdel "quick-pitched," or threw without a windup, for what he thought was strike three on the Babe. "Quick pitches" were legal in the National League, but not in the American League or the World Series. So NL plate umpire Cy Pfirman called "no pitch," touching off a vociferous argument with the Cardinals they couldn't win. Ruth then took two balls to even the count at 2–2 before homering to tie the game at two apiece. Gehrig's ensuing back-to-back home run, his fourth of the Series, gave the Yanks a lead they never relinquished. They scored twice more in the seventh, and Ruth capped things off with his third homer of the game in the two-run Yankee eighth.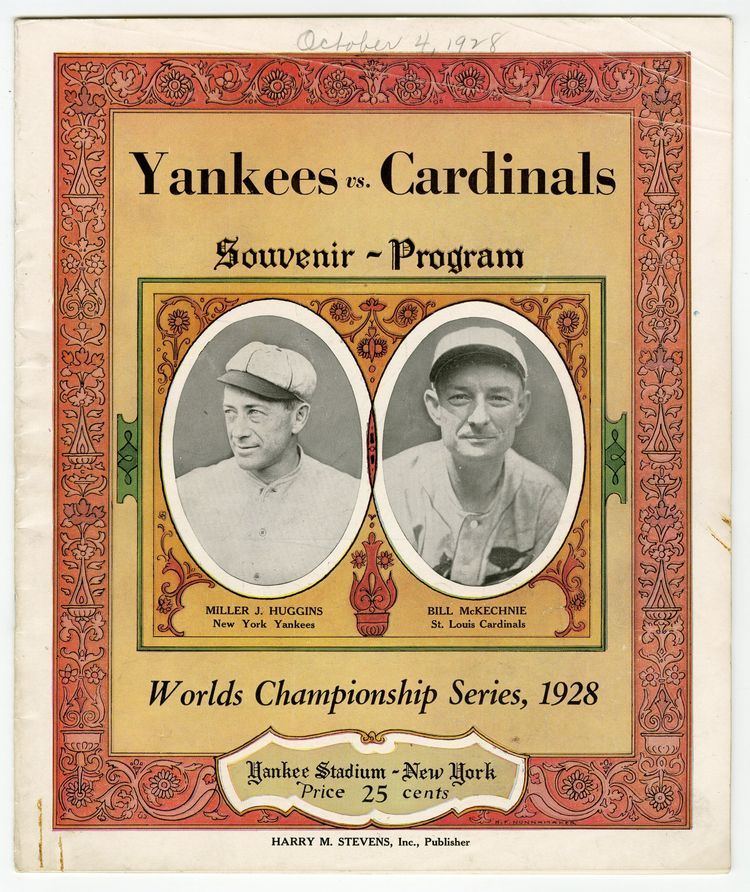 St. Louis scored a lone run in the bottom of the ninth to make it 7–3, but that was their last gasp as future Hall of Famer Frankie Frisch hit a left field foul fly caught on the run by none other than the Babe up against the stands, as angry Cardinal fans swatted the "Sultan of Swat" with newspapers and programs. But Ruth merely kept running right into the dugout, holding the ball in the air and giving the Yanks their second straight World Series sweep.
In 1930, Ruth called this game the biggest thrill of his career.
Composite line score
1928 World Series (4–0): New York Yankees (A.L.) over St. Louis Cardinals (N.L.)
References
1928 World Series Wikipedia
(Text) CC BY-SA