4.7

/

10

Alchetron

6.4

Rate This




Director

Vikram Bhatt


Sequel

1920: The Evil Returns




Country

India






Genre

Drama, Horror, Mystery




Duration




Language

Hindi





Release date

12 September 2008




Writer

Vikram Bhatt (screenplay), Vikram Bhatt (story), Girish Dhamija (dialogue), Dheeraj Rattan (screenplay), Sameer (lyrics)


Release date

September 12, 2008 (India)




Songs

1920 - Theme




Cast

Rajneesh Duggal (Arjun Singh Rathod), Adah Sharma (Lisa Singh Rathod), Anjori Alagh (Gayatri),

Rajendranath Zutshi

(Priest (as Raj Zutshi)), Vipin Sharma (Servant),

Amin Hajee




Tagline

A Love Made In Heaven... A Revenge Born In Hell...
1920 is a 2008 Indian horror film written and directed by Vikram Bhatt. Filmed in Hindi, the film revolves around the events surrounding a married couple living in a haunted house in the year 1920. The film stars debutant actors Rajneesh Duggal and Adah Sharma as the married couple and Indraneil Sengupta in a special role. The film is the first installment of the 1920 (film series), which was a critical and commercial success. The film was also dubbed into Telugu as 1920 Gayathri. A sequel, 1920: Evil Returns, was also released to mixed reviews and commercial success in 2012.The film is loosely inspired from the 1973 horror cult classic The Exorcist.
Contents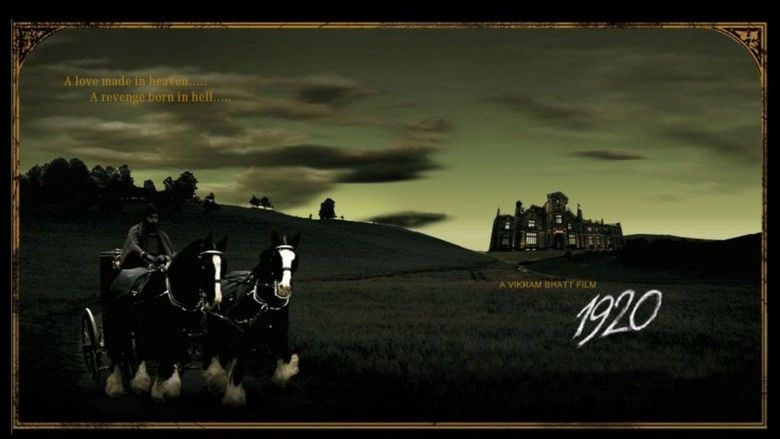 Plot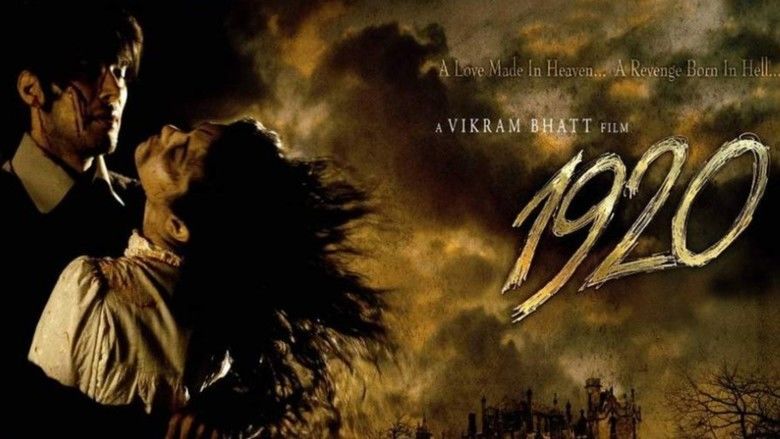 In the year 1920 at Palampur, India, an architect arrives at a large manor house. The manager of the mansion, MK, discusses how its owner wishes to have it torn down with a hotel constructed in its place. Later that night, the architect is killed by a mysterious force. It turns out the first architect who had come before him was also killed in a similar manner some time ago.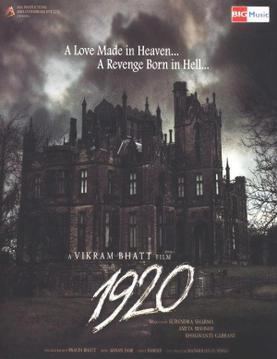 Now the third architect who is brought in, Arjun Singh, is a religious, true devotee of lord Hanumaan and devoted to his family; but he is also in love with Lisa. This meets strong disapproval from his family because Lisa (born of a British father and an Indian mother) is of mixed faith. Arjun decides to marry Lisa anyway. As he travels to Mumbai, his father and his brothers intercept his car, beat him up, and try to burn Lisa alive. Arjun fights back and decides to disavow his faith and his family for Lisa. He ultimately becomes an atheist.
The project of the manor house is handed to Arjun's firm, and Arjun and Lisa arrive at the house soon after. Arjun is unaware of the strange things happening, such as objects moving by themselves, but Lisa senses a malevolent presence. She questions Balwant, the caretaker, but he feigns ignorance. Balwant privately pleads with MK to relieve Arjun and Lisa of the project for it will claim their lives just as it killed the others before them. The mansion does not wish to be destroyed, and that is why it reacts to anyone who wants to tear it down, including MK. Balwant himself is unharmed because he is only acting on orders and does not carry an intent to destroy the house. MK is aware of the evil presence but silences Balwant with a bribe.
Arjun leaves for Delhi on a business trip, leaving Lisa alone in the house. She experiences stronger supernatural events, and confides in a local church priest. The priest arrives at the mansion and immediately senses a strong evil presence. Later that evening, in his church rooms, he wakes up to find a Baphomet drawn in blood on a wall. He consults with the head priest and they quickly conclude that an evil spirit resides in the mansion and is specifically targeting Lisa. The priest returns to issue a stern warning for Lisa. Lisa is away, and Balwant takes the message, but does not mention it to Lisa.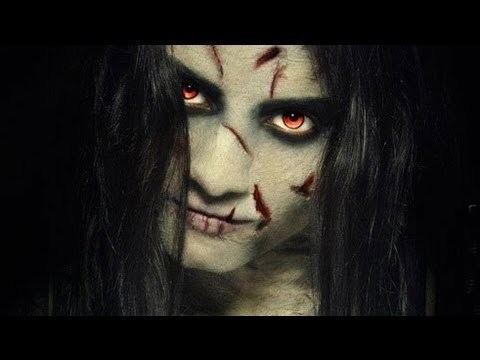 Arjun returns as Lisa becomes ill, refuses food and water and takes to bed. Arjun spots her eating a dead animal that night, but is unable to make sense of it. The priest attempts to place a cross on Lisa, who turns violent and attacks the priest. Arjun engages a doctor but it turns out to be fruitless as Lisa's evil outbursts and telekinetic attacks simply overwhelm the hospital staff. Now convinced of a supernatural presence, Arjun storms into MK's office and demands the truth. MK reveals the name of the previous owner of the mansion, Radhama, and Arjun visits her in Nawanagar.
Radhama reveals that it started in 1857, during the Revolt of 1857, when she was a servant at the mansion. A wounded mutineer, Mohan Kant, sought cover at the mansion but turned out to be a spy for the British forces. The owner's daughter, Gayatri, seduced him to buy time until her father who was also a freedom fighter arrived. Her father and his men hanged him. He died looking Gayatri in the eye and vowing revenge. His soul has remained in the mansion ever since. Gayatri died on 18 November 1896, and Lisa was born the same day.
At the mansion, the soul of the treasonous soldier has now completely possessed Lisa's body. The priest decides to perform an exorcism. The ritual begins well, but the evil soul is too powerful for the inexperienced priest, and the priest and Balwant are both killed. The evil spirit impels Lisa to slit her wrists. so as to die, and eject her soul from her body so he can carry her soul with him to hell. Unable to physically restrain Lisa, Arjun is forced to reexamine his lost faith. Lisa, empowered by the evil soul, beats Arjun badly and emotionally tortures him. Soon Arjun feels that only God can save Lisa.
Arjun limps toward Lisa, embraces her with all his might and begins reciting the Hanuman Chalisa, torturing the evil spirit. He tries to run but Arjun holds Lisa's body tightly. After some time, the spirit is in pain from the words and is finally expelled from Lisa's body and destroyed. Finally, Arjun and Lisa embrace each other happily and Gayatri's portrait is removed and sent away from the mansion.
Cast
Rajneesh Duggal as Arjun Singh Rathod
Adah Sharma as Lisa Singh Rathod
Anjori Alagh as Gayatri
Raj Zutshi as Father Thomas
Indraneil Sengupta as Mohan Kant, the British Indian
Dilip Thadeshwar
Amita Bishnoi
Vipin Sharma as the caretaker of the haveli (manor house) i.e. haunted palace
Sri Vallabh Vyas as the Doctor Anjori
Amin Hajee as M.K., the head of the haunted palace
Ashish Pradhan
Rushitaa Pandya
Smita Hai
Rajender Parashar
Rakhi Sawant as Jumpa in an item song Bichua.
Production
Director Vikram Bhatt's previous films Aap Mujhe Achche Lagne Lage (2002), Deewane Huye Paagal (2005) and Life Mein Kabhie Kabhiee were termed as box-office failures in the media. Speaking in corroboration, Bhatt felt the need for introspection for making inconsequential cinema. His want to make a horror film stemmed from the visuals of a chariot riding through the mist that constantly played in his mind. Claiming it to be his most ambitious project to date, Bhatt took a year and a half to complete the script, which was more powerful than his earlier film Raaz (2002).
Though Bhatt was looking to cast newcomers, he did not conduct any auditions for the film. Instead, when Rajneesh Duggal and Adah Sharma came to his office, his search for the lead cast ended. For their enthusiasm and efforts, Bhatt was delighted to work with them. Sharma found Bhatt to be a very calm, composed and patient director to work with. Duggal, who won the 2003 Mr. India title, was a New Delhi-based model in the fashion industry. While filming, both of them felt quite comfortable working with each other.
For scouting for an appropriate location for filming, the production house hired six location managers who visited about 12 countries over a period of six months before settling down on Allerton Castle, North Yorkshire, England. When Bhatt saw the images of this house, he was convinced that it would be the real protagonist of his film. This mansion was owned by a billionaire,who lived with his wife and he killed a carpenter. The carpenter's spirit is rumored to be haunting the place. Bhatt and Sharma experienced an unusual incident while filming at this house. Inside the mansion, a huge portrait of the lady is hung on one of its walls. When they attempted to take a photograph of this portrait, the picture always came out blurred, no matter what angle they took it from.
One of the producers of the movie, Surendra Sharma, said "never has a supernatural thriller been attempted in a period setting and made at this scale." His father-cinematographer Pravin Bhatt and he decided to shoot in candlelight to recreate the conditions during the year of setting – 1920. At the same time, they hoped to fill every frame with artistry and create the eeriness of a cold haunting. Director Bhatt watched a lot footage of true accounts of poltergeists and hauntings. In addition, he wanted to establish the same style of portraits of this period. To achieve this, instead of resorting to computer graphics, he asked Anjorie Alag, the supporting actress to pose for five hours in front of an artist. The entire shoot was completed in a 12-hour night shift for 18 days during the winter.
To further enhance the effect of horror for this film, Ashoke Chowdhury and Indraneil Roy were hired to work on the visual effects. When they approached Bhatt and showed him samples of their previous work, they were hired with the instructions that he expected good, international quality work. During their work, the film was treated digitally using a specialized software. Using this, they were able to make glasses break and generate smoke. They made use of techniques such as chroma, rotoscoping and wire-rigs for levitation. One of their most challenging scenes in the film was to recreate Mumbai's Victoria Terminus as it was in 1920. This required them 40 days of work.
Several scenes within the movie are identical to scenes in The Exorcist, The Exorcism of Emily Rose, Stigmata and One Missed Call.
While Adnan Sami composed the music for the film, Sameer penned the lyrics. Pandit Jasraj, Shubha Mudgal, Parveen Sultana, Asha Bhosle and Kailash Kher feature in the soundtrack.
Release
A coffee-table book, with trivia and in-depth detail about the film, was launched prior to the film's release. Bhatt thought that the audience will find it better to read about the film before its release. The film was released on 12 September 2008.
Critical reception
The film gained mixed reviews from critics. Nikhat Kazmi of The Times of India commented that Adah Sharma "delivers a consummate performance". Ashok Nayak from nowrunning.com wrote: "1920 doesn't manage to hold your attention throughout. It's scary in parts and funny at times. Don't expect much at the box-office".
Music
The music of the film is c omposed by Adnan Sami with lyrics by Sameer.
Box office
1920 grossed ₹60 million (US$940,000) in its first week. It further grossed ₹27.5 million (US$430,000) and ₹16.5 million (US$260,000) in second and third weeks respectively, thus collecting ₹104.0 million (US$1.6 million). It finished at approx ₹110 million (US$1.7 million) in India.
Sequel
A sequel called 1920: Evil Returns was also released in 2012, featuring Aftab Shivdasani and Tia Bajpai in lead roles. It grossed ₹230 million (US$3.6 million) in 3 weeks domestically.. Its third installment is 1920 London starring Sharman Joshi, Meera Chopra and Vishal Karwal. The film has been released on 6 May 2016. Another sequel is scheduled for a 2017 release titled 1921, with Zareen Khan playing the main lead.
References
1920 (film) Wikipedia
(Text) CC BY-SA
1920 (film) IMDb
1920 (film) themoviedb.org